Dress – Raga
Leather Jacket – Mangano; Pants – Tommy Hilfiger; Earrings and Gold Geometric Bracelets- Lulu Dharma; Love Tile Bracelet – The Sis Kiss; Ring – Isabella's Own; Shoes – Ruthie Davis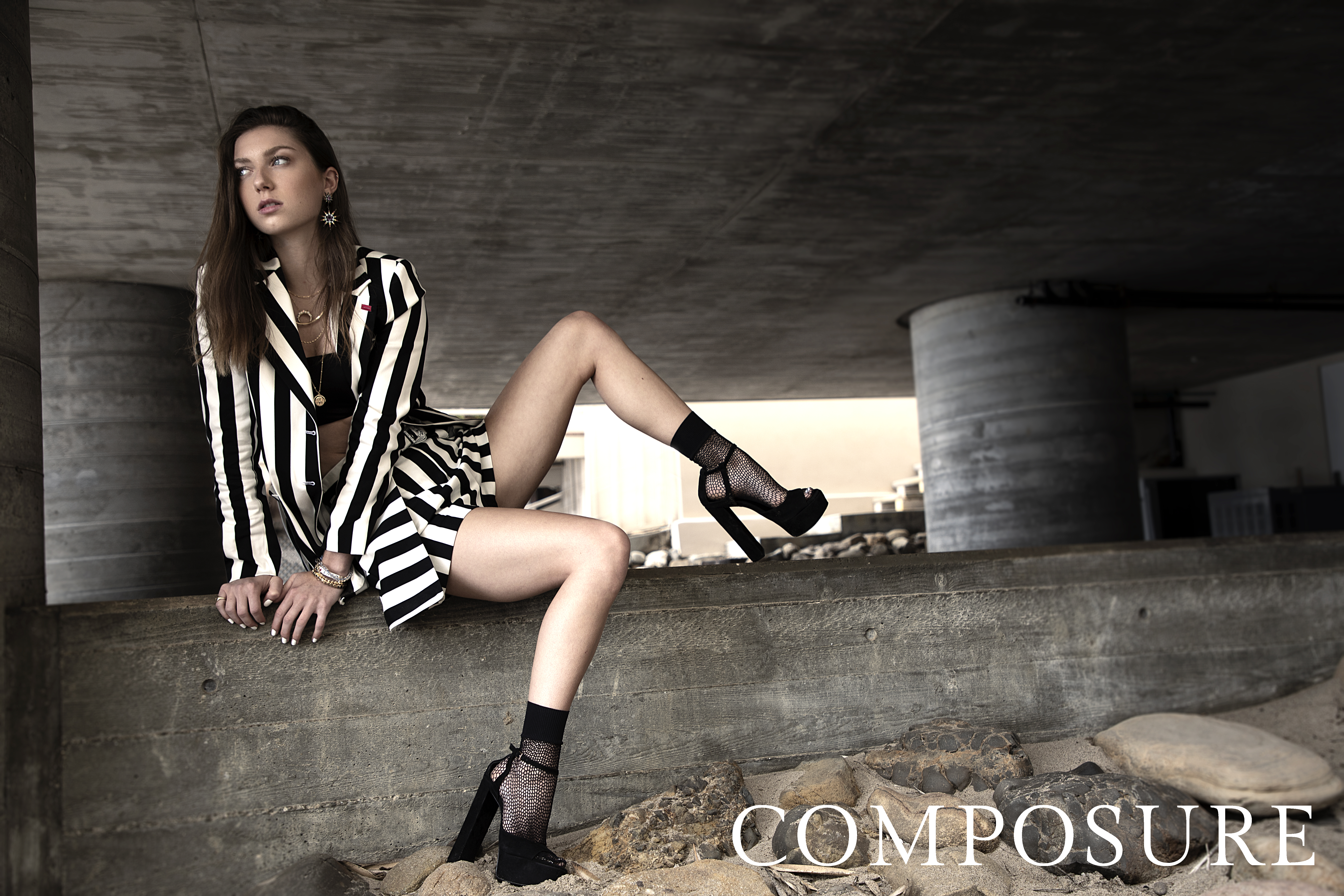 Jacket and Short – Pinko; Bandeau – Stylist's Own; Earrings – M.C.L. Design; Opal Horn Necklace, Gold Chain and Love Tile Bracelet – The Sis Kiss; Gold Layered Necklace – Lulu Dharma; Ring – Isabella's Own; Fishnet Socks – Wolford; Shoes – Ruthie Davis 
Photographer by Dean Foreman
Makeup Artist and Hairstylist by Andrew Toma using Koh Gen Do
Styling by Lisa Cera + Tyler McDaniel at Crosby Carter Mgmt 
Written by Composure Team
Actor Spotlight — Isabella Blake-Thomas
Young actress Isabella Blake-Thomas proves to be a multi-faceted woman that will intrigue you with her beautiful vocals, songwriting, as well as her work in several films and television series. Her talents don't stop at acting and singing. She's worked on a variety of successful projects as a producer that stretch her abilities and experiences within the industry. Many will recognize her from her portrayal as Young Zelena in Once Upon a Time, and you will soon see her take on the role of January in Disney Plus's new film Secret Society of Second Born Royals. We take a moment to talk about the upcoming film, her co-founded Mother & Daughter Entertainment company that works to push positive messages and what she hopes to see change in the industry as this challenging year continues forward.
You received your first role very early on at only five years old. From then until now, your filmography has grown extensively! What are the most valuable lessons you've learned along the way?
When you start in any industry at a young age, you're not only learning things about your job but about yourself. As a five-year-old, I had just learned to read, but I was also learning the discipline it takes to be on set. The most valuable lesson I've learned is to keep going, no matter how long it takes to achieve something. Whether it's a project you're working on and need to get it finished, whether you're struggling to stay in your industry because it's tough or even if everything's fantastic…just keep going. There's always more that you can learn and achieve. Even people that are considered at the top of their game in this industry are still learning every day. I've also learned to be incredibly independent. I am able to take care of myself. I cook, clean, shop, do my own laundry and pay my own bills. My mum wanted me to learn these life skills. She said they were just as important as anything else.
You star in the upcoming Disney+ film Secret Society of Second-Born Royals, set to come out soon. Can you share with our readers more about the film and the character you portray?
The movie is about a young girl called Sam who discovers she has superpowers and is sent to a super-secret, summer training program for the Secret Society of Second Born Royals, where she meets fellow trainees; January, Roxanna, Mateo and Tuma who are all second-born royals. I play January. She is a bubbly, sparkly, overachiever who wants to be friends with everyone. She befriends Sam, and the two girls form a special bond due to their deep understanding of each other and each other's lives. It's a fantastic movie filled with fun, intrigue, excitement and some hidden surprises.
Looking back at filming for Secret Society of Second-Born Royals, what are some of the best moments you had on set?
Since we were all filming up in Toronto for two months and living in the same apartment building, we all became like a family. On set, between takes, we would play games together and raid the snack table. We had lots of little games that we'd create as we were on set for the shoot, which would always make us laugh. My favorite memory was sitting at lunch and singing with some of the cast. We'd belt lots of different songs and harmonize, and it brings a smile to my face just to think about it. It was fun on and off the set. We were all able to go out for supper together and watch basketball games.
You've also co-founded Mother & Daughter Entertainment with your mother, Taryn Corbett-Kinney and Chandler Kinney. The company is built on the mission "Making Content That Matters" — a statement that is paramount right now. Can you tell us how this came about and what it means to be part of it?
Mother and Daughter Entertainment came about after my mum and I started creating projects together. She is a writer/director, and so it made sense for us to work together. It was only natural to then put a name to it and make it official. We were making content that was important to us before we even created the message of "Making content that matters." Taryn and Chandler joined the team last year when we realized that we all had the same goals for our projects; to positively impact the people watching. To be part of MDE means a lot to me because it gives me a platform to share important messages. I hope the people watching our projects leave the movie with a positive attitude, and the chance to learn something new about the subject matter or about themselves. We have some wonderful projects that we are working on currently, including three short documentaries and our latest feature Evie-Rose. We also have a charity called World Onesie Day. This happens every year in December. The way it works is I find an organization that needs my support, and then everyone wears a onesie for a day and donates to that non-profit.
As an actress and singer, how do you hope to see those industries change as we face massive challenges in these unprecedented times?
As a creative director of my own production company, we strive to make sure that people are treated fairly on all our sets. Fair salaries and fair working hours. I would hope this is something that is continued to be taken seriously by all studio films. The crew is extremely important to every production, and they work very intense hours. We have set up an initiative called The Mother and Daughter Foundation, so we can fund smaller projects, ensuring people get to work and earn a fair salary and work hours that suit everyone. This also allows people to be mentored, which is something very important to me. I am excited about working on our next feature film. It's a romcom because we all need something to laugh about at the moment. We need to work as a team and keep creating uplifting content.
Share your thoughts...