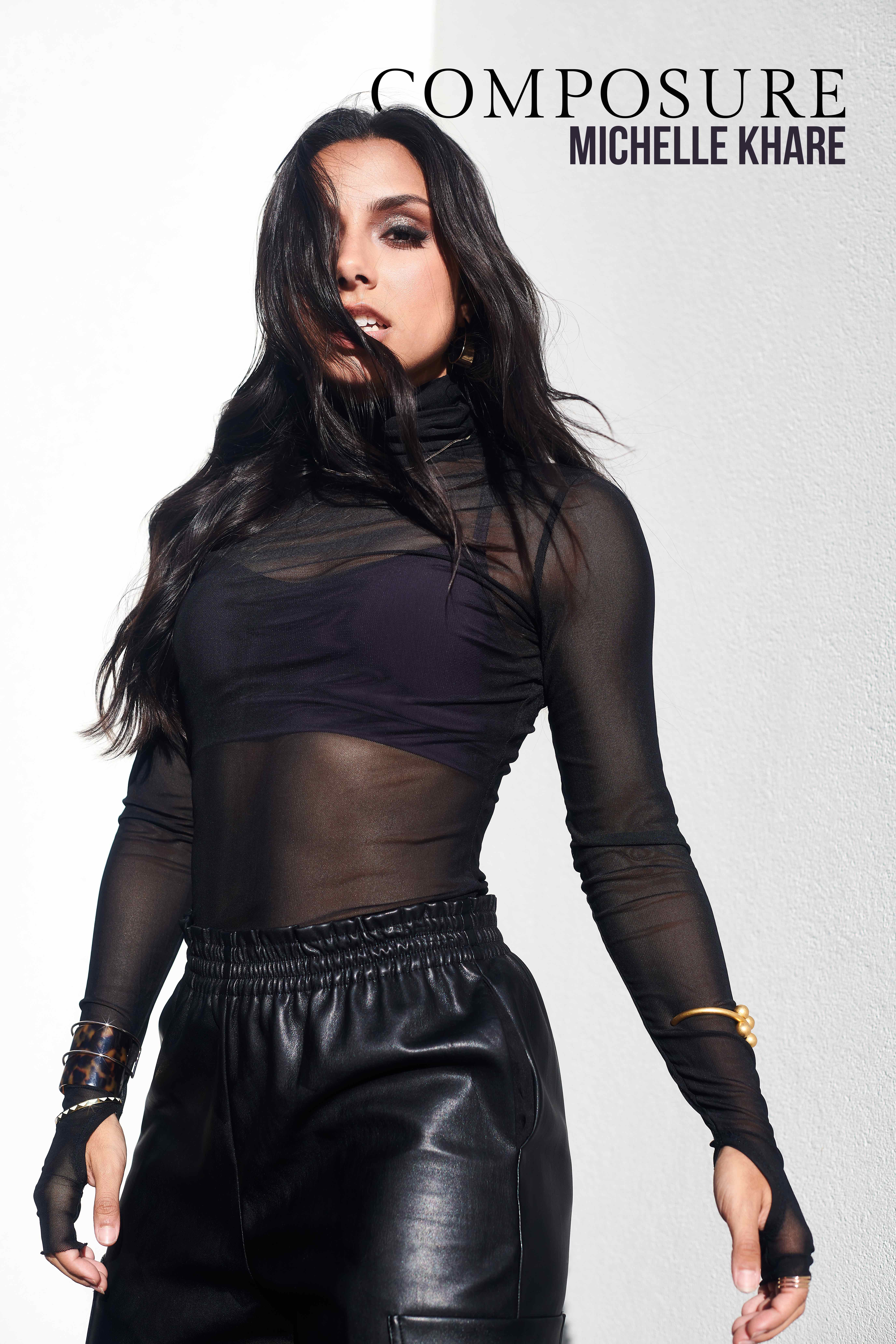 Photographer by Tony Moux
Makeup Artist and Hairstylist by Olivia Shipman
Styling by Lindsey Demay
Written by Composure Team
Actor Spotlight — Michelle Khare 
Michelle Khare talks with Composure on her latest work as the host of HBO Max's popular, new adventure reality series Karma, where teens compete against each other to avoid elimination. Touching on her earliest successes with BuzzFeed and Youtube to upcoming projects, Khare shows versatility and a fearless approach as she continues to pave her way in this industry. With high hopes for a second season of Karma, we're excited to see how far she can go! As her popularity flourishes, she understands the responsibility that comes with having a large and influential platform. Never afraid to be a voice to the current situations surrounding us, Khare stands firmly, hoping to give others a chance to be heard.  
You're currently the host for HBO's popular reality program, Karma! Can you share with us how this initially came about? 
Initially, I got an email asking me to audition to be the host of a brand new "teen adventure series." What caught my eye was that one of the executive producers would be JD Roth, who created and hosted Endurance, another teen adventure show I watched growing up and loved. I did the self-tape, submitted it, and wasn't sure what would happen. As a performer in LA, we do these auditions all the time, get our hopes super high, and nothing comes of it. This time felt different. I felt so connected to the material. I really wanted it. The next thing I knew, I was at a callback, another callback, and the final meeting. Getting the final offer was one of the best days of my life. I actually filmed my reaction after I found out so I would be able to remember it forever! We hope deeply for these moments of getting the YES, of getting to celebrate, so getting the offer was so exciting.   
What were some of your favorite moments from the first season of the series? 
Karma takes 18 teenagers to the wilderness to compete in a variety of physical and mental challenges for a $50,000 grand prize. So naturally, there's a lot of chaos and a lot of fun memories too. My favorite moments from season 1 were learning all the ins and outs of what it really takes to become a professional network host of an adventure show. I loved all the off-camera moments with the cast as well. The kids are so fantastic, smart, and hilarious. We spent a lot of time together and became a little family.  
From BuzzFeed to YouTube, how do your early experiences and on-going successes prepare you for taking on Karma as a host? 
My experience in hosting and producing my YouTube show Challenge Accepted was very helpful in my preparation for Karma. In each episode of Challenge Accepted, I take on a new community, lifestyle or profession, ranging from training with U.S. Marines to entering a Miss USA beauty pageant. I constantly throw myself into new, difficult, and sometimes scary territories. My experience in discomfort was helpful in entering this new medium to become a network host. I saw this experience just like another challenge—one that I needed to respect, learn deeply, and put my whole heart into. On Challenge Accepted, I produce and work with our editors on each episode. Being able to understand every aspect of making content, from pre-production to production to post-production, helped me acclimate quickly to a larger set. Because I've edited my own content, I have a better understanding of what the editor may be looking for in my performance. However, on Karma, there were so many details and new skills to learn, from speaking challenge commentary to how to improvise in the wilderness with kids. Karma is no joke. It's on HBO Max, the same network family that has Game of Thrones! I was just thrilled and excited to be a part of it all. Every day I went to bed feeling excited for the next, and so fulfilled as a creative artist.  
Do you have any upcoming projects in the works you can tell us about? 
This summer, I am working on my podcast (Mission Accomplished), making episodes of Challenge Accepted, and hoping for a greenlit Season 2 of Karma! Right now, I'm making a video about training as a professional e-sports player, and I'm actually participating in a real tournament. 
Globally and here at home, we are facing multiple turning points from Covid-19 to a Human Rights Movement, and you've been sharing and showing support through your platforms. How important do you feel it is to have a large platform to speak on these times?  
Because I have been blessed with the privilege of gaining a following on a platform, I strongly believe I also hold a responsibility to speak up for others who do not have the same megaphone. We have to do as much as we possibly can to help those who have not been heard, and sharing perspective on a platform while helping others understand what is going on is a blessing. I'm so grateful to those who follow me, and I hope to elevate their voices. With that— 
Black lives matter. Wear a mask.  
Share your thoughts...