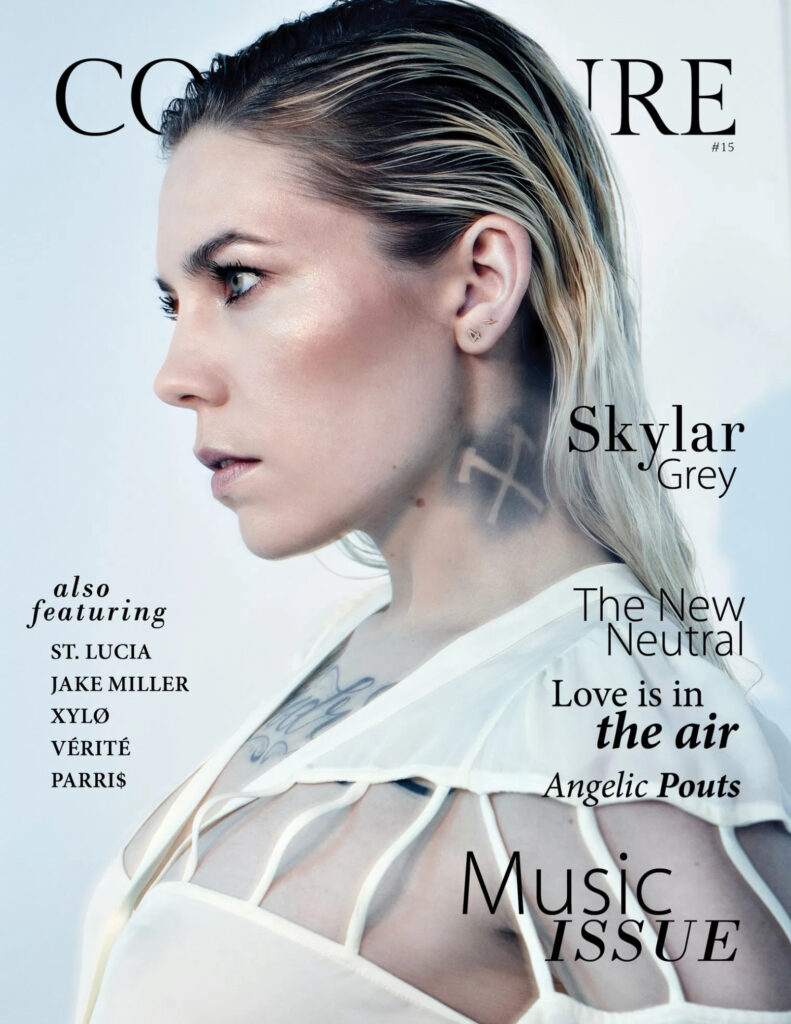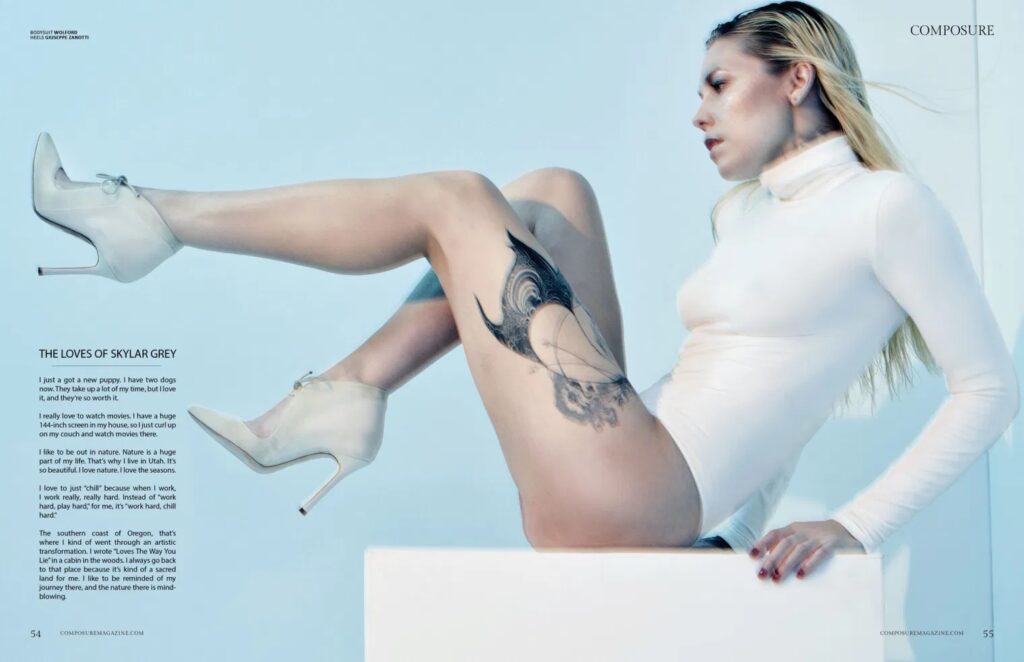 Five-time Grammy Award-nominated artist Skylar Grey talks about her latest album "Natural Causes," the music industry, and being true to one's self.
Photography by Benjo Arwas
Photographer Assistant Brandon Wholihan
Styling by Monty Jackson, The Wall Group
Makeup by Jenna Tucker, Tomlinson Management Group
Hair by Bobby Eliot, Tomlinson Management Group
Story by Min A. Lee
Video by Jonathan Navales
Scroll through the comments on Skylar Grey's YouTube channel and you'll find a common sentiment: "She sings from somewhere deep inside." If you've ever heard her music — hauntingly beautiful, sinful yet sweet — you're likely to agree. Her alluring vocals pull you in, and you understand immediately why Grey has been nominated for five Grammy Awards and holds a number of multi-platinum records. Yet despite her accolades, Grey doesn't let the attention and fame drive her creativity. Her popular collaborations, such as "Love The Way You Lie" with Eminem and Rihanna and "I Need A Doctor" with Dr. Dre, offer only a peek into her genius as a singer and songwriter.
Her latest album, "Natural Causes," unfolds a new chapter in the Skylar Grey saga, weaving you in and out of new stories and sounds. The chords and bass never overpower her vocals, creating a beautiful balance among all the underlying acoustics. She blends several themes throughout, pulling inspiration from three particular contemporaries. "I've been studying recently Kendrick Lamar, Bon Iver, and Radiohead," says Grey. "As much as they are very different artists, there are things that tie them together. I feel that there is a blending of genres happening in some of these artists. Kendrick, for example, uses a lot of interesting chord changes that remind me of Radiohead. And Bon Iver, who's collaborated with Kanye West, does this crossing-of-genre thing, and I think I do that, too."
The way we see it, Grey is a genre all her own. There is no one way to describe her music other than it pulls at your emotions, even the deep, hidden ones. On closer inspection, "Natural Causes" incites love, hate, and every feeling in between. Take, for example, "Kill For You," which reunites Grey with prolific rapper, writer, and producer Eminem. It carries forceful lyrics that spin the story of Bonnie and Clyde and speak of a dangerous love that can push you to the brink. It tells "both sides of the story" while exploring "different vocal approaches," says Grey, and the process by which it came to be is the very epitome of Grey's unconventional artistry. The collaboration started as a simple series of beats that Eminem shared with Grey with no definitive intention.
"I didn't ask [Eminem] to put a verse on it initially," she says. "Two weeks before my album was due, as he was tweaking the mix, I thought, 'Hey, what do you think about adding a verse to this because I always felt it could be really cool to be a duet?' Over the weekend he [gave it a shot], and when he turned the song back in to be put on the album, he had a verse on it. That was the first time I heard it — when he was turning it in! I was pretty stoked."
When it comes to writing, Grey doesn't abide by any rules. "What works one time doesn't necessarily work the second time," she says. "I don't limit myself to recreating the same thing over and over again. Usually it doesn't work out like that for me. I try to keep an open mind." This kind of open-mindedness seems to be the foundation for her raw, candid, and "from somewhere deep inside" quality of music. It's also what leads to the type of creative mentorships and relationships Grey has built around her, like her ongoing collaborations with Eminem, forged by intuition, confidence, trust, and good old-fashioned hard work. And building upon said foundation, she remains involved and engaged, always holding true to the heart of her vision, whatever it may be in the moment. "When it comes to my own stuff, I like to be a part of the production just because I'm such a music nerd that being confined to just doing a melody or lyric — it gets old," says Grey. "I like to be involved with chord changes, the sounds, but I also don't trust myself 100 percent to do it all myself, so I like working with people who can bring their expertise in and bring fresh ideas to the table."
Another hit track off the album, "Lemonade," showcases the same organic, avant-garde artistic stylings of Skylar Grey. She explains: "Lemonade was originally a different beat by Symbolyc One aka S1, a producer. He had given me some beats to write to, and it inspired that chorus melody which was very experimental for me. That triplet feel, it's something I wouldn't typically do. I did it almost playfully; I wasn't trying to be serious and write a song. I was just throwing sh—t out there, and I recorded it. Then I listened back, and it was actually really cool. It grew from that. Originally I wrote rap verses to it, but the chorus was just so strong. Everybody on my team saw that the chorus was so strong, but the verses weren't quite there at the same level. So we reproduced the track a bit with Alex da Kid, and the verse chords changed, the music changed, and I rewrote verses to it. It was a rewrite process, but it was because the chorus was so special to us, we wanted everything surrounding it to be just as powerful."
With all that said, it may be hard to believe, but Grey's command over her artistry hasn't always been so sound, and looking back on her early career, she is motivated by the humility of her journey. As an artist who's been singing for decades, it wasn't always a smooth climb for Grey. She had to overcome struggles along the way, especially with her first record deal in 2003 with Warner Brothers, which she observes as her first difficult lesson. "I thought [getting a record deal] meant I'd suddenly have a career and I'd be successful and I didn't have to work as hard, but the truth is, when you get a record deal, that's the day you start working harder," says Grey. "I thought I'd have a whole team of people at the label that would be doing all the work —handling the marketing, putting me on tour, hiring my players and stylists — so I wouldn't have to do anything but sit back and just create music and let everything else happen around me. It really doesn't work like that. You're the leader of your project, and people are going to follow you. So if you're working hard, your team's going to work hard. If you just sit back and act like everything is going to just happen, then it definitely won't." Grey was determined, but as a teenager starting out, it was hard to know what the music industry really entailed. "I just approached it wrong. I was willing to work hard, but I just didn't know what to do. I was a little Wisconsin green girl that had no idea. I didn't know where to begin. Luckily, I took a lot of great lessons from [my first experience] and was able to apply them to my second record deal, and I was fortunate enough to get another chance. Some people don't get a second chance, but I did, and I'm really grateful for that."
Like any confident, successful artist, Grey is proud of her experiences, however flawed, and the ever-changing evolution of her sound and person. Living by an early piece of advice from none other than her aforementioned confidante Eminem, Grey took to heart a seemingly simple lesson that would pave the road to five Grammy nominations, and counting. "When I wasn't sure what I wanted my sound to be or how I wanted to appear to the public visually, he was like, 'just be you.' I realize that's exactly what he's done. He's so authentic, and that's what people are drawn to — a real authentic person."
Grey may have tried multiple sounds, fashion styles, and even hair colors, but with each iteration of herself, she declares, "I've been learning to listen to my opinion rather than to please all the people around me. [I ask myself] 'does this resonate with me in my soul' because that's all that really matters. The great thing about approaching my career this way is that not only does it make for a better product but it makes me a happier person. On a daily basis I'm just creating music and dressing the way that I want to. I get to be myself every day and enjoy my life regardless of any accolades or success that it might bring. It's just important to feel comfortable in my own skin, and I finally do."
So whatever iteration of Skylar Grey may appear next — whether musically or stylistically — you can be sure that her soul wholeheartedly approves and that she's singing from somewhere deep inside.
Keep up with the latest on Skylar Grey at www.skylargreymusic.com.
Share your thoughts...