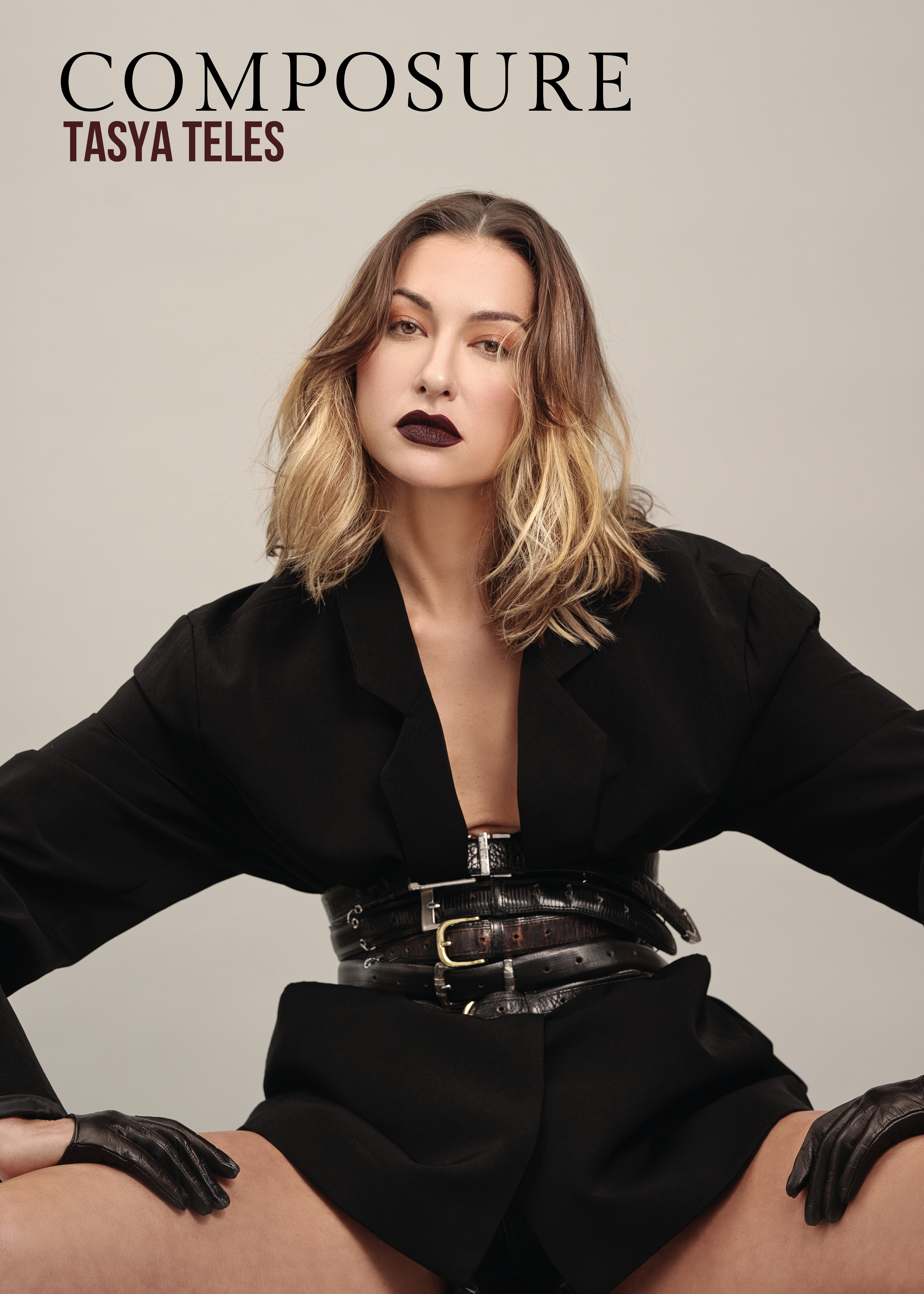 Blazer: (Brand) Juun.J Belt: (Designer) Kslamclothing Gloves: (Brand) Manokhi (Store) August Reign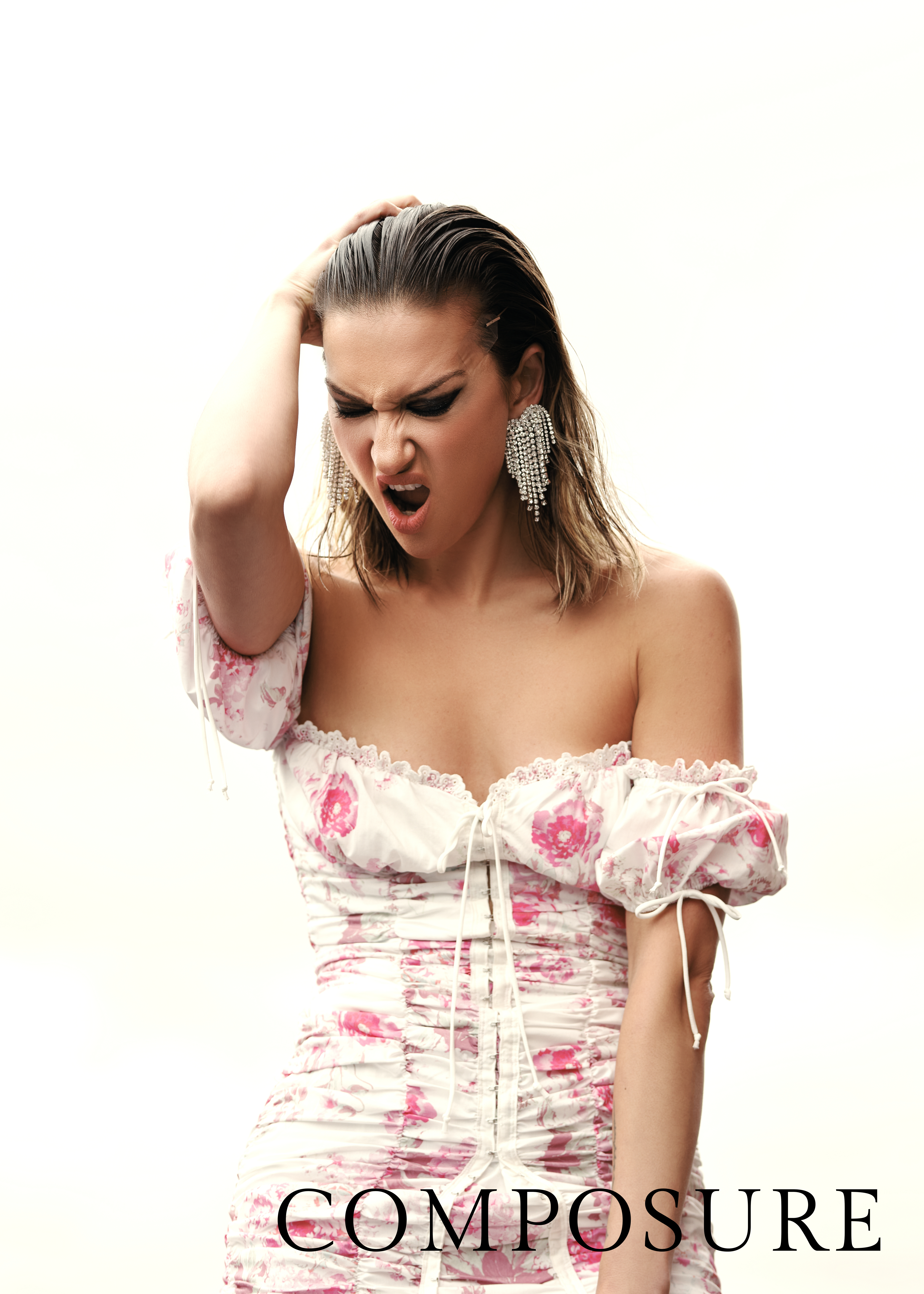 Dress: (Brand) For Love&Lemons (Store) August Reign Earrings: (Brand) Nana Jacquline (Store) Swing on the Ears
Dress: (Brand) For Love&Lemons (Store) August Reign Boots: Tasya Owen Earrings: (Brand) Justine Clenquet (Store) Swing on the Ears
Actor Spotlight — Tasya Teles
Story by Ashley Dawson
Actress and entertainer Tasya Teles has graced the screen as Echo on the CW's hit TV Show The 100 for numerous seasons. Her success as an artist has brought her acclaim and attention, and her prowess for the art has taken her far in the industry. From studying theatre in Quebec at a young age to her current rise to fame on some of TV's hottest shows, Teles sits down to tell all to Composure.
When did you start acting, and when did you know you wanted to make acting your career?
Well, I was always a bit of a nut. As a kid, I was deeply creative with a particular amour for theatre, but I drifted away from it in high school and always wanted to go back. After I graduated high school, like most kids, I had no idea what I wanted to do. I decided to pursue a finance degree because it seemed practical, and I wanted to see more women in business, so I applied and got in. There was also a third reason lurking around in my head. I told myself, if I end up acting one day, I'll be an artist with a finance degree – so I'll be twice as strong!
I thought that finance would help me be a balanced artist that didn't go broke because I didn't understand money management. So in my mind, acting was always the end goal. I just did not want to face it because I didn't believe it was a real option. Towards the end of my degree, I realized that I hadn't explored acting at all during my college years. So, in my final year of business school, I finally took a theatre class at my university, and I was immediately turned on. I just knew after that first acting class that I needed to pursue it further. I decided to finish my finance degree, and then I gave myself three years to see what happened if I went into the arts and pursued my passion as an actual career. Giving myself the three-year limit pushed me to do everything I could in that time to achieve my goal. I wanted to know that I did everything in my power over those three years so that if life had different plans for me, I could say to myself: "Well Tas, you worked your butt off for your goal, and nothing happened… Maybe acting isn't your path." Fortunately, the opposite was true. I started working pretty quickly, and the rest is history, as they say. But that whole story just really helped me understand the importance of goal setting. It's everything.
How do you keep yourself grounded and balanced every day, considering the large amount of traction you get on social media and online?
It's honestly really tough to balance all the craziness. At first, it was really difficult to not be on my phone constantly, but I put little things in place to help me so I don't get sucked into social media tornadoes too often. It's not good for my mental health, and it keeps me disengaged from real life, so I have protected myself with little tricks. A few of us on the 100 created a shortcut on our phones, so when you click the side button three times, the screen becomes a grayscale, which helps reduce the hits of dopamine you get every time you look at your phone. I always have my phone on silent, all notifications are off, and I just try not to use it as much as possible, except lazy weekends, or if I miraculously have a bunch of time, or there's an event. I'm kind of known in the group as the person who's the worst at responding to text messages, and sometimes even weeks go by. But I don't really care because it just means my real life is moving and shaking so much that I don't have time to be on my phone. But yeah, I have to force myself to do things that slow me down and ground me, so I don't lose my mind because of all the internet and clicking all day. Things like yoga, meditation, music, working out, and cooking are all things that chill me out and bring me creative freedom to stay balanced. Part of that is making sure to eat well. I use supplements to make sure my adrenals and hormones are supported and eating as healthy as I can. But as far as social media is concerned, you just have to be smart about how you use it and what you allow into your life. Perusing Instagram or Twitter can be stressful, addictive, and toxic if we aren't careful. The internet is as lovely or awful as we allow it to be, so I try to ensure that I keep away from any negativity and just put out as much positivity as I can. I also limit how much news I ingest for the same reason. It can be very taxing on our nervous systems to engage in or digest these tiny pieces of negativity daily. I put a stop to it where I can and surround myself in barriers of positivity, good friendships, and humor when I'm online.
Entertainment and Acting
What was it like when you first landed your role on The 100?
After my first few days at work, I fell in love with the entire show almost immediately. I loved the atmosphere on set, I loved the cast, I loved the story, and I loved the grandiosity of the costumes, props, weaponry, and set décor, etc.. Everything was so elaborate and gritty. We weren't just wearing everyday jeans and t-shirts. We were dressed in leather, chains, fur, and then covered in dust, bruises, blood, and armed with swords, bo staffs, bows, guns and arrows, the whole nine yards. It was so fantastical and surreal at first, but very quickly, it felt strangely familiar. Like, maybe I actually was Echo in a past life, haha. Or perhaps I just have a thing for bo staffs and chains. Either way, it was definitely an exciting time, and I felt like I was meant to be there for any amount of time. The fact I got to portray her for five seasons was such an unbelievable joy. I'll miss Echo, and the whole 100 world, with all my heart.
After seven seasons, The 100 is now on its "Final Chapter." How does this make you feel, and how has the show and playing Echo changed your life?
I honestly haven't emotionally confronted the fact that the show is ending. I think 2020 has been bleak enough. I'm just going to sit in denial until the bitter end of the show, then likely have an emotional breakdown during the series finale. And yes, I'll have to watch it alone, so I
don't embarrass myself. But honestly, the show has changed my life in so many ways. It's difficult even to understand them all. Playing Echo, and being on The 100, has challenged me in so many different ways; it has made me a better person, a stronger actor, and solidified my belief that anything is possible. The many lessons I've learned over the last five years are innumerable. I mostly feel gratitude for portraying such a complex character on such a boundary-pushing show, with such an involved fan base. The show allowed me to explore things like tribalism, survival, trauma, mental health, leadership, and identity, amongst many, many others. It's an experience I will always hold dear to my heart and something I'm infinitely proud that I was a part of.
You've posted about how the show wrapped during quarantine – how else has the pandemic affected your ability to be on set, work, and see your coworkers?
Well, the pandemic pretty much extinguished our ability to be on set. Some productions are starting up again, but it will be challenging as we all try to figure out how to navigate this new covid landscape in film production. Just like the rest of the world, we are all waiting eagerly for the moment we can get back to 'normal,' but it's a very fragile situation, especially with colder months ahead. I've been particularly cautious since the pandemic hit. I don't take any chances, and I don't take my health or anyone else's health for granted. On set, we have to work very intimately with a large group of people, so I'm all about wearing masks when I go out into the world for my daily errands. I still use hand sanitizer religiously and wash my hands frequently. I think it's a really small inconvenience in order to protect everyone's safety (and everyone's livelihood). The more people uphold these standards, the faster we can all get back to work. Seeing my colleagues has been challenging since March. We occasionally get together in small groups and stay in contact. It sucks that in our final season, we weren't able to celebrate the end of our show with one wrap party for the ages, but we're all very close still, and I don't doubt a party is on the horizon once it's safe. I personally love throwing parties, so when things get back to 'normal,' I'll definitely be organizing a little fiesta. I have too many lonely party dresses that are just begging to be danced in. It would be rude not to.
Any big projects in the works now that The 100 has wrapped? What can fans and audiences look forward to in 2021?
I am always toiling away on different projects, so yes, there are things baking right now that people can look forward to in 2021. I guess you'll just have to wait and see!
COVID-19 and Social Issues
How have you been maintaining your overall physical and mental health during quarantine? Any tips or suggestions for readers struggling?
Yoga yoga yoga. Then more yoga. Whenever I stop doing yoga, things always get weird. I get weird. You don't want to be around me when yoga isn't in my life. I don't want to be around myself when yoga isn't in my life. It's something that I do for myself, something that I practice daily, and I am totally addicted to it. Besides that, I'm still developing a better mental health regime, if I'm honest. I didn't anticipate how deeply the pandemic would rock my sense of security and my general mental health. It's been a really difficult year for many of us, and many times I didn't know how I was going to get through the deep emotional pitfalls that I found myself stuck in for days, or weeks, at a time. One surprising gift that covid brought is that it truly forced me to sit with all my crap, my patterns, my cycles, and to learn how to get unstuck. It's literally a daily practice of observation "how am I feeling today? Why do I feel weird?" and exploration, "I want to eat junk and stare at a screen until I'm numb, but maybe getting outside and going for a walk will help. And if it doesn't, maybe I just need a nap, not a screen." That's how I discovered my solo dance parties for mental health! I just tried a bunch of things when nothing else was working. We intuitively know what is best for us, but our intuition gets drowned out by all that noise when we are distracted. One thing I would suggest to readers who are struggling is that when times are tough, don't get lazy and resort to mindless screen-staring. It's too easy and doesn't help. Be curious about why you're feeling the way you're feeling. What's behind the sadness, anxiety, or discomfort. Develop a vocabulary to describe it. Then actually try things to get yourself out of it. Write mantras on your mirror, do some art, write in a journal, try a new recipe, give yourself a project, become a minimalist, or just permit yourself to be silly! One day when the world was feeling particularly serious and stressful, I really needed to bring some levity to my life but didn't know what to do to shake those yucky feelings. Then it dawned on me: I needed to dance. I turned on some music, and I danced around my apartment by myself for about forty minutes. Singing and dancing bring so much joy to our lives. I think we all need to be singing and dancing as much as possible right now. Actually, try dancing like nobody's watching. I did, and it was glorious!
You've been very vocal about the Black Lives Matter movement and about justice for Breonna Taylor on your social media. Do you have anything you'd like to touch on when it comes to that topic?
To me, it's straightforward. When people suffer in our community, we come together to support those who are suffering, and we push to make change. We push to make the government listen to us. If we don't fight for everyone's human rights, we can't expect our own to be safe –
no matter what demographic you fall under. As a millennial in Canada, I grew up taking a lot of things for granted. I didn't know what it was like to truly fight for anything. I didn't understand how much pain is behind a human rights movement. But if this year has shown us anything, it's to not take our jobs, our health, or our freedoms for granted. That's why I'm particularly vocal right now. There were people before me who fought for my freedoms. Trailblazers who fought for my right to vote, to have a voice, to earn my own money, and to be a strong woman in society. I'm going to honor their sacrifice, their fight, by doing the same for others when they need it. I believe that change is good. Progress should help people to feel supported and inspired to live their best lives and give back. When people feel limited, abused, ignored, crippled, enslaved, or exploited, nobody wins. There is social unrest. The government should listen, respond to us, and our demands, to uphold and value as a society. If no one is talking, then the government thinks everything is cool. No change happens. If we don't show up for our neighbors, how can we expect them to show up for us when we might need their help in the future? I don't want to be the passive generation that messed it up in the history books. I don't want to be the generation that people in the future read about and think, "Why didn't anyone do anything?" We are better than that. We are too loving, too smart, and too compassionate as humans to watch our neighbors suffer alone. No matter what the crazy politicians say, no matter how much fear and confusion they create, I know in my heart what that the right thing to do is help those who are suffering. So I'm going to do it.
Share your thoughts...