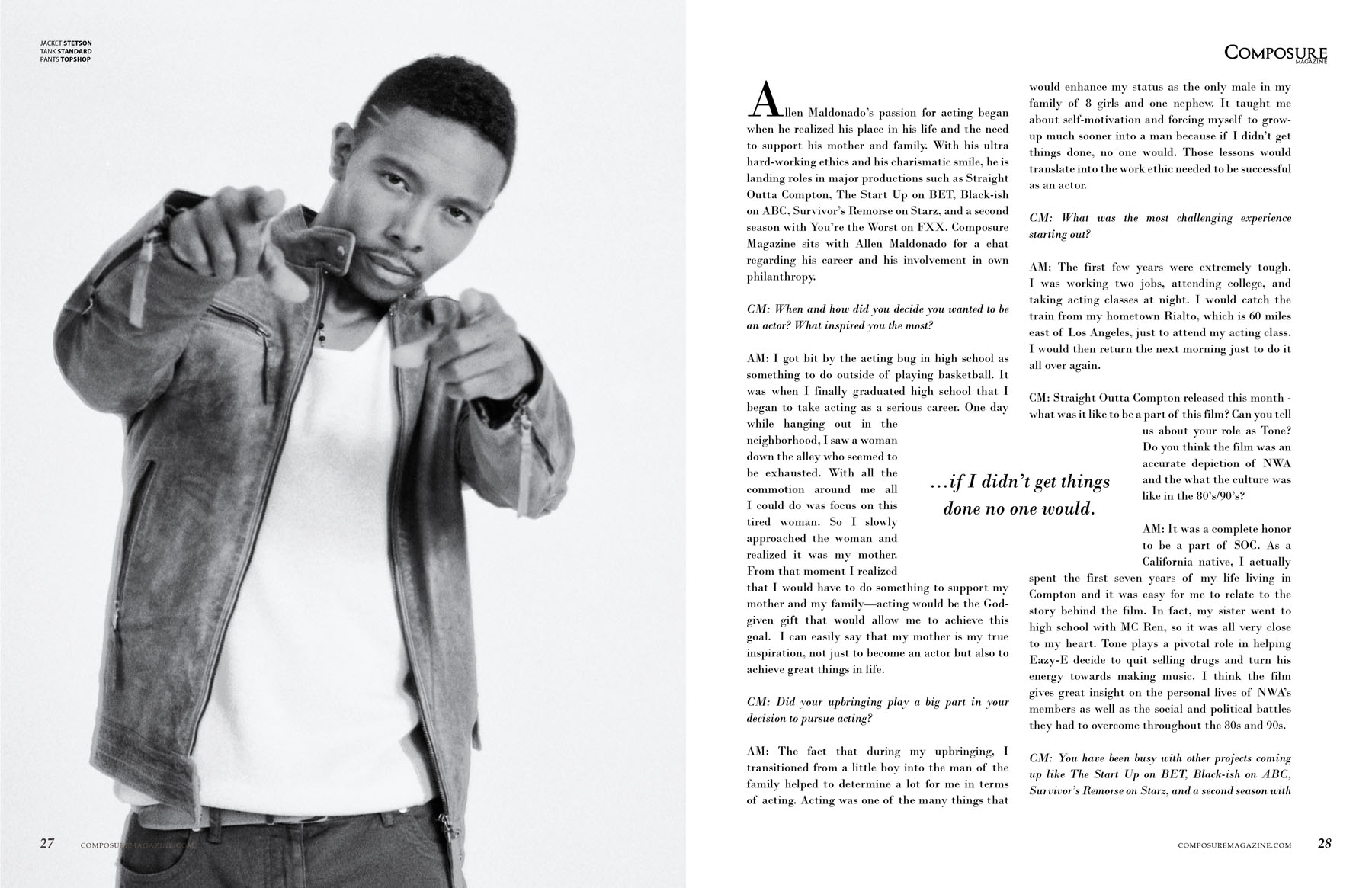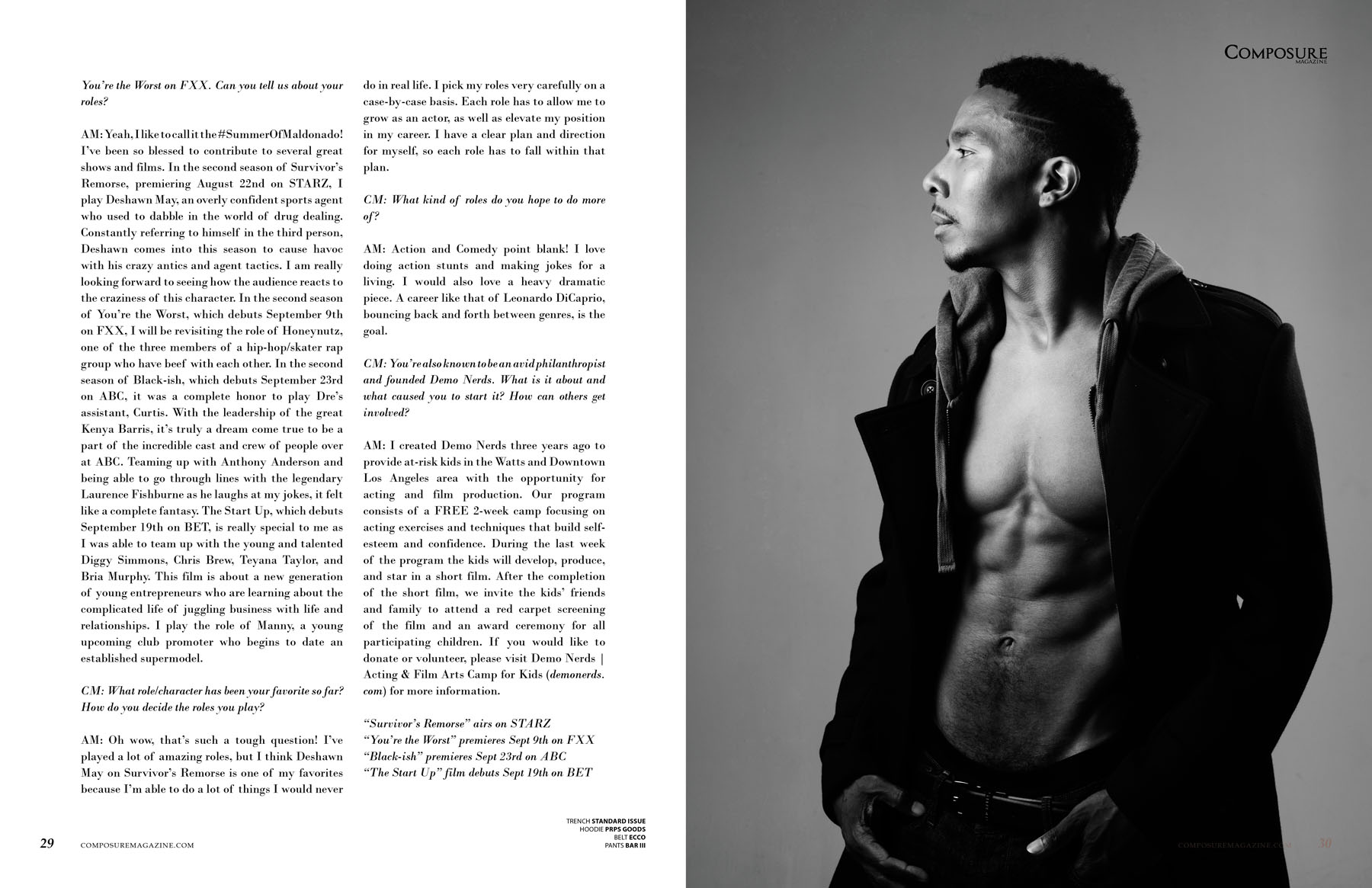 Allen Maldonado
Allen Maldonado's passion for acting began when he realized his place in his life and the need to support his mother and family. With his ultra hard-working ethics and his charismatic smile, he is landing roles in major productions such as Straight Outta Compton, The Start Up on BET, Black-ish on ABC, Survivor's Remorse on Starz, and a second season with You're the Worst on FXX. Composure Magazine sits with Allen Maldonado for a chat regarding his career and his involvement in own philanthropy.
CM: When and how did you decide you wanted to be an actor? What inspired you the most?
AM: I got bit by the acting bug in high school as something to do outside of playing basketball. It was when I finally graduated high school that I began to take acting as a serious career. One day while hanging out in the neighborhood, I saw a woman down the alley who seemed to be exhausted. With all the commotion around me all I could do was focus on this tired woman. So I slowly approached the woman and realized it was my mother. From that moment I realized that I would have to do something to support my mother and my family—acting would be the God-given gift that would allow me to achieve this goal. I can easily say that my mother is my true inspiration, not just to become an actor but also to achieve great things in life.
CM: Did your upbringing play a big part in your decision to pursue acting?
AM: The fact that during my upbringing, I transitioned from a little boy into the man of the family helped to determine a lot for me in terms of acting. Acting was one of the many things that would enhance my status as the only male in my family of 8 girls and one nephew. It taught me about self-motivation and forcing myself to grow-up much sooner into a man because if I didn't get things done, no one would. Those lessons would translate into the work ethic needed to be successful as an actor.
CM: What was the most challenging experience starting out?
AM: The first few years were extremely tough. I was working two jobs, attending college, and taking acting classes at night. I would catch the train from my hometown Rialto, which is 60 miles east of Los Angeles, just to attend my acting class. I would then return the next morning just to do it all over again.
CM: Straight Outta Compton released this month – what was it like to be a part of this film? Can you tell us about your role as Tone? Do you think the film was an accurate depiction of NWA and the what the culture was like in the 80's/90's?
AM: It was a complete honor to be a part of SOC. As a California native, I actually spent the first seven years of my life living in Compton and it was easy for me to relate to the story behind the film. In fact, my sister went to high school with MC Ren, so it was all very close to my heart. Tone plays a pivotal role in helping Eazy-E decide to quit selling drugs and turn his energy towards making music. I think the film gives great insight on the personal lives of NWA's members as well as the social and political battles they had to overcome throughout the 80s and 90s.
CM: You have been busy with other projects coming up like The Start Up on BET, Black-ish on ABC, Survivor's Remorse on Starz, and a second season with You're the Worst on FXX. Can you tell us about your roles?
AM: Yeah, I like to call it the #SummerOfMaldonado! I've been so blessed to contribute to several great shows and films. In the second season of Survivor's Remorse, premiering August 22nd on STARZ, I play Deshawn May, an overly confident sports agent who used to dabble in the world of drug dealing. Constantly referring to himself in the third person, Deshawn comes into this season to cause havoc with his crazy antics and agent tactics. I am really looking forward to seeing how the audience reacts to the craziness of this character. In the second season of You're the Worst, which debuts September 9th on FXX, I will be revisiting the role of Honeynutz, one of the three members of a hip-hop/skater rap group who have beef with each other. In the second season of Black-ish, which debuts September 23rd on ABC, it was a complete honor to play Dre's assistant, Curtis. With the leadership of the great Kenya Barris, it's truly a dream come true to be a part of the incredible cast and crew of people over at ABC. Teaming up with Anthony Anderson and being able to go through lines with the legendary Laurence Fishburne as he laughs at my jokes, it felt like a complete fantasy. The Start Up, which debuts September 19th on BET, is really special to me as I was able to team up with the young and talented Diggy Simmons, Chris Brew, Teyana Taylor, and Bria Murphy. This film is about a new generation of young entrepreneurs who are learning about the complicated life of juggling business with life and relationships. I play the role of Manny, a young upcoming club promoter who begins to date an established supermodel.
CM: What role/character has been your favorite so far? How do you decide the roles you play?
AM: Oh wow, that's such a tough question! I've played a lot of amazing roles, but I think Deshawn May on Survivor's Remorse is one of my favorites because I'm able to do a lot of things I would never do in real life. I pick my roles very carefully on a case-by-case basis. Each role has to allow me to grow as an actor, as well as elevate my position in my career. I have a clear plan and direction for myself, so each role has to fall within that plan.
CM: What kind of roles do you hope to do more of?
AM: Action and Comedy point blank! I love doing action stunts and making jokes for a living. I would also love a heavy dramatic piece. A career like that of Leonardo DiCaprio, bouncing back and forth between genres, is the goal.
CM: You're also known to be an avid philanthropist and founded Demo Nerds. What is it about and what caused you to start it? How can others get involved?
AM: I created Demo Nerds three years ago to provide at-risk kids in the Watts and Downtown Los Angeles area with the opportunity for acting and film production. Our program consists of a FREE 2-week camp focusing on acting exercises and techniques that build self-esteem and confidence. During the last week of the program the kids will develop, produce, and star in a short film. After the completion of the short film, we invite the kids' friends and family to attend a red carpet screening of the film and an award ceremony for all participating children. If you would like to donate or volunteer, please visit Demo Nerds | Acting & Film Arts Camp for Kids (demonerds.com) for more information.
"Survivor's Remorse" airs on STARZ
"You're the Worst" premieres Sept 9th on FXX
"Black-ish" premieres Sept 23rd on ABC
"The Start Up" film debuts Sept 19th on BET
PHOTOGRAPHY BY JOSEFHALEY
STYLING BY ROBIAT BALOGUN
GROOMING BY CHELSEA YUSUF
INTERVIEW BY JANE HONG
Share your thoughts...