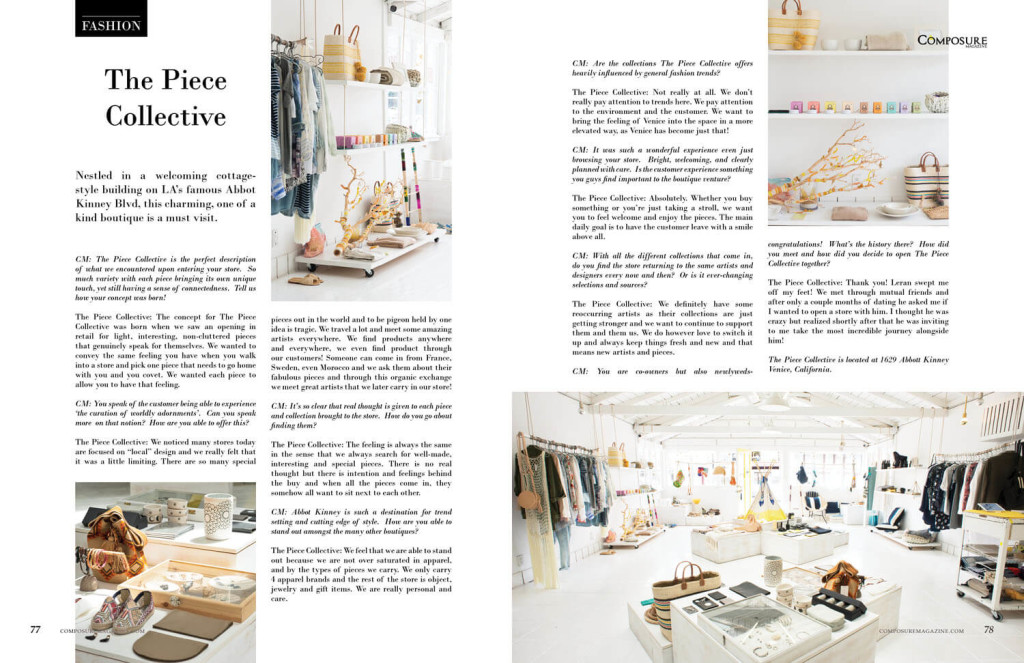 Fashion Boutique Profile: The Piece Collective
Nestled in a welcoming cottage-style building on LA's famous Abbot Kinney Blvd, this charming, one of a kind boutique is a must visit.
CM: The Piece Collective is the perfect description of what we encountered upon entering your store. So much variety with each piece bringing its own unique touch, yet still having a sense of connectedness. Tell us how your concept was born!
The Piece Collective: The concept for The Piece Collective was born when we saw an opening in retail for light, interesting, non-cluttered pieces that genuinely speak for themselves. We wanted to convey the same feeling you have when you walk into a store and pick one piece that needs to go home with you and you covet. We wanted each piece to allow you to have that feeling.
CM: You speak of the customer being able to experience 'the curation of worldly adornments'. Can you speak more on that notion? How are you able to offer this?
The Piece Collective: We noticed many stores today are focused on "local" design and we really felt that it was a little limiting. There are so many special pieces out in the world and to be pigeon held by one idea is tragic. We travel a lot and meet some amazing artists everywhere. We find products anywhere and everywhere, we even find product through our customers! Someone can come in from France, Sweden, even Morocco and we ask them about their fabulous pieces and through this organic exchange we meet great artists that we later carry in our store!
CM: It's so clear that real thought is given to each piece and collection brought to the store. How do you go about finding them?
The Piece Collective: The feeling is always the same in the sense that we always search for well-made, interesting and special pieces. There is no real thought but there is intention and feelings behind the buy and when all the pieces come in, they somehow all want to sit next to each other.
CM: Abbot Kinney is such a destination for trend setting and cutting edge of style. How are you able to stand out amongst the many other boutiques?
The Piece Collective: We feel that we are able to stand out because we are not over saturated in apparel, and by the types of pieces we carry. We only carry 4 apparel brands and the rest of the store is object, jewelry and gift items. We are really personal and care.
CM: Are the collections The Piece Collective offers heavily influenced by general fashion trends?
The Piece Collective: Not really at all. We don't really pay attention to trends here. We pay attention to the environment and the customer. We want to bring the feeling of Venice into the space in a more elevated way, as Venice has become just that!
CM: It was such a wonderful experience even just browsing your store. Bright, welcoming, and clearly planned with care. Is the customer experience something you guys find important to the boutique venture?
The Piece Collective: Absolutely. Whether you buy something or you're just taking a stroll, we want you to feel welcome and enjoy the pieces. The main daily goal is to have the customer leave with a smile above all.
CM: With all the different collections that come in, do you find the store returning to the same artists and designers every now and then? Or is it ever-changing selections and sources?
The Piece Collective: We definitely have some reoccurring artists as their collections are just getting stronger and we want to continue to support them and them us. We do however love to switch it up and always keep things fresh and new and that means new artists and pieces.
CM: You are co-owners but also newlyweds- congratulations! What's the history there? How did you meet and how did you decide to open The Piece Collective together?
The Piece Collective: Thank you! Leran swept me off my feet! We met through mutual friends and after only a couple months of dating he asked me if I wanted to open a store with him. I thought he was crazy but realized shortly after that he was inviting to me take the most incredible journey alongside him!
The Piece Collective is located at 1629 Abbott Kinney Venice, California.
Share your thoughts...