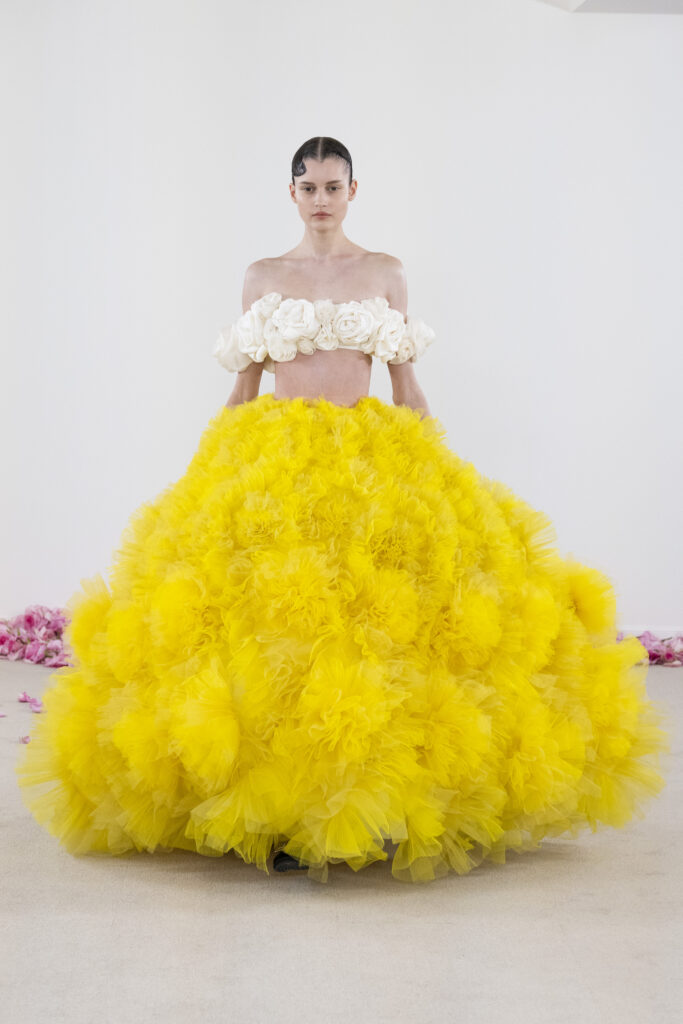 Only an artist can stop time and encapsulate it in a moment that lasts an eternity. But it takes a great artist to take this eternity and even turn it back, taking a time span and making it immeasurable.
Giambattista Valli did this with his Haute Couture N°25.
With dresses that defy the threshold of time, the collection brings with it the elegance of the first fashion shows. From a mood board that traces the 50s up to dipping into the present day with photos of the current collection, Valli makes couture travel from its earliest glories to today.
Showcase in the most intimate place, or rather the new headquarters of the brand, with an elegant, simple setup made of clear carpeted rooms and gold chairs, Valli removes the superfluous and the frills and leaves full space for the essential…the clothes.
The defile is an escalation of emotions and gasps that begin with Ella Richards and the two-tone strapless dress in silk faille with silk organza ruffles and close with Olympia of Greece and her dress with pleated tulle ruffles in "Bois de Rose" with a graduated "Harlequin" pattern. There is also space for Valli's trademarks, such as weightless volumes and the gourmand taffeta with a soft cloud touch.
The asymmetrical draped dress in "Roses Bouquets" taffeta chiné with big bows immediately takes to an evening to be spent in St Tropez while the draped silk faille dress with a train tied in a bow is the dress that is needed to be seen on a red carpet.
In an era where too often the "circus and the peasant extravaganza" seem to have to be the masters, Valli reminds us that the quintessence of true elegance is silent, simple, with a mysterious allure. Sometimes frivolous but always intelligent.
Share your thoughts...