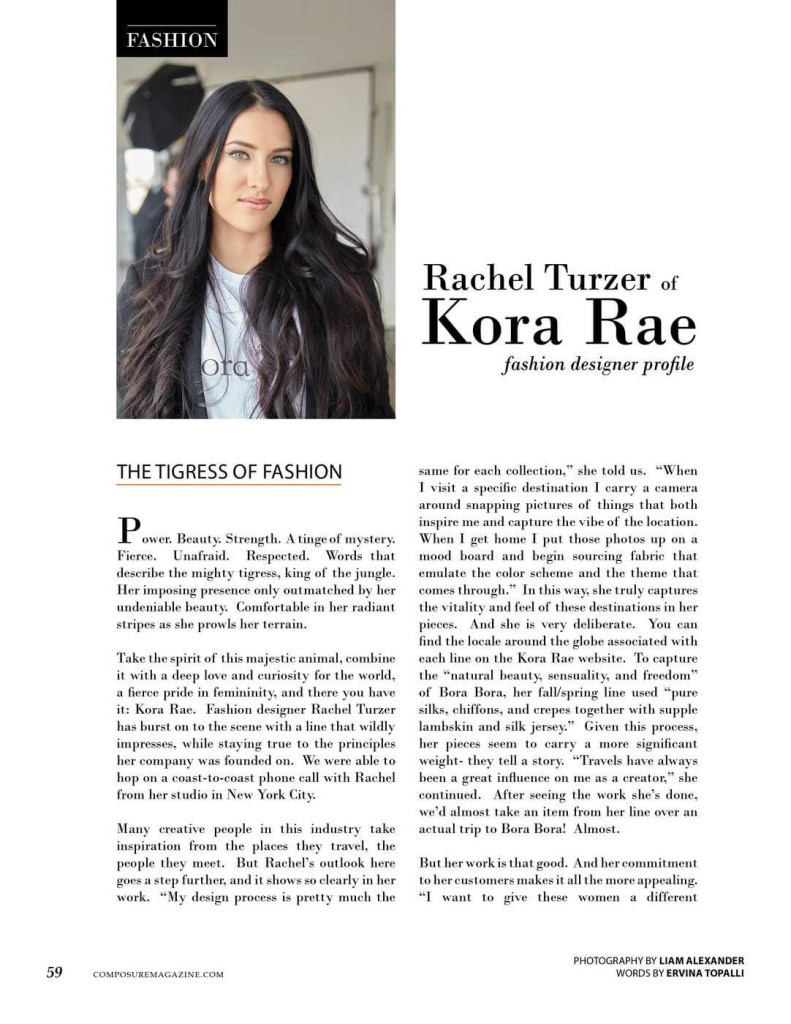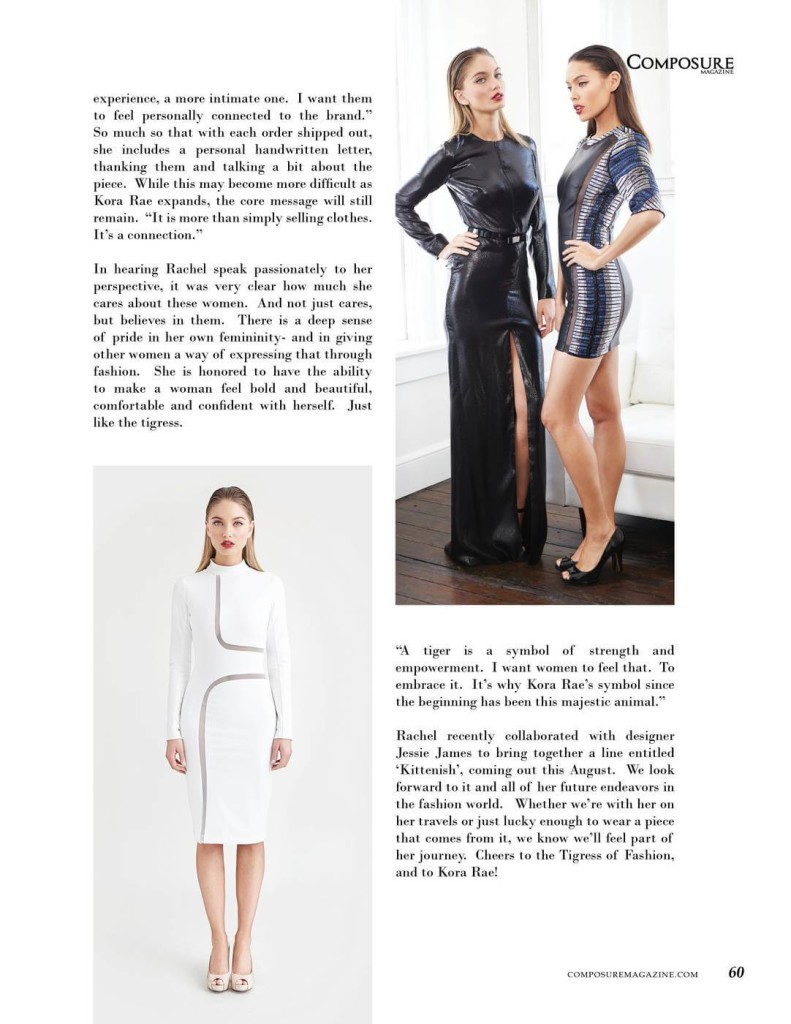 Rachel Turzer of Kora Rae: The Tigress of Fashion by Ervina Topalli
—
Power. Beauty. Strength. A tinge of mystery. Fierce. Unafraid. Respected. Words that describe the mighty tigress, king of the jungle. Her imposing presence only outmatched by her undeniable beauty. Comfortable in her radiant stripes as she prowls her terrain.
Take the spirit of this majestic animal, combine it with a deep love and curiosity for the world, a fierce pride in femininity, and there you have it: Kora Rae. Fashion designer Rachel Turzer has burst on to the scene with a line that wildly impresses, while staying true to the principles her company was founded on. We were able to hop on a coast-to-coast phone call with Rachel from her studio in New York City.
Many creative people in this industry take inspiration from the places they travel, the people they meet. But Rachel's outlook here goes a step further, and it shows so clearly in her work. "My design process is pretty much the same for each collection," she told us. "When I visit a specific destination I carry a camera around snapping pictures of things that both inspire me and capture the vibe of the location. When I get home I put those photos up on a mood board and begin sourcing fabric that emulate the color scheme and the theme that comes through." In this way, she truly captures the vitality and feel of these destinations in her pieces. And she is very deliberate. You can find the locale around the globe associated with each line on the Kora Rae website. To capture the "natural beauty, sensuality, and freedom" of Bora Bora, her fall/spring line used "pure silks, chiffons, and crepes together with supple lambskin and silk jersey." Given this process, her pieces seem to carry a more significant weight- they tell a story. "Travels have always been a great influence on me as a creator," she continued. After seeing the work she's done, we'd almost take an item from her line over an actual trip to Bora Bora! Almost.
But her work is that good. And her commitment to her customers makes it all the more appealing. "I want to give these women a different experience, a more intimate one. I want them to feel personally connected to the brand." So much so that with each order shipped out, she includes a personal handwritten letter, thanking them and talking a bit about the piece. While this may become more difficult as Kora Rae expands, the core message will still remain. "It is more than simply selling clothes. It's a connection."
In hearing Rachel speak passionately to her perspective, it was very clear how much she cares about these women. And not just cares, but believes in them. There is a deep sense of pride in her own femininity- and in giving other women a way of expressing that through fashion. She is honored to have the ability to make a woman feel bold and beautiful, comfortable and confident with herself. Just like the tigress.
"A tiger is a symbol of strength and empowerment. I want women to feel that. To embrace it. It's why Kora Rae's symbol since the beginning has been this majestic animal."
Rachel recently collaborated with designer Jessie James to bring together a line entitled 'Kittenish', coming out this August. We look forward to it and all of her future endeavors in the fashion world. Whether we're with her on her travels or just lucky enough to wear a piece that comes from it, we know we'll feel part of her journey. Cheers to the Tigress of Fashion, and to Kora Rae!
Visit Kora Rae's website!
Rachel Turzer on Instagram, Twitter, Facebook, and Pinterest.
Share your thoughts...