WORK HARD & PLAY HARD – Amongst other things (like shoes, lots of shoes) all you need is a versatile wardrobe. There's nothing better than finding that perfect piece you can wear for any occasion. Here's our take on how to transition from work to play with this amazing skort from H&M.
Illamasqua Facet Palette in Aura, $72.00
Transition from natural eyes to smokey eyes in no time flat with this multi-purpose palette.
illamasqua.com
Manna Kadar Cosmetics Couture Blush, $27
The perfect cheek to lip stain in Blossom.
mannakadarcosmetics.com
Alepel by Adriana "FIL", $317
When in doubt go nude. It goes with everything;
alepel.com
Satchel Up Tan Handbag, $36;
Perfect day to night handbag with adjustable straps;
LuLus.com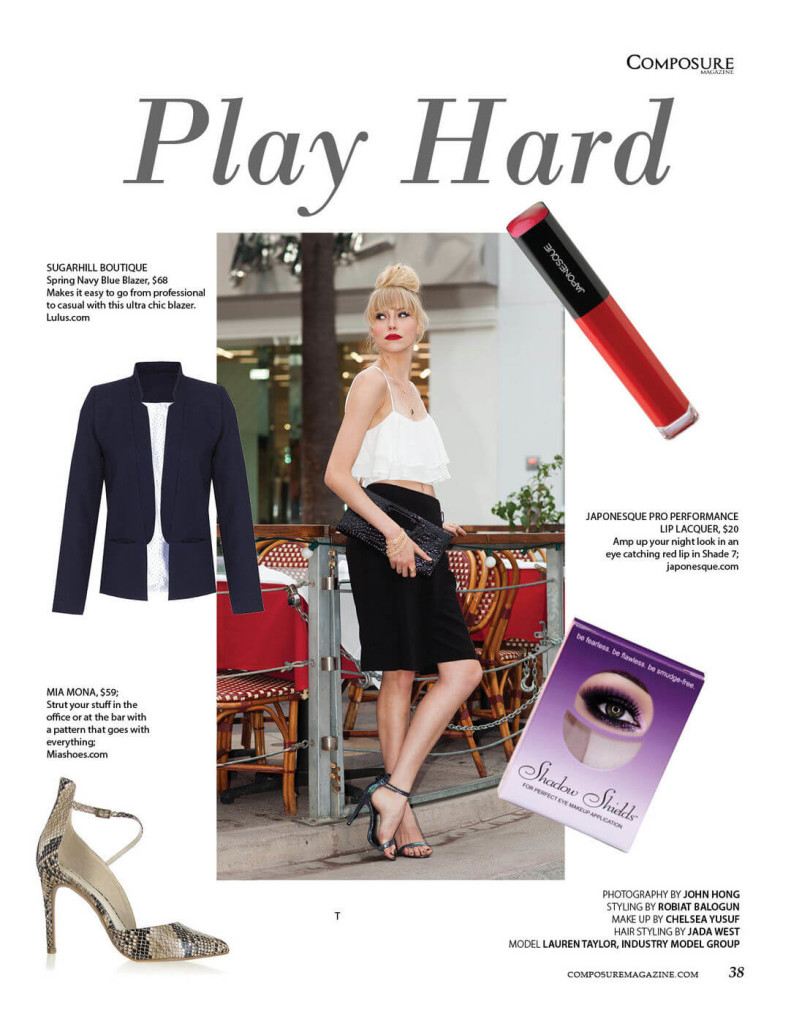 Sugarhill Boutique Spring Navy Blue Blazer, $68
Makes it easy to go from professional to casual with this ultra chic blazer.
Lulus.com
Japonesque Pro Performance Lip Lacquer, $20
Amp up your night look in an eye catching red lip in Shade 7;
japonesque.com
MIA MONA, $59;
Strut your stuff in the office or at the bar with a pattern that goes with everything.
Miashoes.com
Shadow Shield, $9.99
Now your secret weapon to transitioning your eye look without messing up your flawless foundation.
shadowshields.com
PHOTOGRAPHY BY JOHN HONG
STYLING BY ROBIAT BALOGUN
MAKE UP BY CHELSEA YUSUF
HAIR STYLING BY JADA WEST (THANK YOU EDUARDO PONCE)
MODEL LAUREN TAYLOR, INDUSTRY MODEL GROUP
Share your thoughts...