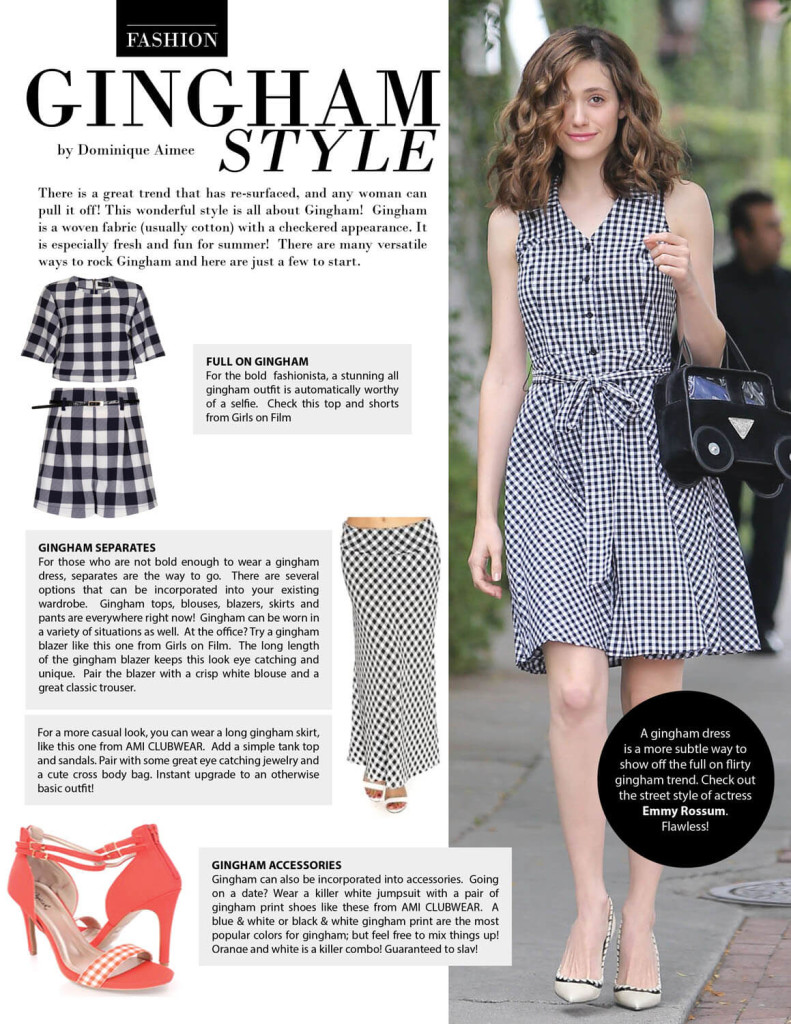 Gingham Style by Dominique Aimee
There is a great trend that has re-surfaced, and any woman can pull it off! This wonderful style is all about Gingham!  Gingham is a woven fabric (usually cotton) with a checkered appearance. It is especially fresh and fun for summer!  A gingham dress is a more subtle way to show off the full on flirty gingham trend. Check out the street style of actress Emmy Rossum pictured in our article. Flawless!  There are many versatile ways to rock Gingham and here are just a few to start.
Full On Gingham
For the bold fashionista, a stunning all gingham outfit is automatically worthy of a selfie.
Gingham Separates
For those who are not bold enough to wear a gingham dress, separates are the way to go. There are several options that can be incorporated into your existing wardrobe. Gingham tops, blouses, blazers, skirts and pants are everywhere right now! Gingham can be worn in a variety of situations as well. At the office? Try a gingham blazer like this one from Girls on Film. The long length of the gingham blazer keeps this look eye catching and unique. Pair the blazer with a crisp white blouse and a great classic trouser.  For a more casual look, you can wear a long gingham skirt.  Add a simple tank top and sandals. Pair with some great eye catching jewelry and a cute cross body bag. Instant upgrade to an otherwise basic outfit!
Gingham Accessories
Gingham can also be incorporated into accessories. Going on a date? Wear a killer white jumpsuit with a pair of gingham print shoes like these from AMI CLUBWEAR. A blue & white or black & white gingham print are the most popular colors for gingham; but feel free to mix things up! Orange and white is a killer combo! Guaranteed to slay!
Share your thoughts...