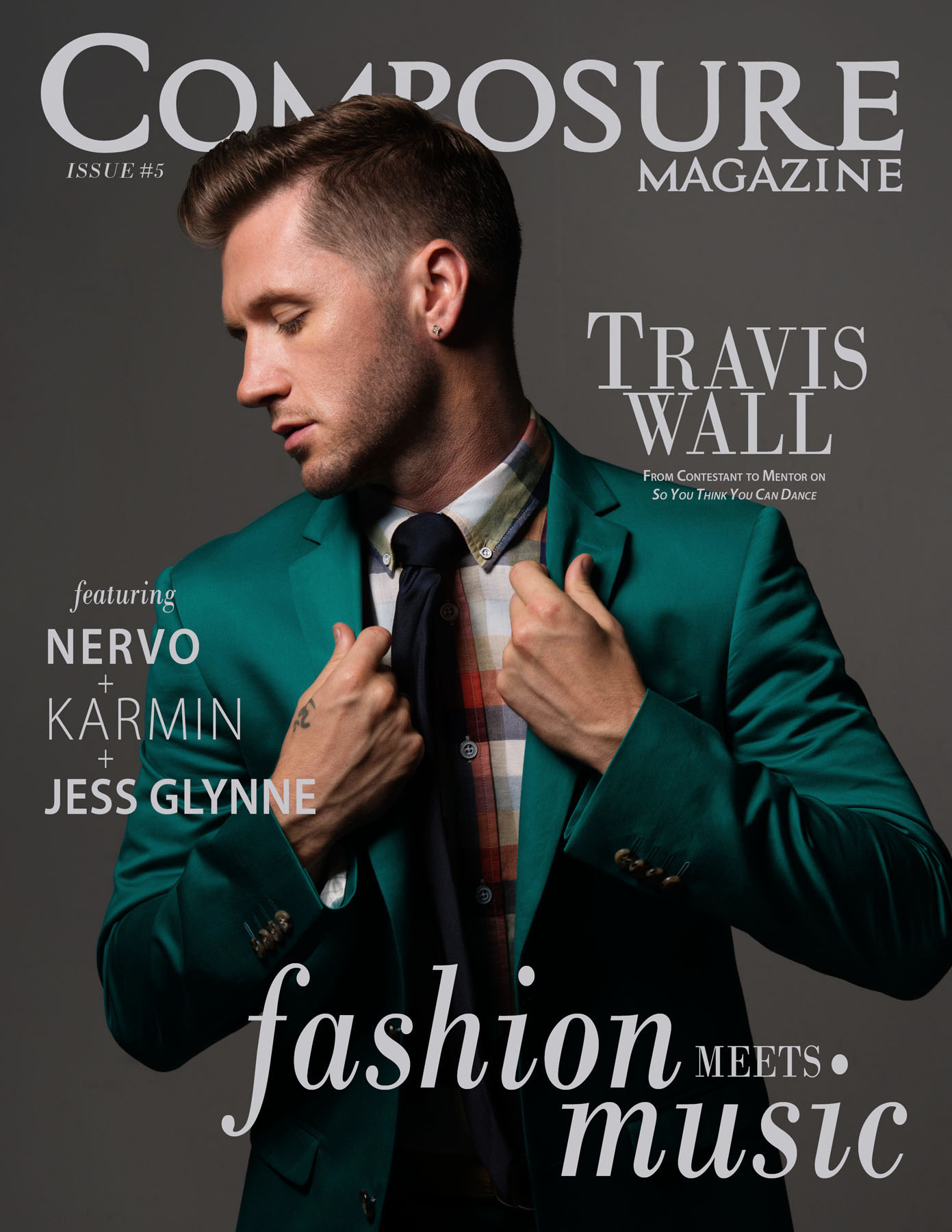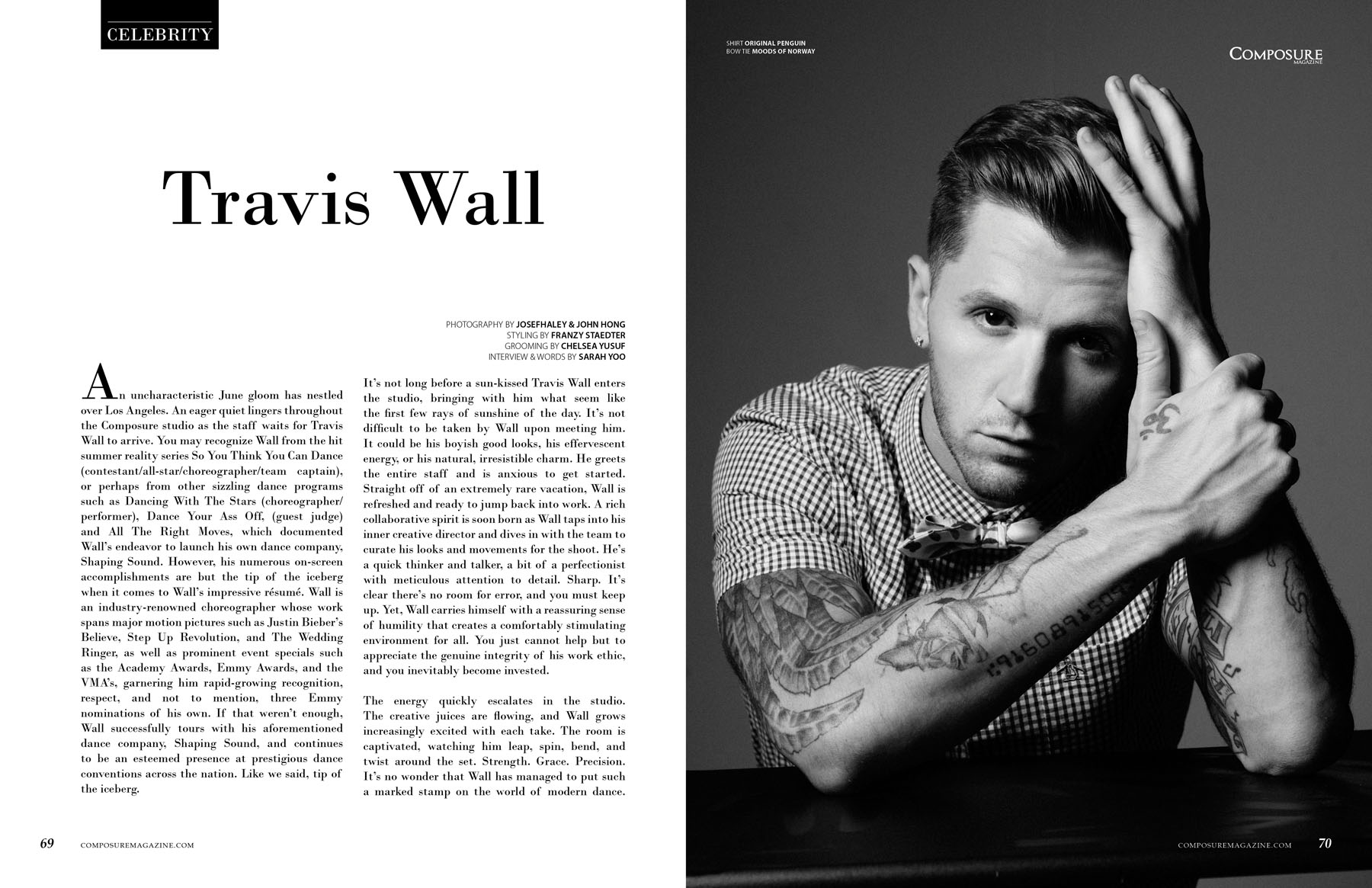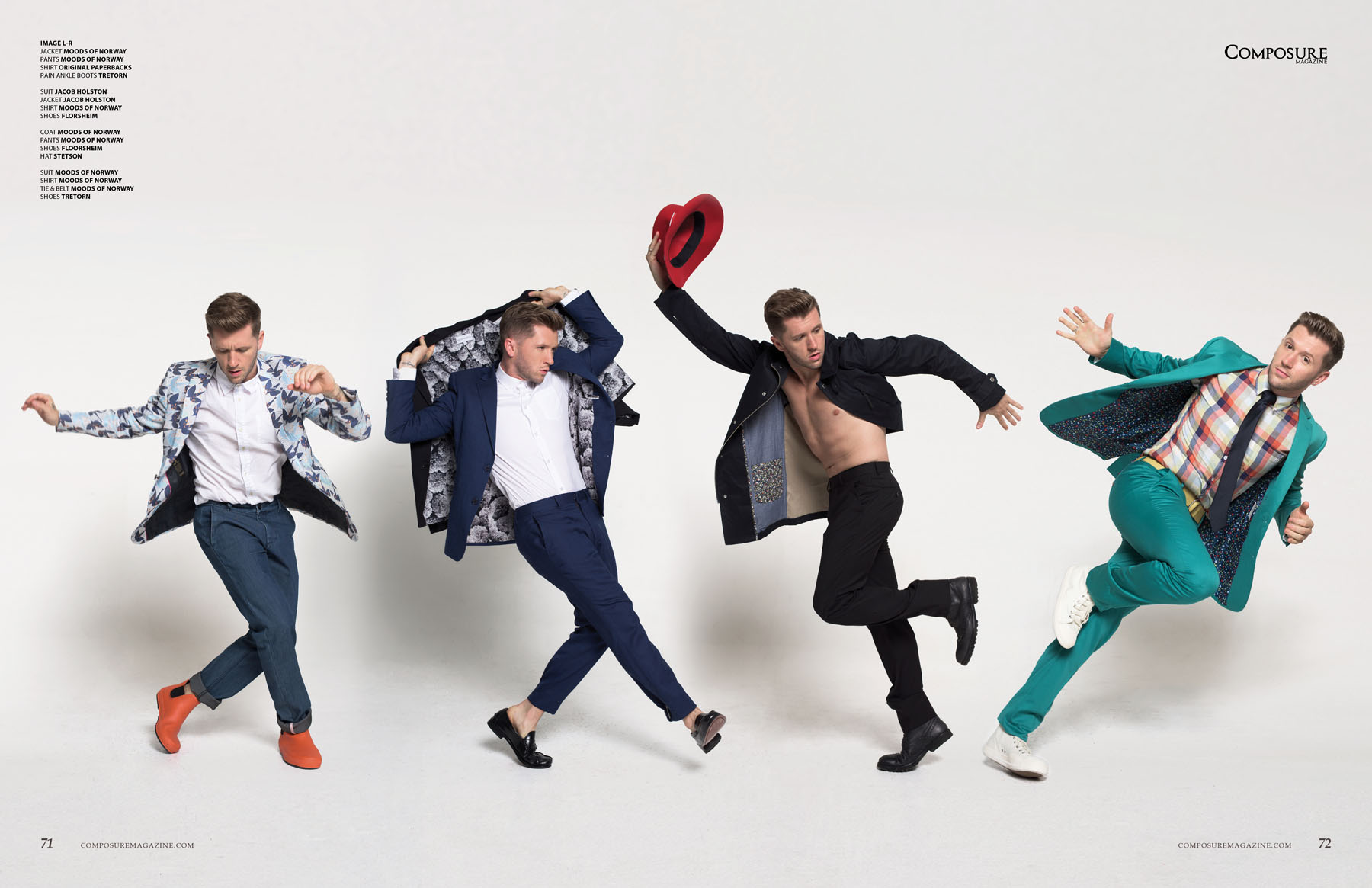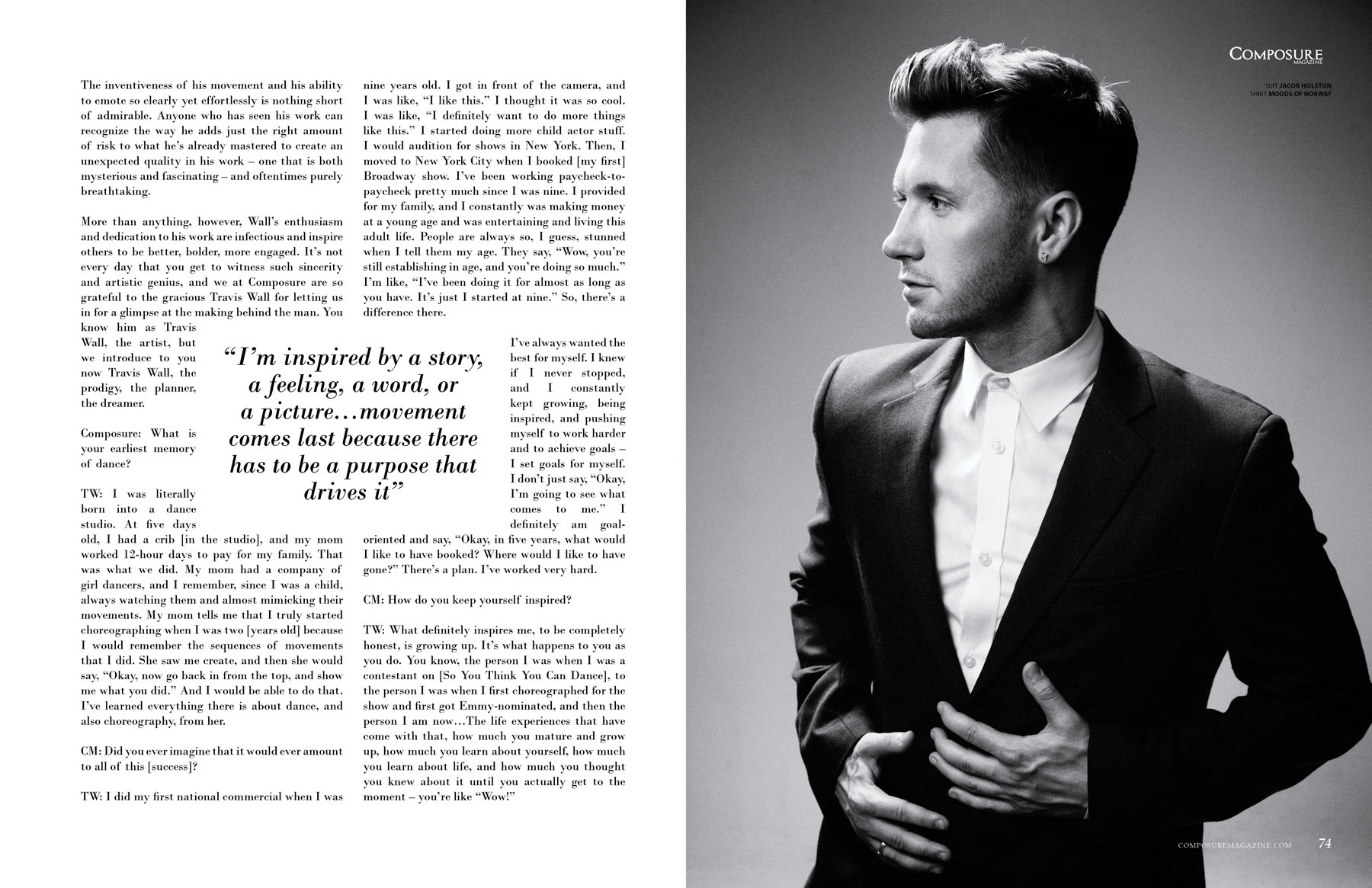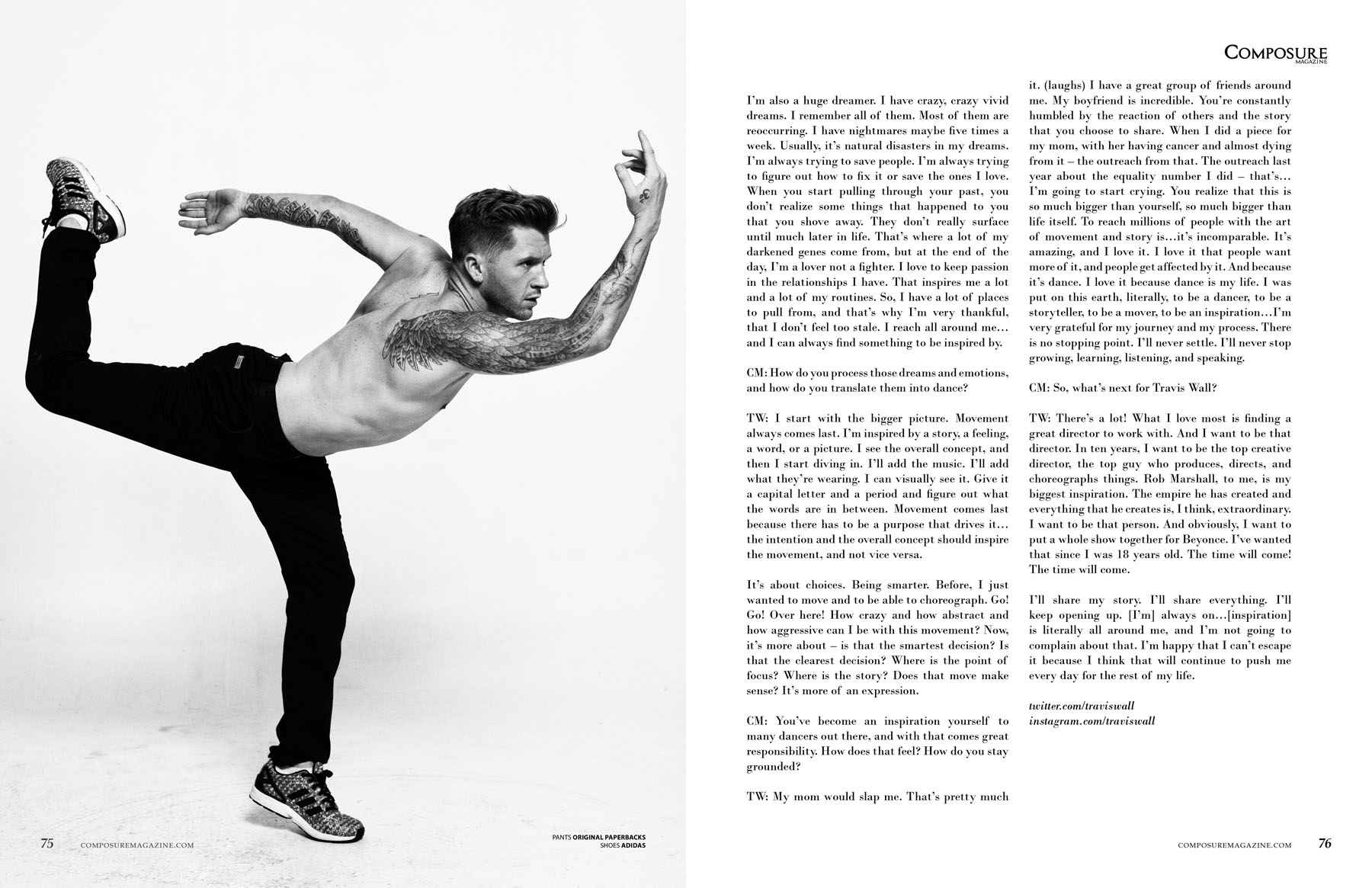 Cover Story: Travis Wall
An uncharacteristic June gloom has nestled over Los Angeles. An eager quiet lingers throughout the Composure studio as the staff waits for Travis Wall to arrive. You may recognize Wall from the hit summer reality series So You Think You Can Dance (contestant/all-star/choreographer/team captain), or perhaps from other sizzling dance programs such as Dancing With The Stars (choreographer/performer), Dance Your Ass Off, (guest judge) and All The Right Moves, which documented Wall's endeavor to launch his own dance company, Shaping Sound. However, his numerous on-screen accomplishments are but the tip of the iceberg when it comes to Wall's impressive résumé. Wall is an industry-renowned choreographer whose work spans major motion pictures such as Justin Bieber's Believe, Step Up Revolution, and The Wedding Ringer, as well as prominent event specials such as the Academy Awards, Emmy Awards, and the VMA's, garnering him rapid-growing recognition, respect, and not to mention, three Emmy nominations of his own. If that weren't enough, Wall successfully tours with his aforementioned dance company, Shaping Sound, and continues to be an esteemed presence at prestigious dance conventions across the nation. Like we said, tip of the iceberg.
It's not long before a sun-kissed Travis Wall enters the studio, bringing with him what seem like the first few rays of sunshine of the day. It's not difficult to be taken by Wall upon meeting him. It could be his boyish good looks, his effervescent energy, or his natural, irresistible charm. He greets the entire staff and is anxious to get started. Straight off of an extremely rare vacation, Wall is refreshed and ready to jump back into work. A rich collaborative spirit is soon born as Wall taps into his inner creative director and dives in with the team to curate his looks and movements for the shoot. He's a quick thinker and talker, a bit of a perfectionist with meticulous attention to detail. Sharp. It's clear there's no room for error, and you must keep up. Yet, Wall carries himself with a reassuring sense of humility that creates a comfortably stimulating environment for all. You just cannot help but to appreciate the genuine integrity of his work ethic, and you inevitably become invested.
The energy quickly escalates in the studio. The creative juices are flowing, and Wall grows increasingly excited with each take. The room is captivated, watching him leap, spin, bend, and twist around the set. Strength. Grace. Precision. It's no wonder that Wall has managed to put such a marked stamp on the world of modern dance. The inventiveness of his movement and his ability to emote so clearly yet effortlessly is nothing short of admirable. Anyone who has seen his work can recognize the way he adds just the right amount of risk to what he's already mastered to create an unexpected quality in his work – one that is both mysterious and fascinating – and oftentimes purely breathtaking.
More than anything, however, Wall's enthusiasm and dedication to his work are infectious and inspire others to be better, bolder, more engaged. It's not every day that you get to witness such sincerity and artistic genius, and we at Composure are so grateful to the gracious Travis Wall for letting us in for a glimpse at the making behind the man. You know him as Travis Wall, the artist, but we introduce to you now Travis Wall, the prodigy, the planner, the dreamer.
CM: What is your earliest memory of dance?
TW: I was literally born into a dance studio. At five days old, I had a crib [in the studio], and my mom worked 12-hour days to pay for my family. That was what we did. My mom had a company of girl dancers, and I remember, since I was a child, always watching them and almost mimicking their movements. My mom tells me that I truly started choreographing when I was two [years old] because I would remember the sequences of movements that I did. She saw me create, and then she would say, "Okay, now go back in from the top, and show me what you did." And I would be able to do that. I've learned everything there is about dance, and also choreography, from her.
CM: Did you ever imagine that it would ever amount to all of this [success]?
TW: I did my first national commercial when I was nine years old. I got in front of the camera, and I was like, "I like this." I thought it was so cool. I was like, "I definitely want to do more things like this." I started doing more child actor stuff. I would audition for shows in New York. Then, I moved to New York City when I booked [my first] Broadway show. I've been working paycheck-to-paycheck pretty much since I was nine. I provided for my family, and I constantly was making money at a young age and was entertaining and living this adult life. People are always so, I guess, stunned when I tell them my age. They say, "Wow, you're still establishing in age, and you're doing so much." I'm like, "I've been doing it for almost as long as you have. It's just I started at nine." So, there's a difference there.
I've always wanted the best for myself. I knew if I never stopped, and I constantly kept growing, being inspired, and pushing myself to work harder and to achieve goals – I set goals for myself. I don't just say, "Okay, I'm going to see what comes to me." I definitely am goal-oriented and say, "Okay, in five years, what would I like to have booked? Where would I like to have gone?" There's a plan. I've worked very hard.
CM: How do you keep yourself inspired?
TW: What definitely inspires me, to be completely honest, is growing up. It's what happens to you as you do. You know, the person I was when I was a contestant on [So You Think You Can Dance], to the person I was when I first choreographed for the show and first got Emmy-nominated, and then the person I am now…The life experiences that have come with that, how much you mature and grow up, how much you learn about yourself, how much you learn about life, and how much you thought you knew about it until you actually get to the moment – you're like "Wow!"
I'm also a huge dreamer. I have crazy, crazy vivid dreams. I remember all of them. Most of them are reoccurring. I have nightmares maybe five times a week. Usually, it's natural disasters in my dreams. I'm always trying to save people. I'm always trying to figure out how to fix it or save the ones I love. When you start pulling through your past, you don't realize some things that happened to you that you shove away. They don't really surface until much later in life. That's where a lot of my darkened genes come from, but at the end of the day, I'm a lover not a fighter. I love to keep passion in the relationships I have. That inspires me a lot and a lot of my routines. So, I have a lot of places to pull from, and that's why I'm very thankful, that I don't feel too stale. I reach all around me…and I can always find something to be inspired by.
CM: How do you process those dreams and emotions, and how do you translate them into dance?
TW: I start with the bigger picture. Movement always comes last. I'm inspired by a story, a feeling, a word, or a picture. I see the overall concept, and then I start diving in. I'll add the music. I'll add what they're wearing. I can visually see it. Give it a capital letter and a period and figure out what the words are in between. Movement comes last because there has to be a purpose that drives it…the intention and the overall concept should inspire the movement, and not vice versa.
It's about choices. Being smarter. Before, I just wanted to move and to be able to choreograph. Go! Go! Over here! How crazy and how abstract and how aggressive can I be with this movement? Now, it's more about – is that the smartest decision? Is that the clearest decision? Where is the point of focus? Where is the story? Does that move make sense? It's more of an expression.
CM: You've become an inspiration yourself to many dancers out there, and with that comes great responsibility. How does that feel? How do you stay grounded?
TW: My mom would slap me. That's pretty much it. (laughs) I have a great group of friends around me. My boyfriend is incredible. You're constantly humbled by the reaction of others and the story that you choose to share. When I did a piece for my mom, with her having cancer and almost dying from it – the outreach from that. The outreach last year about the equality number I did – that's…I'm going to start crying. You realize that this is so much bigger than yourself, so much bigger than life itself. To reach millions of people with the art of movement and story is…it's incomparable. It's amazing, and I love it. I love it that people want more of it, and people get affected by it. And because it's dance. I love it because dance is my life. I was put on this earth, literally, to be a dancer, to be a storyteller, to be a mover, to be an inspiration…I'm very grateful for my journey and my process. There is no stopping point. I'll never settle. I'll never stop growing, learning, listening, and speaking.
CM: So, what's next for Travis Wall?
TW: There's a lot! What I love most is finding a great director to work with. And I want to be that director. In ten years, I want to be the top creative director, the top guy who produces, directs, and choreographs things. Rob Marshall, to me, is my biggest inspiration. The empire he has created and everything that he creates is, I think, extraordinary. I want to be that person. And obviously, I want to put a whole show together for Beyonce. I've wanted that since I was 18 years old. The time will come! The time will come.
I'll share my story. I'll share everything. I'll keep opening up. [I'm] always on…[inspiration] is literally all around me, and I'm not going to complain about that. I'm happy that I can't escape it because I think that will continue to push me every day for the rest of my life.
twitter.com/traviswall
instagram.com/traviswall
PHOTOGRAPHY BY JOSEFHALEY & JOHN HONG
STYLING BY FRANZY STAEDTER
GROOMING BY CHELSEA YUSUF
INTERVIEW & WORDS BY SARAH YOO
Share your thoughts...