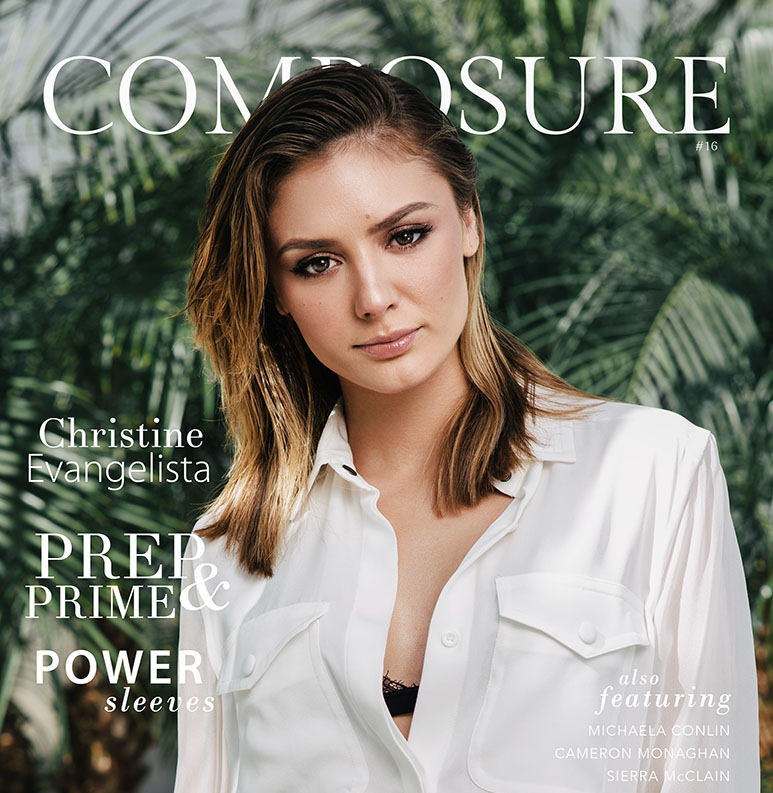 Actress Christine Evangelista on the head-on collision between reality and fiction on E!'s new hit drama "The Arrangement" 
Imagine walking on the red carpet as the star of a hit TV show in Hollywood. Blinding lights flash around you as you pose for the photographers in a stunning floor-length gown crafted specifically for you by Parisian designers. Your right hand is gently looped through the strong arms of an internationally famous actor—your boyfriend. You quickly turn to wave at a fan who screams your name in desperate hopes of catching your attention.
All of this, more or less, is reality for New York native Christine Evangelista—on and off camera. Currently starring as the young Hollywood up-and-comer Megan Morrison on E!'s romantic thriller "The Arrangement," real-life powerhouse actress Evangelista has the rare opportunity to mirror snippets of her actual life onto a fictional character. "It's a world within a world," Evangelista muses, as we talk about how intriguing it is for her, as a real-life actress, to play a fictional actress on the E! hit drama. Even meeting Josh Henderson, her co-star who plays internationally famous actor Kyle West, has become an example of how life imitates art. "We met at our audition," she explains when I ask her about their acting chemistry. "They had us audition together to see how our chemistry was from the start. That day, we rehearsed the scene where Megan and Kyle meet for the first time, and from that day on, as I developed my friendship with Josh in real life, Megan and Kyle's relationship in the show also grew. It's pretty trippy." Thankfully, Evangelista and Henderson hit if off, and she couldn't be happier with her on-screen counterpart.
Playing the role of an actress can also pose some real challenges! According to Evangelista, the line between reality and fiction become so blurred during filming that she easily confuses the actual show set with the made-up movie set in the show. "It'll be a little tricky sometimes," she says. "You'll be working on set, and you'll see your craft services and then the television show's craft services. You'll see extras that are playing crew members, and then you'll see your actual crew members. It reaches a point where you forget who is who, and it gets kind of confusing!"
Not surprisingly, this curious relationship between reality and fiction is a naturally prevalent, underlying theme in many of the scenes in "The Arrangement." The steamy drama unravels a Hollywood romance between Evangelista's Megan, an upcoming actress, and Henderson's Kyle, one of Hollywood's biggest stars. As the plot thickens, Kyle offers Megan a $10 million relationship contract, one that she cannot refuse. "Her world changes overnight," Evangelista describes. But it isn't long before the romance turns sour, and the contract that seemed so inviting at first is now traced back to secrets and a dark past. More importantly, Megan cannot help but wrestle with the thought: Does Kyle really love me, or is this relationship just a Hollywood show? "One of my favorite scenes is at the end of the pilot when Megan is preparing to get out of the limo for the first time as Kyle's girlfriend," Evangelista says. "Paparazzi are obviously waiting outside. There is a moment when Kyle reaches over, and Megan thinks he is going to touch her face or something. Instead, he fixes a strand of loose hair and gets out of the car. He basically fixes her to make her the perfect image of what he wants her to be. It's a false moment for her. She's thinking, 'Oh sh—t; what is it that I am actually doing?'"
But let's be honest, most of us would be more than tempted to accept such a contract offer, especially if it's coming from a dashingly handsome, not to mention world-famous, Hollywood actor. And whether it is for the whirlwind drama or the dynamic "Kygan" couple (a portmanteau affectionately dubbed by tabloids for Kyle + Megan), "The Arrangement" already boasts a steady stream of fans, some of whom willingly admit on the show's Instagram page that they are "seriously addicted" and "obsessed with this show!"
But has life always been this glam for Evangelista? "Not always," she clarifies. She reminisces about her first time on set of "Law and Order," sharing, "I played a hit-and-run victim. I was on the ground, covered in blood; I had oatmeal in my hair for brains, and after the scene, my mom came to pick me up. I was still covered in blood and oatmeal. As we go through the tollbooth to go to Staten Island, the cops pull her over. They thought there was a dead child in her car! My mom never forgot that moment." And speaking of blood and brains, Evangelista reflects on her more grimy moments in the limelight playing Sherry for seasons six and seven on AMC's award-winning "The Walking Dead." "It is definitely different from 'The Arrangement,'" she says. "I started working on both shows the same year. Going from one set to the other was quite the transition! Imagine the difference in clothes!" Judging by her dynamic presence on both shows, it is obvious she has executed the transition flawlessly.
Currently, she is working on a couple different projects, some of which will hopefully come into fruition soon. "I'm a New Yorker. I don't like to wait," she laughs. And for those of us who have experienced the fruits of her labor, whether it was from her early debuts on "Law and Order" or her glamorous presence on "The Arrangement," we definitely hope she doesn't keep us waiting.
"The Arrangement" airs Sundays at 10pm on E!
Share your thoughts...