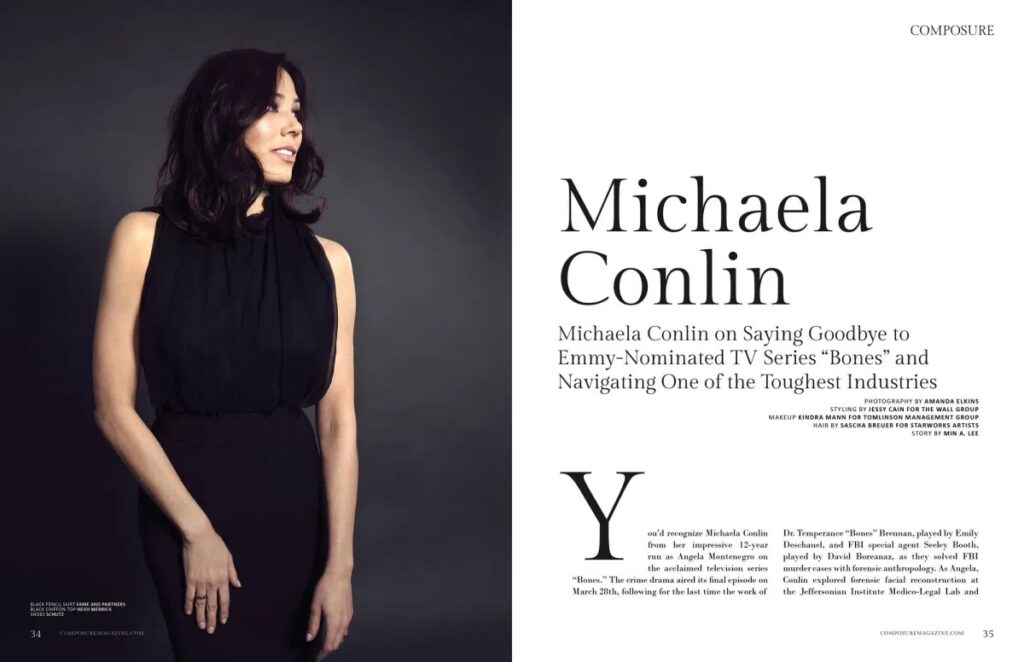 Michaela Conlin on Saying Goodbye to Emmy-Nominated TV Series "Bones" and Navigating One of the Toughest Industries.
You'd recognize Michaela Conlin from her impressive 12-year run as Angela Montenegro on the acclaimed television series "Bones." The crime drama aired its final episode on March 28th, following for the last time the work of Dr. Temperance "Bones" Brennan, played by Emily Deschanel, and FBI special agent Seeley Booth, played by David Boreanaz, as they solved FBI murder cases with forensic anthropology. As Angela, Conlin explored forensic facial reconstruction at the Jeffersonian Institute Medico-Legal Lab and invented the Angelator then Angelatron – graphic simulators that showed victims and crime scene scenarios – and for over a decade, Conlin's strong-willed portrayal of Angela added even more depth and balance among the already-stellar cast.
Watching Conlin on screen, you see a natural ease. She seems at home with any role she undertakes. This ability likely stems from her years of experience beginning at the young age of six. "I did a production of 'The King and I,'" she shares. "It was a professional local theatre, and it was such a big deal to me to be a part of something. Acting was the only thing I was interested in doing." Growing up in Allentown, Pennsylvania with a strong support system, Conlin continued to flourish. "My parents still live there, and they're incredibly supportive. They drove me to endless play rehearsals, dance rehearsals, and they were always really, really great about it," she beams.
From Allentown to New York City and now Los Angeles, the "long road" has proven rough at times. Conlin opens up about one of the toughest lessons to be learned as an actor. "You can't take it personally. It's very hard not to take everything personally because it's such a personal business. It's a human business. It's based on humanity. When you don't get a job, it's hard not to take it to heart, but really, you can't," she advises. "That, and just having the tenacity to keep going against all odds."
Perseverance does pay off, and "Bones" is proof of this – not only showcasing stability in a notoriously rocky industry, but also a solid learning environment. "I think being on a 22-episode show is a really great way to prepare you for a lot of things because your workload is so intense, the hours are so demanding, you're shooting for so many months of the year, and you're memorizing lines at the very last minute. It's a really great place to train," she explains. "For example, I did [the film] 'Lincoln Lawyer' a couple years ago, and that was a tough shoot. It was a lot of locations, a lot of nights, and I felt much more comfortable being on that set because of 'Bones.'"
Going through the evolution of Angela Montenegro season to season, we see why fans adore her outgoing and confident personality. "She's a bit free-wheeling," Conlin boasts. "She was very forthright, strong, and direct. I really loved being able to play her for so many years. I was grateful." As for a favorite memory during her time spent portraying Montenegro, there isn't necessarily just a single moment, but rather "being able to have spent that much time with people laughing." While certainly there are memorable episodes, she says, "We laughed a lot shooting the show. It's a really nice way to look back on it all. There were a lot of hours in that lab, and I feel lucky to have spent so much time laughing with everyone."
Now that the series has ended, Conlin notes a "bittersweet feeling." She says, "We wrapped filming at the end of December, so we had a bit of time to digest it. It was a really big life transition because I've been doing it for so many years. We've been able to tell over 200 stories over 200 episodes. I miss everybody so much; we spent so much time together for so many years. It was great to get a final farewell season. There was a lot of closure with all of our characters."
Even though it's sad for fans to bid adieu to Angela Montenegro after a celebrated 12 seasons, this is by no means an end for Michaela Conlin. We know we will be seeing our darling actress on the screen again soon, breathing new lives into many characters to come.
Keep up with the latest on Michaela Conlin at www.twitter.com/michaelaconlin
Share your thoughts...