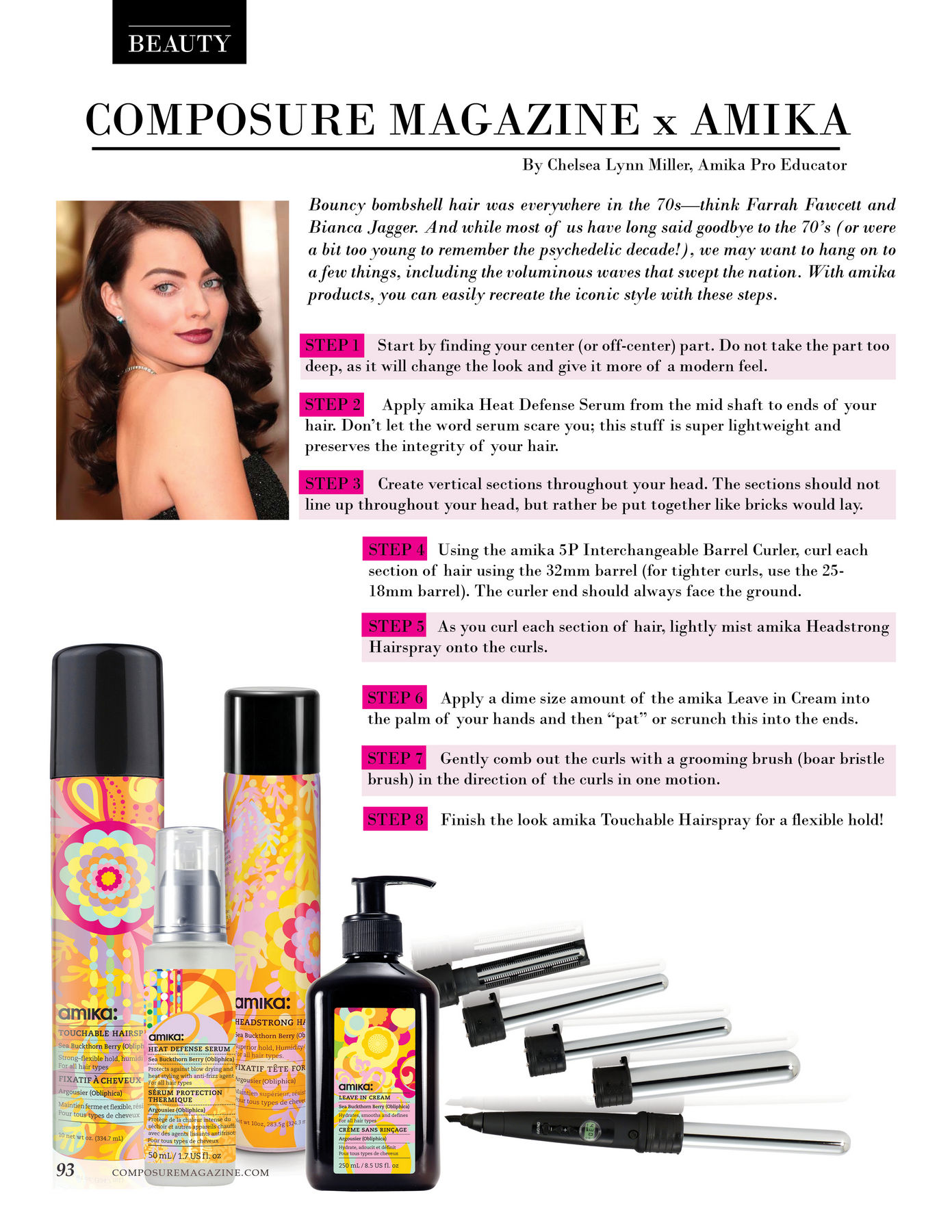 COMPOSURE MAGAZINE x AMIKA
By Chelsea Lynn Miller, Amika Pro Educator
Bouncy bombshell hair was everywhere in the 70s—think Farrah Fawcett and Bianca Jagger. And while most of us have long said goodbye to the 70's (or were a bit too young to remember the psychedelic decade!), we may want to hang on to a few things, including the voluminous waves that swept the nation. With Amika products, you can easily recreate the iconic style with these steps.
Start by finding your center (or off-center) part. Do not take the part too deep, as it will change the look and give it more of a modern feel.

Apply Amika Heat Defense Serum from the mid shaft to ends of your hair. Don't let the word serum scare you; this stuff is super lightweight and preserves the integrity of your hair.

Create vertical sections throughout your head. The sections should not line up throughout your head, but rather be put together like bricks would lay.

Using the Amika 5P Interchangeable Barrel Curler, curl each section of hair using the 32mm barrel (for tighter curls, use the 25-18mm barrel). The curler end should always face the ground.
As you curl each section of hair, lightly mist Amika Headstrong Hairspray onto the curls.
Apply a dime size amount of the Amika Leave in Cream into the palm of your hands and then "pat" or scrunch this into the ends.

Gently comb out the curls with a grooming brush (boar bristle brush) in the direction of the curls in one motion.

Finish the look Amika Touchable Hairspray for a flexible hold!
Share your thoughts...