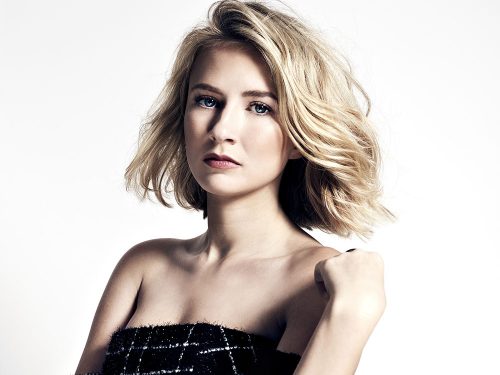 English actress Eliza Bennett delivers a powerful modern-day Dr. Jekyll-Mr. Hyde — if he were a cute sorority girl — on MTV's newest show, "Sweet/Vicious."
Don't let Eliza Bennett's amiable demeanor and proper British accent fool you. As Jules, the wholesome sorority girl with an ass-kicking dark side on the new MTV series "Sweet/Vicious," the English-born actress will have you hoping you'll never have to face her in a fight. Thankfully, in person, she's more gracious than vicious.
Composure Magazine: Congratulations on the premiere of MTV's "Sweet/Vicious." How do you feel?
Eliza Bennett: Well, so far it has been an amazing experience. Since the acting work is complete, I have been experiencing the promotional aspect of the show. It's funny to be on the other side of the business.
CM: So tell us a little bit about the show and your character, Jules.
EB: Jules experiences a life-changing moment where her whole world is turned upside down. She becomes a nighttime vigilante to cope with the trauma. She also meets Ophelia [played by Taylor Dearden] on the way, and they become close friends.
I think the [show's] title mirrors Jules' dual nature. During the day, she is very sweet and wholesome. By night, Jules is not. In fact, Jules is almost vicious.
CM: The show addresses the heavy topic of sexual assault. How does your character tackle it?
EB: Yes, the message of the show is very sobering. I have never worked on a project that gave such a powerful message to young men and women. I think MTV is the perfect outlet to reach young viewers. It is incredibly rewarding, but I definitely feel the responsibility and weight of the message.
CM: Jules and Ophelia, a pot-smoking computer hacker, become an odd-couple crime-fighting duo on campus. How is the chemistry between you and co-star Taylor Dearden?
EB: I think the success of our show is driven by our chemistry. We have become very close friends, and I am thankful to have a friend like her here in Los Angeles.
CM: Let's backtrack to your previous big screen appearances. I have to mention "Nanny McPhee." What was it like working with acclaimed stars like Colin Firth and Emma Thompson?
EB: First of all, I consider myself to be extremely lucky to have worked with such big stars. When I was on set for "Nanny McPhee," Emma wanted to make sure all the children were having a good time. We had an ice cream truck and even an Xbox station on set. I also got to do improv with Emma. Looking back, I realize it was a priceless experience to be able to do a one-to-one improv session with Emma Thompson.
CM: Wow, that definitely sounds like a once-in-a-lifetime experience. Another great moment for you was being chosen for the lead in the 2009 fantasy film "Inkheart" with Brendan Fraser. Tell us about the experience.
EB: I actually didn't hear back from them for several months after my audition. Six months and two weeks later, I finally heard back from them that I got the role. I was only 14 years old at that time, but the experience is forever in my mind. We filmed in Italy, and it was a dream.
CM: Filming in Italy does sound like a dream. From "Inkheart" to "Sweet/Vicious," you seem to be constantly on the move. What's next for you?
EB: I grew up singing, acting, and dancing, so I would love to attempt a Broadway musical. I don't have too many concrete plans yet, but I am looking forward to spending Christmas with my family back in Europe.
"Sweet/Vicious" airs Tuesdays at 10 pm on MTV.
Share your thoughts...