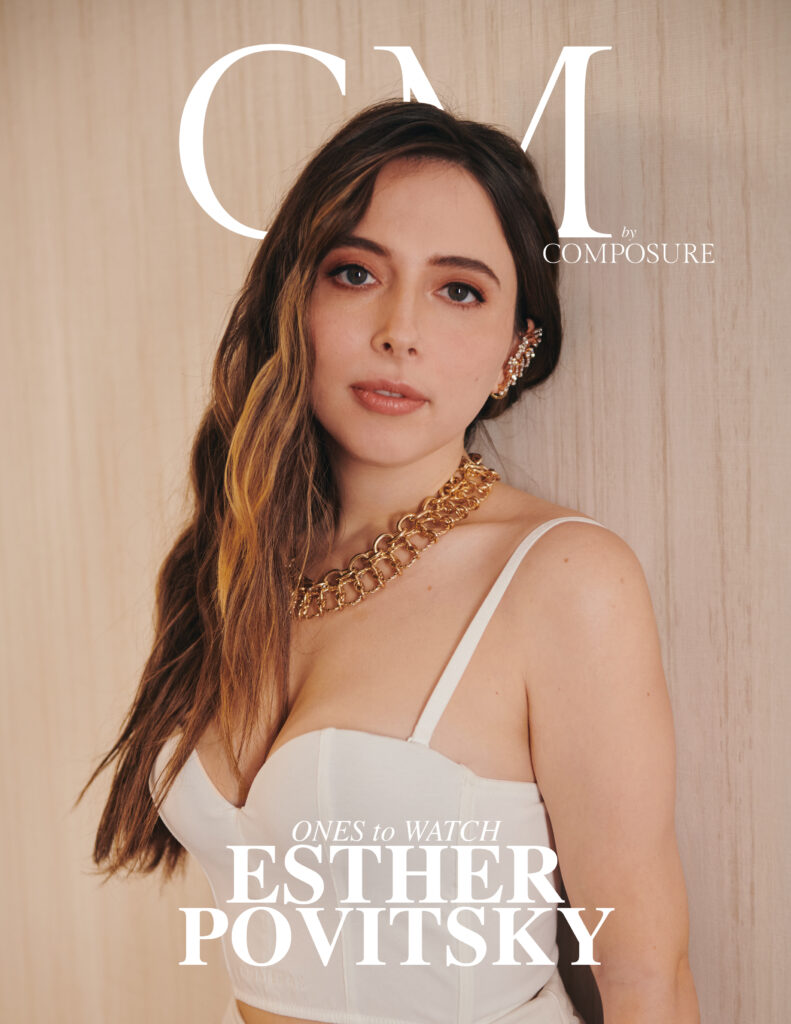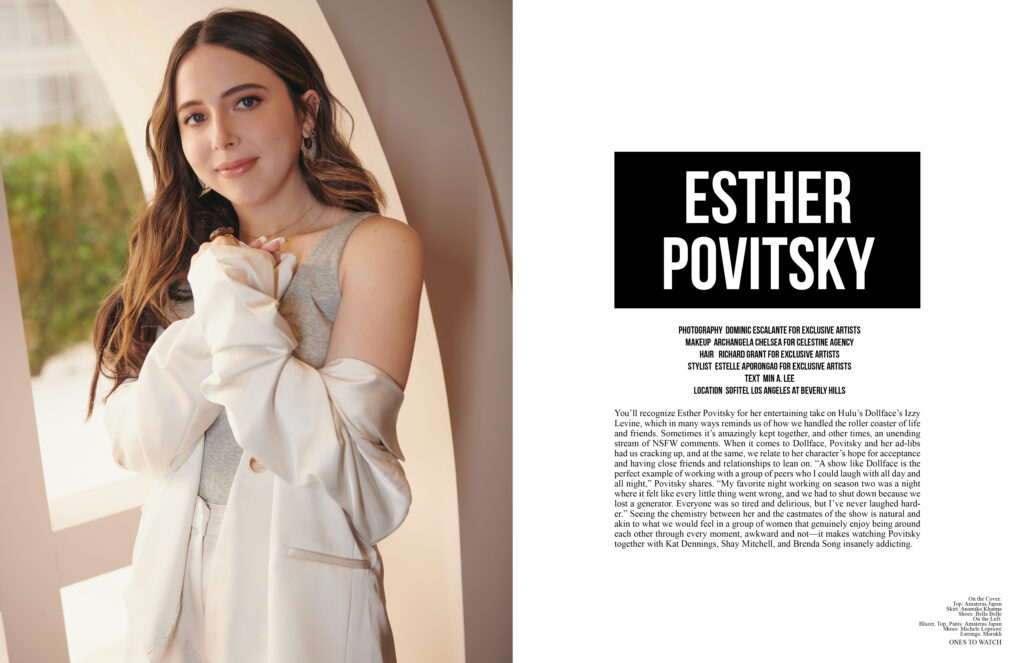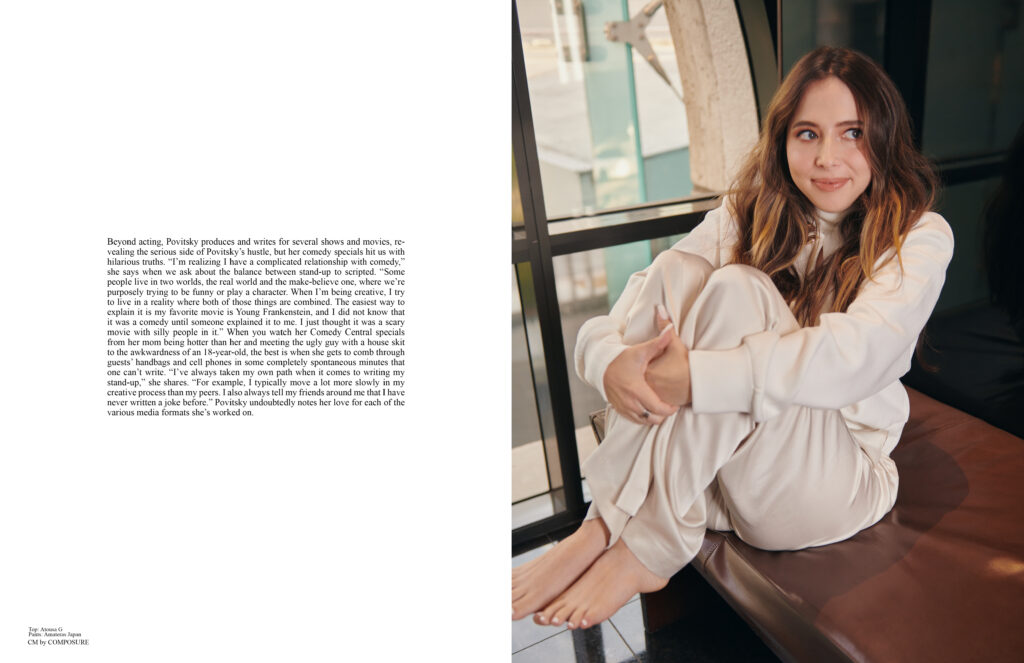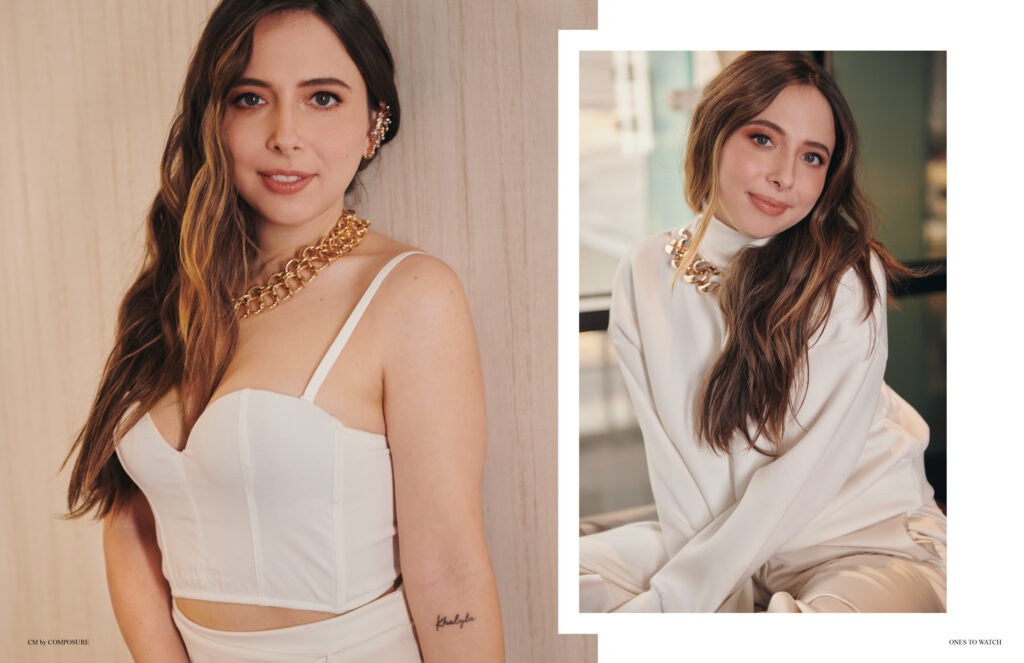 You'll recognize Esther Povitsky for her entertaining take on Hulu's Dollface's Izzy Levine, which in many ways reminds us of how we handled the roller coaster of life and friends. Sometimes it's amazingly kept together, and other times, an unending stream of NSFW comments. When it comes to Dollface, Povitsky and her ad-libs had us cracking up, and at the same, we relate to her character's hope for acceptance and having close friends and relationships to lean on. "A show like Dollface is the perfect example of working with a group of peers who I could laugh with all day and all night," Povitsky shares. "My favorite night working on season two was a night where it felt like every little thing went wrong, and we had to shut down because we lost a generator. Everyone was so tired and delirious, but I've never laughed harder." Seeing the chemistry between her and the castmates of the show is natural and akin to what we would feel in a group of women that genuinely enjoy being around each other through every moment, awkward and not—it makes watching Povitsky together with Kat Dennings, Shay Mitchell, and Brenda Song insanely addicting.
Beyond acting, Povitsky produces and writes for several shows and movies, revealing the serious side of Povitsky's hustle, but her comedy specials hit us with hilarious truths. "I'm realizing I have a complicated relationship with comedy," she says when we ask about the balance between stand-up to scripted. "Some people live in two worlds, the real world and the make-believe one, where we're purposely trying to be funny or play a character. When I'm being creative, I try to live in a reality where both of those things are combined. The easiest way to explain it is my favorite movie is Young Frankenstein, and I did not know that it was a comedy until someone explained it to me. I just thought it was a scary movie with silly people in it." When you watch her Comedy Central specials from her mom being hotter than her and meeting the ugly guy with a house skit to the awkwardness of an 18-year-old, the best is when she gets to comb through guests' handbags and cell phones in some completely spontaneous minutes that one can't write. "I've always taken my own path when it comes to writing my stand-up," she shares. "For example, I typically move a lot more slowly in my creative process than my peers. I also always tell my friends around me that I have never written a joke before." Povitsky undoubtedly notes her love for each of the various media formats she's worked on.
With acting, Povitsky tells how she initially thought dancing would be her path, but it wasn't the dancing she enjoyed versus "making my friends there laugh," finding love for comedy through those moments. "I took my dance classes in a wealthy neighborhood and often was the only person commuting from a less affluent area," Povitsky says. "I always felt a little insecure about that. I think that's what made me lean on trying to make people laugh and being a class clown." Relocating from Illinois to Los Angeles was a huge career move, and while some in the industry find navigating the craze of Hollywood quite challenging, for Povitsky, it became a new home. "Especially coming from a big ten school in the middle of cornfields where everyone was getting drunk and joining sororities—where I was so incredibly miserable," she says. "It was the first time in my life that I had my own car, and I just honestly feel like I still haven't gotten over the thrill of driving myself to Chipotle whenever I want." She found comfort in being around others that enjoyed performing and comedy as much as herself, and no one felt shy about it.
Being around and growing with a community of similar goals and career directives has allowed Povitsky to flourish wonderfully. She's taken on several roles while writing and producing for successful television series, including the latest Paramount Plus reboot of the Nickelodeon sitcom favorite iCarly. "It's been fun to help the show stay true to itself while also updating it and adding an edge," Povitsky tells us. "It's like a fun, creative form of algebra." With a massive project like this underway, it doesn't stop there. She's working with Happy Madison director Nicholaus Goossen for an indie feature Povitsky herself is "producing and starring in." Without giving too much away, she shares, "we recently brought Robert Schwartzman of Utopia pictures on board, and his casting ideas have been so creative and original. I'm really excited to see how we round this film out." While we try to wait patiently for more news on the release of her indie film, we will keep binging Paramount's iCarly and all of Dollface (again!) for our comedy fix—anything to get more of Povitsky's clever humor and charm!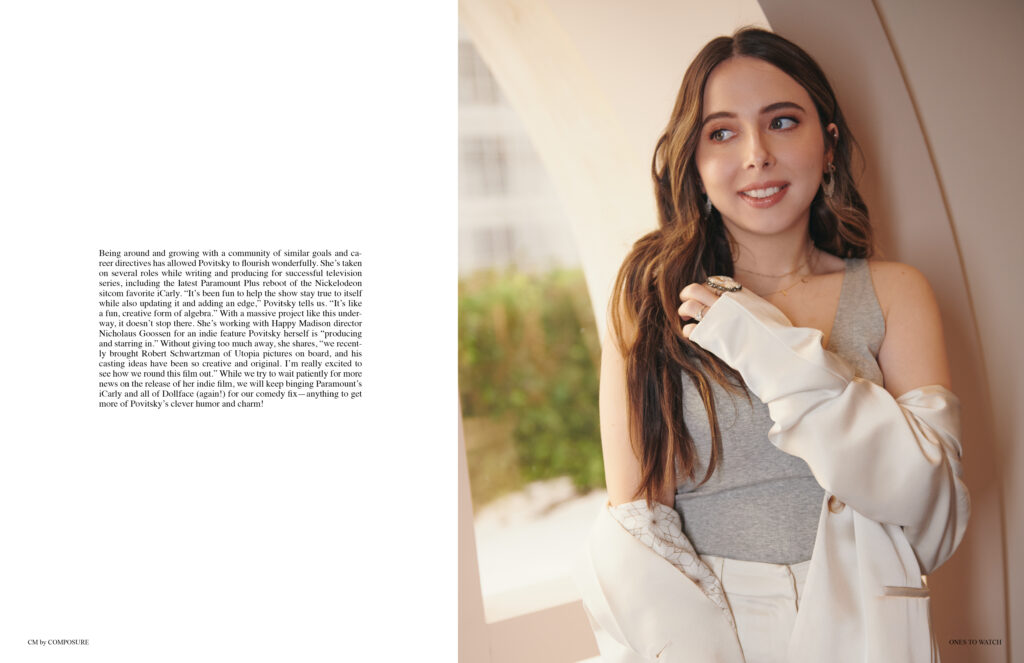 Share your thoughts...