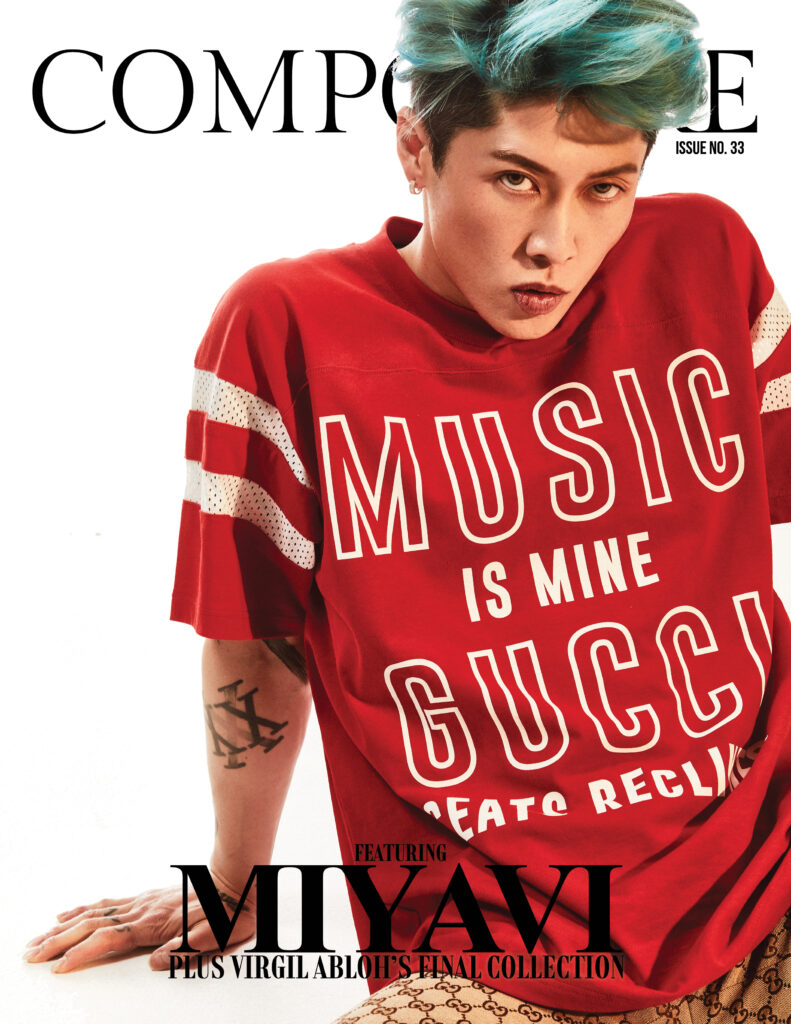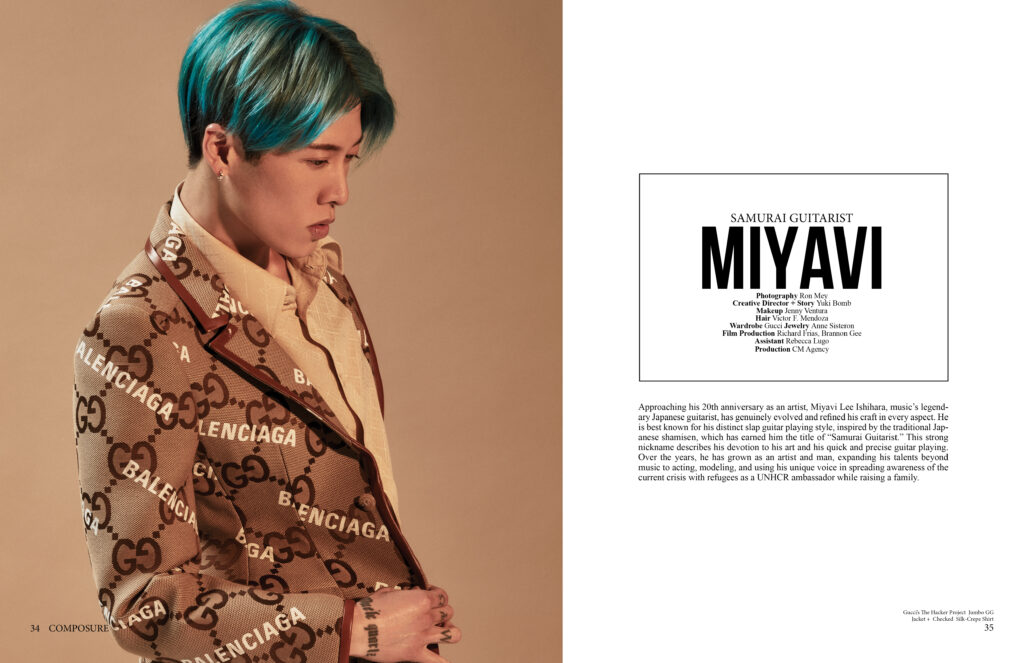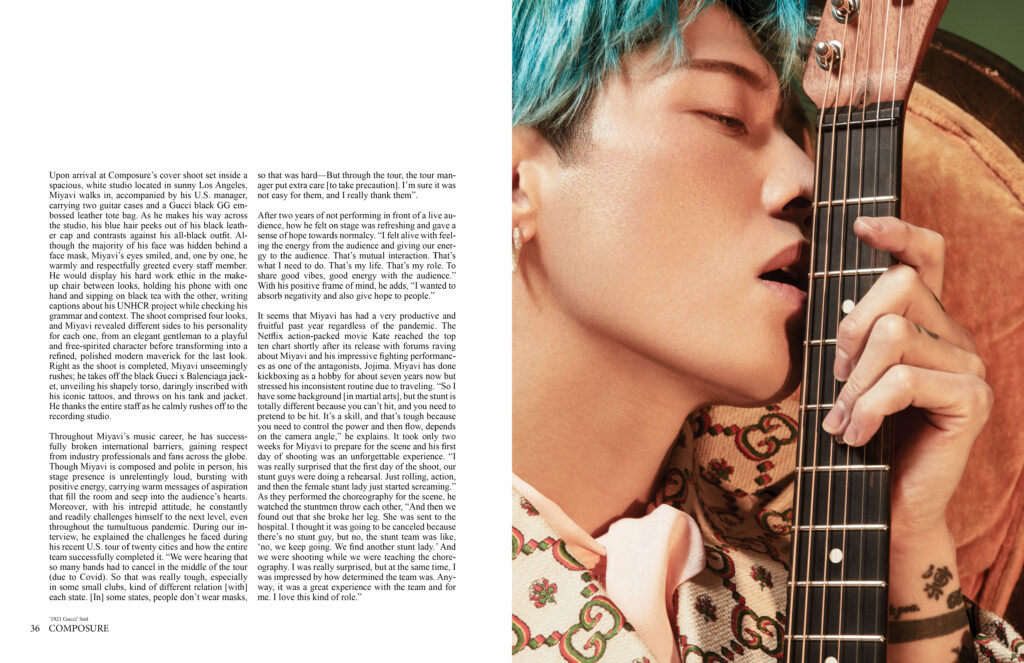 Approaching his 20th anniversary as an artist, Miyavi Lee Ishihara, music's legendary Japanese guitarist, has genuinely evolved and refined his craft in every aspect. He is best known for his distinct slap guitar playing style, inspired by the traditional Japanese shamisen, which has earned him the title of "Samurai Guitarist." This strong nickname describes his devotion to his art and his quick and precise guitar playing. Over the years, he has grown as an artist and man, expanding his talents beyond music to acting, modeling, and using his unique voice in spreading awareness of the current crisis with refugees as a UNHCR ambassador while raising a family.
Upon arrival at Composure's cover shoot set inside a spacious, white studio located in sunny Los Angeles, Miyavi walks in, accompanied by his U.S. manager, carrying two guitar cases and a Gucci black GG embossed leather tote bag. As he makes his way across the studio, his blue hair peeks out of his black leather cap and contrasts against his all-black outfit. Although the majority of his face was hidden behind a face mask, Miyavi's eyes smiled, and, one by one, he warmly and respectfully greeted every staff member. He would display his hard work ethic in the makeup chair between looks, holding his phone with one hand and sipping on black tea with the other, writing captions about his UNHCR project while checking his grammar and context. The shoot comprised four looks, and Miyavi revealed different sides to his personality for each one, from an elegant gentleman to a playful and free-spirited character before transforming into a refined, polished modern maverick for the last look. Right as the shoot is completed, Miyavi unseemingly rushes; he takes off the black Gucci x Balenciaga jacket, unveiling his shapely torso, daringly inscribed with his iconic tattoos, and throws on his tank and jacket. He thanks the entire staff as he calmly rushes off to the recording studio.
Throughout Miyavi's music career, he has successfully broken international barriers, gaining respect from industry professionals and fans across the globe. Though Miyavi is composed and polite in person, his stage presence is unrelentingly loud, bursting with positive energy, carrying warm messages of aspiration that fill the room and seep into the audience's hearts. Moreover, with his intrepid attitude, he constantly and readily challenges himself to the next level, even throughout the tumultuous pandemic. During our interview, he explained the challenges he faced during his recent U.S. tour of twenty cities and how the entire team successfully completed it. "We were hearing that so many bands had to cancel in the middle of the tour (due to Covid). So that was really tough, especially in some small clubs, kind of different relation [with] each state. [In] some states, people don't wear masks, so that was hard—But through the tour, the tour manager put extra care [to take precaution]. I'm sure it was not easy for them, and I really thank them".
After two years of not performing in front of a live audience, how he felt on stage was refreshing and gave a sense of hope towards normalcy. "I felt alive with feeling the energy from the audience and giving our energy to the audience. That's mutual interaction. That's what I need to do. That's my life. That's my role. To share good vibes, good energy with the audience." With his positive frame of mind, he adds, "I wanted to absorb negativity and also give hope to people."
It seems that Miyavi has had a very productive and fruitful past year regardless of the pandemic. The Netflix action-packed movie Kate reached the top ten chart shortly after its release with forums raving about Miyavi and his impressive fighting performances as one of the antagonists, Jojima. Miyavi has done kickboxing as a hobby for about seven years now but stressed his inconsistent routine due to traveling. "So I have some background [in martial arts], but the stunt is totally different because you can't hit, and you need to pretend to be hit. It's a skill, and that's tough because you need to control the power and then flow, depends on the camera angle," he explains. It took only two weeks for Miyavi to prepare for the scene and his first day of shooting was an unforgettable experience. "I was really surprised that the first day of the shoot, our stunt guys were doing a rehearsal. Just rolling, action, and then the female stunt lady just started screaming." As they performed the choreography for the scene, he watched the stuntmen throw each other, "And then we found out that she broke her leg. She was sent to the hospital. I thought it was going to be canceled because there's no stunt guy, but no, the stunt team was like, 'no, we keep going. We find another stunt lady.' And we were shooting while we were teaching the choreography. I was really surprised, but at the same time, I was impressed by how determined the team was. Anyway, it was a great experience with the team and for me. I love this kind of role."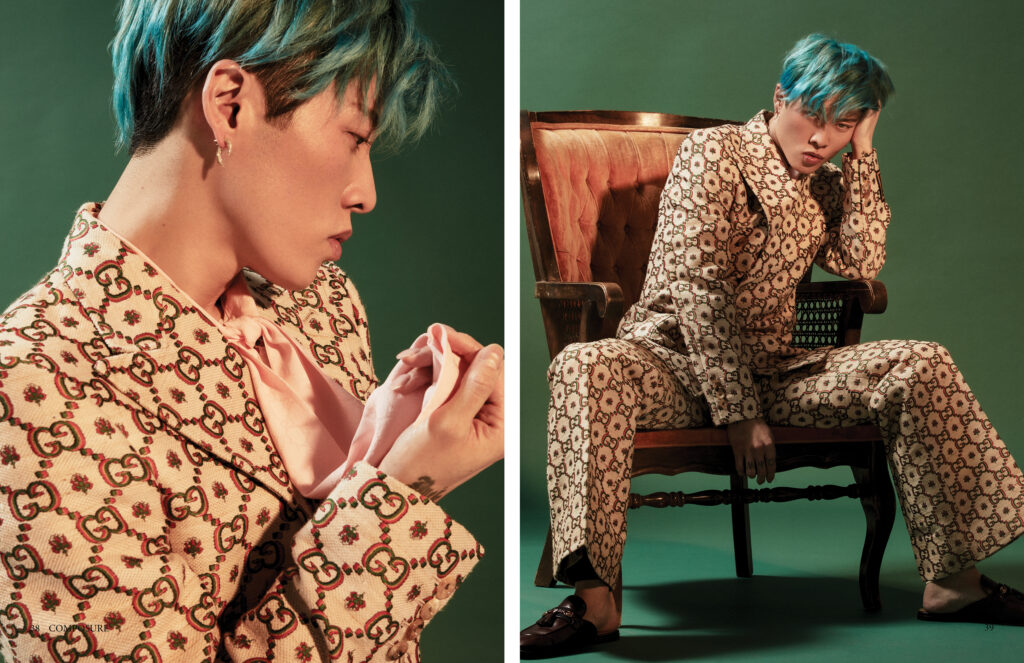 Miyavi expands his career by taking on a new challenging project within an unfamiliar territory: voice acting. In the Netflix series Arcane, which quickly reached the top ten chart, Miyavi plays a character named Finn, appearing from episode seven. "I was really nervous. I think way more nervous than playing on a big stage cause you know I can't do anything without the guitar, especially in English," Miyavi admits as English is not his first language. He then emphasizes the passion of Riot Games, "I was making music for Arcane in 2020, but due to Covid, it got postponed, and the project itself has been really, really long. They're (Riot Games) putting so much effort and passion into the project. It was totally amazing how Christian (Linke) and the team put so much love into every character. You know, big or small, it doesn't matter. They put lots of effort and energy and the story behind those characters, which is great. I really appreciate it. I do respect their attitude as an artist. It's really impressive to see those many dimensions, especially as the 4th dimension of the game. The players can expand the story and play around. I think this is a new media and new platform for sure, so I'm honored to be part of their creation."
Acting is an entirely different beast in approach and execution, and Miyavi kills every performance. He continues to describe the difference between preparing for music and acting. "[For music], the character I play is me, myself, Miyavi, one hundred percent. So, musicians like to keep building, digging their character, but as an actor, you need to be neutral and take other lives into your body, your mind. So the approach is definitely different, but at the same time, I learn a lot. When I first acted in Unbroken, the film, I was not able to go on and off, like switch Miyavi and the character. I was not able to go back to myself. Now, I think I got the switch and doing good, and it's fun. Even while I do a photoshoot, it's different too. What I wear inspires me, and it kinda changes my direction and mood, like a chameleon. As long as you have your core, philosophy, or character, it doesn't change yourself. Just a different expression, and I love that."
Miyavi's commitment and ardor to his humanitarian duties as a UNHCR ambassador are one of his many key appeals. On Miyavi's social media accounts and during his live performances, one can see that a major life mission of his is to bring peace and hope to the world. Unfortunately, it has been difficult for ambassadors to visit refugee camps due to the pandemic. It's been "very tough. I feel bad; the number of refugees is increasing now. It's tough, which means that we're not finding a fundamental solution." Still, Miyavi finds ways to do what he can. "As an ambassador who cannot travel like before, I was seeing the refugees in my country in Japan. There are not many, but there are some refugees because the regulations in Japan are very strict. So not accepting as many as other countries, especially European countries, but we have some". He would visit refugee housing in Japan and give great respect to the UNHCR staff who must face these neverending issues on a daily basis. "Part of the message that we've (the ambassadors) been spreading is [do], whatever you can, or wherever you are, just do everything and our best."
Gucci's Off The Grid campaign features environmentally mindful pieces created using organic, bio-based, and recycled materials. As the face of the campaign, Miyavi is the perfect messenger and figure representing change and sustainability through his life's principles and philosophy. As we see Miyavi continue to wear and support Gucci, Composure asks him about his view on the power brand. "The more I know them, the more I respect them. The surface of the brand and image is a high fashion, luxury brand. But they work hard. They are really responsible, really sensitive to what the world needs. Like Off The Grid, which is using recycled nylon. Obviously, that's really important. The way we consume things needs to be changed, and as one of the best fashion houses in the world, I strongly respect that shift. Even if it's not the mainstream now, it should be and will be." Not only does Gucci shift their focus towards sustainability, but like Miyavi, they also support spreading awareness of the refugee crisis.
"Sometimes they advocate to their staff about the refugee crisis with a movie, environmental situation, issues, refugee crisis. That kind of educational program is really important. I do respect the team, especially [since] the whole team believes [in] what Alessandro Michele sees. As a team, they can drastically direct toward a vision that the leaders indicate and show like Marco Bizzarri, CEO of Gucci." Miyavi continues, "I just love that kind of vibes. When I attended their events in Hollywood, Kyoto—that was a really magical moment. I felt that was a live show. People get together, celebrate and share good energies. As an artist to show and express, I think I've been feeling more power from their product, and I'm enjoying it."
We see drastic changes in his music style and fashion sense throughout Miyavi's career. In his mind, his fashion style is separated into two categories: on-stage and off-stage. "On stage, the costume is always reflected in the theme of the latest creation," Miyavi explains that the theme for the latest album Imaginary is like a punk attitude towards Covid. He adds, "like a spikey punk suit, I put my hair up like a Super Sayan (Dragon Ball anime reference)." He avers the message is "not to be defeated. It's easy to surrender, especially now"—a sense of optimistic rebellion against the pandemic. Miyavi elaborates, "when you create something new or something different, you need to struggle, and that's the attitude of [the] current style on stage, the struggle, being against whatever God is giving us. Maybe, in the end, we go with the flow but, that time of struggle might be worth it to find a new path. So that's the kind of concept of the costume I have on stage right now."
Miyavi continues to express it is not only his creations and clothing preference that has transformed, but it is essentially his values that encouraged his development. "But off stage, it's a different thing, you know. It's trying to be a 'cool dad,'" he laughs. "I travel a lot, so function is really important—anything which has philosophy. So, now I like Gucci way more than before cause I know their attitude. The more I know their mission, and what they do, the more I love their product."
As the interview goes on, Miyavi chats about fashion and mentions that one of his other favorite designers is Yohji Yamamoto. "I like his attitude and his creative mind, and he has that silhouette, that uniqueness, and originality. And then when it comes down to [the] Y3 product, it's really functional as well. It's not only just good-looking, or it's not just good material; it's actually good for your body as well. It resonates with your body, so that kind of thing affects me too."
Every word and action that Miyavi does or says is done with purpose, with a core principle of doing what is good and best for the individual or people as well as the environment; his principle is his way of life. "I make music, but at the same time, it shouldn't be only cool but also healthy for people. That's why I wanna make something, you know, positive. I just want them to feel good in the end, just like healthy food. Easy to cook tasty food: lots of sugar, lots of salt, lots of things, but after you eat, you feel sick; if it's not good for you, I don't eat it. So if it's not good, it's not sustainable. When you think about sustainability, even music, food, or fashion, it has to be good for you afterward. Not now. And that's what I do as a musician. And also the fashion. I think that's the reason why I've been changing again; it also has to be healthy for the environment and nature as well."
Wrapping up the interview, Miyavi talks about his personal and professional progression of maturity and leaves with some advice on how he grew as a person. "In the end, [it's] just the experience you have. That's it. What you experience, where you go, what you think about, who you meet, and what you do with those [thoughts], and who you get inspired by. Fortunately, I was able to expand broaden the horizon and experience I had: traveling the world and meet many people and experience different cultures, going over the difficult times, giving me lots of opportunities to grow myself, having a family as well. You can learn from your kids. You feel like you're teaching, but at the same time, you're learning." He also adds, "in terms of growth, every single time you do it, it's scary. I never evolved or improved without that anxiety or nervousness, so to me, that feeling is the key. Growing pains. That's it. So I ask my wife or my staff if I'm doing it right when I'm feeling pain because I lose myself in that situation. Which way I go? Am I right? As a human being, as a creature, as a species on this planet which has the technology and intelligence, I think that's our privilege and responsibility to improve. That's why I challenge new things. I want to dedicate more of myself to help people feel better. Again with music, we might be able to share the power to the audience."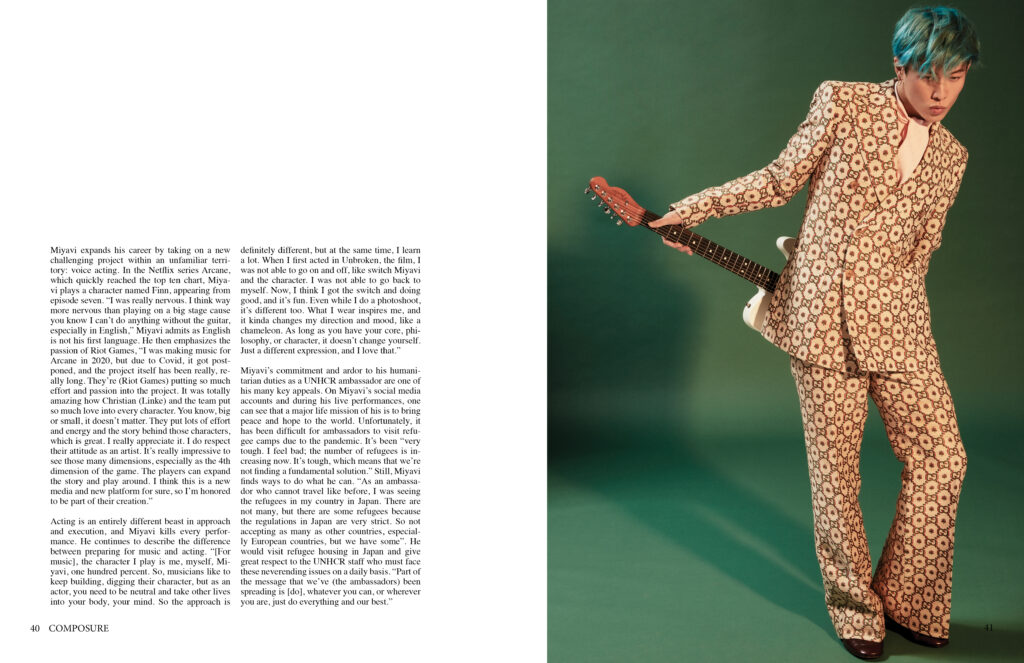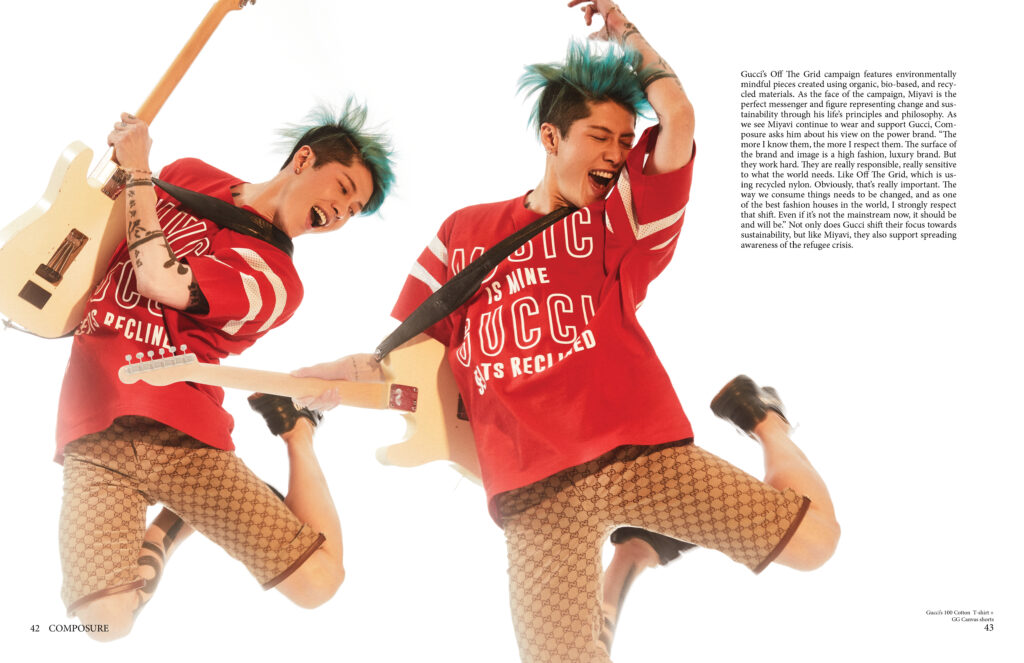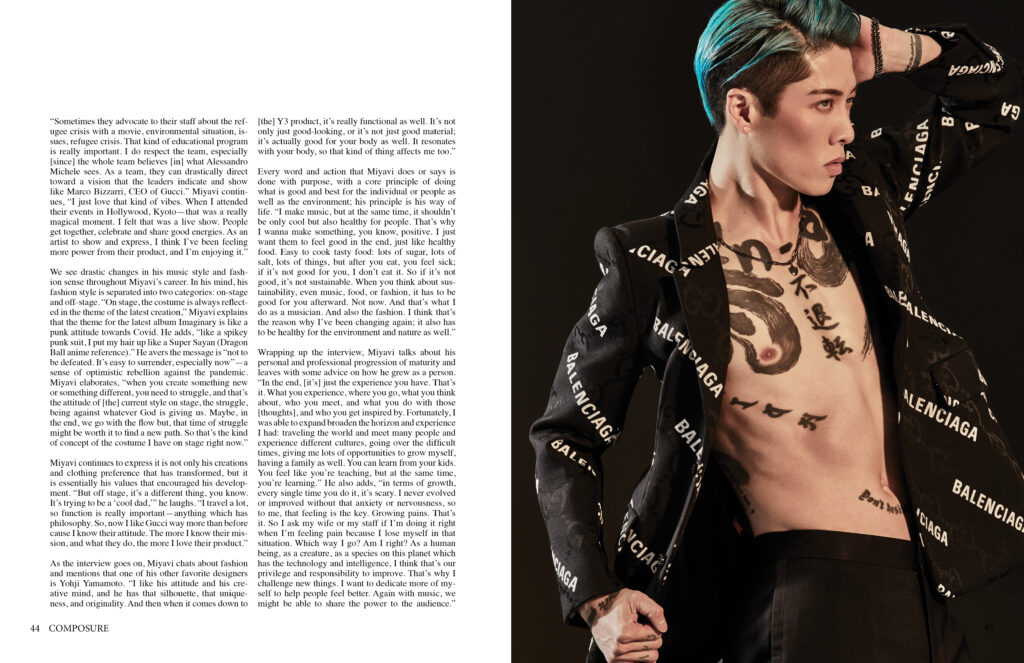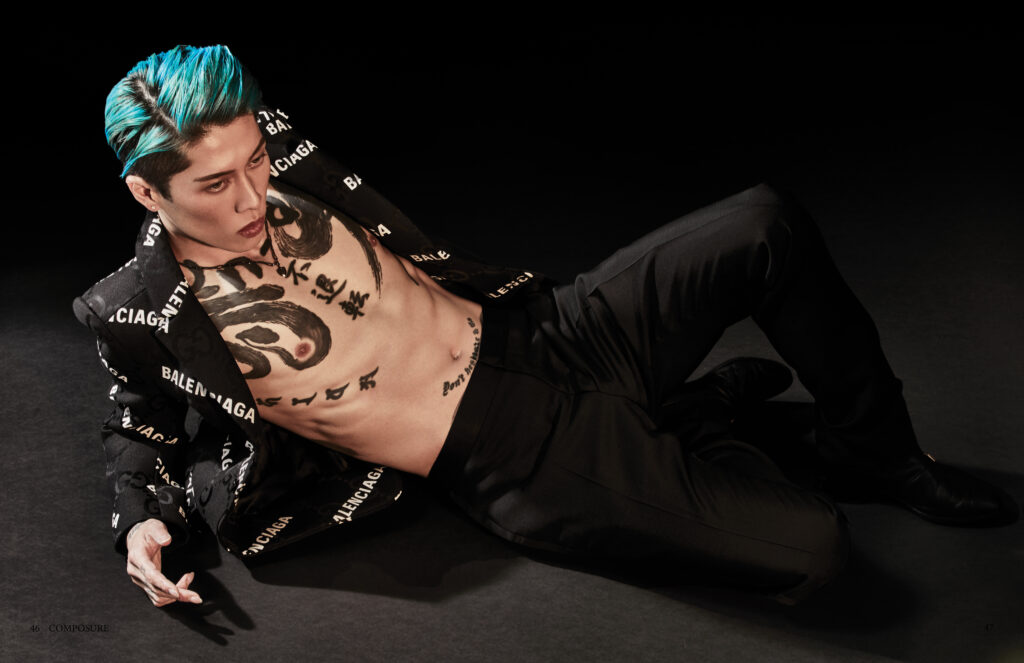 Share your thoughts...