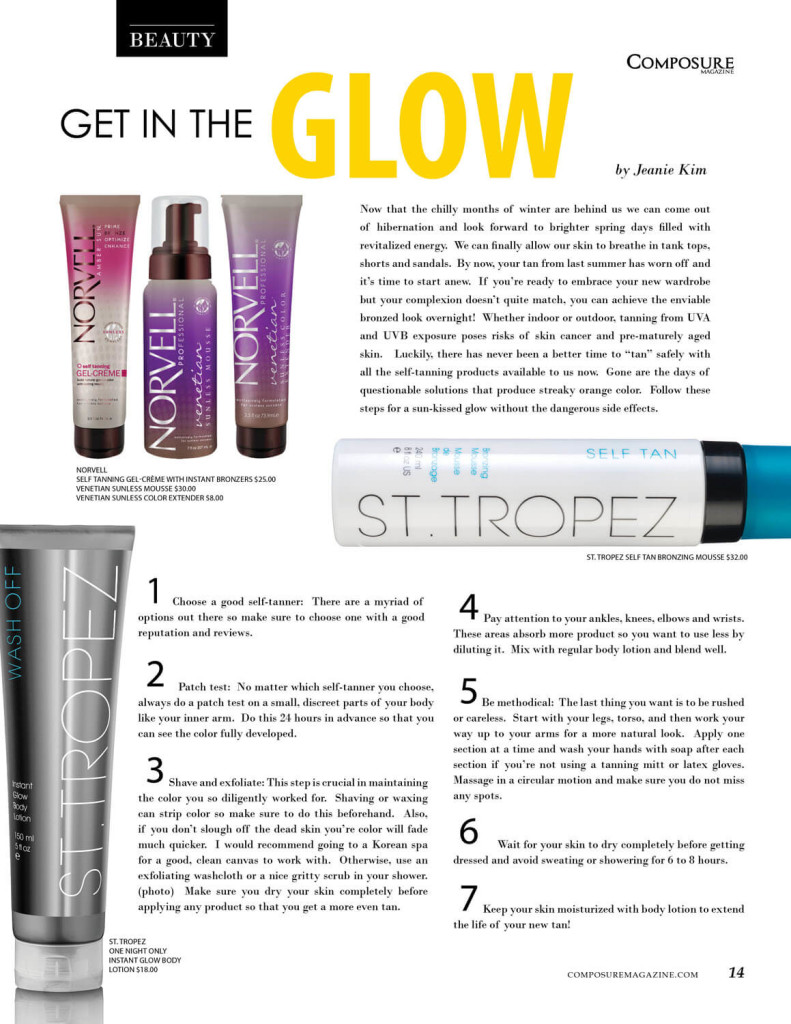 Get In The Glow by Jeanie Kim
Now that the chilly months of winter are behind us we can come out of hibernation and look forward to brighter spring days filled with revitalized energy.  We can finally allow our skin to breathe in tank tops, shorts and sandals.  By now, your tan from last summer has worn off and it's time to start anew.  If you're ready to embrace your new wardrobe but your complexion doesn't quite match, you can achieve the enviable bronzed look overnight!  Whether indoor or outdoor, tanning from UVA and UVB exposure poses risks of skin cancer and pre-maturely aged skin.   Luckily, there has never been a better time to "tan" safely with all the self-tanning products available to us now.  Gone are the days of questionable solutions that produce streaky orange color.  Follow these steps for a sun-kissed glow without the dangerous side effects.
Choose a good self-tanner:  There are a myriad of options out there so make sure to choose one with a good reputation and reviews.
Patch test:  No matter which self-tanner you choose, always do a patch test on a small, discreet parts of your body like your inner arm.  Do this 24 hours in advance so that you can see the color fully developed.
Shave and exfoliate: This step is crucial in maintaining the color you so diligently worked for.  Shaving or waxing can strip color so make sure to do this beforehand.  Also, if you don't slough off the dead skin you're color will fade much quicker.  I would recommend going to a Korean spa for a good, clean canvas to work with.  Otherwise, use an exfoliating washcloth or a nice gritty scrub in your shower. (photo)  Make sure you dry your skin completely before applying any product so that you get a more even tan.
Pay attention to your ankles, knees, elbows and wrists. These areas absorb more product so you want to use less by diluting it. Mix with regular body lotion and blend well.
Be methodical:  The last thing you want is to be rushed or careless.  Start with your legs, torso, and then work your way up to your arms for a more natural look.  Apply one section at a time and wash your hands with soap after each section if you're not using a tanning mitt or latex gloves.  Massage in a circular motion and make sure you do not miss any spots.
Wait for your skin to dry completely before getting dressed and avoid sweating or showering for 6 to 8 hours.
Keep your skin moisturized with body lotion to extend the life of your new tan!
TRY THESE PRODUCTS
Share your thoughts...