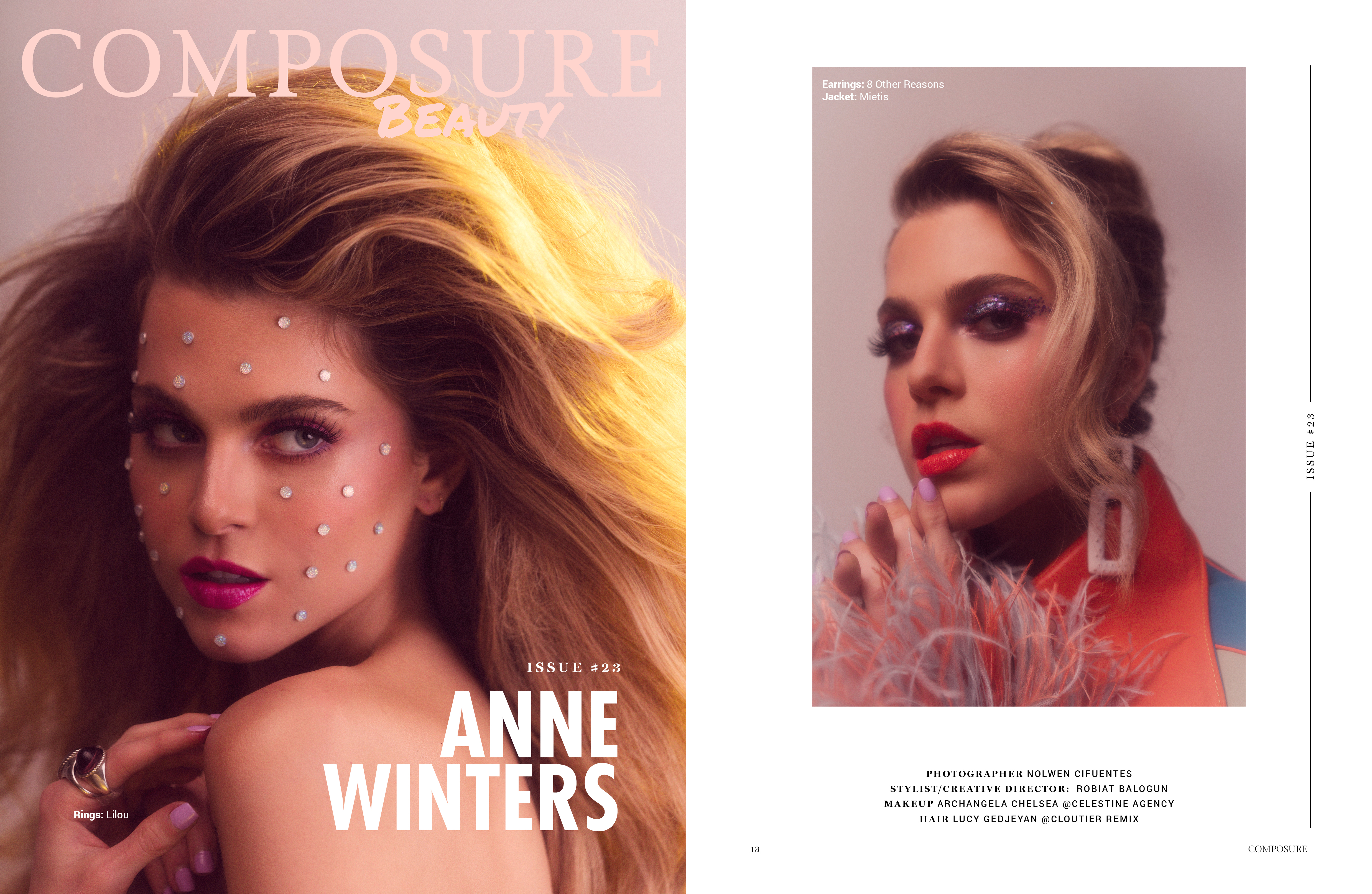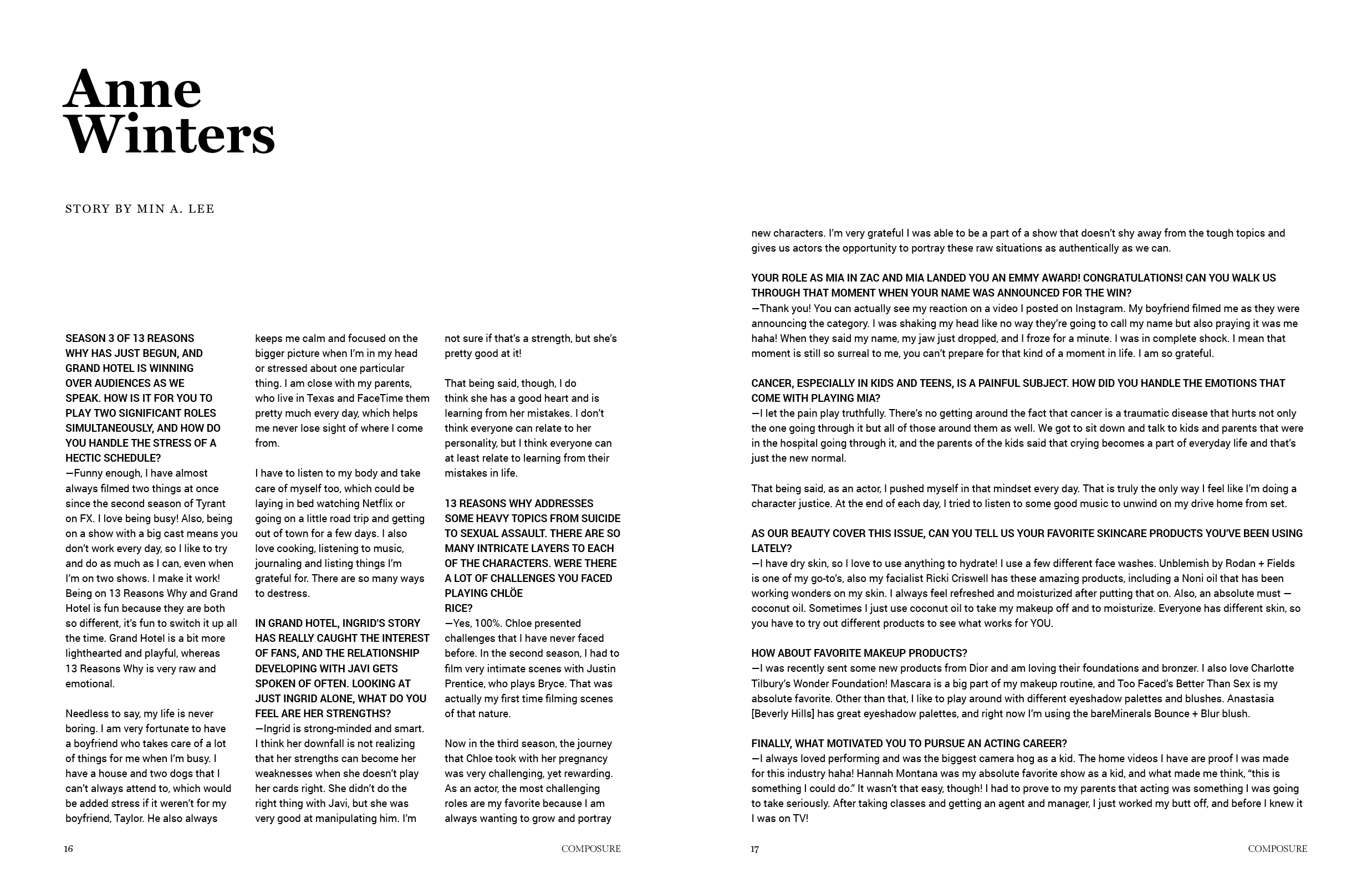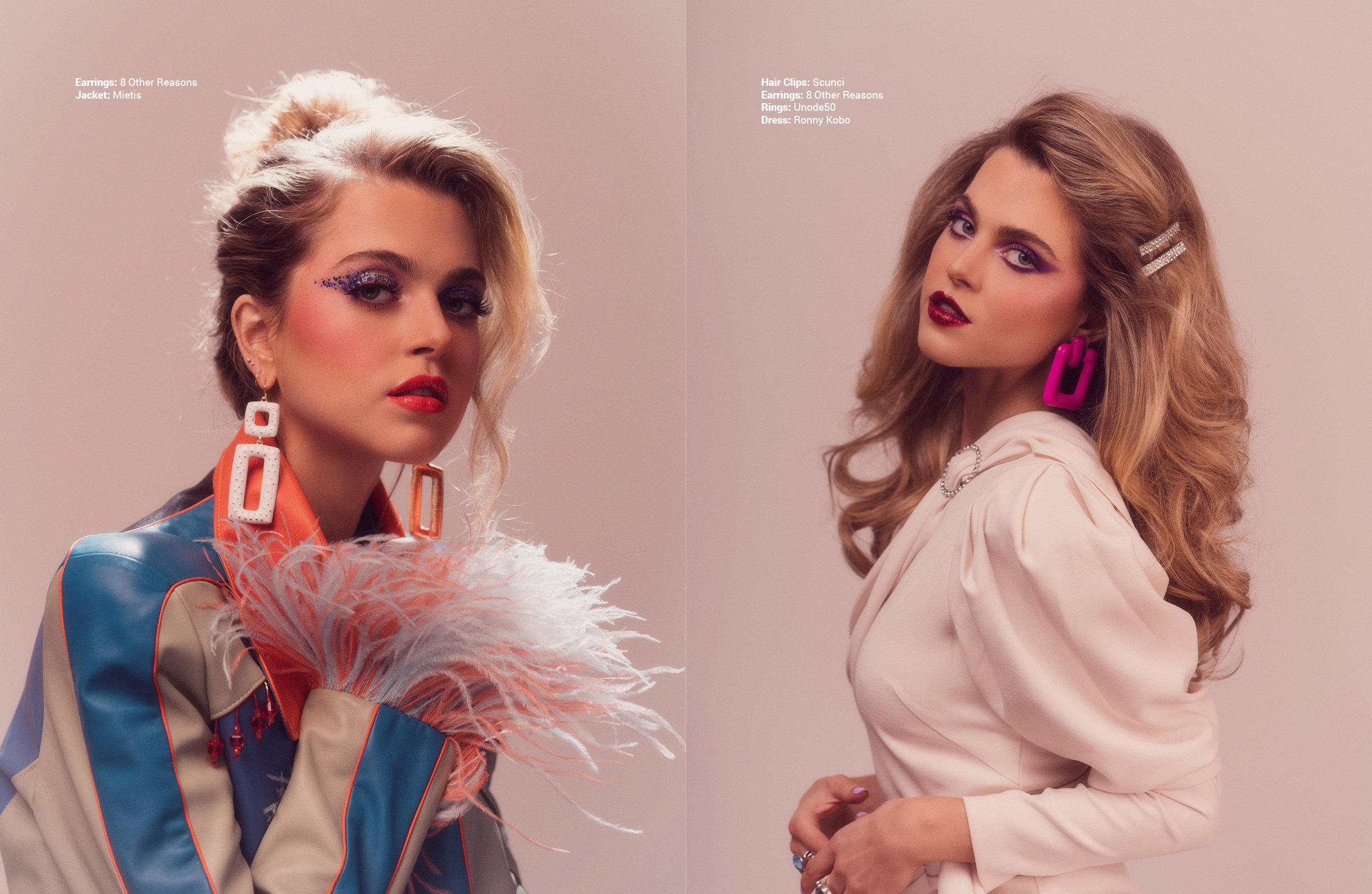 PHOTOGRAPHY BY NOLWEN CIFUENTES
CREATIVE DIRECTOR/STYLING  ROBIAT BALOGUN
MAKEUP BY ARCHANGELA CHELSEA FOR CELESTINE AGENCY
HAIR BY LUCY GEDJEYAN FOR CLOUTIER REMIX
STORY BY MIN A. LEE
Season 3 of 13 Reasons Why has just begun, and Grand Hotel is winning over audiences as we speak. How is it for you to play two significant roles simultaneously, and how do you handle the stress of a hectic schedule? 
Funny enough, I have almost always filmed two things at once since the second season of Tyrant on FX. I love being busy! Also, being on a show with a big cast means you don't work every day, so I like to try and do as much as I can, even when I'm on two shows. I make it work! Being on 13 Reasons Why and Grand Hotel is fun because they are both so different, it's fun to switch it up all the time. Grand Hotel is a bit more lighthearted and playful, whereas 13 Reasons Why is very raw and emotional. 
Needless to say, my life is never boring. I am very fortunate to have a boyfriend who takes care of a lot of things for me when I'm busy. I have a house and two dogs that I can't always attend to, which would be added stress if it weren't for my boyfriend, Taylor. He also always keeps me calm and focused on the bigger picture when I'm in my head or stressed about one particular thing. I am close with my parents, who live in Texas and FaceTime them pretty much every day, which helps me never lose sight of where I come from. 
I have to listen to my body and take care of myself too, which could be laying in bed watching Netflix or going on a little road trip and getting out of town for a few days. I also love cooking, listening to music, journaling and listing things I'm grateful for. There are so many ways to destress. 
In Grand Hotel, Ingrid's story has really caught the interest of fans, and the relationship developing with Javi gets spoken of often. Looking at just Ingrid alone, what do you feel are her strengths? 
Ingrid is strong-minded and smart. I think her downfall is not realizing that her strengths can become her weaknesses when she doesn't play her cards right. She didn't do the right thing with Javi, but she was very good at manipulating him. I'm not sure if that's a strength, but she's pretty good at it! 
That being said, though, I do think she has a good heart and is learning from her mistakes. I don't think everyone can relate to her personality, but I think everyone can at least relate to learning from their mistakes in life. 
13 Reasons Why addresses some heavy topics from suicide to sexual assault. There are so many intricate layers to each of the characters. Were there a lot of challenges you faced playing Chlöe Rice? 
Yes, 100%. Chloe presented challenges that I have never faced before. In the second season, I had to film very intimate scenes with Justin Prentice, who plays Bryce. That was actually my first time filming scenes of that nature. 
Now in the third season, the journey that Chloe took with her pregnancy was very challenging, yet rewarding. As an actor, the most challenging roles are my favorite because I am always wanting to grow and portray new characters. I'm very grateful I was able to be a part of a show that doesn't shy away from the tough topics and gives us actors the opportunity to portray these raw situations as authentically as we can. 
Your role as Mia in Zac and Mia landed you an Emmy Award! Congratulations! Can you walk us through that moment when your name was announced for the win? 
Thank you! You can actually see my reaction on a video I posted on Instagram. My boyfriend filmed me as they were announcing the category. I was shaking my head like no way they're going to call my name but also praying it was me haha! When they said my name, my jaw just dropped, and I froze for a minute. I was in complete shock. I mean that moment is still so surreal to me, you can't prepare for that kind of a moment in life. I am so grateful. 
Cancer, especially in kids and teens, is a painful subject. How did you handle the emotions that come with playing Mia? 
I let the pain play truthfully. There's no getting around the fact that cancer is a traumatic disease that hurts not only the one going through it but all of those around them as well. We got to sit down and talk to kids and parents that were in the hospital going through it, and the parents of the kids said that crying becomes a part of everyday life and that's just the new normal.  
That being said, as an actor, I pushed myself in that mindset every day. That is truly the only way I feel like I'm doing a character justice. At the end of each day, I tried to listen to some good music to unwind on my drive home from set. 
As our Beauty Cover this issue, can you tell us your favorite skincare products you've been using lately?  
I have dry skin, so I love to use anything to hydrate! I use a few different face washes. Unblemish by Rodan + Fields is one of my go-to's, also my facialist Ricki Criswell has these amazing products, including a Noni oil that has been working wonders on my skin. I always feel refreshed and moisturized after putting that on. Also, an absolute must — coconut oil. Sometimes I just use coconut oil to take my makeup off and to moisturize. Everyone has different skin, so you have to try out different products to see what works for YOU. 
How about favorite makeup products? 
I was recently sent some new products from Dior and am loving their foundations and bronzer. I also love Charlotte Tilbury's Wonder Foundation! Mascara is a big part of my makeup routine, and Too Faced's Better Than Sex is my absolute favorite. Other than that, I like to play around with different eyeshadow palettes and blushes. Anastasia [Beverly Hills] has great eyeshadow palettes, and right now I'm using the bareMinerals Bounce + Blur blush. 
Finally, what motivated you to pursue an acting career?  
I always loved performing and was the biggest camera hog as a kid. The home videos I have are proof I was made for this industry haha! Hannah Montana was my absolute favorite show as a kid, and what made me think, "this is something I could do." It wasn't that easy, though! I had to prove to my parents that acting was something I was going to take seriously. After taking classes and getting an agent and manager, I just worked my butt off, and before I knew it I was on TV! 
Share your thoughts...