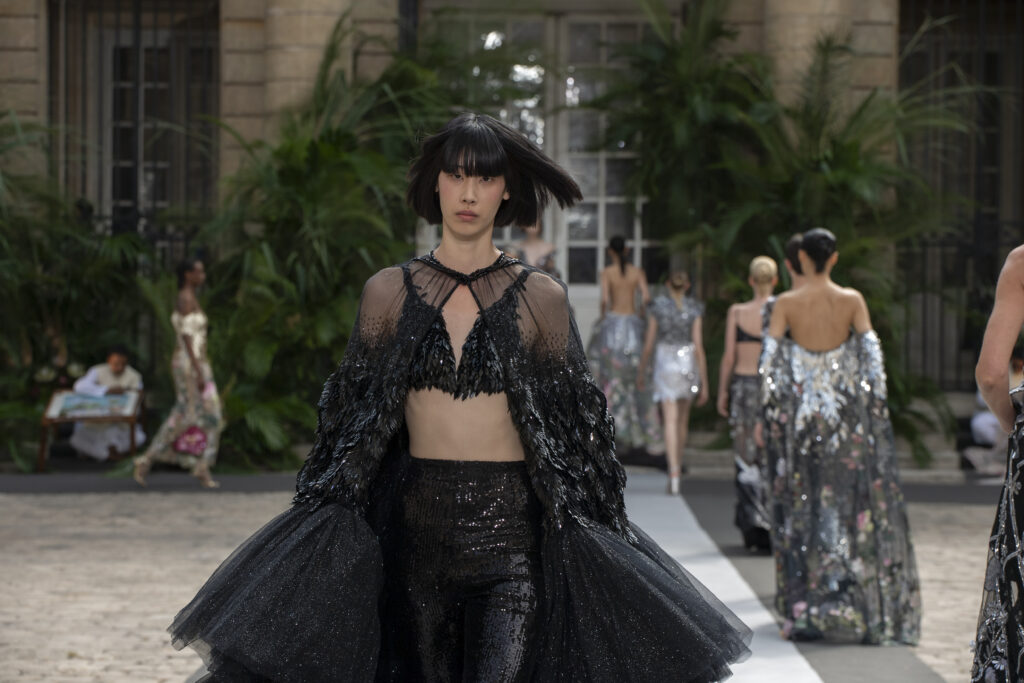 The first-ever Indian designer to showcase at Paris Haute Couture, Rahul Mishra expertly blends slow and high-end fashion with traditional Indian craftsmanship.
And the Indian tradition is paid homage during the fashion show, where two artisans show the hand-weaving and hand-embroidery processes live alongside the catwalk. The artisanship becomes the narrator and the real fil rouge where the artistic imagination meets technical prowess that allows them to turn imagination into reality, like a power that is a gift of God.
"The finest creator, God, must be an embroiderer."
The collection was made in India for the whole world in an ode to the beauty of humanity. The intricate path that leads from Mishra's imagination to the creation of the sketch and then passing into the skilled hands of the craftsmen who bring them to life increasingly focuses on the importance of a slower and sustainable couture (and fashion in general)—more strength to local artisans and less power to aseptic polluting factories dedicated to too fast fashion.
Just look closely at the voluminous flowers and detailed appliqués on the clothes on the runway to feel the three hundred hours of work depending on the silhouette. Each garment is produced for an existing demand and not for the mere consumerist desire, which is the hallmark of each designer collection.
Beyond the clothes that mark an avant-garde couture dedicated not only to dreaming but also to its effective use in order not to become just "exposed goods," Mishra leaves as always a legacy of the value of the celebration of world culture, which was born in an Indian atelier and is transported around the globe, enhancing the beauty inherent in each person.
Share your thoughts...