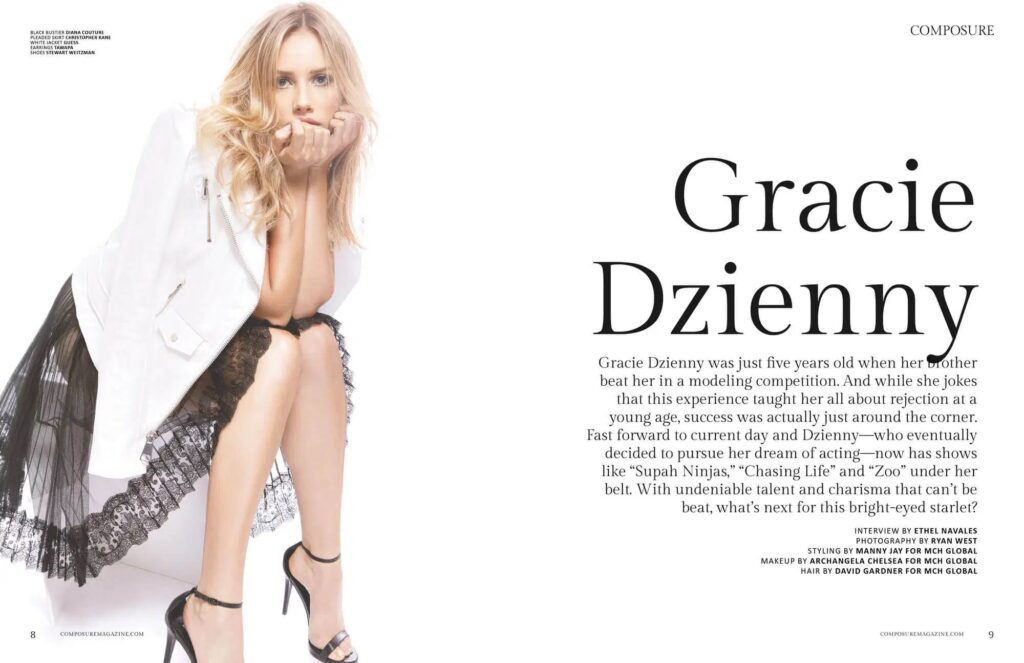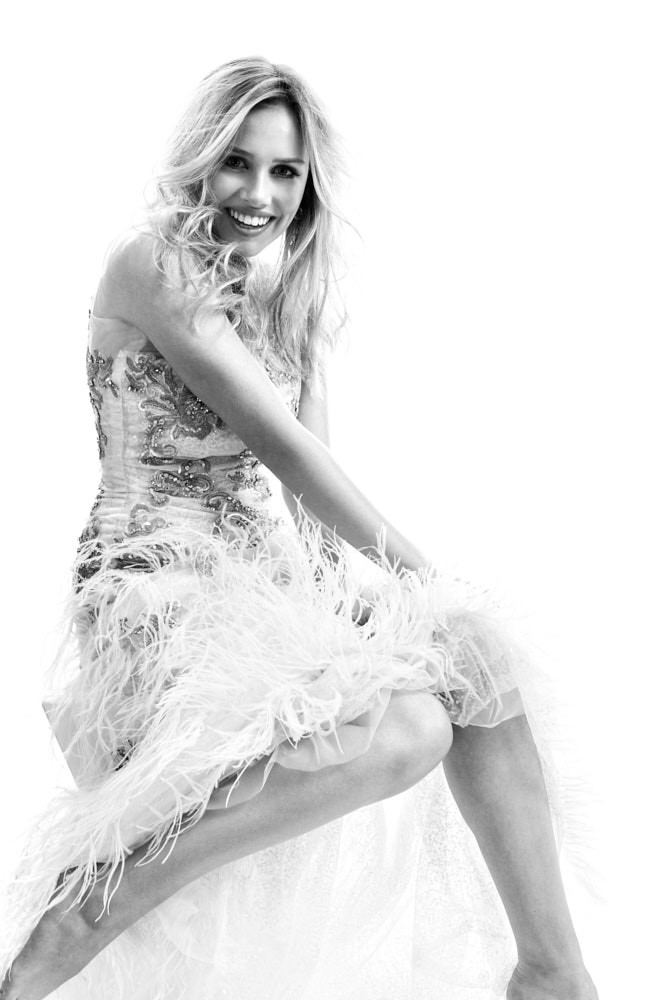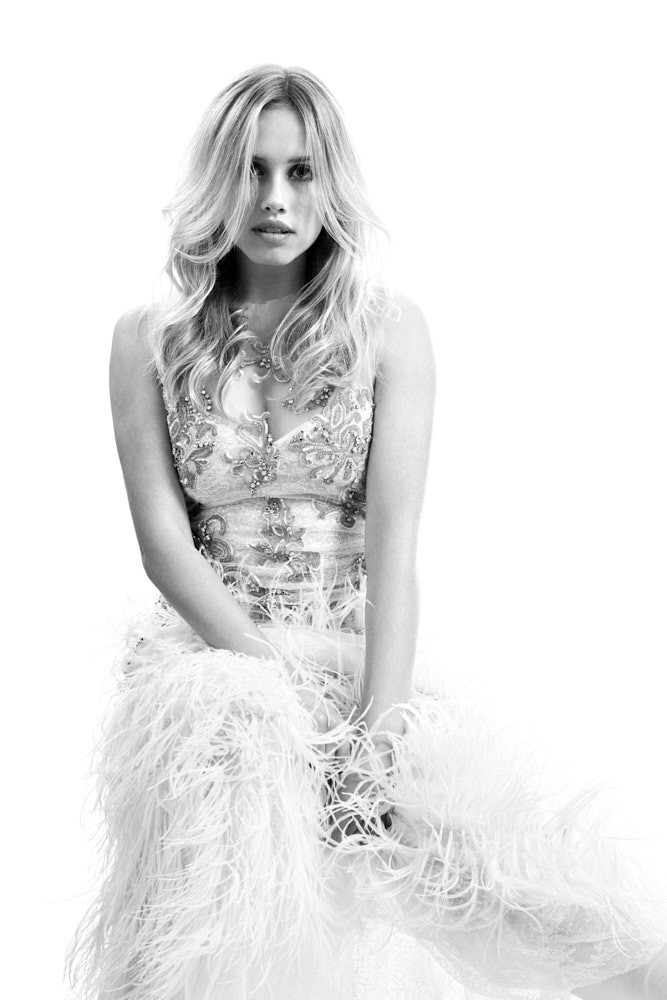 Gracie Dzienny was just five years old when her brother beat her in a modeling competition. And while she jokes that this experience taught her all about rejection at a young age, success was actually just around the corner. Fast forward to current day and Dzienny—who eventually decided to pursue her dream of acting—now has shows like "Supah Ninjas," "Chasing Life" and "Zoo" under her belt. With undeniable talent and charisma that can't be beat, what's next for this bright-eyed starlet?
INTERVIEW BY ETHEL NAVALES
PHOTOGRAPHY BY RYAN WEST
STYLING BY MANNY JAY FOR MCH GLOBAL
MAKEUP BY ARCHANGELA CHELSEA FOR MCH GLOBAL
HAIR BY DAVID GARDNER FOR MCH GLOBAL
Composure Magazine: You started your venture in entertainment with modeling at a very young age. What was that experience like for you?
Gracie Dzienny: It was a really nice transition into acting, expressing emotions, discovering characters and playing dress up. It's hard to memorize lines at five so modeling is much easier. And my mom was a photographer so I always had a camera in my face.
CM: Any memorable moments you can recall from those early years modeling?
GD: In the summers, I would go and live in New York City to model and I loved just being in the city. I loved musical theatre and Broadway, so my mom and I would go see shows. When we went out to our very first ballet, we were in nosebleed seats so high up that I actually popped a blood vessel in my eye. I was straining to look at the ballet so much because it was just so beautiful.
CM: Since you love musical theatre, did you ever think about going in that direction?
GD: Actually, the only opportunity for acting in my hometown was to be in musicals. I did "A Christmas Carol" growing up and I was Cat in the Hat in "Seussical." I cried for like two weeks because I thought Cat in the Hat was a "boy's part," but I actually ended up loving the part. I got to do whatever I wanted and really explore. It was wonderful.
My best friend is actually is on Broadway right now. We always said that she would be the one that's gonna go to Broadway and I was gonna go be an actress, so it's pretty cool to see us both living our dreams.
CM: Speaking of your acting dream, how did that journey begin for you?
GD: I started working with an agent and they would send me tape auditions. So before school, my mom would film me at our door and I would send them off before I got on the school bus. I actually sent in my tape for "Supah Ninjas" that way. They flew me out to LA and I did three more rounds of auditions, but I didn't even realize they were auditions because I was so new! I just thought they were hangout sessions, so I would just show up and chat a lot. I didn't even know I was up for the part, but I booked that and I've been acting ever since.
CM: You played Amanda Mckay in Nickelodeon's "Supah Ninjas." What would you say was your most favorite takeaway from that experience?
GD: The relationships I formed on that set. Ryan Potter and Carlos Knight are like my brothers. We grew up together and we stayed really close, which I think is kind of rare. And there's also George Takei, who was our guiding light on that show. I mean he's been in the business since he was pretty much a kid and he's seen it go through so many changes. The way he treated everyone with kindness and how prepared he came to set every day just set such a high standard for everyone. He's really a class act.
CM: You went on to play Greer Danville on ABC's "Chasing Life." What was the most challenging aspect of playing this character?
GD: I think figuring out how to deal with being bipolar was a challenge for me. I had to do a lot of research and talk to a lot of people. It was a big responsibility to do it right and to handle it as real as possible. But surprisingly, Greer was always such a confident character who knew what she wanted and who she was. She was such a cool character because her main point wasn't that she was gay. She was just like anybody else. I've gotten a lot of really cool messages from fans of the show that were dealing with the same stuff. So the fact that someone I played on TV can help people is really such a compliment.
CM: "Zoo" is unlike many of your other works. How would you describe this CBS series and what was it about Clementine Lewis that caught your interest?
GD: This is such a new character for me. I can really kick some butt because Clementine is just so strong. She's really passionate and if she has something that she wants, she just goes and does it. She doesn't need to wait on anyone else.
CM: Who are some of your biggest role models?
GD: I really look up to Amy Adams. I think she changes what kind of characters and roles she plays all the time. All of her characters are strong and wonderful women. I also look up to Rachel McAdams. I love her romantic comedies.
CM: What can fans look forward to seeing you in?
GD: I was just cast in the new "Transformers" film. It will be coming out in December 2018 and I just started working on it. I am really excited about that since it's my very first movie.
Speed-Round with Gracie Dzienny
Career you would want outside of entertainment?
Something in fashion. I think it would be so interesting to intern for a magazine.
Something that always makes you laugh?
"The Office."
Biggest pet-peeve?
Loud chewing. I don't understand why popcorn is allowed in movie theaters. It's the loudest food.
Guilty pleasure?
Reality TV.
What does an average day look like for you?
I start every day by making my bed because I think that's important. An average day also involves a cup of English breakfast tea and yoga. Those are the only three staples in my day, I think. Then from there it's kind of all over the place.
Favorite or most awkward fan interaction?
Anytime someone takes the time to draw a picture of me or make a collage, I just think that's so sweet and it surprises me every time.
Advice you would give yourself ten years ago?
I would tell myself that even though you really like "Legally Blond" the movie, don't form a fake sorority with your friends because it will be disastrous and not really fun for anyone.
Where do you see yourself in ten years?
Hopefully doing the same thing. Loving life and working hard and surrounded by people I love.
Share your thoughts...