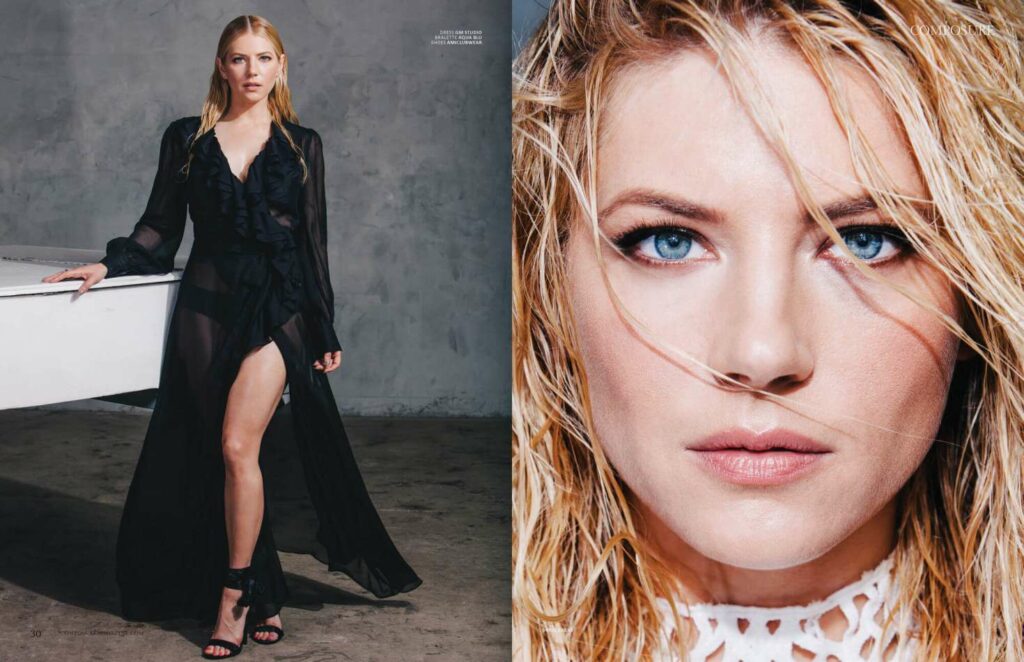 "Vikings" star Katheryn Winnick is a badass even when the cameras aren't rolling.
INTERVIEW AND STORY BY ETHEL NAVALES
PHOTOGRAPHY BY JOHN HONG
STYLING BY PHILIPPE UTER FOR THE ONLY.AGENCY
MAKEUP MAI QUYNH FOR STARWORKS GROUP
HAIR BY DAVID STANWELL FOR THE WALL GROUP
VIDEO BY JONATHAN NAVALES
It goes without saying that Lagertha—the iconic character in the historical television series "Vikings"—definitely knows how to make a strong impression. In just four seasons, we've seen Lagertha fight men twice her size and wield a sword like she was born with one. For many fans, this mastery of combat comes as no surprise since Katheryn Winnick, the Canadian actress who plays the viking shieldmaiden, is just as talented in combat off-screen as she is onscreen.
"I started Taekwondo at the age of seven," Winnick recalls. "I was heavily involved in sports at a young age. I started off in gymnastics, then soccer, basketball and volleyball, but my number one choice was always Taekwondo." She continued to fuel this passion and just a few years later, she got her first black belt. Of course, she was nowhere near done. By the age of 16, she opened up her very own martial arts school and by 21, she ran three Taekwondo schools in Toronto focused on teaching self-defense to women. It was thanks to this passion that Winnick found her way into entertainment.
"I started in the [entertainment] field by teaching actors martial arts on movie sets. I was their trainer as well as their stunt double," she describes. "That's how I got a chance to see what a stunt life is like, and I realized it's amazing and I would love to be a part of it in front of the camera. That was really my journey."
Of course, the path to success is never easy. Winnick recalls one instance where she had to strike up a deal with a set photographer to exchange Taekwondo lessons for some headshots she couldn't afford. And then there were the countless auditions and roles (like the one with a director who believed it was "necessary" for her character to be in a bikini) that simply weren't a good fit for her. "It wasn't until later on in my career that I really shifted in terms of choosing material a little more carefully," she points out. She eventually decided that she wanted to set the bar higher and play more complex characters. As fate would have it, the opportunity to play Lagertha could not have come at a better time.
Winnick describes her "Vikings" character as strong and fierce but also vulnerable. "She's getting older and things are different. Things have shifted for her," she explains. "That's always great to play when you have so many years to unveil the layers of yourself and be able to explore different sides of your personality." And it's not just Lagertha's emotional journey that challenges and interests Winnick. Despite being a licensed bodyguard with a third-degree black belt in Taekwondo and a second-degree black belt in Karate, Winnick admits that even for her, "Vikings" is a very physically demanding show. "Your body goes through a lot of wear and tear [but] that's what makes it look so fantastic on screen," she reflected. "I wouldn't have it any other way. We shoot this in Ireland in the middle of nowhere. It's hard and demanding, but it's authentic. When you see us wet, we're wet."
Thankfully, it seems no amount of rain, horseback riding and combat training could steer Winnick away, who is now approaching her sixth year with the show. She largely attributes this to the show's creator, Michael Hirst, who continuously writes compelling storylines. As for viewers who assume "Vikings" is just about blood and violence, Winnick points out, "It's a story that's more about the Viking society and the relationships with the characters. Of course, we do have violence, but we're also a very complex, character-driven show."
And though we are on the edge of our seats waiting for the fifth season of "Vikings" to be released later this year, Winnick is just as busy as ever. It was revealed that she will be making her directorial debut with an episode in season six. In addition to "Vikings," she continues to step it up with strong female characters, such as her upcoming role as a voice actor in the first-person shooter video game, Call of Duty: WWII. We can also catch her on the big screen as Laurie Chambers, a struggling single mother in the 2017 film "Dark Tower." When comparing this character to Lagertha, Winnick points out that Laurie exhibits a completely different (but equally admirable) version of strength. "If you're a single mom trying to make ends meet, trying to make decisions for your family, [working] two jobs and juggling all those things to keep the family unit together, there's a lot of strength in that," she says. "I think both characters have that sense of struggle to make ends meet and to survive."
No matter what lies ahead for this ambitious actress, we know that we have just scratched the surface of what Winnick can bring to the table. "It's been a long road. And now, I'm more strategic about the choices I make," Winnick reflects. "I've been in this business for a while, but I feel that I'm just getting started."
Season 5 of "Vikings" will premiere on November 2017.
Speed Round with Katheryn Winnick
Career you would want outside of entertainment?
I'm not sure if it's really considered a business or career, but I would definitely want to help women achieve their goals.
Something that always makes you laugh?
"Family Guy."
Something fans would be surprised to learn about you?
I'm very clumsy.
Biggest pet-peeve?
People that pick their teeth at dinner.
Guilty pleasure?
Chocolate and salted caramel ice cream.
What does an average day look like for you?
Every day is completely different, but it usually starts off with a great cup of coffee in the morning and ends with a great glass of wine at the end of the night.
Favorite or most awkward fan interaction?
When someone met me at Comic Con, they lifted up their shirt and they had tattooed my face on their back. It's flattering, but weird at the same time. It is amazing to see the dedication that these people have.
Advice you would give yourself ten years ago?
You have one life to live, so reach for the stars.
Where do you see yourself in ten years?
A combination of having a strong career in acting—with great roles and working with people that I love—as well as a strong family life and lots of travel.
Share your thoughts...