PHOTOGRAPHY BY STORM SHOOTS
CREATIVE DIRECTOR & STYLING BY ROBIAT BALOGUN
MAKEUP BY ARCHANGELA CHELSEA FOR CELESTINE AGENCY
HAIR BY JENNA GARAGIOLA FOR CLOUTIER REMIX
STORY BY MIN A. LEE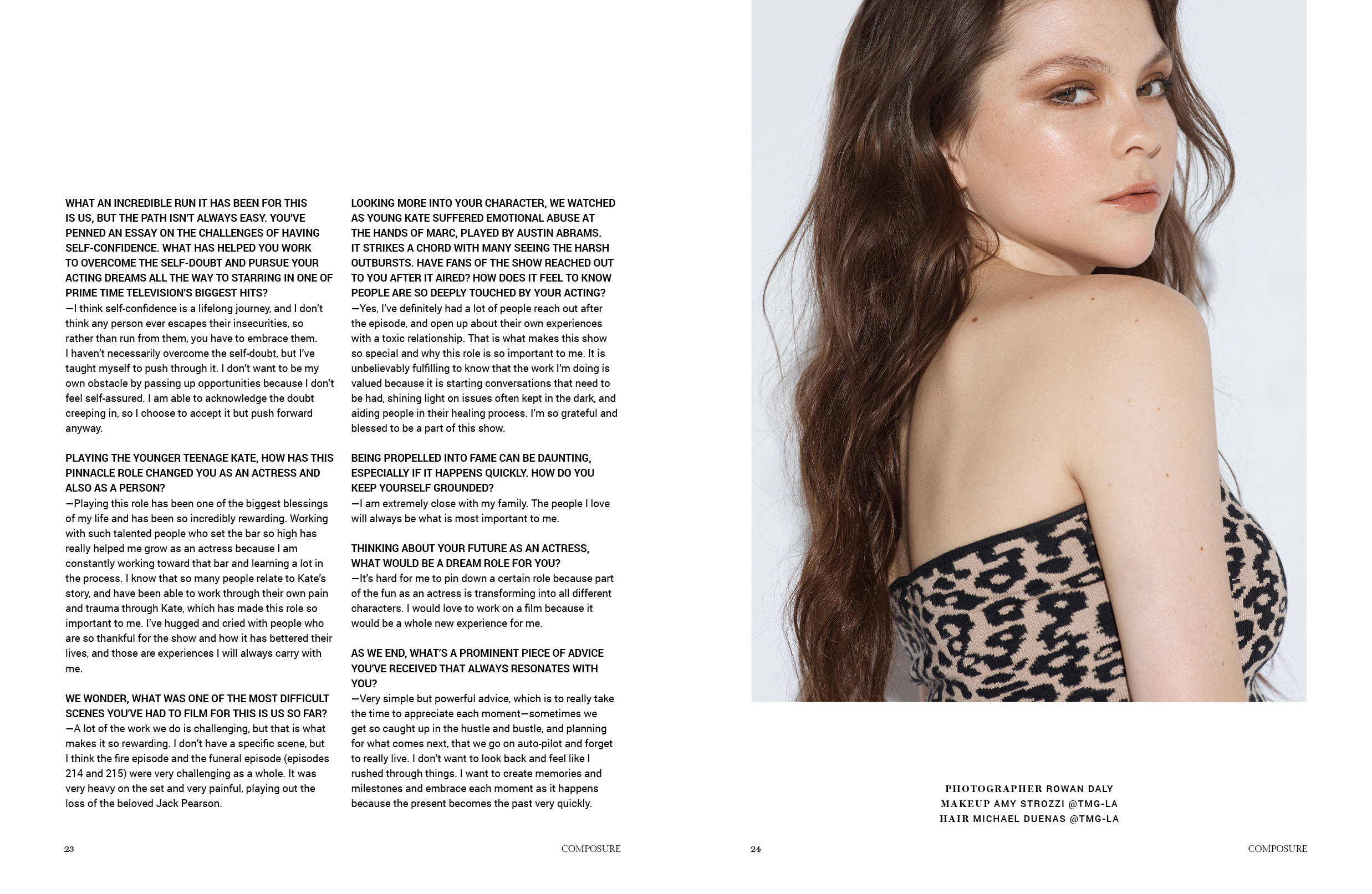 PHOTOGRAPHY BY ROWAN DALY
MAKEUP BY AMY STROZZI FOR TMG-LA
HAIR BY MICHAEL DUENAS FOR TMG-LA
STORY BY MIN A. LEE
Sometimes, our intuition serves us right, and for Hannah Zeile, never giving up on her hopeful dream of acting is why we want to highlight her story as our It Girl cover. It's truly a feel-good moment. The kind you think only exists on television or in books, but when the door closed behind Zeile as she left the Chipotle she worked at to take on her breakout role in NBC's mega-hit series This Is Us, we as fans couldn't be more grateful. Watching someone so young and talented be able to draw out these visceral emotions that make one forget she's acting out a character—it's phenomenal. She intensely throws herself into portraying young Kate Pearson, and you will cry, you will cheer and you will wish more than anything to hug her. This is the definition of pure acting, where the line between reality and falsity is blurred. Read on as Hannah Zeile speaks to us on working to overcome self-doubt and her rise to fame.  
What an incredible run it has been for This Is Us, but the path isn't always easy. You've penned an essay on the challenges of having self-confidence. What has helped you work to overcome the self-doubt and pursue your acting dreams all the way to starring in one of prime time television's biggest hits? 
I think self-confidence is a lifelong journey, and I don't think any person ever escapes their insecurities, so rather than run from them, you have to embrace them. I haven't necessarily overcome the self-doubt, but I've taught myself to push through it. I don't want to be my own obstacle by passing up opportunities because I don't feel self-assured. I am able to acknowledge the doubt creeping in, so I choose to accept it but push forward anyway. 
Playing the younger teenage Kate, how has this pinnacle role changed you as an actress and also as a person? 
Playing this role has been one of the biggest blessings of my life and has been so incredibly rewarding. Working with such talented people who set the bar so high has really helped me grow as an actress because I am constantly working toward that bar and learning a lot in the process. I know that so many people relate to Kate's story, and have been able to work through their own pain and trauma through Kate, which has made this role so important to me. I've hugged and cried with people who are so thankful for the show and how it has bettered their lives, and those are experiences I will always carry with me. 
We wonder, what was one of the most difficult scenes you've had to film for This Is Us so far? 
A lot of the work we do is challenging, but that is what makes it so rewarding. I don't have a specific scene, but I think the fire episode and the funeral episode (episodes 214 and 215) were very challenging as a whole. It was very heavy on the set and very painful, playing out the loss of the beloved Jack Pearson. 
Looking more into your character, we watched as young Kate suffered emotional abuse at the hands of Marc, played by Austin Abrams. It strikes a chord with many seeing the harsh outbursts. Have fans of the show reached out to you after it aired? How does it feel to know people are so deeply touched by your acting? 
Yes, I've definitely had a lot of people reach out after the episode, and open up about their own experiences with a toxic relationship. That is what makes this show so special and why this role is so important to me. It is unbelievably fulfilling to know that the work I'm doing is valued because it is starting conversations that need to be had, shining light on issues often kept in the dark, and aiding people in their healing process. I'm so grateful and blessed to be a part of this show. 
Being propelled into fame can be daunting, especially if it happens quickly. How do you keep yourself grounded? 
I am extremely close with my family. The people I love will always be what is most important to me. 
Thinking about your future as an actress, what would be a dream role for you? 
It's hard for me to pin down a certain role because part of the fun as an actress is transforming into all different characters. I would love to work on a film because it would be a whole new experience for me. 
As we end, what's a prominent piece of advice you've received that always resonates with you?  
Very simple but powerful advice, which is to really take the time to appreciate each moment—sometimes we get so caught up in the hustle and bustle, and planning for what comes next, that we go on auto-pilot and forget to really live. I don't want to look back and feel like I rushed through things. I want to create memories and milestones and embrace each moment as it happens because the present becomes the past very quickly. 
Share your thoughts...