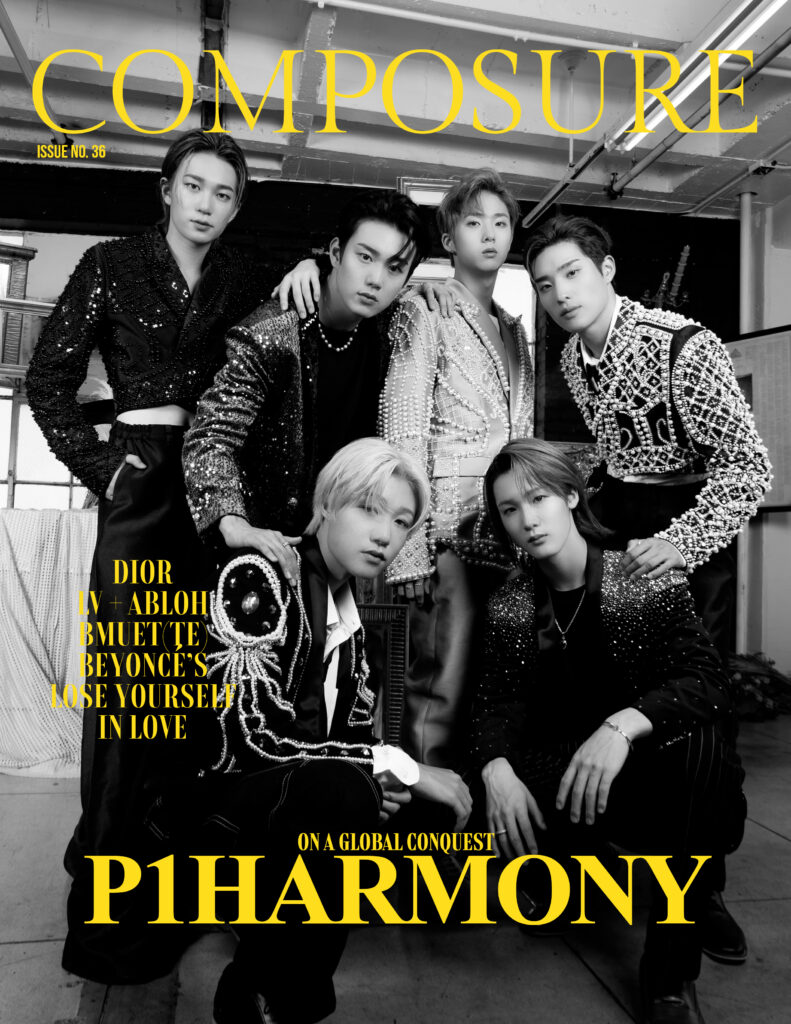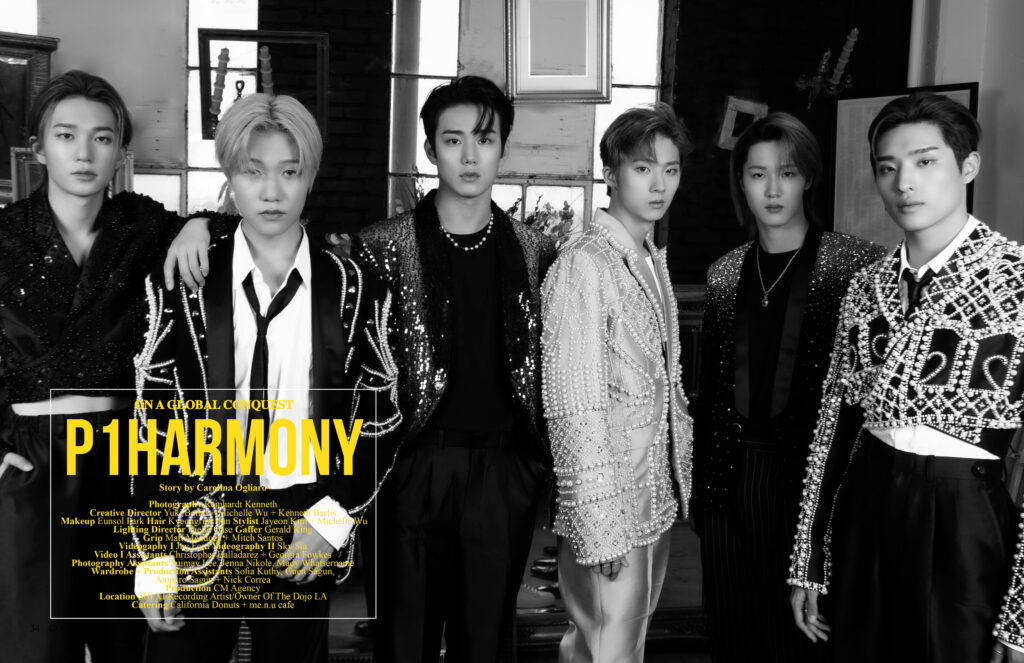 On A Global Conquest
It is said that art is life. Art is a faithful friend, an often silent but always present. Art is the trusted companion who takes us by the hand and leads us to know the most intimate and hidden details of our true essence. Art is a journey of the soul. A complex and courageous path in which you find a vulnerability. Art knows no age, gender, or space. It is for everyone.
The freedom to be able to express oneself without judgments and prejudices is the supreme goal of any artistic form. Each has the added value of lending itself to various interpretations because it is based on emotions—and emotions do not know barriers and walls.
And that is why the best word to describe P1Harmony is Art.
Six individuals with a multifaceted talent capable of awakening in their minds the desire to be themselves freely but create collectively. Keeho, Theo, Jiung, Intak, Soul, and Jongseob are the members of P1Harmony and, as singers and dancers, put K-pop on fire. Followed by the worldwide success of their singles "Scared," "Do it like this," Doom Du Doom," "Siren," and "Gotta Get Back" with Pink Sweat$, P1Harmony was nominated for the Best Rookie of the Year at Korea's 2021 MAMA Awards and performed recently at KCON LA and Kamp LA festival held at the Rose Bowl. The 5th EP album of the band HARMONY: SET IN is ready to conquer the globe on November 30th, and a new single on the horizon.
With an age range of 16 to 20, the band is enchanting people all over the world who never get enough of their captivating performances, addictive sounds, and unique sense of style.
You are Art. With the highest writing, dancing, singing, and acting skills, you can state that you are an art. Six multifaceted and histrionic talents that harmoniously melt with one another and who can transmit all your energies and vibes. Your own personal touches can be felt in all you do. Is this also a way for you to get closer to your audience and allow your fans to know you even better?
Keeho: We are always trying to showcase new sides of ourselves, and since each one of us is so full of personality, I think it's easy for us to be understood by a variety of people. We give our best to what we love to do, and if you love it too, we appreciate it!
P1HARMONY band saw its birth during the pandemic. The world faced a dark era, but you merged in a very brilliant and powerful way. What were the hardest challenges of your debut during that particular time, and how did you face them?
Jongseob: I love to perform on stage and communicate with the audience and feel their cheers and enthusiasm, that's the reason I started this job, so it was a little disappointing that I couldn't experience that during our debut. The chemistry and energy of our members fit together so well, so I think we faced this loss by paying more attention to capturing that chemistry and harmony between us.
Success is not something that comes overnight. There is a lot of dedication, a lack of free time to be spent with loved ones, hard work, and physical and mental stress. What helps you all stay focused and balanced in pursuing your dreams?
Theo: Personally, eating delicious food or playing games makes me feel better.
Soul: If I have any concerns or problems, I talk with the other members, or I shout when watching an animation!
For your "P1eces" around the world, you are idols and inspirations. Is there a particular message you would like to convey to your audience? A piece of advice that was very helpful and would like to share?
Keeho: I think you have to learn to love yourself first, no matter what you do. You have to receive love and return that love in order to live a healthy life, but I think it's difficult to do so if you don't love yourself first. You must learn to love yourself unconditionally, regardless of any criteria or situation!
Jiung: I want you to live your life the way you want to!
Your US headline tour this year went sold out in 30 minutes. How deep is the desire to perform on a global stage and share your impressive choreographies and voices with fans?
Theo: I am very much looking forward to going on another tour when it's possible. When I think about it now, I think the happiest time for me since we debuted was our tour. There are so many new performances I want to show to our P1ece[s].
Intak: I want to perform constantly because I'm so happy when I'm on stage. I want to show a new side of us soon and create an even better performance.
Among all the experiences you have had until today, which one gives you the biggest goosebumps and makes you think, "Did this really happen, or did I dream it?"
Intak: While we were abroad, I received a birthday surprise, and it was the most surprising moment for me. It felt like my thoughts and emotions stopped because I was so surprised. I was so thankful for the people around me.
Jongseob: The stage where we first stood at the beginning of our USA tour was a stage we had seen when we were young; it gave me goosebumps and is the most memorable moment for me.
In your albums, we felt a "growth" in the lyrics, the vocals, and in the music itself, which is the normal consequence of you growing as individuals and as a group. From what do you take inspiration for your songs? With your videos and the choreography, is that something born spontaneously or is it a process of reflection and personal flair?
Jongseob: First of all, I think that each member's opinion will be a little different, so this will be what it's like for me. In the process of working on our songs, we all communicate with each other, and I especially have a lot of exchanges and conversations with Intak because we work on the raps together. I think there is quite a lot of inspiration and ideas that we get from each other as we work. We of course, all always do our best, but I think that each of us has something different that we bring to the table. Our efforts, combined with the hard work of all the other team members, allowed for our music videos to come together. It's difficult to say that it is the result of only our own innate talent and effort. When talking about our performance and choreography for the music videos, I think you can say that a certain amount of talent and effort are mixed. Moreover, the visual content we release, like album images, pictorials, etc., has almost the same feeling as the above. Personally, I think that's when each member's style or concept image captures their personality, which has a big impact.
Do you have any anxiety before going on stage or feel any "pressure or sense of responsibility" as an IDOL to your fans? I know that living under the lens can be a little hard, and the only way possible to live "under the eye of a thousand people" is to go with the flow, trust the moment and appreciate the process with its ups and downs (which are valuable to know and better yourselves). Although it is almost impossible to be positive 100% of the time, is there anything that helps you all to overcome the pressure?
Keeho: I get nervous and feel pressure, of course. You can't always be perfect, and you can't always be positive. It's nonsense if you want that from yourself while working. The moment you realize and believe in that fact, I think you can start to shake off the pressure a little more. I think I just have to work harder on this and be satisfied with what I do. I still can't think that way because it's a bit difficult, but I'm practicing.
When all the cameras turn off, what is something that every one of you does to simply relax and free the mind?
Keeho: I think doing nothing, spending time with other members, or shopping is the most healing thing to me.
Theo: Personally, I don't think I've ever felt uncomfortable with the camera turned on, so it's the same for me.
Jiung: I go to the Han River or organize my thoughts alone in a quiet place where there is no one around.
Intak: I like sleeping while listening to my favorite songs. There is nothing quieter and happier than that when you just don't want to think about anything, and your head is complicated.
Soul: I'm always comfortable with or without the cameras because, for me, it feels the same.
Jongseob: I think it's mostly playing games, reading, and taking pictures. Those things are mainly what I like to do when things don't work out or when I'm organizing my thoughts.
Do you feel music and dance are a free space to express your emotions and creativity without boundaries?
Jiung: I think so, but I think that it also takes a lot of effort because those skills need to be supported in order to do that.
Intak: Of course, I think I can express myself more freely that way. I think I express my thoughts, feelings, actions, everything through music and dance.
You are colleagues/friends/family; what is one common trait you all have? Besides the passion for music, maybe you all share a particular habit or a trait in your behaviors.
Soul: Even if there is no one else and we are alone, we can have so much fun. When I watch everyone, it's as fun as watching YouTube videos.
Jongseob: Everyone has strong thoughts and assertions on their own. Also, I think the common thing for us all is to think about and work hard for our visions.
Ultimately, everyone has a talent, and it should be a personal duty for oneself to pursue and develop it and everyone else's duty to respect and support it. P1Harmony is the greatest representation that when you can do what you love the most, you also become a magnet of positivity, inspiration, and freedom.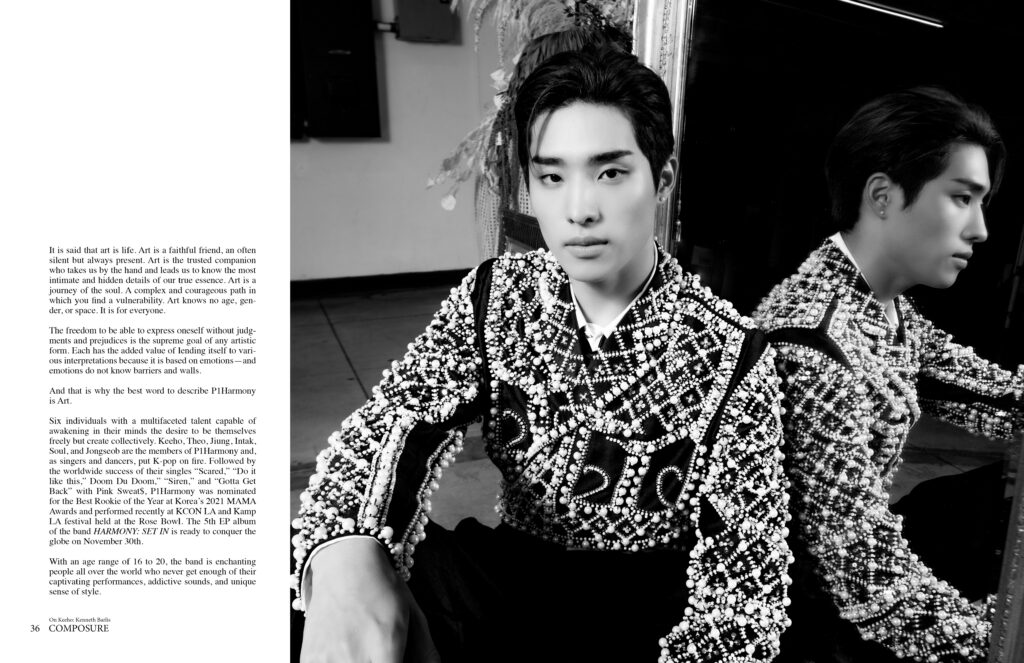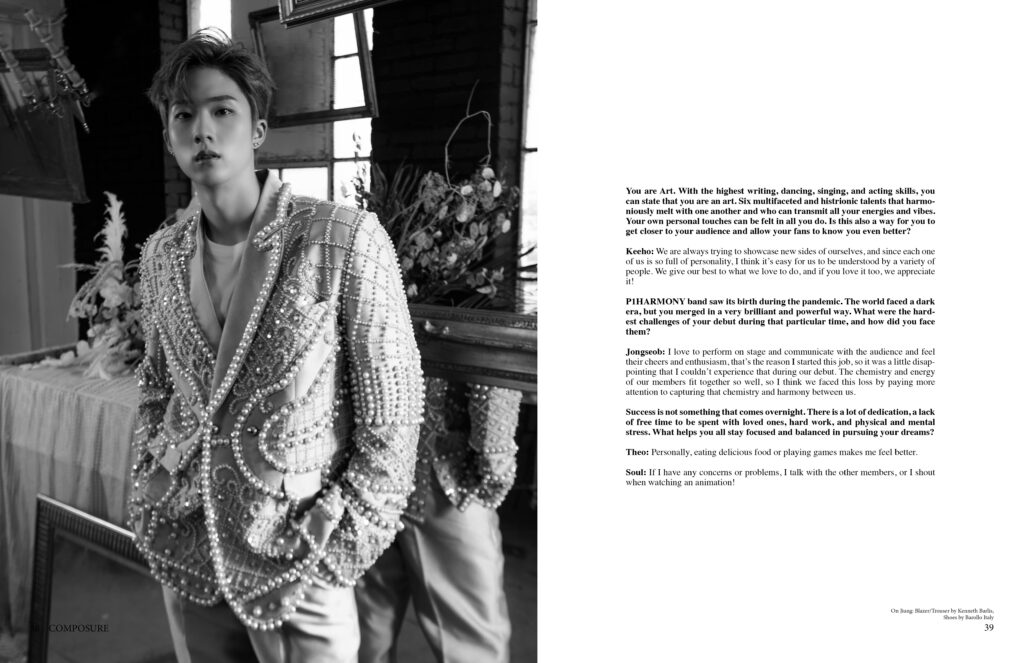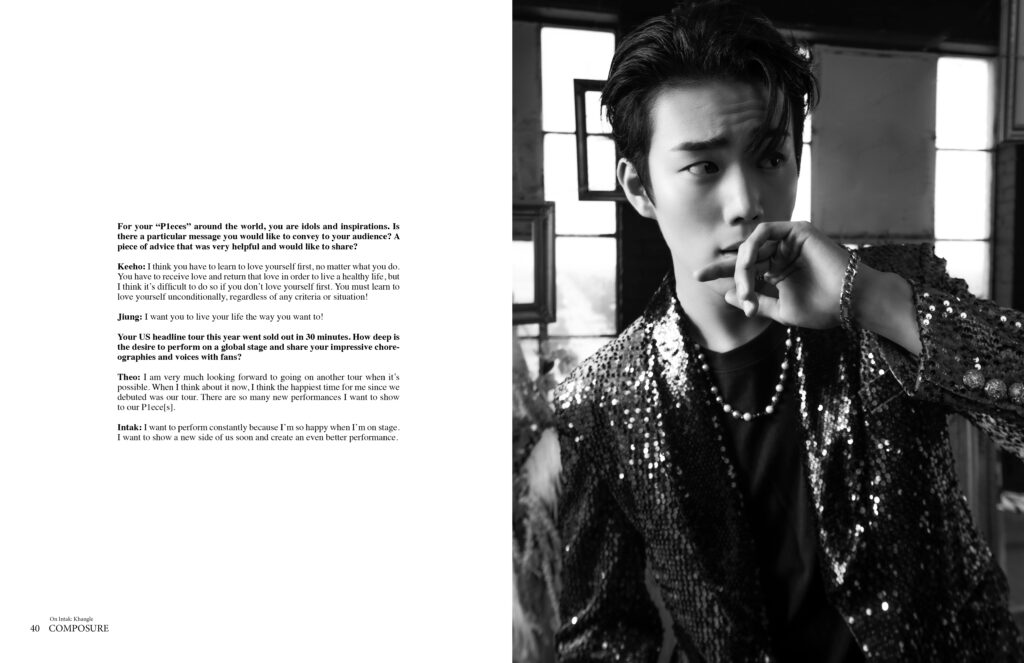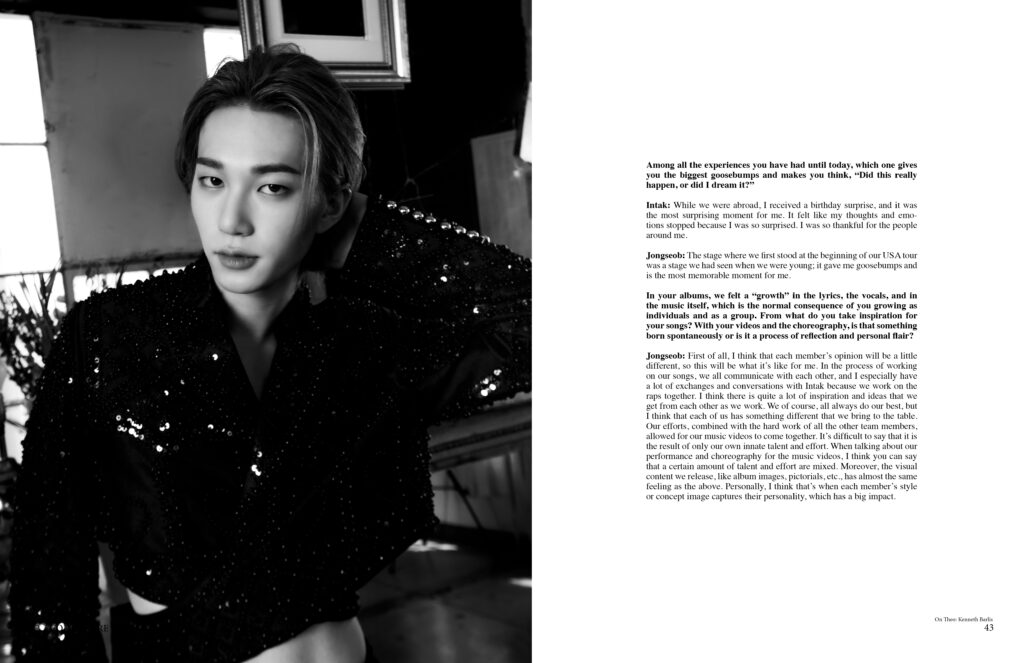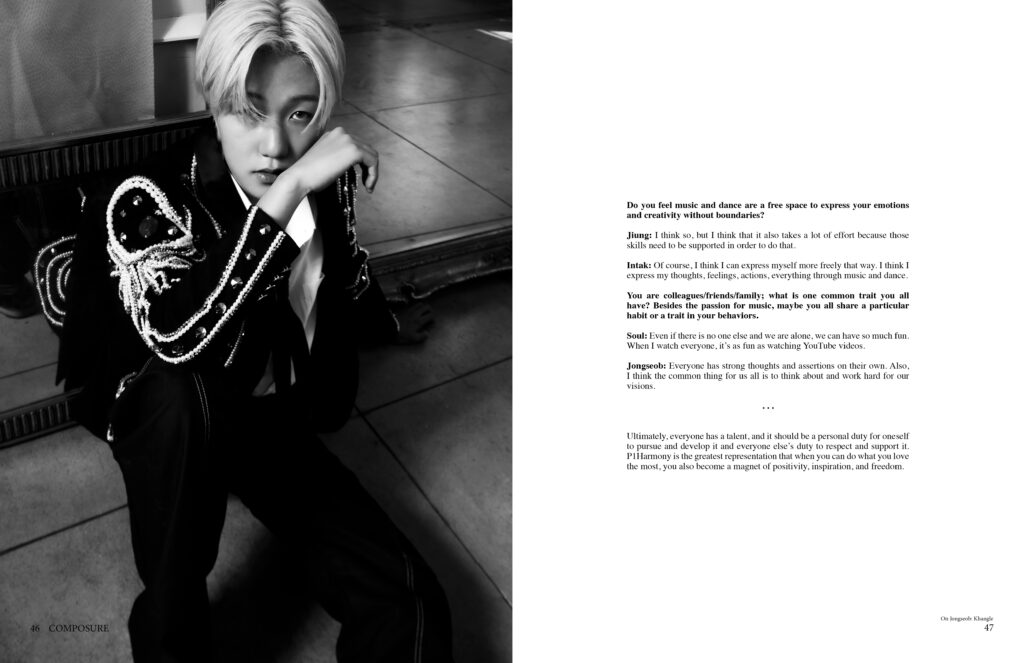 Share your thoughts...