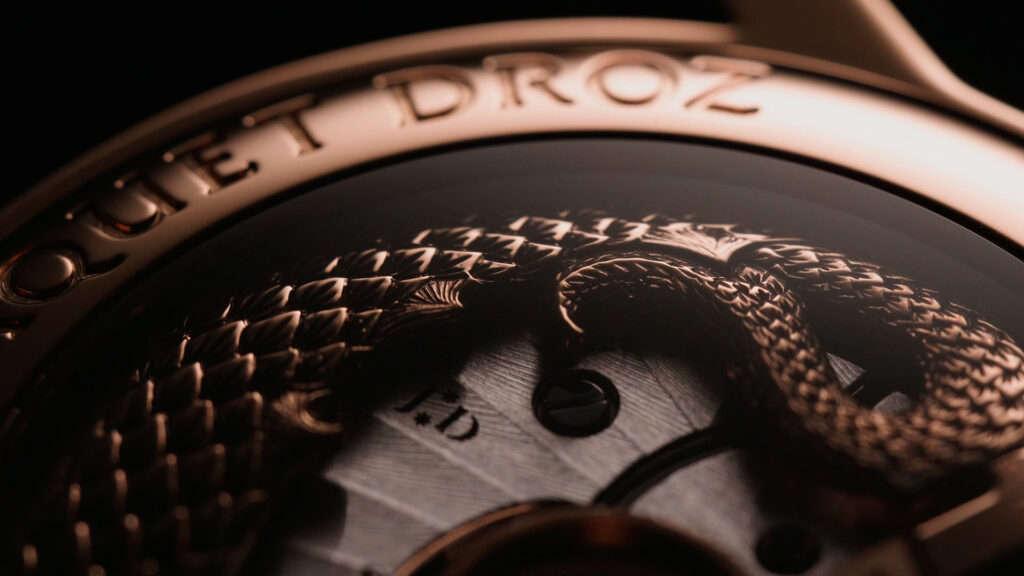 Art, Hollywood, and mythical beings—
With its intricate craftsmanship and history, Haute Horlogerie is one of the most fascinating worlds to exist. We've always deeply admired the Ateliers d'Art of Jaquet Droz with their extremely limited collections, so when the Maison collaborated with the legendary Canadian artist John Howe, we knew it would be exceptional.
His name is synonymous with J. R. R. Tolkien's Middle-earth and as a conceptual designer for Peter Jackson's The Lord of the Rings trilogy. His illustrations have been bringing these classic tales to life before our eyes and in ways, we never dreamed possible. The partnership between Howe and Jaquet Droz that began in 2020 has led to the release of the Petite Heure Minute "Dragon," a stunning combination of watchmaking heritage and myth.
The dial features smaller hour markers shifted to the top to leave an open area for Howe's hand-painted dragon holding within its claws a Dragon Pearl. A sign of "happiness, abundance, wisdom, and knowledge." The elaborate details given the tiny canvas prove no challenge to Howe's brilliance. Turn the case over, and the back reveals another hand-engraved masterpiece, a scaled dragon's tail integrated with the gold oscillating weight.
With only 18 pieces created, each timepiece will come with a certificate signed by Howe for the collaboration, making the Petite Heure Minute Dragon a highly covetable treasure for any collector.
Photos Courtesy of Jaquet Droz
Share your thoughts...