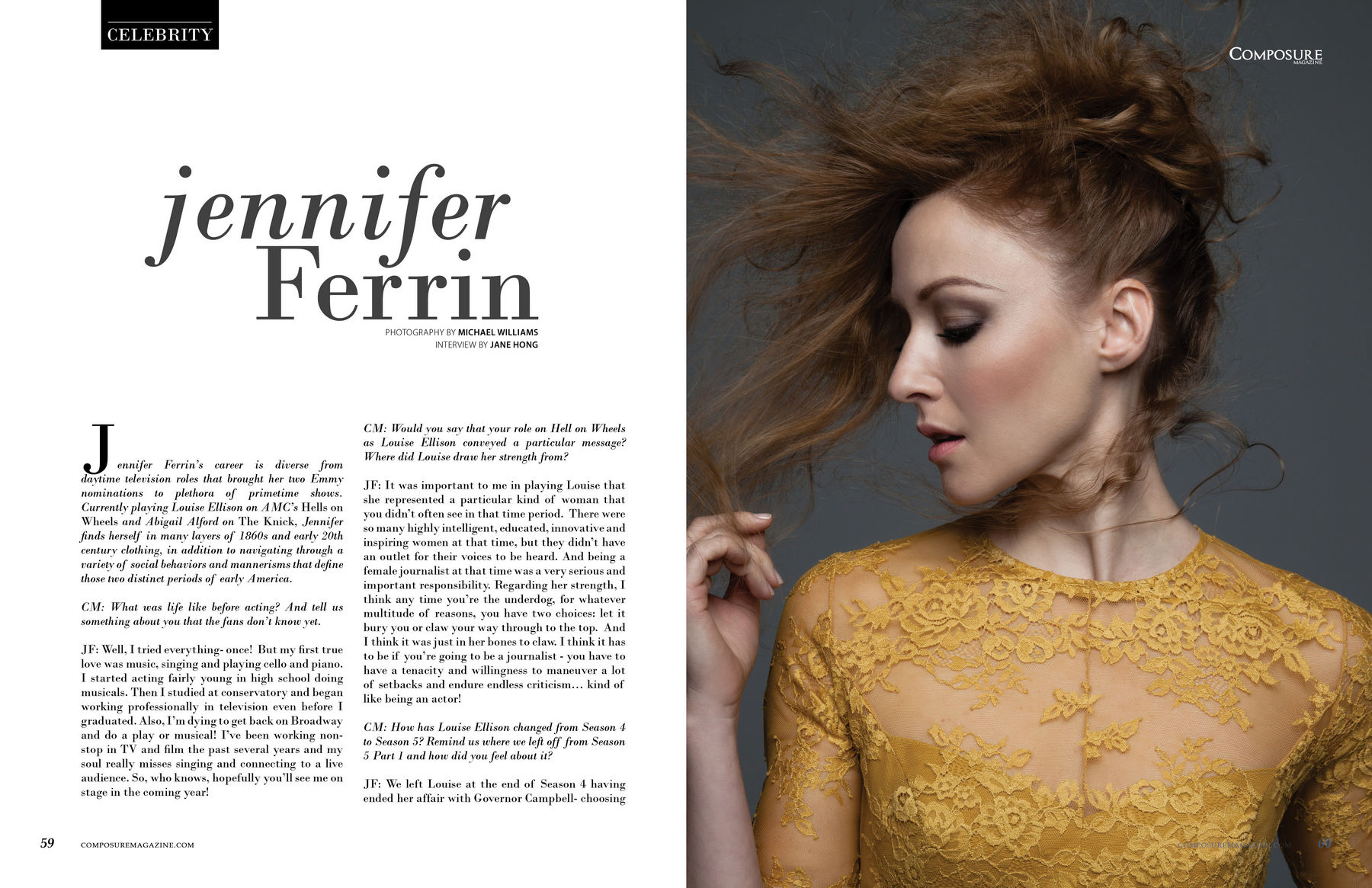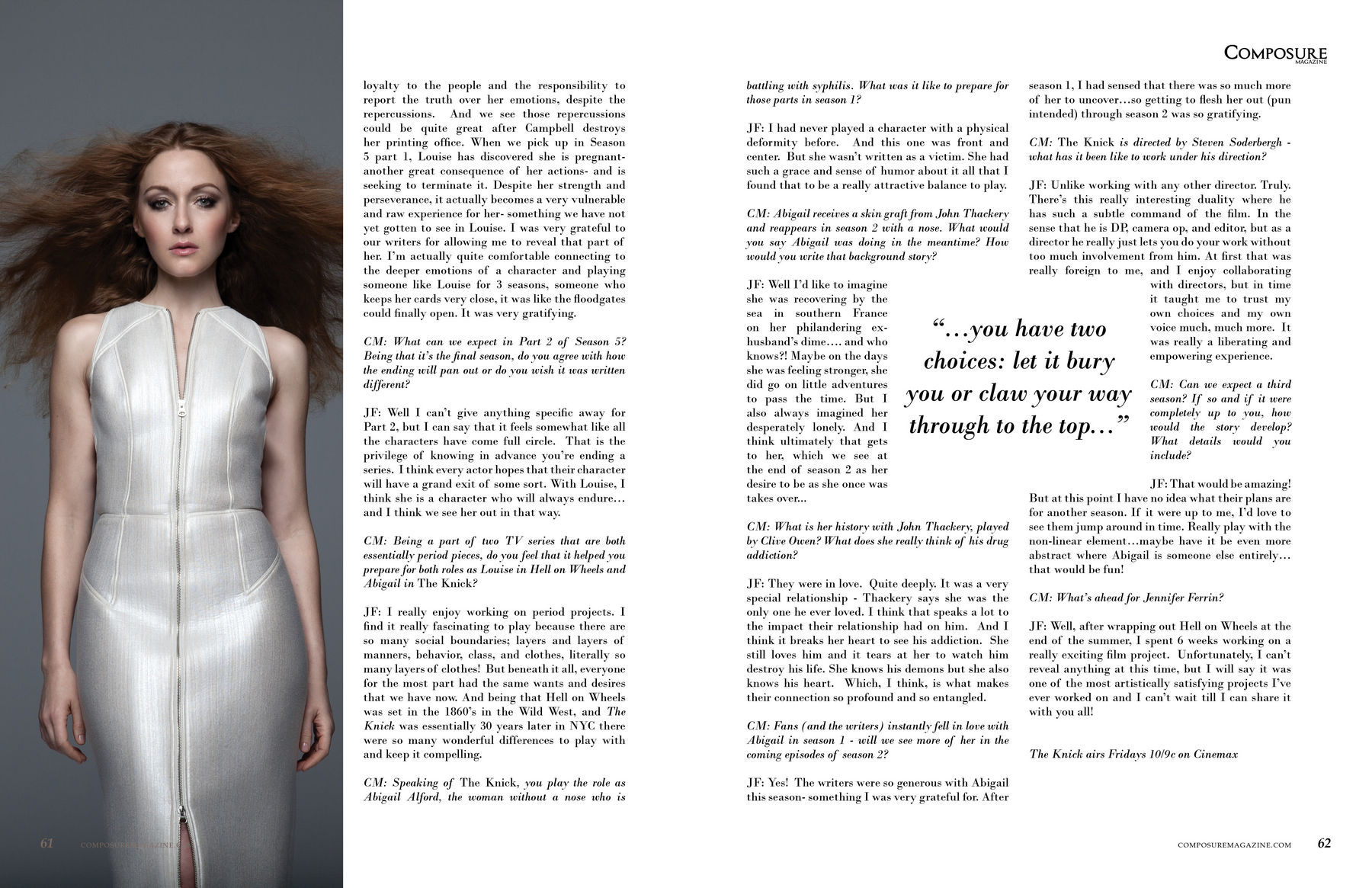 Jennifer Ferrin
Jennifer Ferrin's career is diverse from daytime television roles that brought her two Emmy nominations to plethora of primetime shows. Currently playing Louise Ellison on AMC's Hells on Wheels and Abigail Alford on The Knick, Jennifer finds herself in many layers of 1860s and early 20th century clothing, in addition to navigating through a variety of social behaviors and mannerisms that define those two distinct periods of early America.
CM: What was life like before acting? And tell us something about you that the fans don't know yet.
JF: Well, I tried everything- once! But my first true love was music, singing and playing cello and piano. I started acting fairly young in high school doing musicals. Then I studied at conservatory and began working professionally in television even before I graduated. Also, I'm dying to get back on Broadway and do a play or musical! I've been working non-stop in TV and film the past several years and my soul really misses singing and connecting to a live audience. So, who knows, hopefully you'll see me on stage in the coming year!
CM: Would you say that your role on Hell on Wheels as Louise Ellison conveyed a particular message? Where did Louise draw her strength from?
JF: It was important to me in playing Louise that she represented a particular kind of woman that you didn't often see in that time period. There were so many highly intelligent, educated, innovative and inspiring women at that time, but they didn't have an outlet for their voices to be heard. And being a female journalist at that time was a very serious and important responsibility. Regarding her strength, I think any time you're the underdog, for whatever multitude of reasons, you have two choices: let it bury you or claw your way through to the top. And I think it was just in her bones to claw. I think it has to be if you're going to be a journalist – you have to have a tenacity and willingness to maneuver a lot of setbacks and endure endless criticism… kind of like being an actor!
CM: How has Louise Ellison changed from Season 4 to Season 5? Remind us where we left off from Season 5 Part 1 and how did you feel about it?
JF: We left Louise at the end of Season 4 having ended her affair with Governor Campbell- choosing loyalty to the people and the responsibility to report the truth over her emotions, despite the repercussions. And we see those repercussions could be quite great after Campbell destroys her printing office. When we pick up in Season 5 part 1, Louise has discovered she is pregnant- another great consequence of her actions- and is seeking to terminate it. Despite her strength and perseverance, it actually becomes a very vulnerable and raw experience for her- something we have not yet gotten to see in Louise. I was very grateful to our writers for allowing me to reveal that part of her. I'm actually quite comfortable connecting to the deeper emotions of a character and playing someone like Louise for 3 seasons, someone who keeps her cards very close, it was like the floodgates could finally open. It was very gratifying.
CM: What can we expect in Part 2 of Season 5? Being that it's the final season, do you agree with how the ending will pan out or do you wish it was written different?
JF: Well I can't give anything specific away for Part 2, but I can say that it feels somewhat like all the characters have come full circle. That is the privilege of knowing in advance you're ending a series. I think every actor hopes that their character will have a grand exit of some sort. With Louise, I think she is a character who will always endure…and I think we see her out in that way.
CM: Being a part of two TV series that are both essentially period pieces, do you feel that it helped you prepare for both roles as Louise in Hell on Wheels and Abigail in The Knick?
JF: I really enjoy working on period projects. I find it really fascinating to play because there are so many social boundaries; layers and layers of manners, behavior, class, and clothes, literally so many layers of clothes! But beneath it all, everyone for the most part had the same wants and desires that we have now. And being that Hell on Wheels was set in the 1860's in the Wild West, and The Knick was essentially 30 years later in NYC there were so many wonderful differences to play with and keep it compelling.
CM: Speaking of The Knick, you play the role as Abigail Alford, the woman without a nose who is battling with syphilis. What was it like to prepare for those parts in season 1?
JF: I had never played a character with a physical deformity before. And this one was front and center. But she wasn't written as a victim. She had such a grace and sense of humor about it all that I found that to be a really attractive balance to play.
CM: Abigail receives a skin graft from John Thackery and reappears in season 2 with a nose. What would you say Abigail was doing in the meantime? How would you write that background story?
JF: Well I'd like to imagine she was recovering by the sea in southern France on her philandering ex-husband's dime…. and who knows?! Maybe on the days she was feeling stronger, she did go on little adventures to pass the time. But I also always imagined her desperately lonely. And I think ultimately that gets to her, which we see at the end of season 2 as her desire to be as she once was takes over…
CM: What is her history with John Thackery, played by Clive Owen? What does she really think of his drug addiction?
JF: They were in love. Quite deeply. It was a very special relationship – Thackery says she was the only one he ever loved. I think that speaks a lot to the impact their relationship had on him. And I think it breaks her heart to see his addiction. She still loves him and it tears at her to watch him destroy his life. She knows his demons but she also knows his heart. Which, I think, is what makes their connection so profound and so entangled.
CM: Fans (and the writers) instantly fell in love with Abigail in season 1 – will we see more of her in the coming episodes of season 2?
JF: Yes! The writers were so generous with Abigail this season- something I was very grateful for. After season 1, I had sensed that there was so much more of her to uncover…so getting to flesh her out (pun intended) through season 2 was so gratifying.
CM: The Knick is directed by Steven Soderbergh – what has it been like to work under his direction?
JF: Unlike working with any other director. Truly. There's this really interesting duality where he has such a subtle command of the film. In the sense that he is DP, camera op, and editor, but as a director he really just lets you do your work without too much involvement from him. At first that was really foreign to me, and I enjoy collaborating with directors, but in time it taught me to trust my own choices and my own voice much, much more. It was really a liberating and empowering experience.
CM: Can we expect a third season? If so and if it were completely up to you, how would the story develop? What details would you include?
JF: That would be amazing! But at this point I have no idea what their plans are for another season. If it were up to me, I'd love to see them jump around in time. Really play with the non-linear element…maybe have it be even more abstract where Abigail is someone else entirely…that would be fun!
CM: What's ahead for Jennifer Ferrin?
JF: Well, after wrapping out Hell on Wheels at the end of the summer, I spent 6 weeks working on a really exciting film project. Unfortunately, I can't reveal anything at this time, but I will say it was one of the most artistically satisfying projects I've ever worked on and I can't wait till I can share it with you all!
The Knick airs Fridays 10/9c on Cinemax
PHOTOGRAPHY BY MICHAEL WILLIAMS
INTERVIEW BY JANE HONG
Share your thoughts...