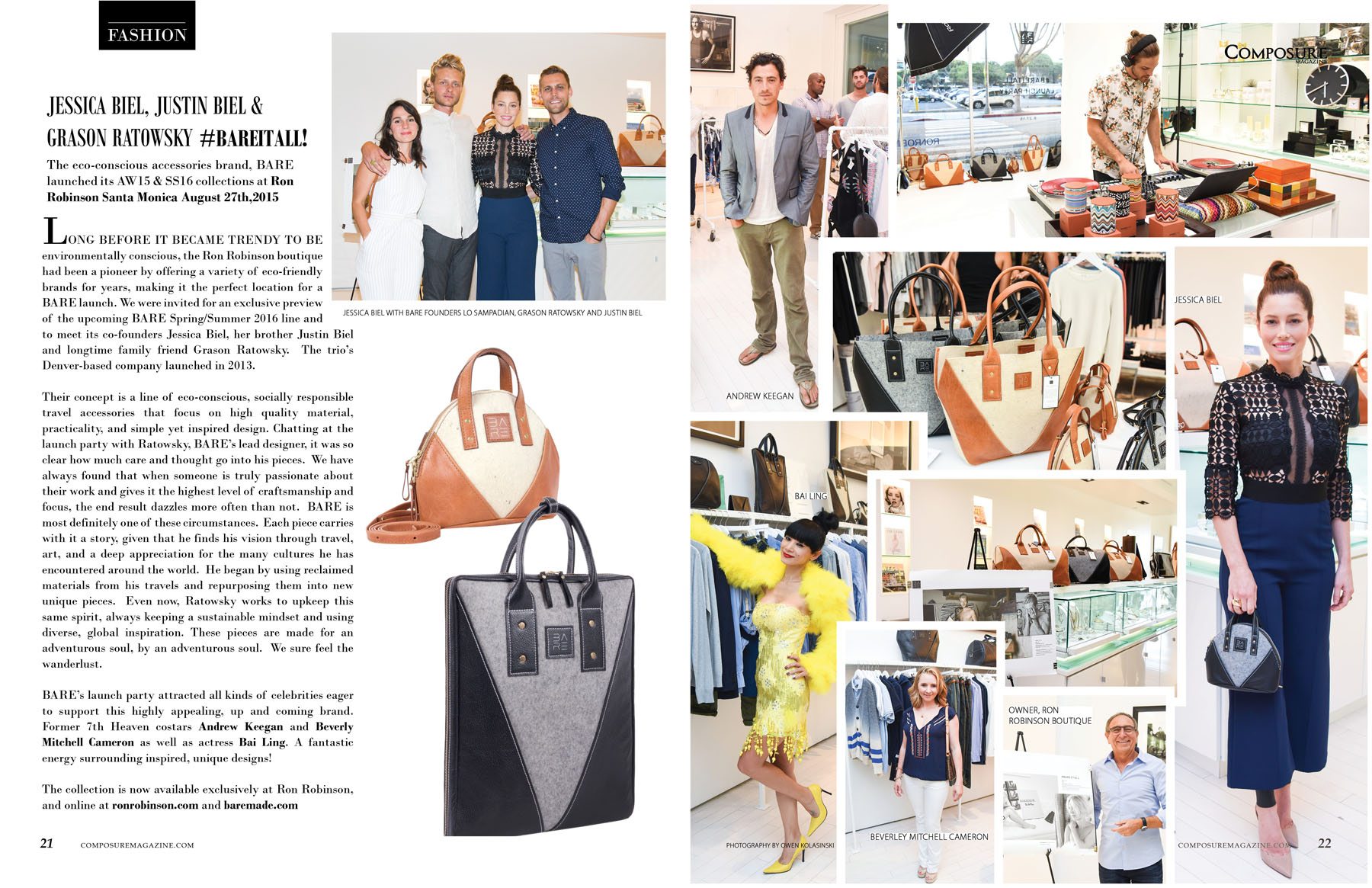 Jessica Biel, Justin Biel & Grason Ratowsky #BAREITALL!
The eco-conscious accessories brand, BARE launched its AW15 & SS16 collections at Ron Robinson Santa Monica August 27th, 2015
Long before it became trendy to be environmentally conscious, the Ron Robinson boutique had been a pioneer by offering a variety of eco-friendly brands for years, making it the perfect location for a BARE launch. We were invited for an exclusive preview of the upcoming BARE Spring/Summer 2016 line and to meet its co-founders Jessica Biel, her brother Justin Biel and longtime family friend Grason Ratowsky. The trio's Denver-based company launched in 2013.
Their concept is a line of eco-conscious, socially responsible travel accessories that focus on high quality material, practicality, and simple yet inspired design. Chatting at the launch party with Ratowsky, BARE's lead designer, it was so clear how much care and thought go into his pieces. We have always found that when someone is truly passionate about their work and gives it the highest level of craftsmanship and focus, the end result dazzles more often than not. BARE is most definitely one of these circumstances. Each piece carries with it a story, given that he finds his vision through travel, art, and a deep appreciation for the many cultures he has encountered around the world. He began by using reclaimed materials from his travels and repurposing them into new unique pieces. Even now, Ratowsky works to upkeep this same spirit, always keeping a sustainable mindset and using diverse, global inspiration. These pieces are made for an adventurous soul, by an adventurous soul. We sure feel the wanderlust.
BARE's launch party attracted all kinds of celebrities eager to support this highly appealing, up and coming brand. Former 7th Heaven costars Andrew Keegan and Beverly Mitchell Cameron as well as actress Bai Ling. A fantastic energy surrounding inspired, unique designs!
The collection is now available exclusively at Ron Robinson, and online at ronrobinson.com and baremade.com
Share your thoughts...