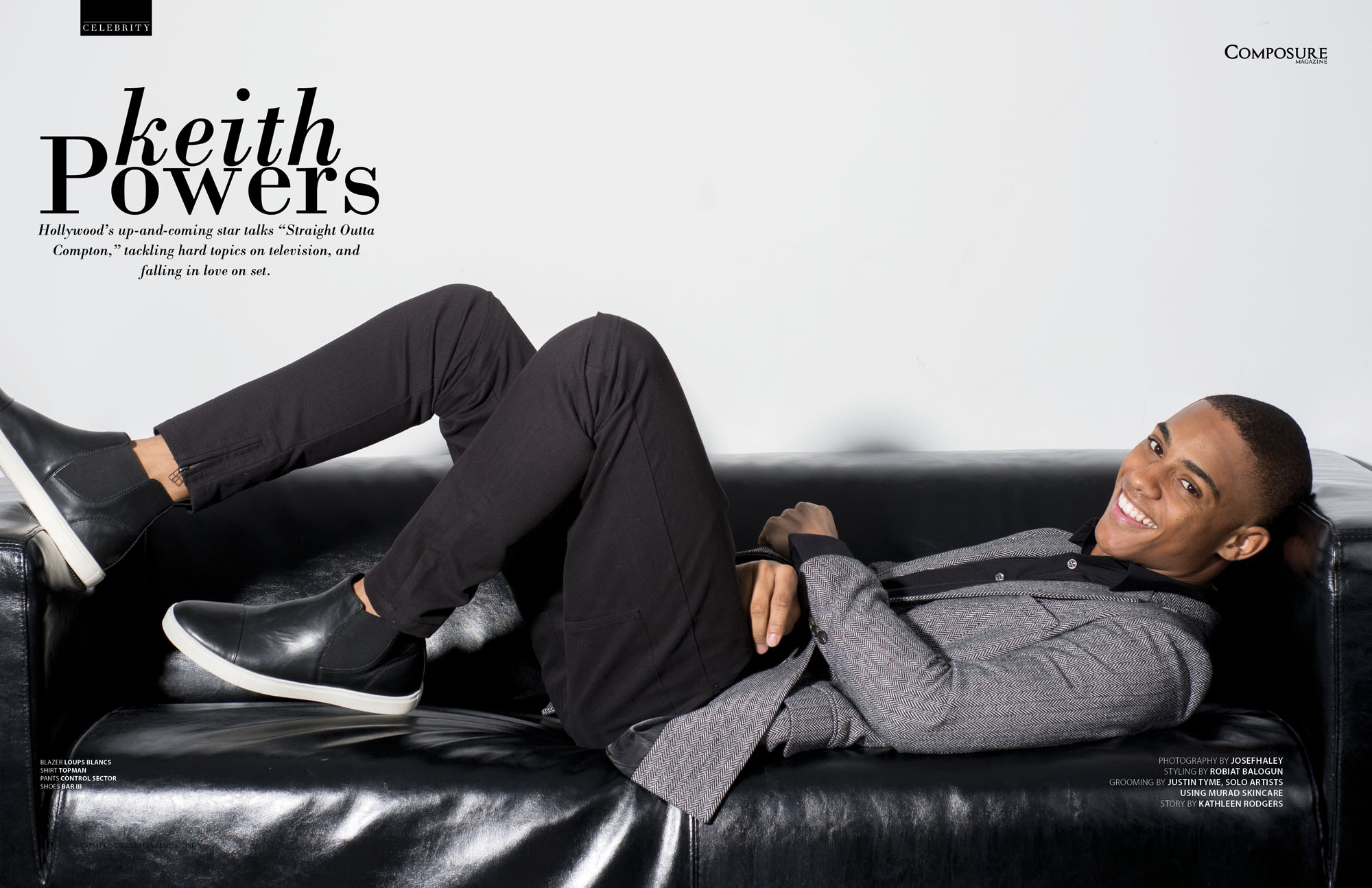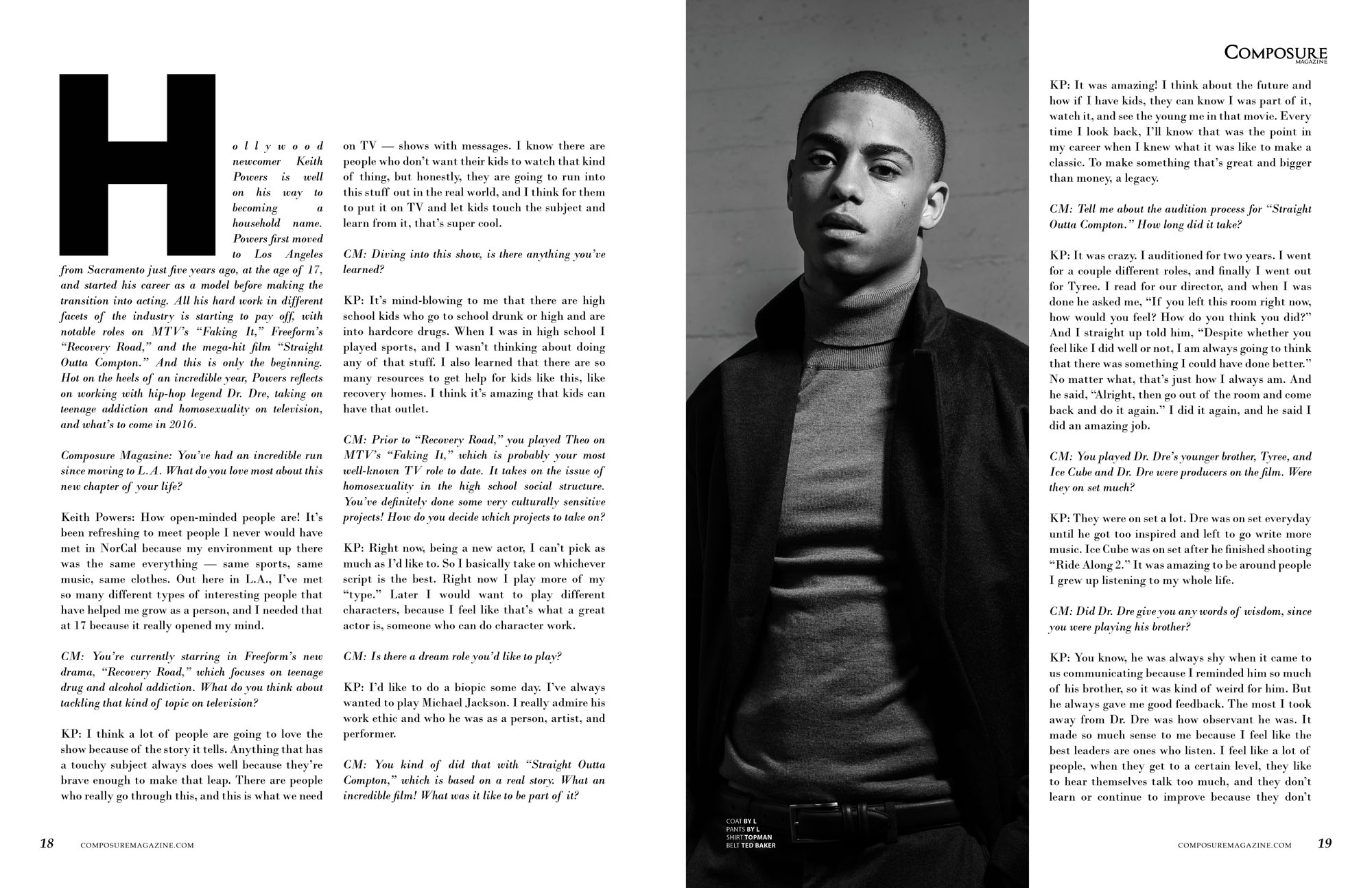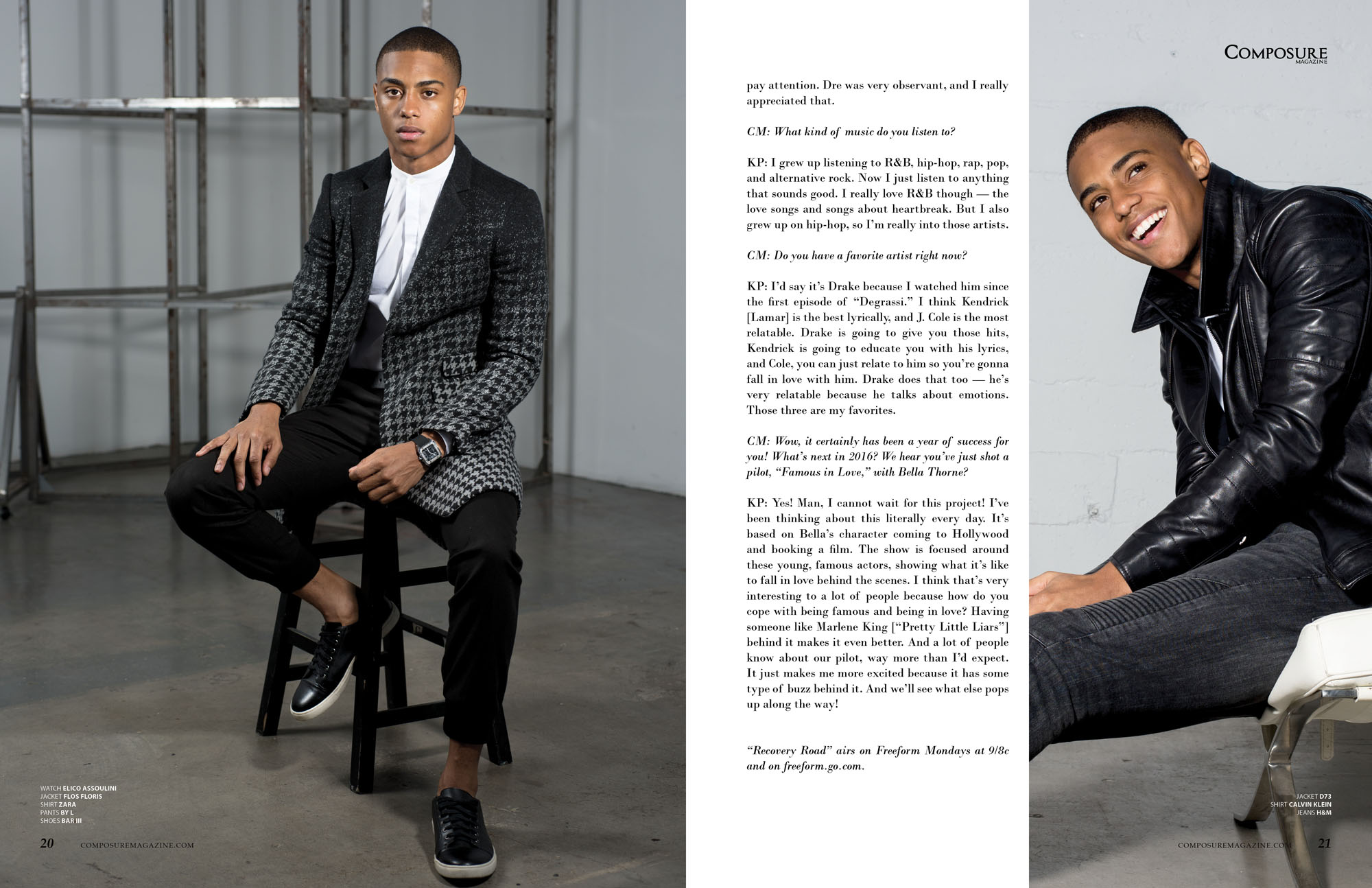 Hollywood's up-and-coming star talks "Straight Outta Compton," tackling hard topics on television, and falling in love on set.
Hollywood newcomer Keith Powers is well on his way to becoming a household name. Powers first moved to Los Angeles from Sacramento just five years ago, at the age of 17, and started his career as a model before making the transition into acting. All his hard work in different facets of the industry is starting to pay off, with notable roles on MTV's "Faking It," Freeform's "Recovery Road," and the mega-hit film "Straight Outta Compton." And this is only the beginning. Hot on the heels of an incredible year, Powers reflects on working with hip-hop legend Dr. Dre, taking on teenage addiction and homosexuality on television, and what's to come in 2016.
Composure Magazine: You've had an incredible run since moving to L.A. What do you love most about this new chapter of your life?
Keith Powers: How open-minded people are! It's been refreshing to meet people I never would have met in NorCal because my environment up there was the same everything — same sports, same music, same clothes. Out here in L.A., I've met so many different types of interesting people that have helped me grow as a person, and I needed that at 17 because it really opened my mind.
CM: You're currently starring in Freeform's new drama, "Recovery Road," which focuses on teenage drug and alcohol addiction. What do you think about tackling that kind of topic on television?
KP: I think a lot of people are going to love the show because of the story it tells. Anything that has a touchy subject always does well because they're brave enough to make that leap. There are people who really go through this, and this is what we need on TV — shows with messages. I know there are people who don't want their kids to watch that kind of thing, but honestly, they are going to run into this stuff out in the real world, and I think for them to put it on TV and let kids touch the subject and learn from it, that's super cool.
CM: Diving into this show, is there anything you've learned?
KP: It's mind-blowing to me that there are high school kids who go to school drunk or high and are into hardcore drugs. When I was in high school I played sports, and I wasn't thinking about doing any of that stuff. I also learned that there are so many resources to get help for kids like this, like recovery homes. I think it's amazing that kids can have that outlet.
CM: Prior to "Recovery Road," you played Theo on MTV's "Faking It," which is probably your most well-known TV role to date. It takes on the issue of homosexuality in the high school social structure. You've definitely done some very culturally sensitive projects! How do you decide which projects to take on?
KP: Right now, being a new actor, I can't pick as much as I'd like to. So I basically take on whichever script is the best. Right now I play more of my "type." Later I would want to play different characters, because I feel like that's what a great actor is, someone who can do character work.
CM: Is there a dream role you'd like to play?
KP: I'd like to do a biopic some day. I've always wanted to play Michael Jackson. I really admire his work ethic and who he was as a person, artist, and performer.
CM: You kind of did that with "Straight Outta Compton," which is based on a real story. What an incredible film! What was it like to be part of it?
KP: It was amazing! I think about the future and how if I have kids, they can know I was part of it, watch it, and see the young me in that movie. Every time I look back, I'll know that was the point in my career when I knew what it was like to make a classic. To make something that's great and bigger than money, a legacy.
CM: Tell me about the audition process for "Straight Outta Compton." How long did it take?
KP: It was crazy. I auditioned for two years. I went for a couple different roles, and finally I went out for Tyree. I read for our director, and when I was done he asked me, "If you left this room right now, how would you feel? How do you think you did?" And I straight up told him, "Despite whether you feel like I did well or not, I am always going to think that there was something I could have done better." No matter what, that's just how I always am. And he said, "Alright, then go out of the room and come back and do it again." I did it again, and he said I did an amazing job.
CM: You played Dr. Dre's younger brother, Tyree, and Ice Cube and Dr. Dre were producers on the film. Were they on set much?
KP: They were on set a lot. Dre was on set everyday until he got too inspired and left to go write more music. Ice Cube was on set after he finished shooting "Ride Along 2." It was amazing to be around people I grew up listening to my whole life.
CM: Did Dr. Dre give you any words of wisdom, since you were playing his brother?
KP: You know, he was always shy when it came to us communicating because I reminded him so much of his brother, so it was kind of weird for him. But he always gave me good feedback. The most I took away from Dr. Dre was how observant he was. It made so much sense to me because I feel like the best leaders are ones who listen. I feel like a lot of people, when they get to a certain level, they like to hear themselves talk too much, and they don't learn or continue to improve because they don't pay attention. Dre was very observant, and I really appreciated that.
CM: What kind of music do you listen to?
KP: I grew up listening to R&B, hip-hop, rap, pop, and alternative rock. Now I just listen to anything that sounds good. I really love R&B though — the love songs and songs about heartbreak. But I also grew up on hip-hop, so I'm really into those artists.
CM: Do you have a favorite artist right now?
KP: I'd say it's Drake because I watched him since the first episode of "Degrassi." I think Kendrick [Lamar] is the best lyrically, and J. Cole is the most relatable. Drake is going to give you those hits, Kendrick is going to educate you with his lyrics, and Cole, you can just relate to him so you're gonna fall in love with him. Drake does that too — he's very relatable because he talks about emotions. Those three are my favorites.
CM: Wow, it certainly has been a year of success for you! What's next in 2016? We hear you've just shot a pilot, "Famous in Love," with Bella Thorne?
KP: Yes! Man, I cannot wait for this project! I've been thinking about this literally every day. It's based on Bella's character coming to Hollywood and booking a film. The show is focused around these young, famous actors, showing what it's like to fall in love behind the scenes. I think that's very interesting to a lot of people because how do you cope with being famous and being in love? Having someone like Marlene King ["Pretty Little Liars"] behind it makes it even better. And a lot of people know about our pilot, way more than I'd expect. It just makes me more excited because it has some type of buzz behind it. And we'll see what else pops up along the way!
"Recovery Road" airs on Freeform Mondays at 9/8c and on freeform.go.com.
PHOTOGRAPHY BY JOSEFHALEY
STYLING BY ROBIAT BALOGUN
GROOMING BY JUSTIN TYME, SOLO ARTISTS USING MURAD SKINCARE
STORY BY KATHLEEN RODGERS
Share your thoughts...