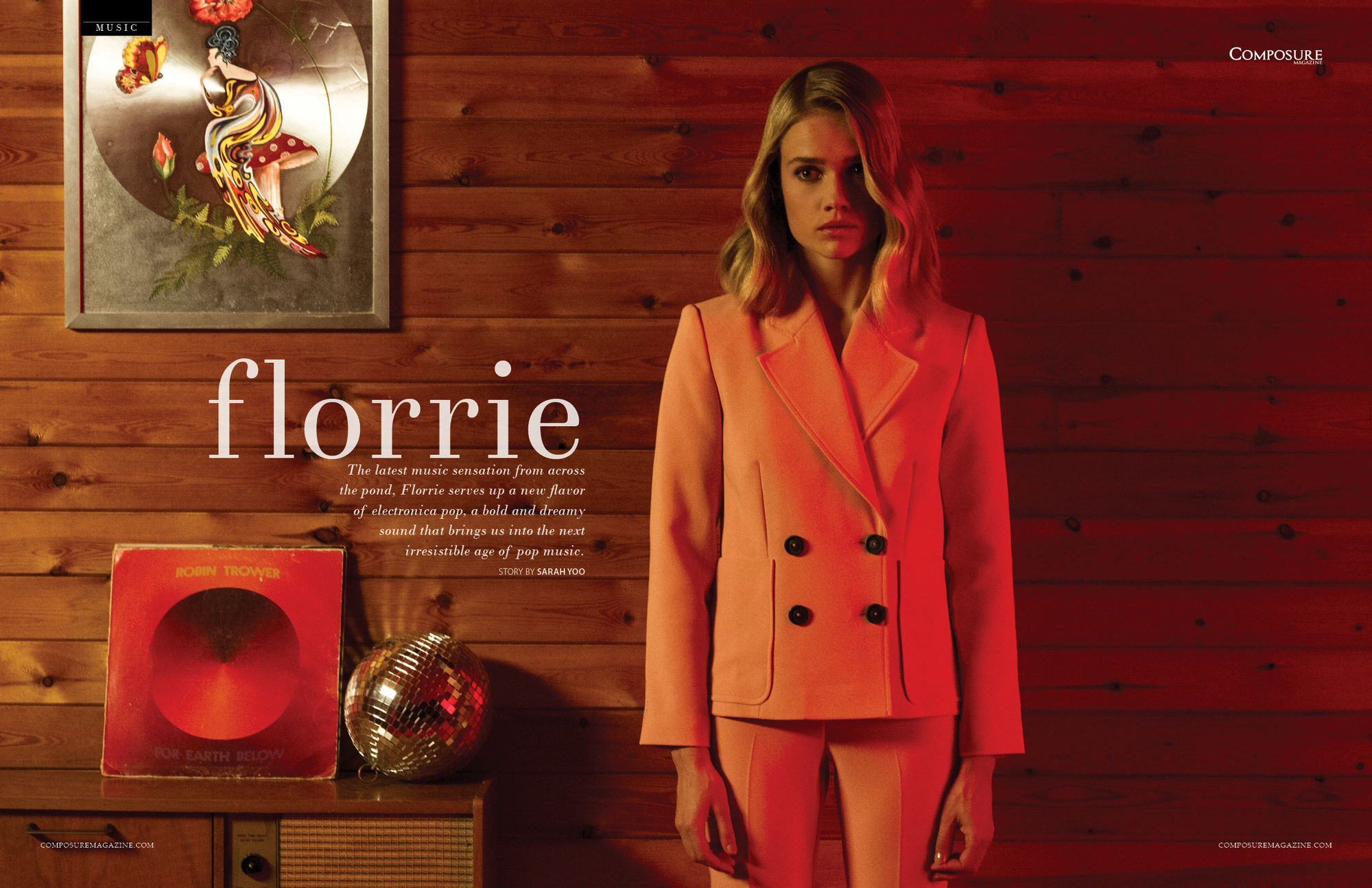 The latest music sensation from across the pond, Florrie serves up a new flavor of electronica pop, a bold and dreamy sound that brings us into the next irresistible age of pop music.
Story by Sarah Yoo
Composure Magazine: You're a singer, songwriter, drummer, producer, performer — you do it all! Where and when did you discover your love of music?
Florrie: I've always loved music. From a very young age, I was tapping and singing along to anything and everything I heard. Both of my parents are quite musical — my mum is a brilliant singer, my dad plays guitar, and I was in a band for 15 years, so I grew up in a very musical household. I decided I wanted to play drums when I was 7, and I still play now. I played in a lot of bands when I was a teenager and was a session drummer before I became an artist in my own right.
CM: What inspires you most to write and make music?
F: Lots of things inspire me. Most of all, it's the feeling that music gives me. I love melody. I love coming up with great chords and little hooks. I get this feeling when I love a piece of music where I just explode with happiness. It sounds cheesy, but there's nothing else like it.
CM: Walk us through your creative process. How do you like to approach your songwriting?
F: There are two main ways I like to write: one is the more traditional way, where it's just me and a guitar, and another where it's more of a puzzle, and at the end of it, I have lots of melodies and different sections to piece together. The second way takes a lot longer, as I like to get all of my melodic ideas out in one go and then pick the best bits, which means I could end up with five potential verses and three choruses, and I'll write lyrics to all the parts until I'm happy with everything!
CM: What do you gain from this process, from your music?
F: A lot! Not just from my music, but from playing, writing, producing, and working with and learning from other musicians, too. I've been so lucky that I've been able to do something I love for the last six years! It's honestly the best feeling when you've been working away at something in the studio for months and finally get to release it to the world. I think every artist needs some kind of validation at some point, and sometimes it's a battle between believing what you're doing is great and wondering whether it really is or not, if that makes sense. I love that what I'm doing makes other people happy, even if it's just for a tiny moment. I hope I'll always be able to say that.
CM: How would you describe your aesthetic as an artist, both musically and in fashion?
F: I find this a really hard question to answer. I think it's because you always look at yourself differently than others do. First and foremost, I'm a musician, and I always will be because that's where I came from, but I do love fashion, and I have my own style and ideas. I've dipped my toe into the world of fashion over the last few years, especially when I was an independent artist. I like to think that I can experiment a bit with my aesthetic, both musically and stylistically. I don't like to be too tied down.
CM: Experimenting is the best part! Speaking of experimenting with new things, tell us about "Real Love." What is the song about, and what are you hoping people take away from it?
F: It's about getting into a new relationship with someone, and it's the early stages when there are so many questions running through your head. You're completely infatuated with that person, but you question whether it's real because you know that you're going slightly mad at the same time! I just want people to love listening to the record, and I hope that people can relate to it in their own way. And I'm pretty certain that real love is a different thing to each and every one of us!
CM: What was your vision for the music video? Nearing 2 million views now!
F: I wanted to show the ups and downs of a real relationship but within a slightly surreal setting. And I love Wes Anderson, so I wanted it have that kind of feel. I was so lucky to work with Emil Nava [who directed the music video]. I was a huge fan of his for a long time, and we finally got to make something together on this record!
CM: We absolutely love the song and the video, and we can't wait for a debut album from you! What are your thoughts and emotions that come with sharing your music for the first time?
F: There are lots! I feel excited and a little apprehensive at the same time, and I hope people are going to like it. I know that sometimes my fans have had to wait a while for new music, so I'm always so grateful and completely amazed when they're all still there rooting for me! Some of them have been listening to me for the last five years. They're absolutely amazing. I cannot tell you how much it means to me to have so much support out there.
CM: In the meantime, can you share some of your current musical inspirations? What are the top five tracks on your spring playlist?
F: "Dua Lipa" by Be The One, "Wild things" by Allesia Cara, "All My Friends" by Snakehips, "I Giorni" by Ludovico Einaudi, and "Southern Suburbs" by Beatenberg.
Florrie's debut album is due for release fall 2016. Check out "Real Love" here:
Real Love (Official Video) – Florrie

Florrie's Website / Instagram / Twitter / iTunes / Youtube / Google Play / Spotify
Share your thoughts...