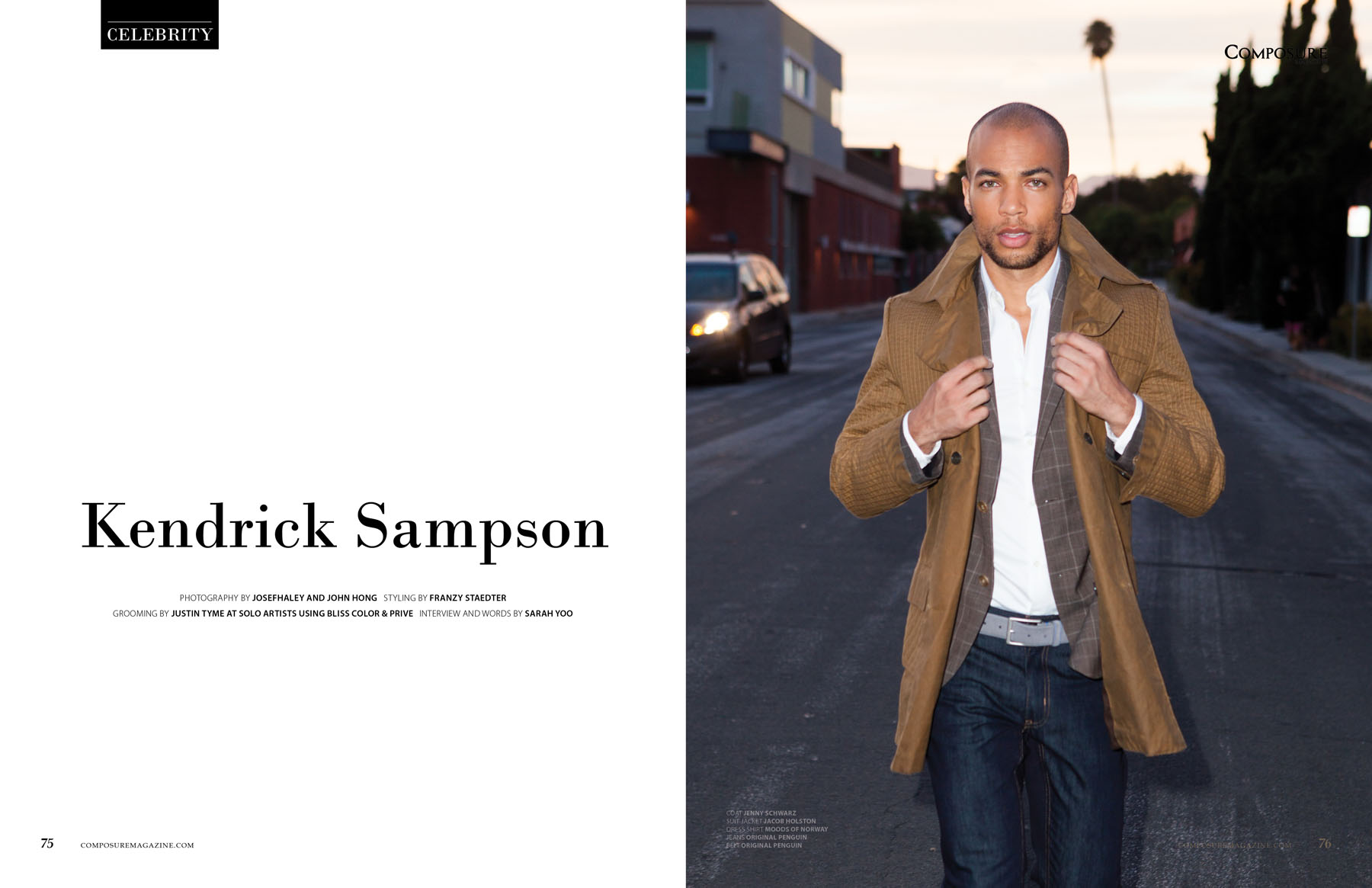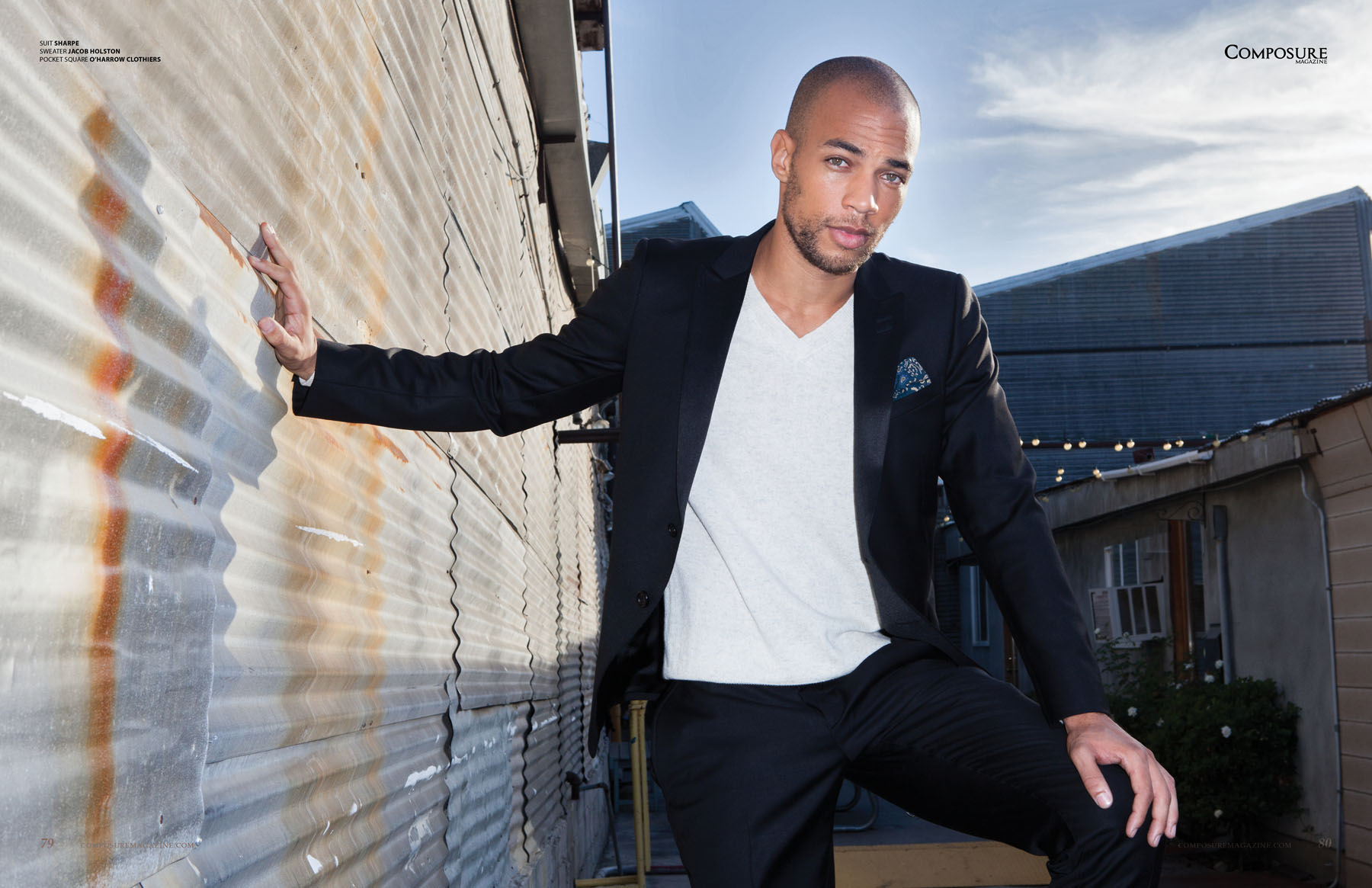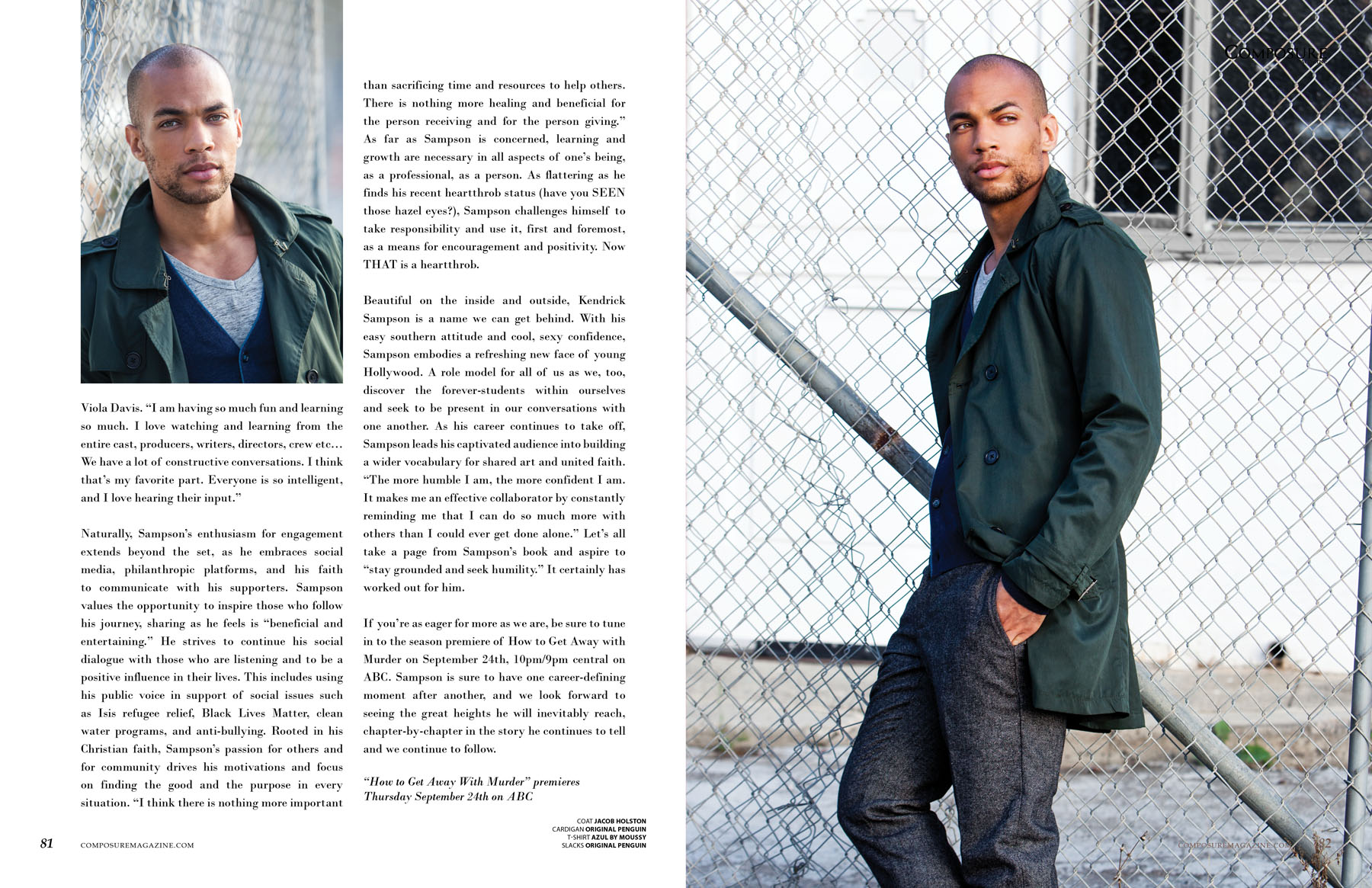 Kendrick Sampson
     When asked to share his most career-defining moment, Kendrick Sampson has a rather curious response: "I'm not sure if I've had one yet." We meet Sampson coming off of a major announcement of his new recurring role on ABC's record-breaking drama, How to Get Away with Murder, all while still riding the coattails of well-deserved praise for his work alongside industry heavy-hitters, David Tennant and Anna Gunn, in FOX's thrilling murder mystery, Gracepoint, and of course for his breakout performance as Jesse in CW's heartthrob hit, The Vampire Diaries. He has even started his own production company, Sampson Studios, under which he himself has written a variety of scripts, including a crime drama, a psychological thriller, and several science-fiction plots. He plans to build development teams and push these projects into production when the time is right. Talk about career definition! Yet, although deeply grateful for his strong start in Hollywood, the ever-humble Sampson is the first to acknowledge that he has much room to grow. He modestly shares with us that he has not yet accomplished what he's set out to do, but the power is in the process. "I learn so many things from each project. I get more and more confident in what I don't know. I love watching some of the people who I consider masters in their craft get uncomfortable and deal with the same problems [with which I deal]. Most of all, I learn more and more effective communication and effective collaboration." Observation is his M.O., and listening, learning is the name of his game. He is a forever-student of his surroundings, always seeking more from interesting people and concepts around him. It seems to us that the enviable position he finds himself in, as a young rising star, is no accident, but a product of strong partnership, practiced patience, and true passion.
     A Houston native, Sampson was born into a creative environment. His passion for the arts is rooted in the love of music he developed at a young age, when his mother would play the piano for him. "Piano speaks to my soul…[it] takes me to another world." This early artistic exploration instilled in him a natural charisma and a deep desire for expression. However, the suburbs of Houston proved to be too small a pond for this big fish. Sampson sought challenges greater than the confines of his hometown community, which led him to seek out an agent and kick-start an acting career. Today, Sampson resides in Los Angeles and continues to, quite successfully, feed his passion for performance and hone his craft of storytelling. "I love creating and developing the character, figuring out commonalities, and learning from the character…There's nothing better than when the character settles into you, and you feel free. I want to grow in that freedom, depth and build my endurance." Since day one, Sampson has been a man of intent, and he wastes no opportunity to educate himself as a creative professional. "I sit and watch…It's fascinating what you can learn from sitting and watching when the cameras are, and aren't, rolling." Currently, on the set of How to Get Away with Murder, Sampson seems to have found a gold mine of the type of edifying interactions he craves, working with widely respected executive producer, Shonda Rhimes, and Emmy-nominated cast mate, Viola Davis. "I am having so much fun and learning so much. I love watching and learning from the entire cast, producers, writers, directors, crew etc…We have a lot of constructive conversations. I think that's my favorite part. Everyone is so intelligent, and I love hearing their input."
     Naturally, Sampson's enthusiasm for engagement extends beyond the set, as he embraces social media, philanthropic platforms, and his faith to communicate with his supporters. Sampson values the opportunity to inspire those who follow his journey, sharing as he feels is "beneficial and entertaining." He strives to continue his social dialogue with those who are listening and to be a positive influence in their lives. This includes using his public voice in support of social issues such as Isis refugee relief, Black Lives Matter, clean water programs, and anti-bullying. Rooted in his Christian faith, Sampson's passion for others and for community drives his motivations and focus on finding the good and the purpose in every situation. "I think there is nothing more important than sacrificing time and resources to help others. There is nothing more healing and beneficial for the person receiving and for the person giving." As far as Sampson is concerned, learning and growth are necessary in all aspects of one's being, as a professional, as a person. As flattering as he finds his recent heartthrob status (have you SEEN those hazel eyes?), Sampson challenges himself to take responsibility and use it, first and foremost, as a means for encouragement and positivity. Now THAT is a heartthrob.
     Beautiful on the inside and outside, Kendrick Sampson is a name we can get behind. With his easy southern attitude and cool, sexy confidence, Sampson embodies a refreshing new face of young Hollywood. A role model for all of us as we, too, discover the forever-students within ourselves and seek to be present in our conversations with one another. As his career continues to take off, Sampson leads his captivated audience into building a wider vocabulary for shared art and united faith. "The more humble I am, the more confident I am. It makes me an effective collaborator by constantly reminding me that I can do so much more with others than I could ever get done alone." Let's all take a page from Sampson's book and aspire to "stay grounded and seek humility." It certainly has worked out for him.
     If you're as eager for more as we are, be sure to tune in to the season premiere of How to Get Away with Murder on September 24th, 10pm/9pm central on ABC. Sampson is sure to have one career-defining moment after another, and we look forward to seeing the great heights he will inevitably reach, chapter-by-chapter in the story he continues to tell and we continue to follow.
"How to Get Away With Murder" premieres Thursday September 24th on ABC
PHOTOGRAPHY BY JOSEFHALEY AND JOHN HONG
STYLING BY FRANZY STAEDTER
GROOMING BY JUSTIN TYME AT SOLO ARTISTS USING BLISS COLOR AND PRIVE
INTERVIEW AND WORDS BY SARAH YOO
Share your thoughts...