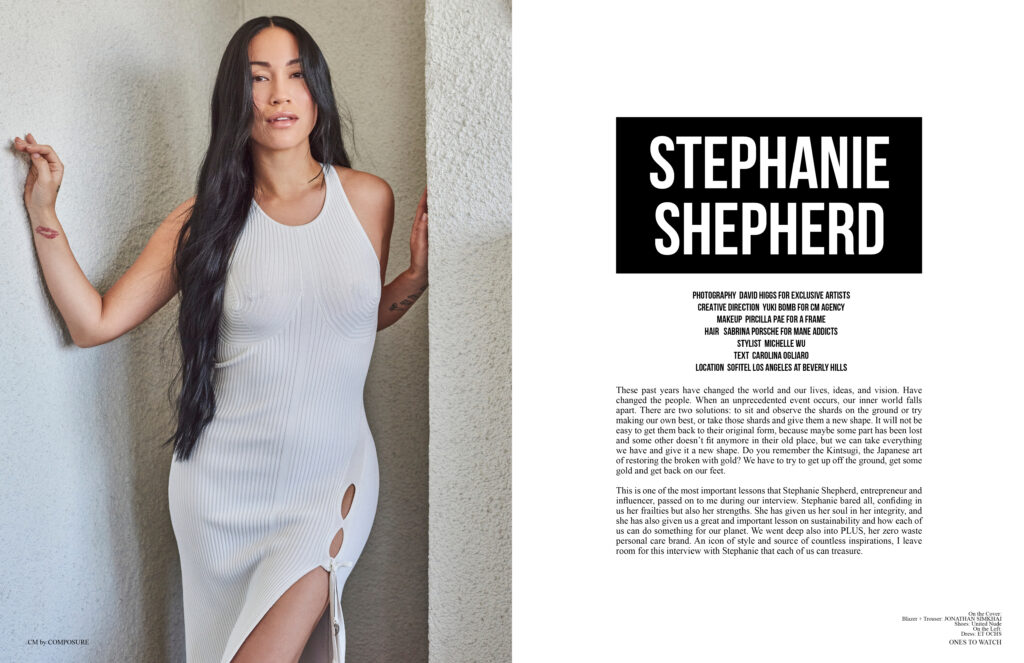 These past years have changed the world and our lives, ideas, and vision. Have changed the people. When an unprecedented event occurs, our inner world falls apart. There are two solutions: to sit and observe the shards on the ground or try making our own best, or take those shards and give them a new shape. It will not be easy to get them back to their original form, because maybe some part has been lost and some other doesn't fit anymore in their old place, but we can take everything we have and give it a new shape. Do you remember the Kintsugi, the Japanese art of restoring the broken with gold? We have to try to get up off the ground, get some gold and get back on our feet.
This is one of the most important lessons that Stephanie Shepherd, entrepreneur and influencer, passed on to me during our interview. Stephanie bared all, confiding in us her frailties but also her strengths. She has given us her soul in her integrity, and she has also given us a great and important lesson on sustainability and how each of us can do something for our planet. We went deep also into PLUS, her zero waste personal care brand. An icon of style and source of countless inspirations, I leave room for this interview with Stephanie that each of us can treasure.
Carolina Ogliaro: From Mansfield, Ohio, to sunny Los Angeles to pursue the dream of becoming a dancer, which was the turning point that let you become the entrepreneur you are now?
Stephanie Shepherd: I think as a young person, I trusted the process a bit more than I do now. Every odd job, every dead-end or bump in the road shifted my course to where I am now. And when I was in my twenties, I think I was present exactly in the place where I was at. I wish I could say I had a master plan to get here; I think I always hoped for the freedom to be an entrepreneur and work on things I'm passionate about, but I don't think the path was ever clear or concise. I just worked hard at the task at hand, and I knew if I put the time in one day, I would get to where I was going.
CO: The past years have been tough for everyone, but at the same time, they taught us the importance of taking nothing for granted and of taking care of ourselves physically and mentally. How has this time changed and improved you?
SS: The past two years have changed everything for me. I lost my mother at the end of 2020, so I don't think I can even put into words the seismic shift that has happened in my life. Time for me has stood still for the past two years, and I am just now starting to see through the haze. I could write a book to answer this question — maybe I will one day, but I guess if I had to share one way this time has changed or improved me, I've let go of a lot of fear; fear of failure, fear of rejection, fear of love, fear of loss, fear of being who I really am. Our time here is so delicate, so fragile, so fleeting, I refuse to spend a minute of it living in fear.
CO: We are facing the fact that climate change is a reality, not a fantasy. You are very involved in this, and you co-founded Future Earth. What led you to start this new chapter in your life?
SS: The idea of climate change as a whole can seem overwhelming and, at times, daunting and confusing; @FutureEarth is a community and digital platform that seeks to inspire meaningful engagement with the climate crisis on social media. We wanted to create a platform where we could share the work and the stories of scientists, experts, and grassroots activists. We believe knowledge is the most powerful tool; once we know more, we can do better and make better choices in our lives, for ourselves, and for our global community.
CO: You are PLUS, chief impact officer. I love the PLUS concept so much as it is a body-care brand that really cares about our planet. The usage of less water, less weight, lower CO2 emissions, and zero single-use plastic are significant steps to help our environment; if everyone could do a small part, we could really make a big impact on saving Earth. You are a real example to follow; what are the upcoming projects you can reveal about PLUS? And which is your most favorite PLUS product, the one that everyone should own?
SS: We have so many exciting things going on at Plus. We just launched our first refillable soap dispenser, and we are now on shelves nationwide at Target. It was so important for us to make Plus as accessible to the masses as possible, and with the help of Target, we feel we are doing just that! In addition to our refillable dispenser, we have our hero travel sachets. I think everyone should have a travel packet! You get the same quality of body soap you know and love, but with zero waste!
CO: What are the easiest steps that everyone can turn into a habit to do our part to save the planet?
SS: There are so many things we as individuals can do in our everyday lives, whether that means opting out of single-use plastic items, reusing and repurposing items we already own, shopping locally, shopping vintage, and simply shopping less! Individual action paired with collective action is how we make change. We need to vote for political leaders who support climate action and will hold accountable the large corporations who are polluting our planet!
CO: Instagram, and social media, in general, are at the same time poison and cure. How do you find a balance between virtual and real life not to be absorbed completely? Social media are very powerful, but sometimes they are a breeding ground for keyboard lions. What message would you like to send to your almost 2 Million followers and to the people out there to keep their mental and physical health always and forever a priority?
SS: I have a love/hate relationship with Instagram. I love that I can connect with millions of people with the click of a button, but I hate the self-doubt and anxiety posting can bring. I'm working through it myself, so I don't know if I have the best advice to give. Just don't take it all so seriously!!!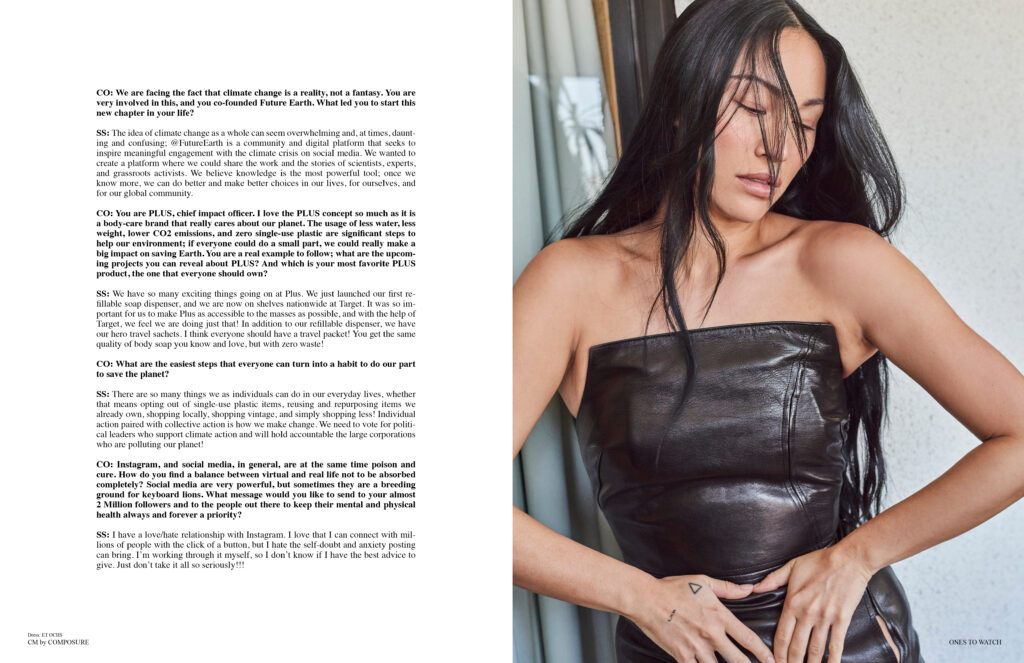 Share your thoughts...