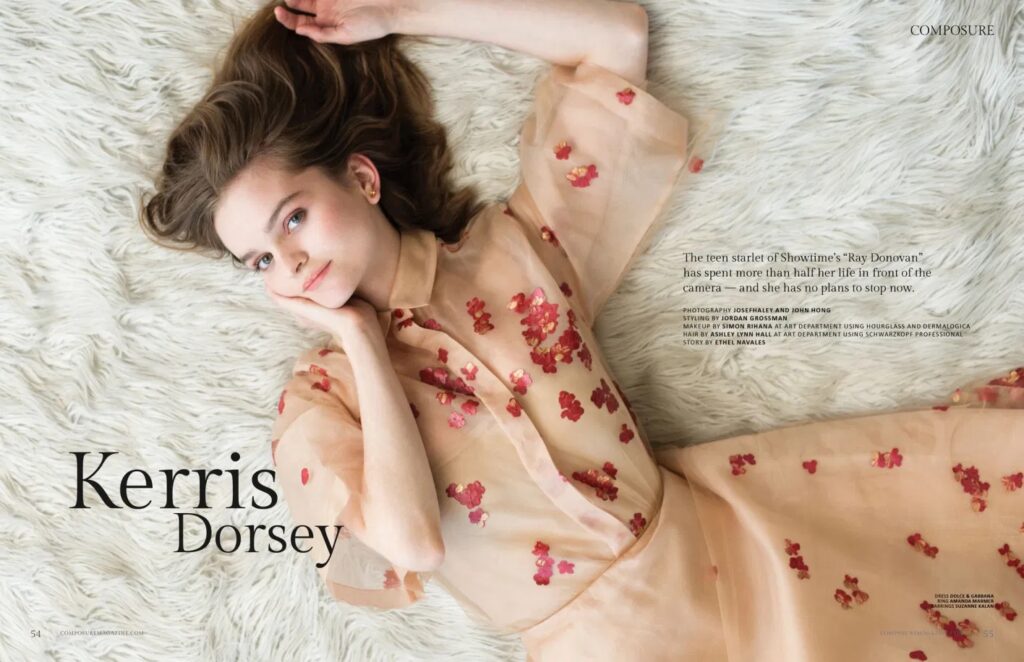 The teen starlet of Showtime's "Ray Donovan" has spent more than half her life in front of the camera — and she has no plans to stop now.
There is a special kind of person who can talk to anyone for the very first time and make the conversation feel like one between lifelong friends. It's safe to say that Kerris Dorsey, who has me laughing just minutes into our interview, qualifies as one of these people.
"I play a lot of serious characters, but if I'm with my friends, I get really crazy," Dorsey admits. "I think when you meet me at first, you'd think I was shy or reserved, but that couldn't be farther from the truth."
It's easy to see why audiences might get that misguided impression of Dorsey, who plays Bridget Donovan on Showtime's "Ray Donovan." After all, the crime drama series deals with a dysfunctional family and even more dysfunctional issues. The show is centered on Ray Donovan, Bridget's father, who is a "fixer" for the rich and famous. In other words, if a celebrity makes a mistake, it's Ray's job to do whatever it takes (bribes, threats, etc.) to ensure that there are no repercussions. The show, which began with Ray's father being released from prison, is now in its fourth season.
"I think this season is very different from the previous seasons," says Dorsey. "It picks up six months after season three ended, and every character is in a completely different place. [At the end of season three] my character left home, so she's in a new spot, literally and figuratively."
Dorsey explains that Bridget is unlike many of the other young female characters on television, who often have very little to say. Though occasionally falling into the bratty teenager stereotype (what bratty teenager doesn't get into trouble for trying to hide a new piercing?), Bridget has a very deep and complicated side to her personality. It's the sort of thing that develops when a teen has to deal with the aftermath of her boyfriend's murder or intense and confusing feelings for an older teacher. Dorsey believes this is what makes her character a more realistic representation of an actual teenage girl, and Dorsey herself shows many layers. During our conversation, she seamlessly transitions from a focused professional one minute ("I begged my mom to take me to auditions by the time I was 5 years old") to an excited teenager the next ("I love social media. I mean, I am 18!").
And while she may not exactly share her character's personality, Dorsey certainly shares Bridget's musical abilities. Dorsey fondly recalls her favorite moment on set, which happened in between takes. "We're all singers by nature," she says of her "Ray Donovan" co-stars. "Once, we had a scene where we were at a dinner table, and we all just started singing together. It was one of the most surreal moments. They're all just great people, so those moments just kind of happen."
It comes as no surprise that Dorsey's life is far from the average 18-year-old's. The starlet confesses that she can't tell me what she'll be doing the following week. Between balancing her acting career, school, extracurricular activities like French class, her relationships, and her social life, it's simply impossible to know what each day will bring, she says. In fact, the only thing she can guarantee in her day is a cup of coffee.
While my head is spinning, listening to her describe all of her responsibilities, she laughs and reassures me that she is oddly accustomed to the balancing act.
"It's weird because I've done it for so long, and I've had this really nice blend of normalcy and also my profession. I've been able to maintain a normal life," she says. "And actually, a lot of my friends aren't in the industry. I think you have to surround yourself with people who keep you grounded and aren't after a friendship with you for any reason other than they like you as a person. Also doing things that are 'normal,' like taking dance classes or going to a French class or whatever it is — I think that has really helped me keep my head in this [mentality] that acting is just my job. It doesn't have to be my lifestyle."
And with that, already wise beyond her years, Dorsey confirms that she has no intention of leaving the entertainment industry anytime soon. Her ideal future role? "I've always wanted to do an action movie," she laughs. "I'd be able to get in really good shape and learn how to kick butt at the same time."
"Ray Donovan" airs Sundays at 9 pm on Showtime.
Share your thoughts...