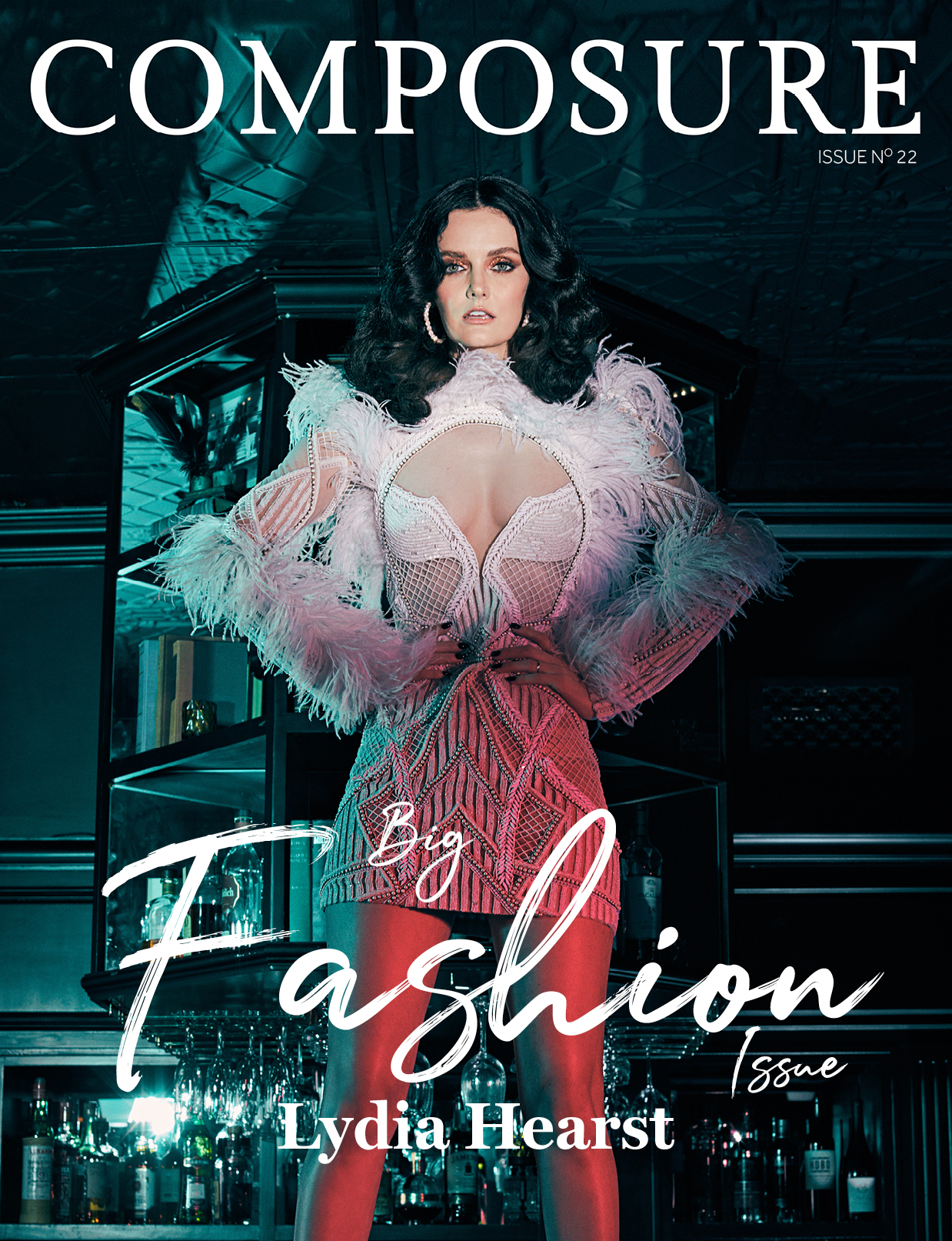 PHOTOGRAPHY BY RYAN WEST
CREATIVE DIRECTOR & STYLING BY ROBIAT BALOGUN
MAKEUP BY ARCHANGELA CHELSEA FOR CELESTINE AGENCY
HAIR BY LUCY GEDJEYAN FOR CLOUTIER REMIX
STORY BY MIN A. LEE
NAILS BY NAOKO SAITA
LOCATION: PEARL'S ROOFTOP SUNSET
Lydia Hearst radiates confidence on the set for Composure's 22nd cover shoot. Even through all the style changes, the hair, the makeup, her consideration of others is unparalleled. She moves so beautifully in front of the camera; it makes us speechless. We can see what attracted legendary photographer Steven Meisel to her in 2004, sparking her career as a supermodel—this almost otherworldly combination of intellect, allure, and calm self-assurance.
With multiple projects on the horizon, we took a bit of time to catch up on Hearst's latest movies Between Worlds with Nicholas Cage and her role as Abigail Folger in The Haunting of Sharon Tate. Hearst never takes any show or film she's been cast in lightly; heavily researching out her parts and trying to bring believable characters to the screen is why we admire her work as an actress.
Humble by nature, and to many of us a true icon, we're excited to share with you Lydia Hearst's latest ventures and a brief look into her style for our Summer Fashion Issue.
We learned that you have a serious love for the horror genre! What sparked this interest?
I have loved watching horror movies since my youth, and it all started with fairy tales. Yes, fairy tales! On the surface, most people may find them to be extremely different, but in fact, fairy tales and horror films operate under similar guidelines. In a fairy tale, we know that eating an apple or pricking your finger is never a good idea, the stepmothers are always evil, wishes come at a price, and a gingerbread house in the forest should be avoided at all cost. Just as we know that horror movie characters should never, ever wander off alone to investigate a strange noise, say "I'll be right back," read aloud from a book made of human skin and that foul-mouthed locals lurking around the RV or cabin at dusk are always bad news. Both of these genres have an absolute evil, and characters are punished for their carelessness, lust, deceit, and pride.
First horror film you watched?
I honestly don't remember. The first film I watched must have been when I was around three, maybe four. I grew up on films like Return To OZ, The Watcher in the Woods, Fright Night (the 1985 version), Army of Darkness, and Gremlins—which is still to this day my favorite Christmas movie.
You have several movies in production right now. Are there any particular ones you're very excited for—perhaps a peek into the roles you've been cast in?
Between Worlds, which just came out on Netflix, is a dark, psychological thriller. I play Mary, the wife of Nicolas Cage, who died tragically in a fire. But instead of moving on, Mary cannot let go of her former life and in turn, possesses a young woman's body. She is determined to settle her unfinished business with the living.
I have a small role in Grace and Grit, which is based on the best-selling true story; it's one of courage, connection, and love beyond life. 
The Haunting of Sharon Tate is both a psychological and a spiritual film. The plot is inspired by an actual quote from Tate, from an interview published a year before her death in Fate Magazine, wherein she reveals having dreams about ghosts haunting her house and foreseeing her own death at the hands of a satanic cult. I put a lot of time and effort learning all that I could about Abigail Folger and did my best and due diligence to respectfully portray the person I was hired to play. Having the opportunity to portray someone who is real, and a story like this is a truly humbling experience. This film was incredible to be a part of and not only broadened me as a human being but stretched me as an actor. We all worked extremely hard and put a lot of love, effort, and care into portraying these people and telling this story.
I have three projects that I am currently preparing to film before the end of this calendar year, which I am very excited about. I am not at liberty to go into detail at this point in time. But, I can say that each role will be an exciting new challenge, and I am very much looking forward to filming.
Growing up watching your mother act, what moments inspired you to pursue the industry?
For as long as I can remember, I have been drawn to the entertainment industry. I remember growing up watching my mom walk the catwalk for Thierry Mugler, and act in various John Waters films. It all seemed so magical and fantastic—I just knew that it was a world I wanted to be a part of.
Outside of a flourishing acting career, you're a renowned fashion model. Since your very first Vogue cover in 2004 till now, can you share with us your most memorable job?
My life changed overnight when I did a cover and editorial for Vogue Italia by Steven Meisel. However, if I'm being completely honest, my true creative passion is acting. I find myself drawn to character-driven roles and scripts where I'm forced to challenge and change myself, both physically and emotionally. With acting, every project and every role is a new adventure. I love to challenge myself; that's a huge part of what draws me to a part. I have been extremely fortunate in my career. Every job and each opportunity has been memorable and helped me to grow as an individual and a performer.
As our Fashion Cover this issue, how would you describe your style preferences?
My personal style is rather eclectic and always changing. I think that I've recently become more comfortable with being myself and not trying to fit into whatever mold people have tried to project onto me in the past. And, perhaps that comes with a combination of maturity, confidence, and finding someone who truly loves and appreciates me as I am. As far as I'm concerned, there is no such thing as bad fashion; it is all a form of self-expression.
What's one thing in your closet you find yourself reaching for the most lately?
I pretty much always reach for a Louis Vuitton handbag.
Fashion Icons you admire?
Emma Watson – Her commitment to helping women and others is completely genuine. She really brings political activism into a whole new light and is not abrasive about it.
Greta Thunberg – You may not be familiar with who she is, but you should be. This inspirational 16-year-old from Sweden has spent the last few years of her young life dedicated to addressing world leaders about the need for immediate, drastic action on climate change and organizing kids in thousands of cities to protest for necessary environmental policies.
Ashley Graham – I admire her confidence and how she challenges beauty standards, and not only speaks out about body acceptance and confidence at high schools and in the press, she also participates in humanitarian missions with the Themba Foundation.
Labels you love?
I am a shopaholic! I truly love all things fashion.
AG jeans, Monse, Faith Connexion, Prada, Miu Miu, Louis Vuitton, J.Crew, Fleur Du Mal, A.L.C., Three Floor, Vampire's Wife, Batsheva
The best piece of style advice you've received so far?
Don't get caught up with "trends," just be YOU. So long as you are genuine, comfortable, and confident: anything goes.
Share your thoughts...