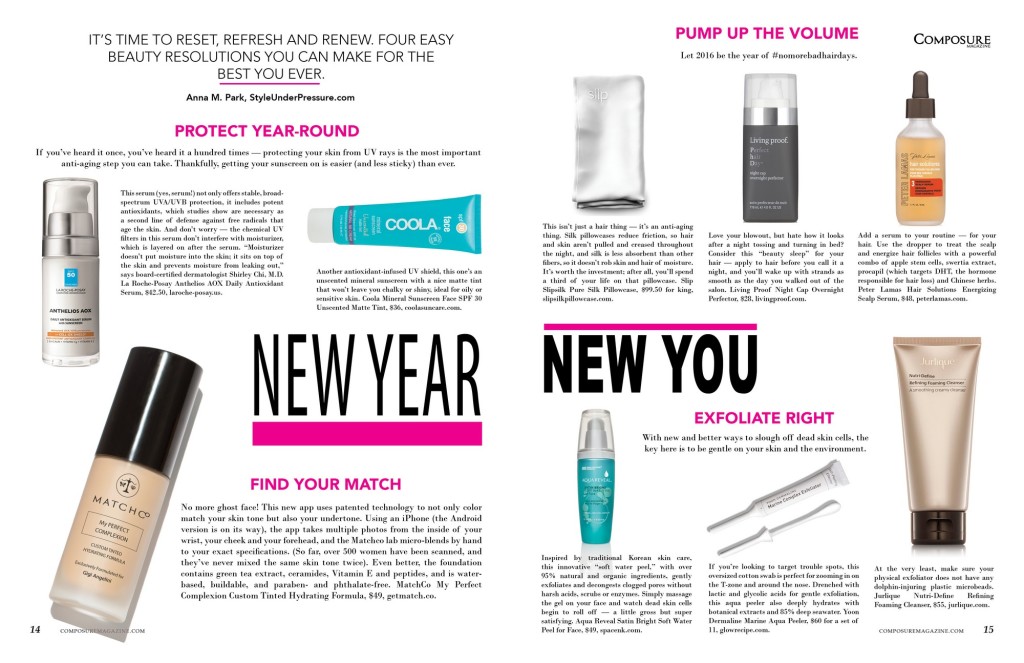 It's time to reset, refresh and renew. Four easy beauty resolutions you can make for the best you ever.
PROTECT YEAR-ROUND
If you've heard it once, you've heard it a hundred times — protecting your skin from UV rays is the most important anti-aging step you can take. Thankfully, getting your sunscreen on is easier (and less sticky) than ever.
La Roche-Posay Anthelios AOX Daily Antioxidant Serum, $42.50, laroche-posay.us
This serum (yes, serum!) not only offers stable, broad- spectrum UVA/UVB protection, it includes potent antioxidants, which studies show are necessary as a second line of defense against free radicals that age the skin. And don't worry — the chemical UV filters in this serum don't interfere with moisturizer, which is layered on after the serum. "Moisturizer doesn't put moisture into the skin; it sits on top of the skin and prevents moisture from leaking out," says board-certified dermatologist Shirley Chi, M.D.
Coola Mineral Sunscreen Face SPF 30 Unscented Matte Tint, $36, coolasuncare.com
Another antioxidant-infused UV shield, this one's an unscented mineral sunscreen with a nice matte tint that won't leave you chalky or shiny, ideal for oily or sensitive skin.
FIND YOUR MATCH
MatchCo My Perfect Complexion Custom Tinted Hydrating Formula, $49, getmatch.co
No more ghost face! This new app uses patented technology to not only color match your skin tone but also your undertone. Using an iPhone (the Android version is on its way), the app takes multiple photos from the inside of your wrist, your cheek and your forehead, and the Matchco lab micro-blends by hand to your exact specifications. (So far, over 500 women have been scanned, and they've never mixed the same skin tone twice). Even better, the foundation contains green tea extract, ceramides, Vitamin E and peptides, and is water- based, buildable, and paraben- and phthalate-free.
PUMP UP THE VOLUME
Let 2016 be the year of #nomorebadhairdays.
Slip Slipsilk Pure Silk Pillowcase, $99.50 for king, slipsilkpillowcase.com
This isn't just a hair thing — it's an anti-aging thing. Silk pillowcases reduce friction, so hair and skin aren't pulled and creased throughout the night, and silk is less absorbent than other fibers, so it doesn't rob skin and hair of moisture. It's worth the investment; after all, you'll spend a third of your life on that pillowcase.
Love your blowout, but hate how it looks after a night tossing and turning in bed? Consider this "beauty sleep" for your hair — apply to hair before you call it a night, and you'll wake up with strands as smooth as the day you walked out of the salon.
Peter Lamas Hair Solutions Energizing Scalp Serum, $48, peterlamas.com
Add a serum to your routine — for your hair. Use the dropper to treat the scalp and energize hair follicles with a powerful combo of apple stem cells, swertia extract, procapil (which targets DHT, the hormone responsible for hair loss) and Chinese herbs.
EXFOLIATE RIGHT
With new and better ways to slough off dead skin cells, the key here is to be gentle on your skin and the environment.
Aqua Reveal Satin Bright Soft Water Peel for Face, $49, spacenk.com
Inspired by traditional Korean skin care, this innovative "soft water peel," with over 95% natural and organic ingredients, gently exfoliates and decongests clogged pores without harsh acids, scrubs or enzymes. Simply massage the gel on your face and watch dead skin cells begin to roll off — a little gross but super satisfying.
Yoon Dermaline Marine Aqua Peeler, $60 for a set of 11, glowrecipe.com
If you're looking to target trouble spots, this oversized cotton swab is perfect for zooming in on the T-zone and around the nose. Drenched with lactic and glycolic acids for gentle exfoliation, this aqua peeler also deeply hydrates with botanical extracts and 85% deep seawater.
Jurlique Nutri-Define Refining Foaming Cleanser, $55, jurlique.com
At the very least, make sure your physical exfoliator does not have any dolphin-injuring plastic microbeads.
Share your thoughts...