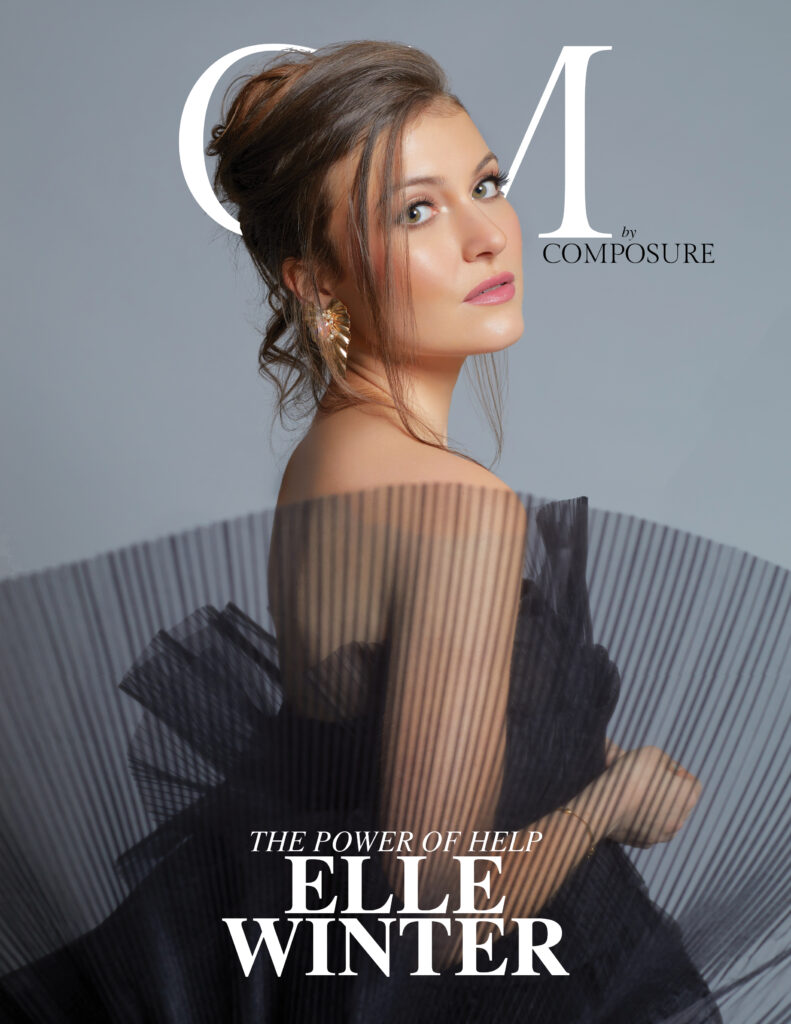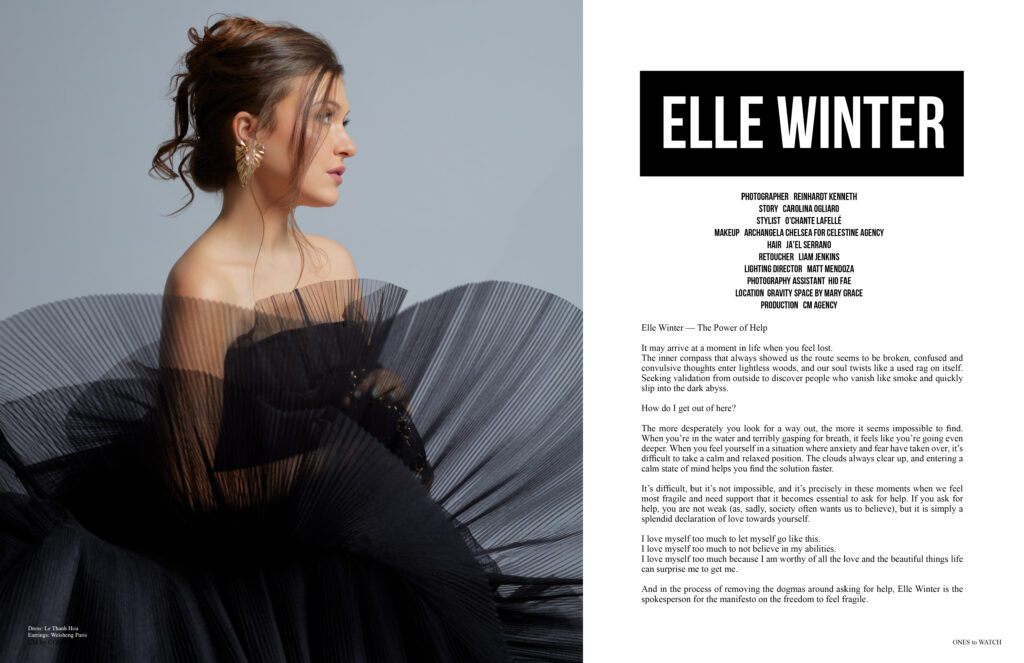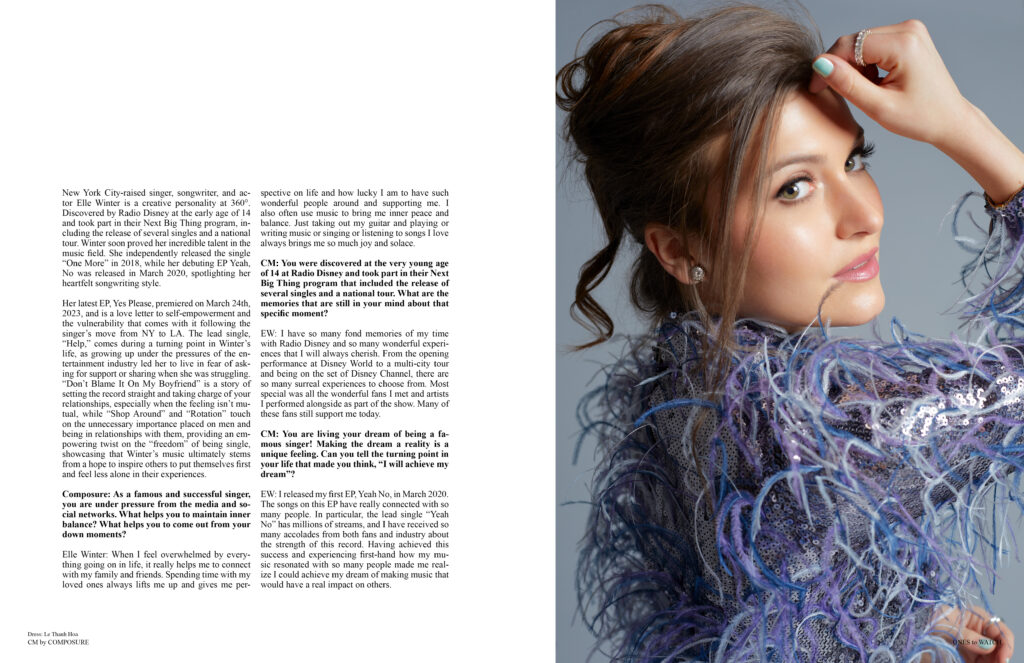 Elle Winter — The Power of Help
It may arrive at a moment in life when you feel lost.
The inner compass that always showed us the route seems to be broken, confused and convulsive thoughts enter lightless woods, and our soul twists like a used rag on itself. Seeking validation from outside to discover people who vanish like smoke and quickly slip into the dark abyss.
How do I get out of here?
The more desperately you look for a way out, the more it seems impossible to find. When you're in the water and terribly gasping for breath, it feels like you're going even deeper. When you feel yourself in a situation where anxiety and fear have taken over, it's difficult to take a calm and relaxed position. The clouds always clear up, and entering a calm state of mind helps you find the solution faster.
It's difficult, but it's not impossible, and it's precisely in these moments when we feel most fragile and need support that it becomes essential to ask for help. If you ask for help, you are not weak (as, sadly, society often wants us to believe), but it is simply a splendid declaration of love towards yourself.
I love myself too much to let myself go like this.
I love myself too much to not believe in my abilities.
I love myself too much because I am worthy of all the love and the beautiful things life can surprise me to get me.
And in the process of removing the dogmas around asking for help, Elle Winter is the spokesperson for the manifesto on the freedom to feel fragile.
New York City-raised singer, songwriter, and actor Elle Winter is a creative personality at 360°. Discovered by Radio Disney at the early age of 14 and took part in their Next Big Thing program, including the release of several singles and a national tour. Winter soon proved her incredible talent in the music field. She independently released the single "One More" in 2018, while her debuting EP Yeah, No was released in March 2020, spotlighting her heartfelt songwriting style.
Her latest EP, Yes Please, premiered on March 24th, 2023, and is a love letter to self-empowerment and the vulnerability that comes with it following the singer's move from NY to LA. The lead single, "Help," comes during a turning point in Winter's life, as growing up under the pressures of the entertainment industry led her to live in fear of asking for support or sharing when she was struggling. "Don't Blame It On My Boyfriend" is a story of setting the record straight and taking charge of your relationships, especially when the feeling isn't mutual, while "Shop Around" and "Rotation" touch on the unnecessary importance placed on men and being in relationships with them, providing an empowering twist on the "freedom" of being single, showcasing that Winter's music ultimately stems from a hope to inspire others to put themselves first and feel less alone in their experiences.
Composure: As a famous and successful singer, you are under pressure from the media and social networks. What helps you to maintain inner balance? What helps you to come out from your down moments?
Elle Winter: When I feel overwhelmed by everything going on in life, it really helps me to connect with my family and friends. Spending time with my loved ones always lifts me up and gives me perspective on life and how lucky I am to have such wonderful people around and supporting me. I also often use music to bring me inner peace and balance. Just taking out my guitar and playing or writing music or singing or listening to songs I love always brings me so much joy and solace.
CM: You were discovered at the very young age of 14 at Radio Disney and took part in their Next Big Thing program that included the release of several singles and a national tour. What are the memories that are still in your mind about that specific moment?
EW: I have so many fond memories of my time with Radio Disney and so many wonderful experiences that I will always cherish. From the opening performance at Disney World to a multi-city tour and being on the set of Disney Channel, there are so many surreal experiences to choose from. Most special was all the wonderful fans I met and artists I performed alongside as part of the show. Many of these fans still support me today.
CM: You are living your dream of being a famous singer! Making the dream a reality is a unique feeling. Can you tell the turning point in your life that made you think, "I will achieve my dream"?
EW: I released my first EP, Yeah No, in March 2020. The songs on this EP have really connected with so many people. In particular, the lead single "Yeah No" has millions of streams, and I have received so many accolades from both fans and industry about the strength of this record. Having achieved this success and experiencing first-hand how my music resonated with so many people made me realize I could achieve my dream of making music that would have a real impact on others.
CM: Do you have a special memory related to the creation of a song that you would like to share?
EW: In creating my song "Help" off my latest EP, Yes Please, I was so moved during the creative process. In the past, I had written songs about this same concept. The pressure I impose upon myself to be perfect in everything I do in my life. However, this song finally captured the complexity and nuance of the message I had been trying to create. In "Help," I was finally able to express how I had been feeling for so many years. "Help" was created with the songwriting and production team of Autumn Rowe and Kizzo. With them, my thoughts and emotions really came to life both sonically and lyrically. It was a very special experience, and "Help" is one of my favorite songs I've ever created.
CM: When creating a new song, what do you take inspiration from?
EW: I am always able to draw inspiration in my songwriting from my own personal life experiences. I have been fortunate to travel and meet so many interesting people and have a number of meaningful relationships. I think when music is inspired by someone's own life, it is always authentic and more easily relatable to its audience. I write music at all times of the day when I feel inspired. I will even grab an old-fashioned pen and paper to jot down my thoughts.
CM: Do you feel music is like a free space to express your emotions and creativity without boundaries?
EW: I truly do feel like music is my safe space and a place where I can truly be myself. I push myself to be as honest and open as possible in my songwriting and in my performances.
CM: Your new EP Yes, Please is a love letter to self-empowerment, and the vulnerability and songs like "Help," "Don't Blame It On My Boyfriend," "Shop Around," and "Rotation speak a lot to the people's souls and can be said that we can see ourselves in them. Can we say that "Yes, Please" is an autobiographical album?
EW: The "Yes Please" EP is definitely an autobiographical project. I wrote these songs based on my own feelings, thoughts, and experiences. From "Help," which speaks to my own struggles with perfectionism; "Don't Blame it on My Boyfriend," which is a sassy statement to my independence; "Shop Around," a song with a message about self-worth; "Rotation," which speaks of wanting to empower myself in dating; and finally, the lead single "Yes Please" which speaks to how I want to be treated in my relationships; these songs speak to my strengths and vulnerabilities and I hope they provide insight and strength to those who listen to them.
CM: Is writing for you a bit like a healing therapy, a cure? Does putting feelings or events into words help you process them better, feel them fully, and then let them go?
EW: Yes, completely! I think songwriting is so therapeutic. Being able to get your thoughts out of your head and body and turn them into a piece of art is beautiful and healing. It is also a way to commemorate a moment in time or a meaningful relationship in such a powerful way. 
CM: Everyone loves some Behind The Scenes! I would like to ask you the real BTS of "Yes, Please." How was the whole project born? When and where did you write the songs? Is it a positive EP that also came out in some dark moments where you felt the urge to be a Hope Light for people in their down moment? The naked ugly truth of "Yes, Please" 🙂
EW: I started working on the "Yes Please" EP when I had finally made the move to Los Angeles at the end of the pandemic. I was ready to begin a whole new chapter of my life. I was fortunate to reconnect with Kizzo, a producer I had met when I was 14 years old, and co-producer and songwriter Autumn Rowe. Kizzo and Autumn had just come off completing the Jon Batiste album (which, during our time together, won the Grammy for Best Album of the Year). I spent a lot of time over many months with Kizzo and Autumn, both inside and outside the studio, developing this project and the message I wanted to send to the world. This time together really allowed me to present my genuine stories and feelings. I wanted to tell these stories in an empowering yet vulnerable way. These songs have a lot of sass and energy, but most importantly, truth. The EP has a very retro, soulful feel sonically, which also provided really fun opportunities to express those themes through my visuals. My creative director Nicky Parks really helped me bring the "Yes Please" EP to life in all the video footage we created together. It was super fun.
CM: Music is healing. When a person listens to a song and sees themselves in it, it helps to feel they are not alone and that there is always a way out. What would you say if you could tell something to a person who is feeling in the middle of a storm?
EW: I love music because it's such a force of connection. No matter who we are or where we are from, we can all come together through music and truly feel less alone. I think it's important to remember you are loved, you are not alone, and what is meant for you will be yours.
DM: You have an impressive fan base, and people like you have a real voice that can be listened to and followed. It is vital to remove the dogmas around the "ask for help" factor when in trouble. Unfortunately, society demands the impossible from us, and sometimes we feel overwhelmed, with no way out. Asking for help is fundamental; it doesn't make us people inferior or incapable, it shouldn't make us feel belittled, and our vulnerabilities shouldn't be seen as weaknesses but as "sides of our sensitivity." With "Help" you dealt with this topic, I would like you to send your own personal message on the importance of asking for help when in trouble.
EW: I think asking for Help is really a superpower, not a weakness. We all deserve the freedom to be ourselves, ask for support, and lean on others and be vulnerable.
CM: If you could choose one artist ( or band!) to make a duet straight away tomorrow, who would it be?
EW: I would love to collaborate with Meghan Trainor! I love her music, from her retro sound to sassy lyrics and her infectious energy. I also would love to collaborate with Bruno Mars. He is one of my favorite artists of all time, and that would be a dream! 
What people need now are real role models to inspire. Life is a beautiful roller coaster, up and down and up again, a curve of joy, tears, and growth. Today's generations need to see that life can be wonderful again, even if you are going through a moment of suffering. And this cannot be taught by those who only want to show a lifestyle of excesses. No, this is taught by people speaking a real language, a language of those who walk, stumble, and get up, and if they cannot get up, look for a foothold. Thank you, Elle Winter, for being one of these role models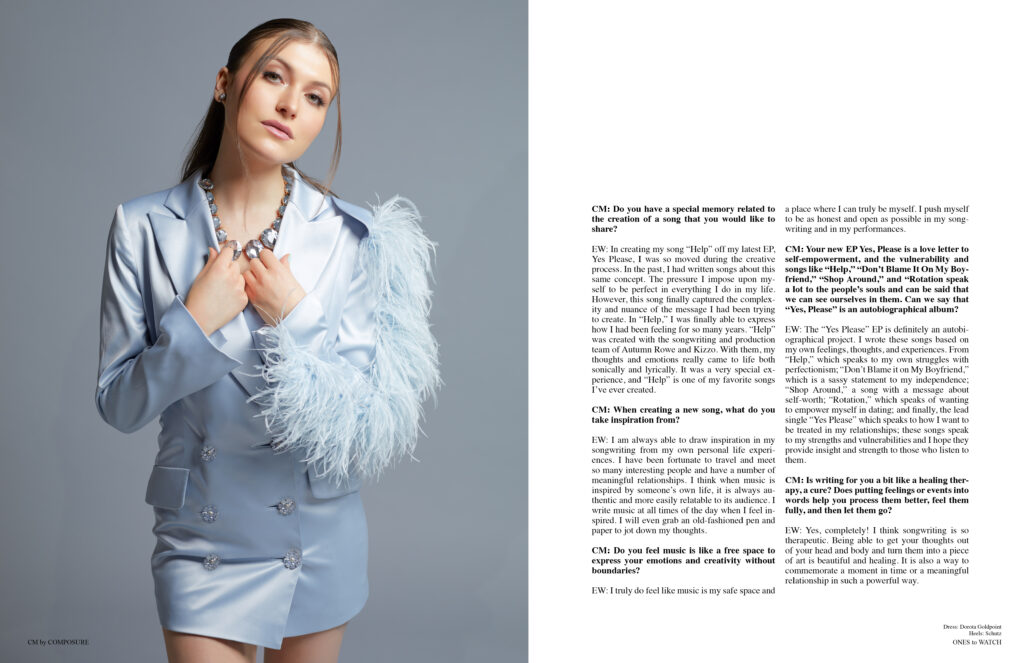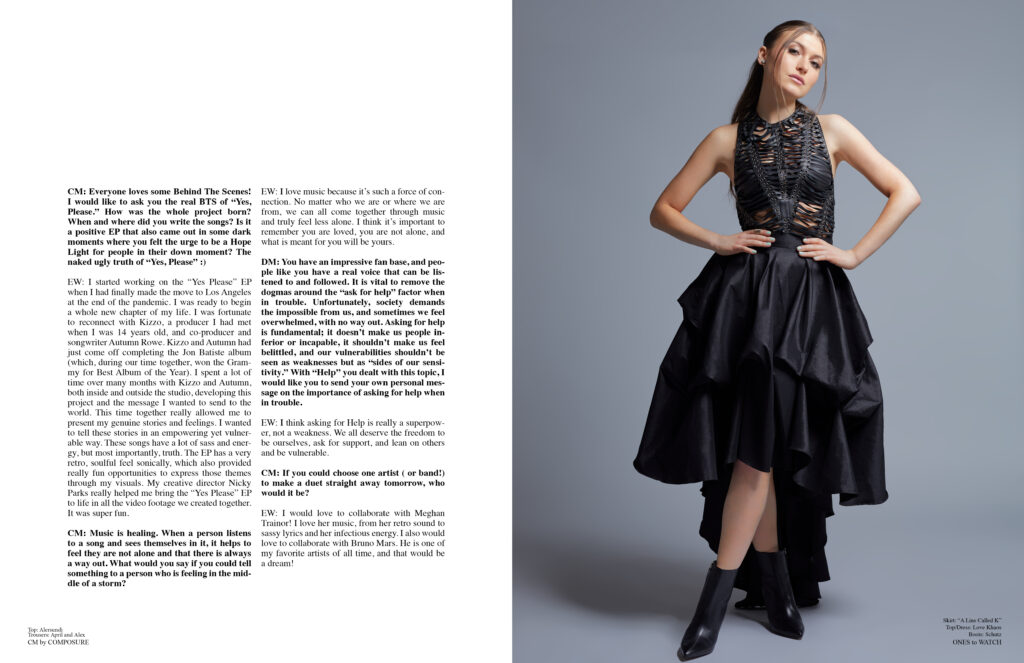 Share your thoughts...