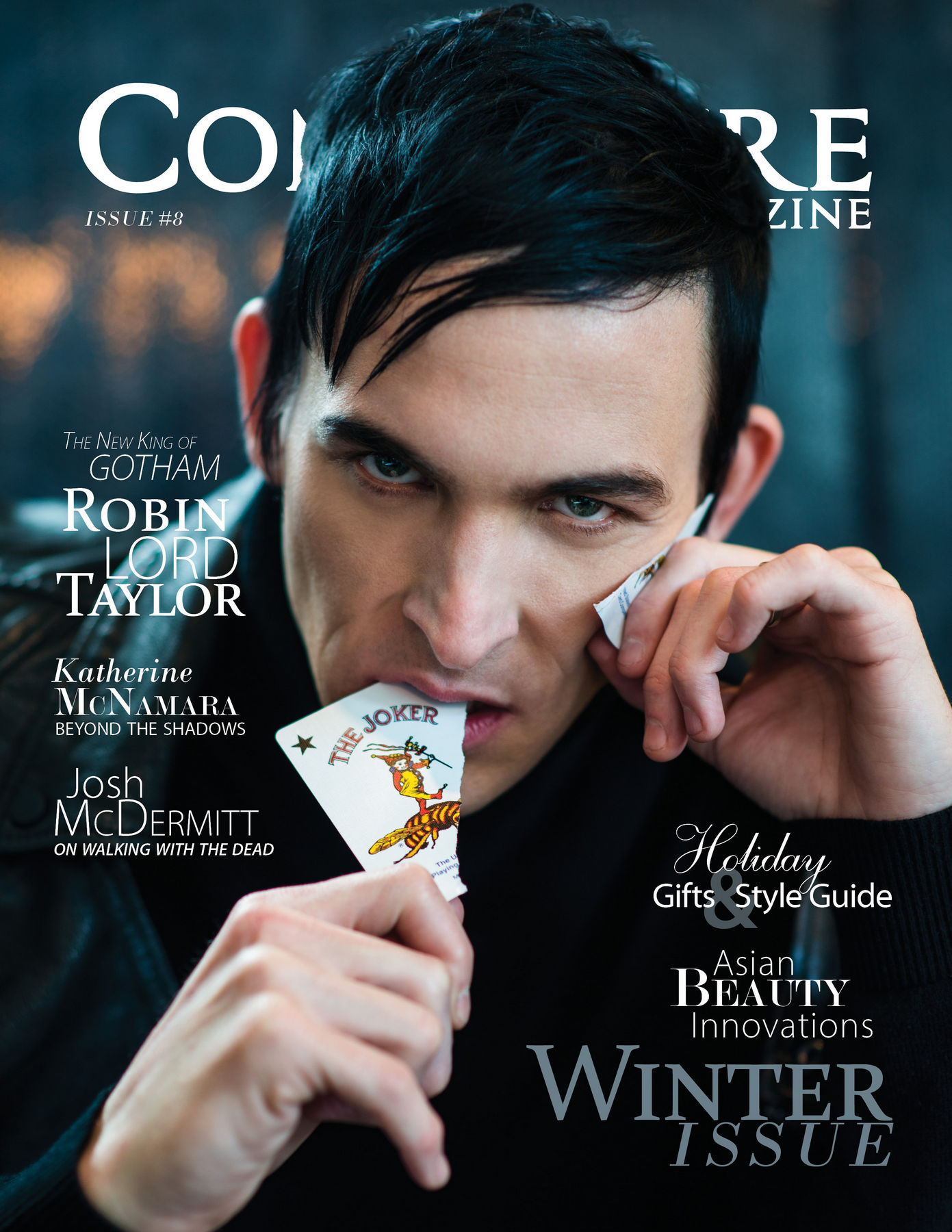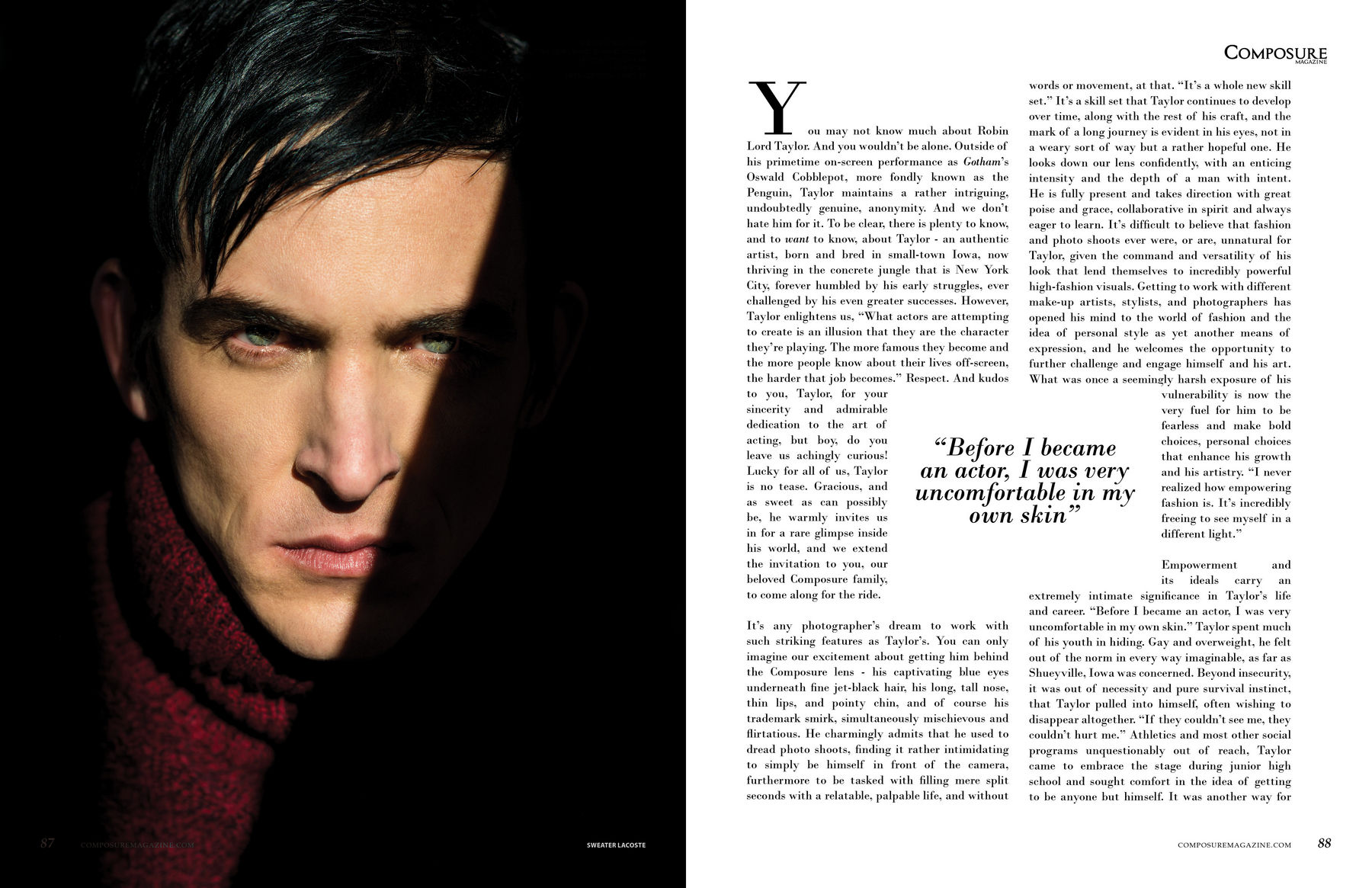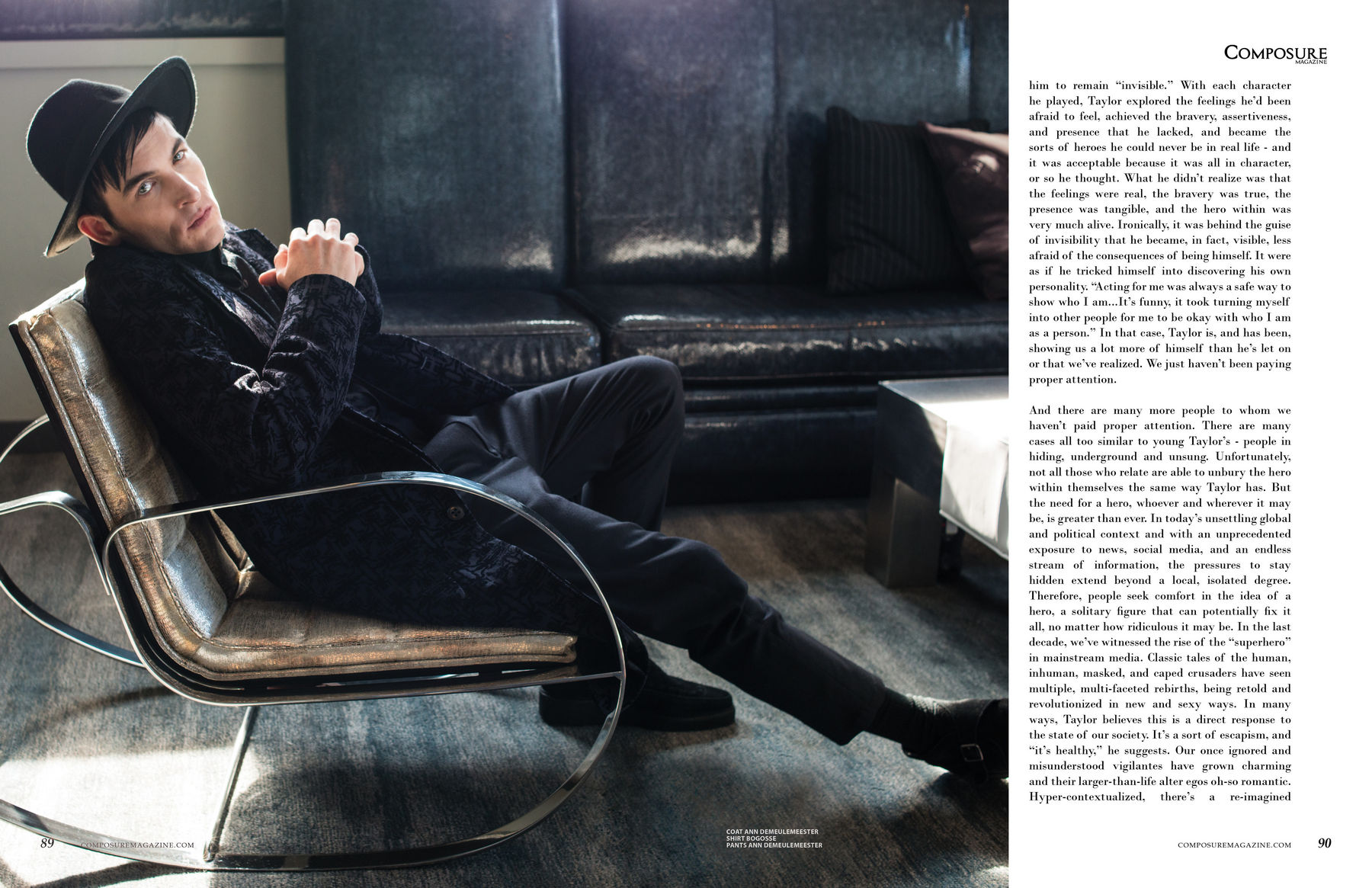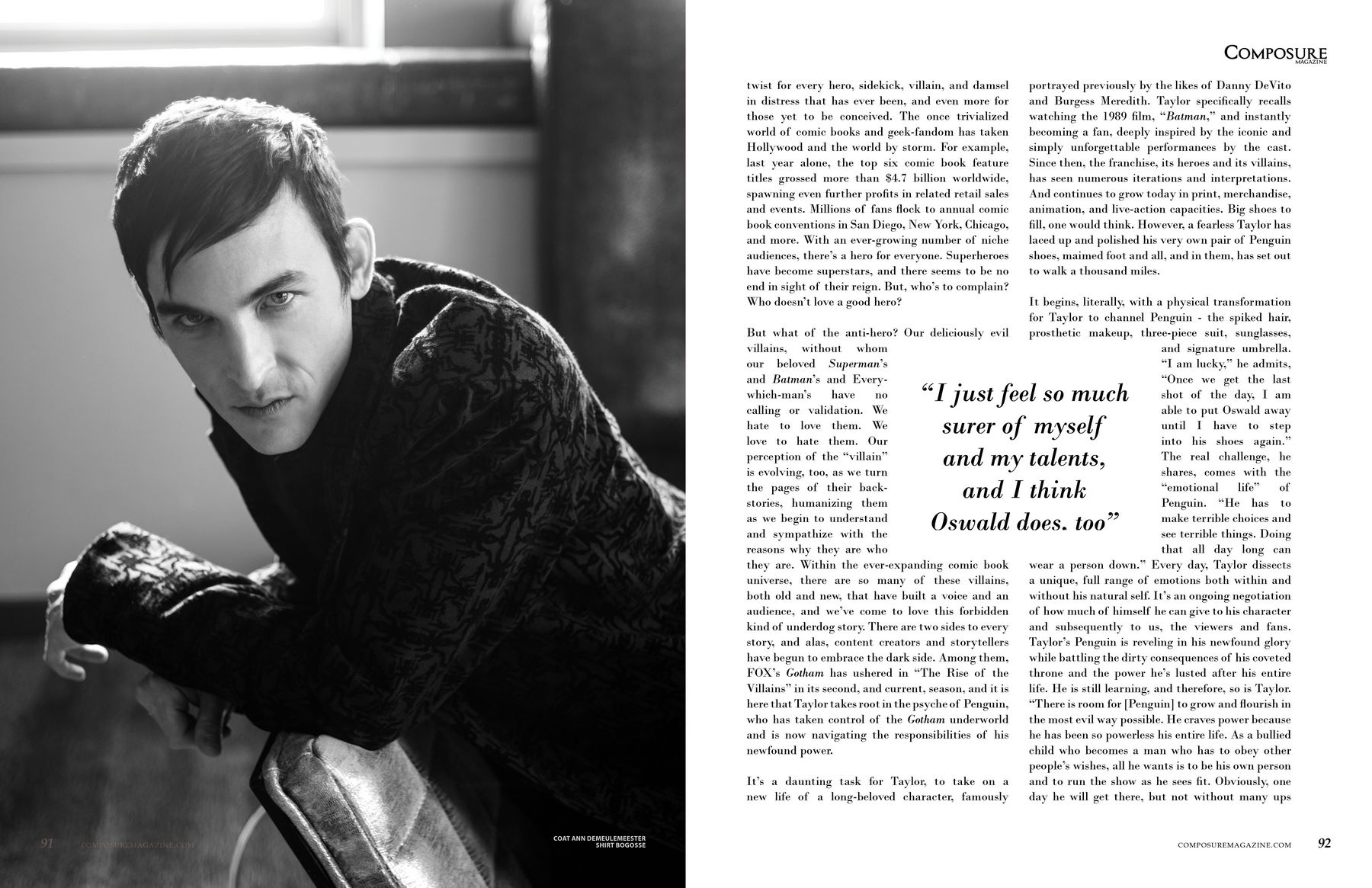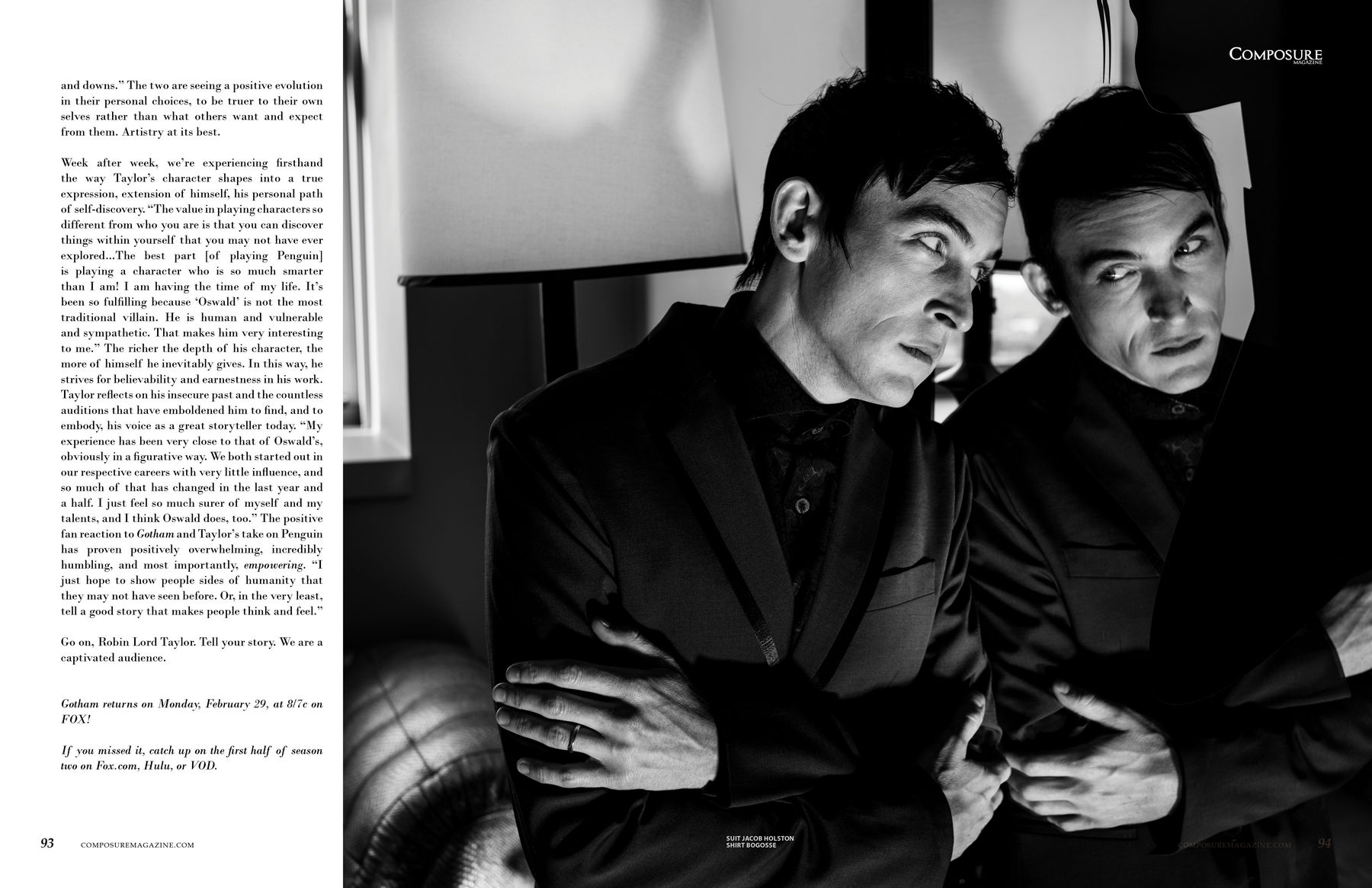 Robin Lord Taylor
     You may not know much about Robin Lord Taylor. And you wouldn't be alone. Outside of his primetime on-screen performance as Gotham's Oswald Cobblepot, more fondly known as the Penguin, Taylor maintains a rather intriguing, undoubtedly genuine, anonymity. And we don't hate him for it. To be clear, there is plenty to know, and to want to know, about Taylor – an authentic artist, born and bred in small-town Iowa, now thriving in the concrete jungle that is New York City, forever humbled by his early struggles, ever challenged by his even greater successes. However, Taylor enlightens us, "What actors are attempting to create is an illusion that they are the character they're playing. The more famous they become and the more people know about their lives off-screen, the harder that job becomes." Respect. And kudos to you, Taylor, for your sincerity and admirable dedication to the art of acting, but boy, do you leave us achingly curious! Lucky for all of us, Taylor is no tease. Gracious, and as sweet as can possibly be, he warmly invites us in for a rare glimpse inside his world, and we extend the invitation to you, our beloved Composure family, to come along for the ride.
     It's any photographer's dream to work with such striking features as Taylor's. You can only imagine our excitement about getting him behind the Composure lens – his captivating blue eyes underneath fine jet-black hair, his long, tall nose, thin lips, and pointy chin, and of course his trademark smirk, simultaneously mischievous and flirtatious. He charmingly admits that he used to dread photo shoots, finding it rather intimidating to simply be himself in front of the camera, furthermore to be tasked with filling mere split seconds with a relatable, palpable life, and without words or movement, at that. "It's a whole new skill set." It's a skill set that Taylor continues to develop over time, along with the rest of his craft, and the mark of a long journey is evident in his eyes, not in a weary sort of way but a rather hopeful one. He looks down our lens confidently, with an enticing intensity and the depth of a man with intent. He is fully present and takes direction with great poise and grace, collaborative in spirit and always eager to learn. It's difficult to believe that fashion and photo shoots ever were, or are, unnatural for Taylor, given the command and versatility of his look that lend themselves to incredibly powerful high-fashion visuals. Getting to work with different make-up artists, stylists, and photographers has opened his mind to the world of fashion and the idea of personal style as yet another means of expression, and he welcomes the opportunity to further challenge and engage himself and his art. What was once a seemingly harsh exposure of his vulnerability is now the very fuel for him to be fearless and make bold choices, personal choices that enhance his growth and his artistry. "I never realized how empowering fashion is. It's incredibly freeing to see myself in a different light."
     Empowerment and its ideals carry an extremely intimate significance in Taylor's life and career. "Before I became an actor, I was very uncomfortable in my own skin." Taylor spent much of his youth in hiding. Gay and overweight, he felt out of the norm in every way imaginable, as far as Shueyville, Iowa was concerned. Beyond insecurity, it was out of necessity and pure survival instinct, that Taylor pulled into himself, often wishing to disappear altogether. "If they couldn't see me, they couldn't hurt me." Athletics and most other social programs unquestionably out of reach, Taylor came to embrace the stage during junior high school and sought comfort in the idea of getting to be anyone but himself. It was another way for him to remain "invisible." With each character he played, Taylor explored the feelings he'd been afraid to feel, achieved the bravery, assertiveness, and presence that he lacked, and became the sorts of heroes he could never be in real life – and it was acceptable because it was all in character, or so he thought. What he didn't realize was that the feelings were real, the bravery was true, the presence was tangible, and the hero within was very much alive. Ironically, it was behind the guise of invisibility that he became, in fact, visible, less afraid of the consequences of being himself. It were as if he tricked himself into discovering his own personality. "Acting for me was always a safe way to show who I am…It's funny, it took turning myself into other people for me to be okay with who I am as a person." In that case, Taylor is, and has been, showing us a lot more of himself than he's let on or that we've realized. We just haven't been paying proper attention.
And there are many more people to whom we haven't paid proper attention. There are many cases all too similar to young Taylor's – people in hiding, underground and unsung. Unfortunately, not all those who relate are able to unbury the hero within themselves the same way Taylor has. But the need for a hero, whoever and wherever it may be, is greater than ever. In today's unsettling global and political context and with an unprecedented exposure to news, social media, and an endless stream of information, the pressures to stay hidden extend beyond a local, isolated degree. Therefore, people seek comfort in the idea of a hero, a solitary figure that can potentially fix it all, no matter how ridiculous it may be. In the last decade, we've witnessed the rise of the "superhero" in mainstream media. Classic tales of the human, inhuman, masked, and caped crusaders have seen multiple, multi-faceted rebirths, being retold and revolutionized in new and sexy ways. In many ways, Taylor believes this is a direct response to the state of our society. It's a sort of escapism, and "it's healthy," he suggests. Our once ignored and misunderstood vigilantes have grown charming and their larger-than-life alter egos oh-so romantic. Hyper-contextualized, there's a re-imagined twist for every hero, sidekick, villain, and damsel in distress that has ever been, and even more for those yet to be conceived. The once trivialized world of comic books and geek-fandom has taken Hollywood and the world by storm. For example, last year alone, the top six comic book feature titles grossed more than $4.7 billion worldwide, spawning even further profits in related retail sales and events. Millions of fans flock to annual comic book conventions in San Diego, New York, Chicago, and more. With an ever-growing number of niche audiences, there's a hero for everyone. Superheroes have become superstars, and there seems to be no end in sight of their reign. But, who's to complain? Who doesn't love a good hero?
     But what of the anti-hero? Our deliciously evil villains, without whom our beloved Superman's and Batman's and Every-which-man's have no calling or validation. We hate to love them. We love to hate them. Our perception of the "villain" is evolving, too, as we turn the pages of their back-stories, humanizing them as we begin to understand and sympathize with the reasons why they are who they are. Within the ever-expanding comic book universe, there are so many of these villains, both old and new, that have built a voice and an audience, and we've come to love this forbidden kind of underdog story. There are two sides to every story, and alas, content creators and storytellers have begun to embrace the dark side. Among them, FOX's Gotham has ushered in "The Rise of the Villains" in its second, and current, season, and it is here that Taylor takes root in the psyche of Penguin, who has taken control of the Gotham underworld and is now navigating the responsibilities of his newfound power.
     It's a daunting task for Taylor, to take on a new life of a long-beloved character, famously portrayed previously by the likes of Danny DeVito and Burgess Meredith. Taylor specifically recalls watching the 1989 film, "Batman," and instantly becoming a fan, deeply inspired by the iconic and simply unforgettable performances by the cast. Since then, the franchise, its heroes and its villains, has seen numerous iterations and interpretations. And continues to grow today in print, merchandise, animation, and live-action capacities. Big shoes to fill, one would think. However, a fearless Taylor has laced up and polished his very own pair of Penguin shoes, maimed foot and all, and in them, has set out to walk a thousand miles.
     It begins, literally, with a physical transformation for Taylor to channel Penguin – the spiked hair, prosthetic makeup, three-piece suit, sunglasses, and signature umbrella. "I am lucky," he admits, "Once we get the last shot of the day, I am able to put Oswald away until I have to step into his shoes again." The real challenge, he shares, comes with the "emotional life" of Penguin. "He has to make terrible choices and see terrible things. Doing that all day long can wear a person down." Every day, Taylor dissects a unique, full range of emotions both within and without his natural self. It's an ongoing negotiation of how much of himself he can give to his character and subsequently to us, the viewers and fans. Taylor's Penguin is reveling in his newfound glory while battling the dirty consequences of his coveted throne and the power he's lusted after his entire life. He is still learning, and therefore, so is Taylor. "There is room for [Penguin] to grow and flourish in the most evil way possible. He craves power because he has been so powerless his entire life. As a bullied child who becomes a man who has to obey other people's wishes, all he wants is to be his own person and to run the show as he sees fit. Obviously, one day he will get there, but not without many ups and downs." The two are seeing a positive evolution in their personal choices, to be truer to their own selves rather than what others want and expect from them. Artistry at its best.
     Week after week, we're experiencing firsthand the way Taylor's character shapes into a true expression, extension of himself, his personal path of self-discovery. "The value in playing characters so different from who you are is that you can discover things within yourself that you may not have ever explored…The best part [of playing Penguin] is playing a character who is so much smarter than I am! I am having the time of my life. It's been so fulfilling because 'Oswald' is not the most traditional villain. He is human and vulnerable and sympathetic. That makes him very interesting to me." The richer the depth of his character, the more of himself he inevitably gives. In this way, he strives for believability and earnestness in his work. Taylor reflects on his insecure past and the countless auditions that have emboldened him to find, and to embody, his voice as a great storyteller today. "My experience has been very close to that of Oswald's, obviously in a figurative way. We both started out in our respective careers with very little influence, and so much of that has changed in the last year and a half. I just feel so much surer of myself and my talents, and I think Oswald does, too." The positive fan reaction to Gotham and Taylor's take on Penguin has proven positively overwhelming, incredibly humbling, and most importantly, empowering. "I just hope to show people sides of humanity that they may not have seen before. Or, in the very least, tell a good story that makes people think and feel."
Go on, Robin Lord Taylor. Tell your story. We are a captivated audience.
Gotham returns on Monday, February 29, at 8/7c on FOX!
If you missed it, catch up on the first half of season two on Fox.com, Hulu, or VOD.
PHOTOGRAPHY BY JOHN HONG
CREATIVE DIRECTOR JANE HONG
STYLING BY JORDAN GROSSMAN & JINNAH PARK
GROOMING UP BY MEGAN LANOUX FOR EXCLUSIVE ARTISTS MANAGEMENT USING KEVIN MURPHY HAIR CARE AND JACK BLACK
INTERVIEW AND WORDS BY SARAH YOO
SPECIAL THANKS ALICIA TOWNSEND AND ANTHONY BUTLER
PHOTOGRAPHED AT THE W HOTEL UNION SQUARE, NEW YORK, NY
Share your thoughts...