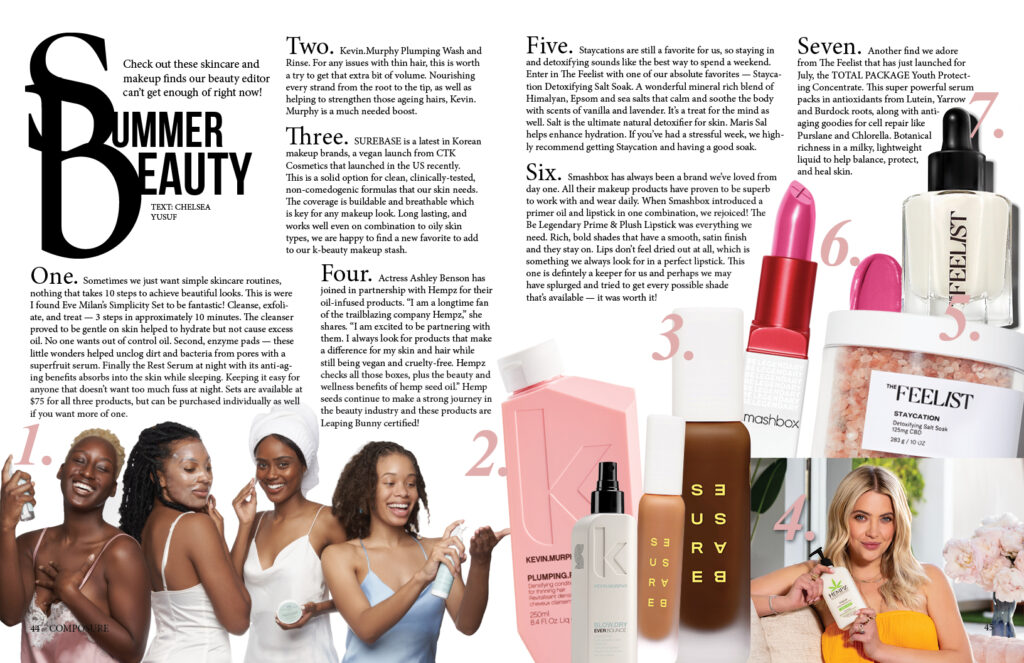 TEXT: Chelsea Yusuf
ONE. Sometimes we just want simple skincare routines, nothing that takes 10 steps to achieve beautiful looks. This is where I found Eve Milan's Simplicity Set to be fantastic! Cleanse, exfoliate, and treat — 3 steps in approximately 10 minutes. The cleanser proved to be gentle on skin, helped to hydrate but not cause excess oil. No one wants out of control oil. Second, enzyme pads — these little wonders helped unclog dirt and bacteria from pores with a superfruit serum. Finally the Rest Serum at night with its anti-ag-ing benefits absorbs into the skin while sleeping. Keeping it easy for anyone that doesn't want too much fuss at night. Sets are available at $75 for all three products, but can be purchased individually as well if you want more of one.
TWO. Kevin.Murphy Plumping Wash and Rinse. For any issues with thin hair, this is worth
a try to get that extra bit of volume. Nourishing every strand from the root to the tip, as well as helping to strengthen those ageing hairs, Kevin.Murphy is a much needed boost.

THREE. SUREBASE is a latest in Korean makeup brands, a vegan launch from CTK Cosmetics that launched in the US recently. This is a solid option for clean, clinically-tested, non-comedogenic formulas that our skin needs. The coverage is buildable and breathable which is key for any makeup look. Long lasting, and works well even on combination to oily skin types, we are happy to find a new favorite to add to our K-beauty makeup stash.
FOUR. Actress Ashley Benson has joined in partnership with Hempz for their oil-infused products. "I am a longtime fan of the trailblazing company Hempz," she shares. "I am excited to be partnering with them. I always look for products that make a difference for my skin and hair while still being vegan and cruelty-free. Hempz checks all those boxes, plus the beauty and wellness benefits of hemp seed oil." Hemp seeds continue to make a strong journey in the beauty industry and these products are Leaping Bunny certified.
FIVE. Staycations are still a favorite for us, so staying in and detoxifying sounds like the best way to spend a weekend. Enter in The Feelist with one of our absolute favorites — Stayca-tion Detoxifying Salt Soak. A wonderful mineral rich blend of Himalyan, Epsom and sea salts that calm and soothe the body with scents of vanilla and lavender. It's a treat for the mind as well. Salt is the ultimate natural detoxifier for skin. Maris Sal helps enhance hydration. If you've had a stressful week, we highly recommend getting Staycation and having a good soak.
SIX. Smashbox has always been a brand we've loved from day one. All their makeup products have proven to be superb to work with and wear daily. When Smashbox introduced a primer oil and lipstick in one combination, we rejoiced! The Be Legendary Prime & Plush Lipstick was everything we need. Rich, bold shades that have a smooth, satin finish and they stay on. Lips don't feel dried out at all, which is something we always look for in a perfect lipstick. This one is definitely a keeper for us and perhaps we may have splurged and tried to get every possible shade that's available — it was worth it!
SEVEN. Another find we adore from The Feelist that just launched for July, the TOTAL PACKAGE Youth Protecting Concentrate. This super powerful serum packs in antioxidants from Lutein, Yarrow and Burdock roots, along with anti-aging goodies for cell repair like  Purslane and Chlorella. Botanical richness in a milky, lightweight liquid to help balance, protect,
and heal skin.
Share your thoughts...