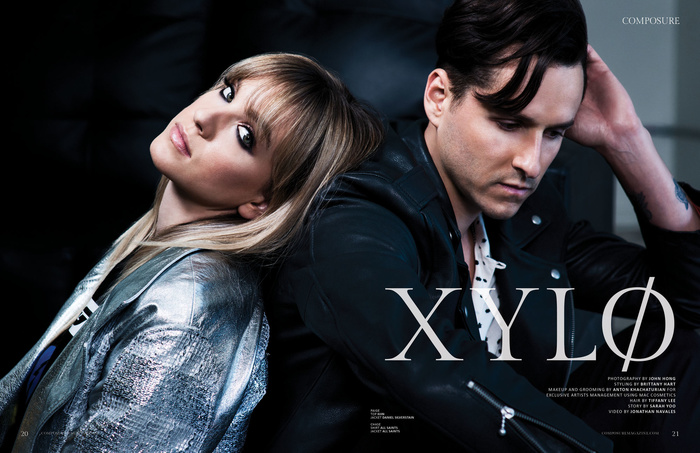 Chase and Paige Duddy are brother-sister electronic pop duo XYLØ — new on the scene and here to stay. With early hits like "America," "Fool's Paradise," and the collaboration with The Chainsmokers, "Setting Fires," XYLØ is a name you'll be hearing a lot. The only question is: Are you ready?
Composure Magazine: You're brother and sister, 10 years apart. That lends itself to an interesting dynamic even before bringing in the artistic partnership. What was it like growing up together?
Paige Duddy: Well, growing up, since we're 10 years apart, we didn't really hang out that much. So for a while we didn't really know each other that well, not for any other reason besides that we were living different lives.
Chase Duddy: Yeah, when Paige was growing up in junior high and high school, I was already living in Hollywood pursuing being a musician.
CM: Before XYLØ, had you ever thought about working together?
PD: We worked together a couple times, I think when I was 12 or 13. He taught me one day how to write lyrics, like on acoustic guitar, me and him, but I never really took it seriously, not until we did a PacSun advert together. By then, I was more mature, I was out of high school, kind of trying to figure out my life and which direction I wanted to go in, and that kind of solidified it for me, like "This is it."
CM: Was it very much a mutual realization that this partnership is something that works, or did it take one convincing the other a bit?
CD: I think it was pretty mutual.
PD: I felt really confident [about it]; Chase gave me a lot of confidence. Plus, once we saw how people were reacting and all the positive feedback we got from so many people that we weren't really expecting, that's when we realized that this was even more fun, you know?
CM: How has the dynamic between you two changed now that you're working together musically and professionally?
PD: I think there was a period of time where we would butt heads a lot because when you have a lot of pressure from other people, there's a lot on the line, and a lot of other people have invested their time in you. Things aren't just fun and games anymore. Plus, we could butt heads because we're brother and sister, and that's just what happens, but we have gotten closer, for sure. We spend so much time together. In the last two years, we've learned each other's soft spots and what makes the other annoyed.
CD: I think you nailed it. I mean, when it was just Paige and I, there weren't all these elements that were complicating what we were doing. Now there are other people we work with and other people on our team, you know? And like Paige said, we're just kind of learning as we go. We kind of just jumped into this thing all at once. It happened really fast, so we're just learning week after week how to not push each other's buttons and what works and doesn't work.
CM: And as the older sibling, Chase, what has impressed you most about Paige?
CD: What is really impressive to me is that she's just a natural, you know? Paige is just one of those people that just has the right things, and it just works. I wasn't one of those people that had that gift.
PD: I think I had the right people around me helping me make the right decisions.
CD: And I think to be a front person, too — I do not have those qualities at all. I'm very much so the behind-the-scenes guy. So I think for her to jump into this industry and be the front person as well, I'm impressed by that.
CM: Not everyone can do that, that's for sure! And how about you, Paige — coming to work with Chase in this way, what kind of newfound respect have you gained for him?
PD: I mean, I think I respect any guy who's 10 years older working with his little sister who's hormonal.
CD: [Laughs]
PD: But you know what I mean? That in itself is admirable. And he has a wife, and he has a little boy who's a year old. So all of this stuff is happening for him plus XYLØ — just juggling all those things I think is pretty awesome. Everybody has their ups and downs and their bad days, but for the most part, I think he's pretty chill. [Laughs] He's kept it together, you know? If it were me, I would have had a mental breakdown juggling all those things at one time. It's a lot of pressure.
CD: There's still time for that. I could have mental breakdown.
PD: Well, he hasn't yet! And I admire him for that. [Both laugh]
CM: So, XYLØ — what is the significance behind the name?
PD: It was our grandfather's license plate in the '70s. He's a studio musician, percussionist, professional jazz drummer. He had this license plate short for xylophone, and I knew I was going to use it, for a clothing line or something, I just didn't know for what yet. When it came to naming the band, I told Chase, and he was like, "Yeah. Done. Don't even think about any other names." Personally, I think naming a band is one of the hardest things. It's harder than naming your child [laughs] because it's something that you're going to see forever!
CM: So when it comes to XYLØ and your specific sound, how would you describe it?
PD: I'll let Chase describe the production side, but I feel like even the sounds and what the songs are about — I usually describe it as each song being a different character trait of Chase and I. They just reflect our personalities, and some of them are happy, some of them are sad, sassy, depressing, and it's all things that we go through every day.
CD: What we're inspired by really is the stuff we listen to, like Paige was saying. Hip-hop, that's very much a part of us and what we grew up on, alternative music …
PD: Even pop music.
CD: Yeah, pop as well. We kind of pull from all of our favorites and just kind of make a blend of that, whatever that is.
CM: Nowadays, it seems hard to really even categorize music, with so many crossovers between genres, the lines seem to blur.
CD: The lines are very blurred now. I love it.
PD: I think that allows more people to listen to our music, when we're not defined by one genre, you know? Some of our songs are so pop, and then others are so alternative, trappy, or whatever. Which I think is cool.
CM: In addition to experimenting and simple creative expression, is there any added intention behind what you do? Is there something specific you want to do or say with your music?
PD: Half our songs are based on personal experiences, and the others, like "Fool's Paradise," represent our beliefs and morals, things we want to make a statement and say something about. There's a right way to do it, though. You have to really show it. You can't hide that stuff. Does that make sense?
CD: I just love how Bob Marley and John Lennon and even Rage Against The Machine — I love how they were able to get that sh—t out there, you know? With "Fool's Paradise," it was definitely intentional that day, writing that. We were trying another song, and it just wasn't happening, and we kind of looked at each other like, "Let's f—king do something, something political." So, it just happened. It happened in like four hours.
CM: Performing live is still fairly new to you. How do you feel about touring and playing shows?
CD: Because we put so much work into this now, it's exciting to get out there and just see how people react, look them in the face, and see if it's working. Before our tour, our only connection with fans was Twitter, Instagram, and Facebook. It's great. The reactions are great on there, but you really don't know until you're face to face with people in a room to see if they're digging it or not. You can't forget an amazing performance.
PD: I think seeing somebody live can make you love them even more and want to listen to their music more, or you can feel the opposite way about it. I've gone to shows where I didn't even know the band that well, and then I become obsessed with them after seeing them live, and then I listen to their music all the time and follow their lives on social media just because a good performance can totally change everything. And I think it's important to put a face to the name and really see if the music translates well in real life.
CM: Speaking of social media, that's very much a part of the game now. It's a part of being an artist. What is your take on it and the responsibility that comes with it?
PD: I have two opinions about social media. It is what it is, and it comes with the job, and that's our generation. If you wanna stay relevant and gain fans, it's kind of what you have to do. I also think social media is interesting in that you're judged off how many followers and how many likes and how many comments and who's reacting to this type of photo with this filter…
CD: I have mixed feelings about it. It's obviously extremely important, but like Paige was saying, it can be weird. You wish as a musician that you could just be judged on your music.
PD: Don't get me wrong, I'm on Twitter all day long, and I'm on Instagram all day long, but it does get a little exhausting. But I like it because I feel like I have a thousand more friends that I get to talk to everyday. I talk to the fans more than I do my friends on a regular basis. I know their names, and I know where they're from.
CM: That's awesome! You're already seeing and doing so much from where you sit.
CD: At the end of the day, when you go see a band, and they blow you away, you're never going to forget that, and that's how we want to be.
PD: Yeah, there's a concert that Chase I went to five years ago that we still talk about. Five years ago! Of course, the production on that show was insane with lights and sets, and it was intense, but I hope one day down the line our live show, too, will be so spectacular that people will be talking about it for a long time.
Keep up with the latest on XYLØ at www.xylo-music.com.
Share your thoughts...