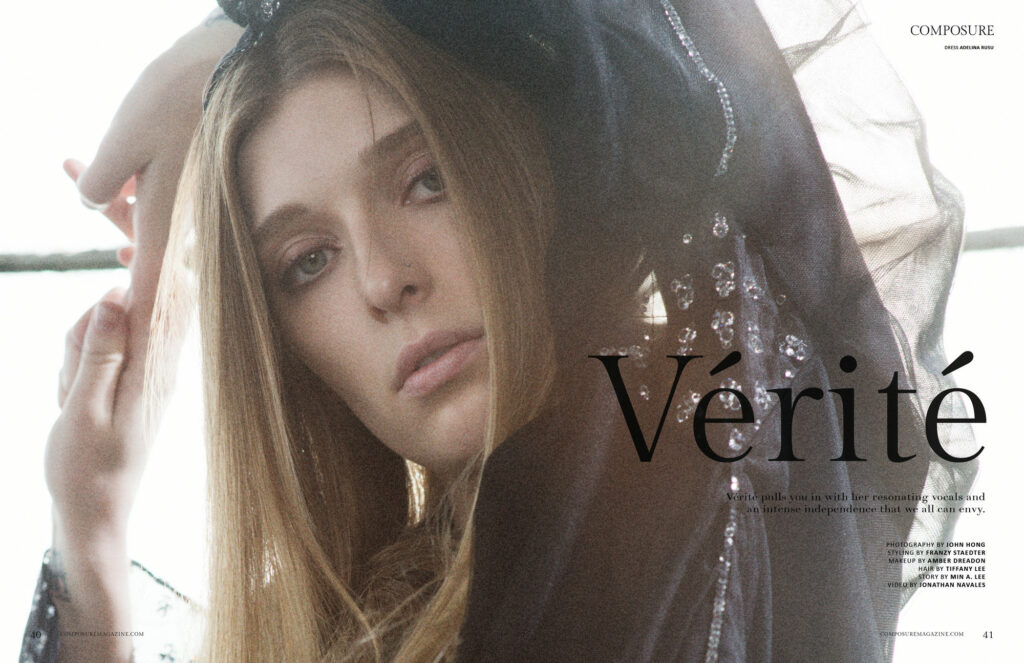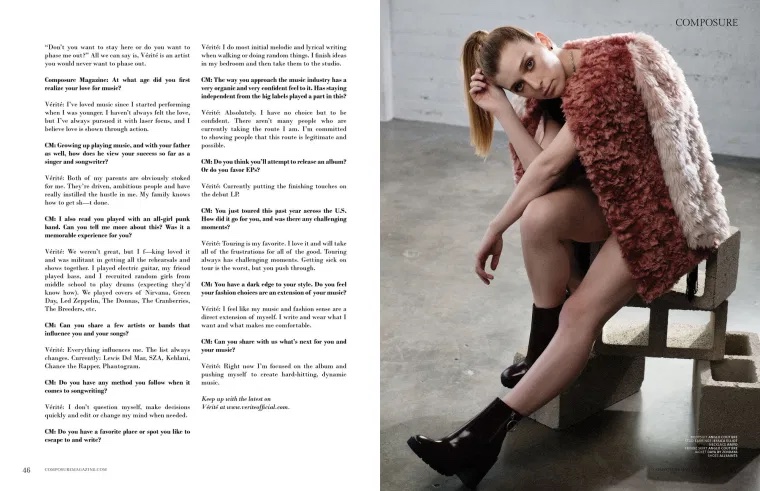 Vérité pulls you in with her resonating vocals and an intense independence that we all can envy.
If you haven't heard of Brooklyn-based artist Kelsey Byrne, who goes by the stage name Vérité, we recommend you look her up immediately. This indie pop artist continues to rise fast, and her YouTube views alone push over 3 million. While high numbers speak volumes, what makes Vérité stand out is her stance against joining a major record label. She is, after all, someone who has worked endless hours at Applebee's in Times Square for years, so it makes sense that Vérité would create music on her own terms and remain fiercely independent.
Being able to focus on her career without any limitations has led to a sound that we can't truly categorize as just pop. For us, Vérité should be her own genre. Watching her live performances as she floats from mic to mic, singing her own background vocals, we see how each note is crucial, showcasing her ability to navigate tricky pitches. And now that Vérité has just wrapped up a successful tour and multiple EPs ("Echo EP," "Sentient EP" and "Living EP"), we have her newly released 2017 single "Phase Me Out" on repeat, with its bold chorus weaving in and out, asking the question, "Don't you want to stay here or do you want to phase me out?" All we can say is, Vérité is an artist you would never want to phase out.
Composure Magazine: At what age did you first realize your love for music?
Vérité: I've loved music since I started performing when I was younger. I haven't always felt the love, but I've always pursued it with laser focus, and I believe love is shown through action.
CM: Growing up playing music, and with your father as well, how does he view your success so far as a singer and songwriter?
Vérité: Both of my parents are obviously stoked for me. They're driven, ambitious people and have really instilled the hustle in me. My family knows how to get sh—t done.
CM: I also read you played with an all-girl punk band. Can you tell me more about this? Was it a memorable experience for you?
Vérité: We weren't great, but I f—king loved it and was militant in getting all the rehearsals and shows together. I played electric guitar, my friend played bass, and I recruited random girls from middle school to play drums (expecting they'd know how). We played covers of Nirvana, Green Day, Led Zeppelin, The Donnas, The Cranberries, The Breeders, etc.
CM: Can you share a few artists or bands that influence you and your songs?
Vérité: Everything influences me. The list always changes. Currently: Lewis Del Mar, SZA, Kehlani, Chance the Rapper, Phantogram.
CM: Do you have any method you follow when it comes to songwriting?
Vérité: I don't question myself, make decisions quickly and edit or change my mind when needed.
CM: Do you have a favorite place or spot you like to escape to and write?
Vérité: I do most initial melodic and lyrical writing when walking or doing random things. I finish ideas in my bedroom and then take them to the studio.
CM: The way you approach the music industry has a very organic and very confident feel to it. Has staying independent from the big labels played a part in this?
Vérité: Absolutely. I have no choice but to be confident. There aren't many people who are currently taking the route I am. I'm committed to showing people that this route is legitimate and possible.
CM: Do you think you'll attempt to release an album? Or do you favor EPs?
Vérité: Currently putting the finishing touches on the debut LP.
CM: You just toured this past year across the U.S. How did it go for you, and was there any challenging moments?
Vérité: Touring is my favorite. I love it and will take all of the frustrations for all of the good. Touring always has challenging moments. Getting sick on tour is the worst, but you push through.
CM: You have a dark edge to your style. Do you feel your fashion choices are an extension of your music?
Vérité: I feel like my music and fashion sense are a direct extension of myself. I write and wear what I want and what makes me comfortable.
CM: Can you share with us what's next for you and your music?
Vérité: Right now I'm focused on the album and pushing myself to create hard-hitting, dynamic music.
Keep up with the latest on Vérité at www.veriteofficial.com.
Share your thoughts...