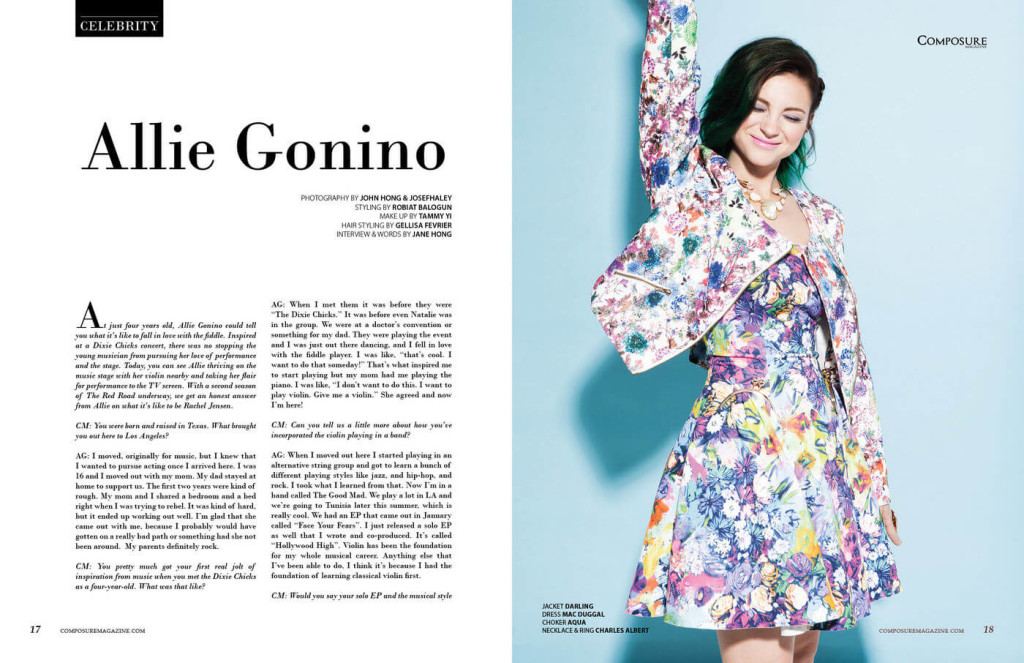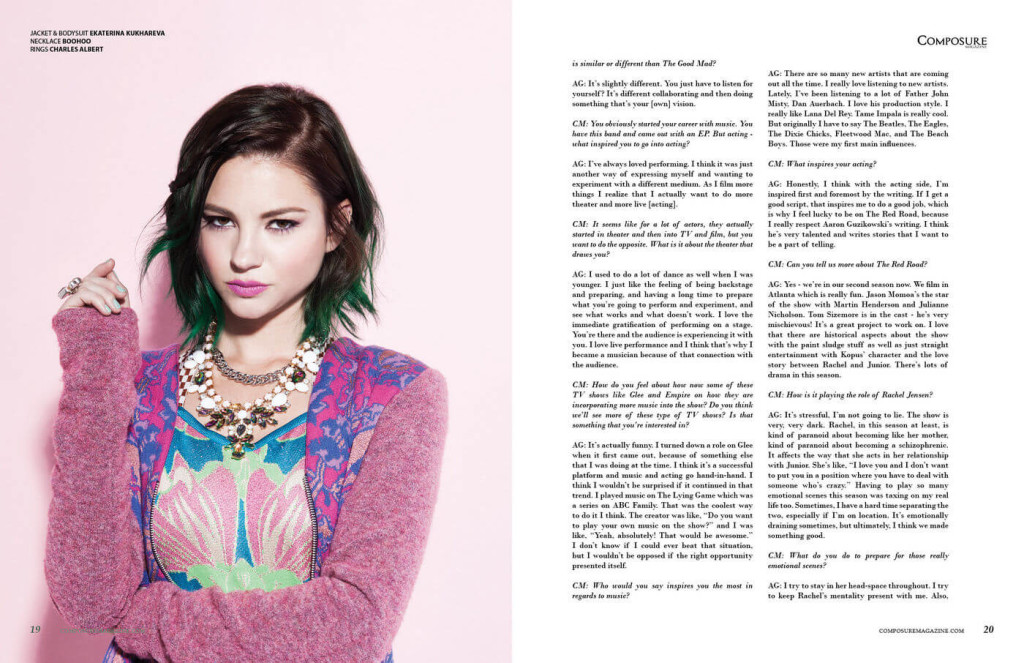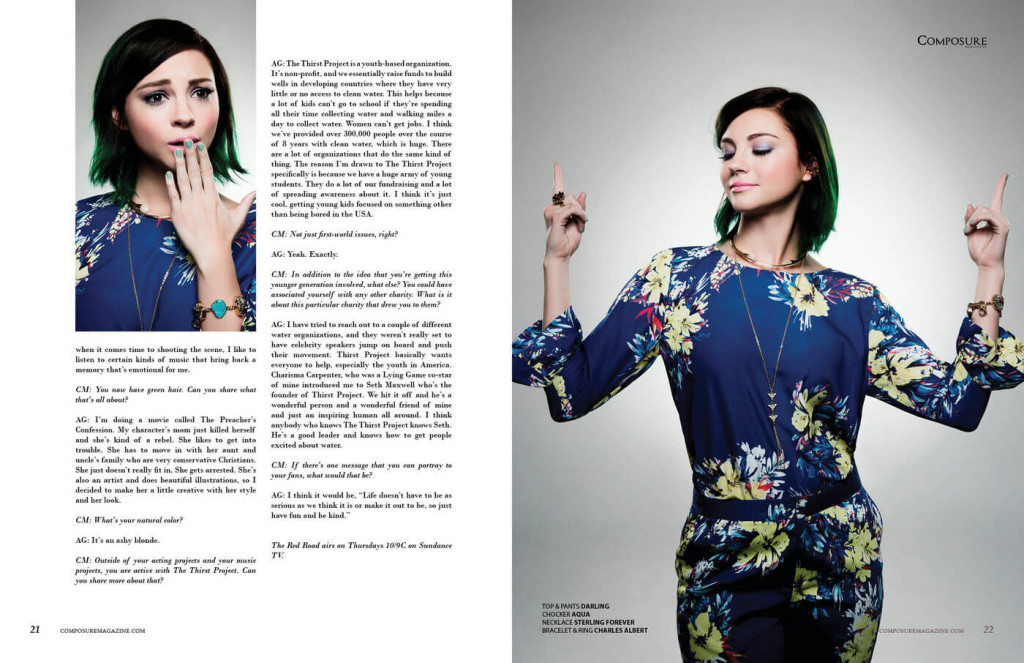 At just four years old, Allie Gonino could tell you what it's like to fall in love with the fiddle. Inspired at a Dixie Chicks concert, there was no stopping the young musician from pursuing her love of performance and the stage. Today, you can see Allie thriving on the music stage with her violin nearby and taking her flair for performance to the TV screen. With a second season of The Red Road underway, we get an honest answer from Allie on what it's like to be Rachel Jensen.
CM: You were born and raised in Texas. What brought you out here to Los Angeles?
AG: I moved, originally for music, but I knew that I wanted to pursue acting once I arrived here. I was 16 and I moved out with my mom. My dad stayed at home to support us. The first two years were kind of rough. My mom and I shared a bedroom and a bed right when I was trying to rebel. It was kind of hard, but it ended up working out well. I'm glad that she came out with me, because I probably would have gotten on a really bad path or something had she not been around. My parents definitely rock.
CM: You pretty much got your first real jolt of inspiration from music when you met the Dixie Chicks as a four-year-old. What was that like?
AG: When I met them it was before they were "The Dixie Chicks." It was before even Natalie was in the group. We were at a doctor's convention or something for my dad. They were playing the event and I was just out there dancing, and I fell in love with the fiddle player. I was like, "that's cool. I want to do that someday!" That's what inspired me to start playing but my mom had me playing the piano. I was like, "I don't want to do this. I want to play violin. Give me a violin." She agreed and now I'm here!
CM: Can you tell us a little more about how you've incorporated the violin playing in a band?
AG: When I moved out here I started playing in an alternative string group and got to learn a bunch of different playing styles like jazz, and hip-hop, and rock. I took what I learned from that. Now I'm in a band called The Good Mad. We play a lot in LA and we're going to Tunisia later this summer, which is really cool. We had an EP that came out in January called "Face Your Fears". I just released a solo EP as well that I wrote and co-produced. It's called "Hollywood High". Violin has been the foundation for my whole musical career. Anything else that I've been able to do, I think it's because I had the foundation of learning classical violin first.
CM: Would you say your solo EP and the musical style is similar or different than The Good Mad?
AG: It's slightly different. You just have to listen for yourself? It's different collaborating and then doing something that's your [own] vision.
CM: You obviously started your career with music. You have this band and came out with an EP. But acting – what inspired you to go into acting?
AG: I've always loved performing. I think it was just another way of expressing myself and wanting to experiment with a different medium. As I film more things I realize that I actually want to do more theater and more live [acting].
CM: It seems like for a lot of actors, they actually started in theater and then into TV and film, but you want to do the opposite. What is it about the theater that draws you?
AG: I used to do a lot of dance as well when I was younger. I just like the feeling of being backstage and preparing, and having a long time to prepare what you're going to perform and experiment, and see what works and what doesn't work. I love the immediate gratification of performing on a stage. You're there and the audience is experiencing it with you. I love live performance and I think that's why I became a musician because of that connection with the audience.
CM: How do you feel about how now some of these TV shows like Glee and Empire on how they are incorporating more music into the show? Do you think we'll see more of these type of TV shows? Is that something that you're interested in?
AG: It's actually funny. I turned down a role on Glee when it first came out, because of something else that I was doing at the time. I think it's a successful platform and music and acting go hand-in-hand. I think I wouldn't be surprised if it continued in that trend. I played music on The Lying Game which was a series on ABC Family. That was the coolest way to do it I think. The creator was like, "Do you want to play your own music on the show?" and I was like, "Yeah, absolutely! That would be awesome." I don't know if I could ever beat that situation, but I wouldn't be opposed if the right opportunity presented itself.
CM: Who would you say inspires you the most in regards to music?
AG: There are so many new artists that are coming out all the time. I really love listening to new artists. Lately, I've been listening to a lot of Father John Misty, Dan Auerbach. I love his production style. I really like Lana Del Rey. Tame Impala is really cool. But originally I have to say The Beatles, The Eagles, The Dixie Chicks, Fleetwood Mac, and The Beach Boys. Those were my first main influences.
CM: What inspires your acting?
AG: Honestly, I think with the acting side, I'm inspired first and foremost by the writing. If I get a good script, that inspires me to do a good job, which is why I feel lucky to be on The Red Road, because I really respect Aaron Guzikowski's writing. I think he's very talented and writes stories that I want to be a part of telling.
CM: Can you tell us more about The Red Road?
AG: Yes – we're in our second season now. We film in Atlanta which is really fun. Jason Momoa's the star of the show with Martin Henderson and Julianne Nicholson. Tom Sizemore is in the cast – he's very mischievous! It's a great project to work on. I love that there are historical aspects about the show with the paint sludge stuff as well as just straight entertainment with Kopus' character and the love story between Rachel and Junior. There's lots of drama in this season.
CM: How is it playing the role of Rachel Jensen?
AG: It's stressful, I'm not going to lie. The show is very, very dark. Rachel, in this season at least, is kind of paranoid about becoming like her mother, kind of paranoid about becoming a schizophrenic. It affects the way that she acts in her relationship with Junior. She's like, "I love you and I don't want to put you in a position where you have to deal with someone who's crazy." Having to play so many emotional scenes this season was taxing on my real life too. Sometimes, I have a hard time separating the two, especially if I'm on location. It's emotionally draining sometimes, but ultimately, I think we made something good.
CM: What do you do to prepare for those really emotional scenes?
AG: I try to stay in her head-space throughout. I try to keep Rachel's mentality present with me. Also, when it comes time to shooting the scene, I like to listen to certain kinds of music that bring back a memory that's emotional for me.
CM: You now have green hair. Can you share what that's all about?
AG: I'm doing a movie called The Preacher's Confession. My character's mom just killed herself and she's kind of a rebel. She likes to get into trouble. She has to move in with her aunt and uncle's family who are very conservative Christians. She just doesn't really fit in. She gets arrested. She's also an artist and does beautiful illustrations, so I decided to make her a little creative with her style and her look.
CM: What's your natural color?
AG: It's an ashy blonde.
CM: Outside of your acting projects and your music projects, you are active with The Thirst Project. Can you share more about that?
AG: The Thirst Project is a youth-based organization. It's non-profit, and we essentially raise funds to build wells in developing countries where they have very little or no access to clean water. This helps because a lot of kids can't go to school if they're spending all their time collecting water and walking miles a day to collect water. Women can't get jobs. I think we've provided over 300,000 people over the course of 8 years with clean water, which is huge. There are a lot of organizations that do the same kind of thing. The reason I'm drawn to The Thirst Project specifically is because we have a huge army of young students. They do a lot of our fundraising and a lot of spreading awareness about it. I think it's just cool, getting young kids focused on something other than being bored in the USA.
CM: Not just first-world issues, right?
AG: Yeah. Exactly.
CM: In addition to the idea that you're getting this younger generation involved, what else? You could have associated yourself with any other charity. What is it about this particular charity that drew you to them?
AG: I have tried to reach out to a couple of different water organizations, and they weren't really set to have celebrity speakers jump on board and push their movement. Thirst Project basically wants everyone to help, especially the youth in America. Charisma Carpenter, who was a Lying Game co-star of mine introduced me to Seth Maxwell who's the founder of Thirst Project. We hit it off and he's a wonderful person and a wonderful friend of mine and just an inspiring human all around. I think anybody who knows The Thirst Project knows Seth. He's a good leader and knows how to get people excited about water.
CM: If there's one message that you can portray to your fans, what would that be?
AG: I think it would be, "Life doesn't have to be as serious as we think it is or make it out to be, so just have fun and be kind."
The Red Road airs on Thursdays 10/9C on Sundance TV.
Allie Gonino on IMDB, Twitter, Instagram, and YouTube
PHOTOGRAPHY BY JOHN HONG & JOSEFHALEY
STYLING BY ROBIAT BALOGUN
MAKE UP BY TAMMY YI
HAIR STYLING BY GELLISA FEVRIER
INTERVIEW & WORDS BY JANE HONG
Share your thoughts...