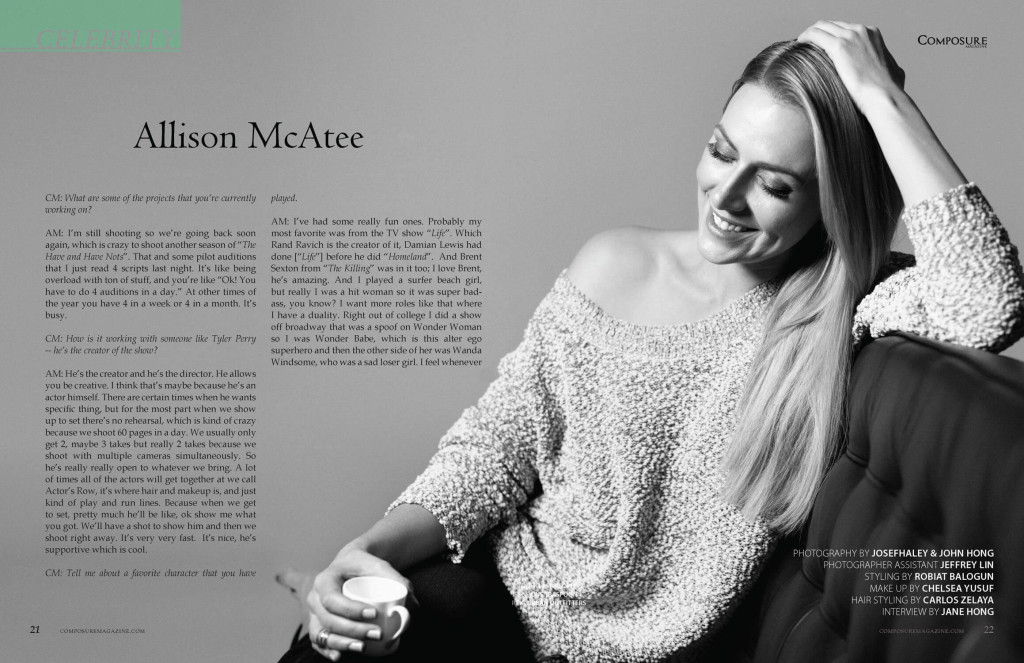 Allison McAtee
CM: What are some of the projects that you're currently working on?
AM: I'm still shooting so we're going back soon again, which is crazy to shoot another season of "The Have and Have Nots". That and some pilot auditions that I just read 4 scripts last night. It's like being overload with ton of stuff, and you're like "Ok! You have to do 4 auditions in a day." At other times of the year you have 4 in a week or 4 in a month. It's busy.
CM: How is it working with someone like Tyler Perry — he's the creator of the show?
AM: He's the creator and he's the director. He allows you be creative. I think that's maybe because he's an actor himself. There are certain times when he wants specific thing, but for the most part when we show up to set there's no rehearsal, which is kind of crazy because we shoot 60 pages in a day. We usually only get 2, maybe 3 takes but really 2 takes because we shoot with multiple cameras simultaneously. So he's really really open to whatever we bring. A lot of times all of the actors will get together at we call Actor's Row, it's where hair and makeup is, and just kind of play and run lines. Because when we get to set, pretty much he'll be like, ok show me what you got. We'll have a shot to show him and then we shoot right away. It's very very fast. It's nice, he's supportive which is cool.
CM: Tell me about a favorite character that you have played.
AM: I've had some really fun ones. Probably my most favorite was from the TV show "Life". Which Rand Ravich is the creator of it, Damian Lewis had done ["Life"] before he did "Homeland". And Brent Sexton from "The Killing" was in it too; I love Brent, he's amazing. And I played a surfer beach girl, but really I was a hit woman so it was super bad-ass, you know? I want more roles like that where I have a duality. Right out of college I did a show off broadway that was a spoof on Wonder Woman so I was Wonder Babe, which is this alter ego superhero and then the other side of her was Wanda Windsome, who was a sad loser girl. I feel whenever there are roles that require duality, those are the things that I book and I love. I was a French spy who was really a Long Island housewife. Stuff like that.
CM: What would be your dream role then?
AM: Probably something like a period piece. I'm obsessed with "American Horror Story" first of all. I had actually written a web series awhile ago and worked on it with a friend. It is our baby project on the back burner. But it feels like American Horror story and what I love about that TV show is that the characters are rooted in a core that's them, but then every season it's something new which is so cool. And I don't think there are more shows like that. That's the thing about getting on a show; it's great, it's consistent. But you're that person and you are continually that person. So I love the idea of a show that's like "American Horror Story" where from season to season your story changes or your world changes and you may have some rooted connections with other actors from the former seasons but they change into something else. And I guess if I had to be specific about what kind of role or project, there's the new Marvel show that came out, "Agent Carter", and I like superheroes, I like spies, I like noir like very dark. I want to have a little gun in my stocking and be running some kind of underground FBI scheme. But set in the 40's or some other really cool time period where I get to wear really great dresses and do really great hair-dos because that's always an exciting aspect of acting.
CM: What do you do when you're not working or acting?
AM: I love to do hot yoga. Brikram but also hot, there's another one — Modo. Which is not as strict. Like, Brikram is very regimented…you only do these poses…so the Modo deviates from that a little bit. I love to hike, which it's awesome in LA. There's so many places to go hiking. And I also paint. I oil paint, although my dad did just gifted me acrylic paint for Christmas, which don't tell him, I don't like them as much because they dry more quickly. It'll be a challenge for me because I'll start working on a painting and I'll work on it for 8 months to a year. There's one that I've been working on for even longer than that. With oil you can do that because it doesn't dry so you can keep going back to it, but with acrylic you have to be definitive. Maybe it's like I need to be more definitive. It'll force me to tidy it up and accomplish this cool work of art and move on to the next one. And I cook. That's kind of a big thing too.
LEFT PAGE
CUT OUT TOP MISSGUIDED
LAYERED SKIRT YUMI KATSURA
JEWELRY MARRIN COSTELLO
SHOES AMI CLUBWEAR
RIGHT PAGE
BEADED DRESS NEEDLE & THREAD
JEWELRY MARRIN COSTELLO
PHOTOGRAPHY BY JOSEFHALEY & JOHN HONG
PHOTOGRAPHER ASSISTANT JEFFREY LIN
STYLING BY ROBIAT BALOGUN
MAKE UP BY CHELSEA YUSUF
HAIR STYLING BY CARLOS ZELAYA
INTERVIEW BY JANE HONG
Share your thoughts...