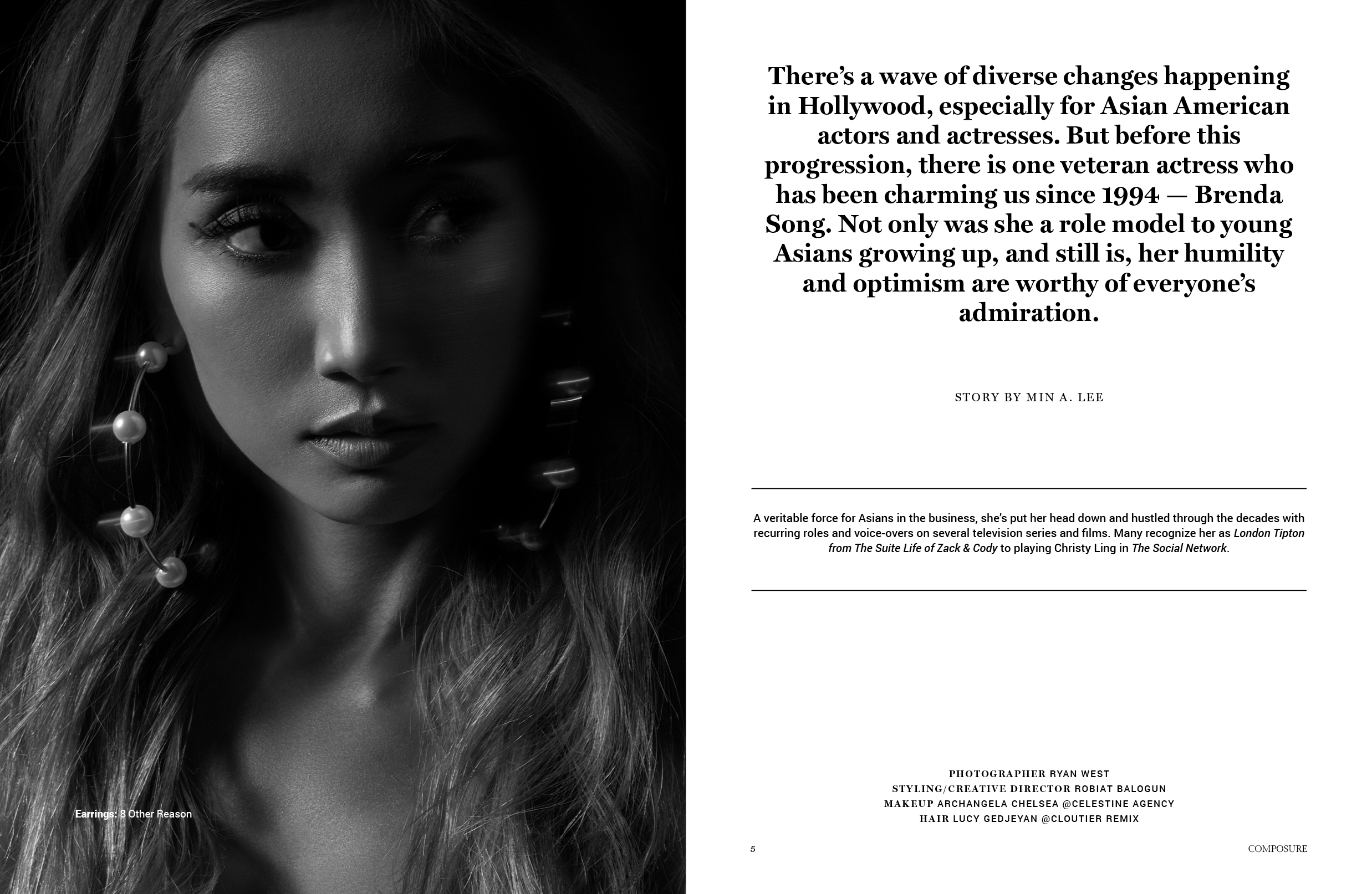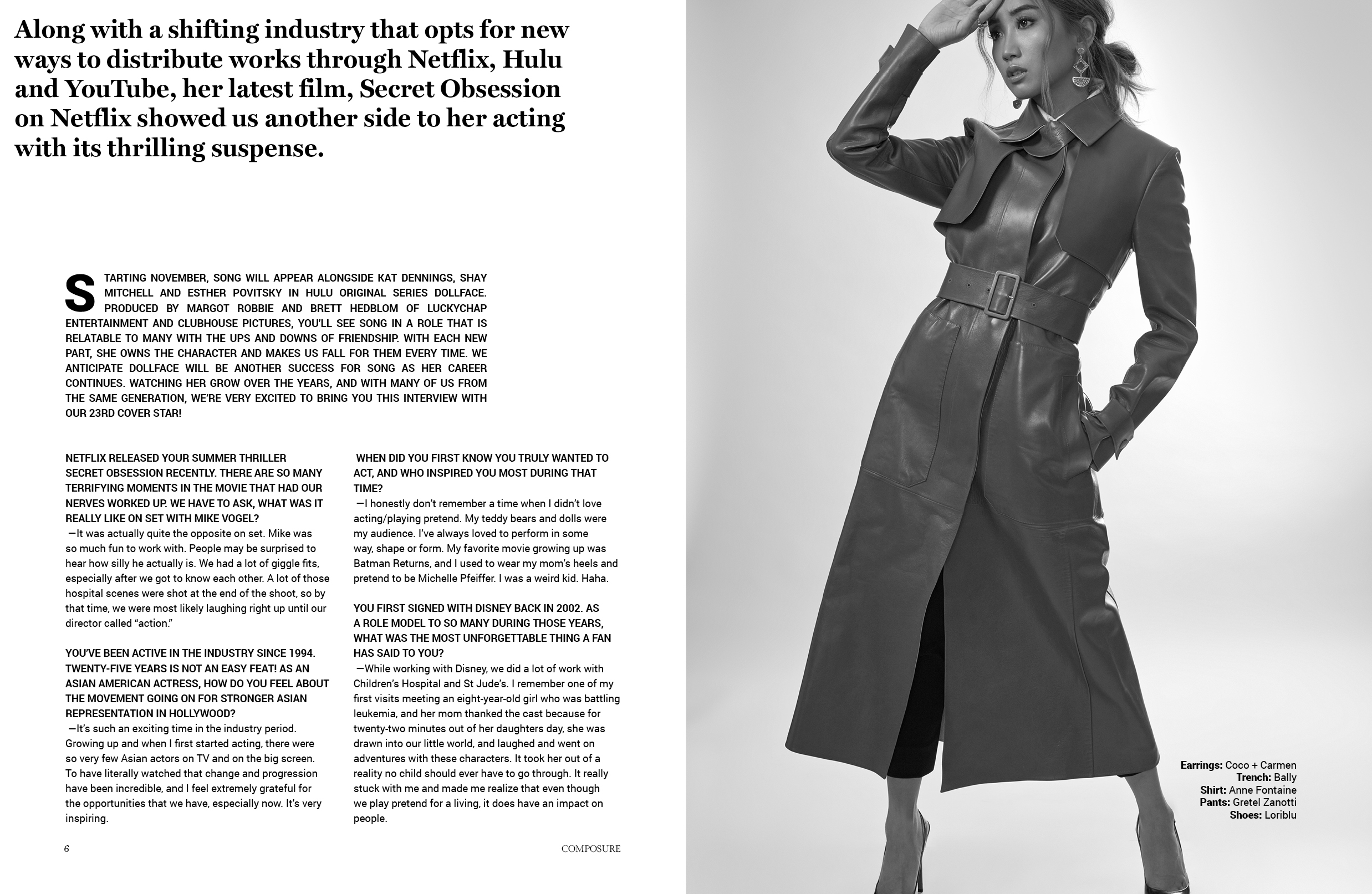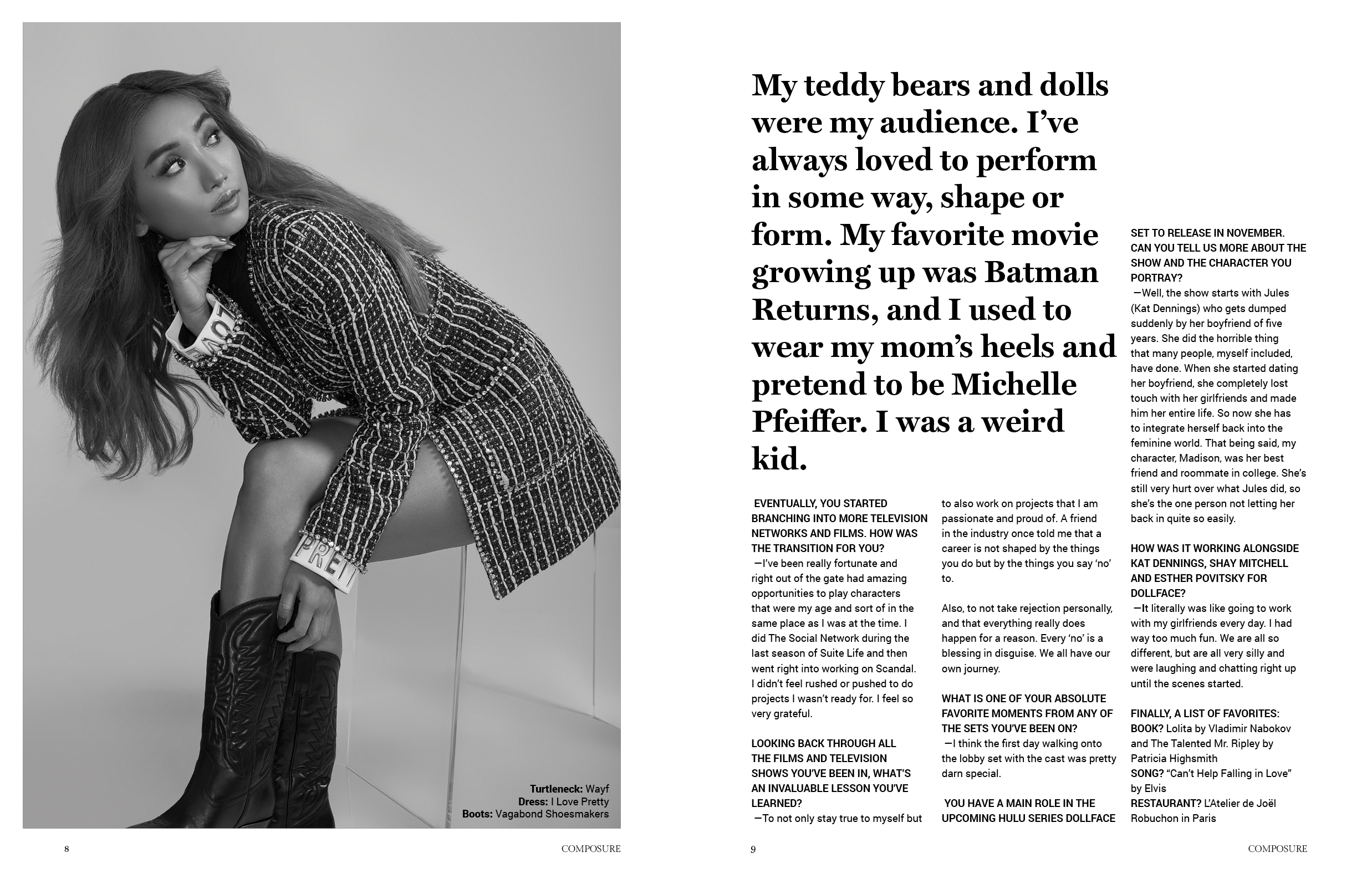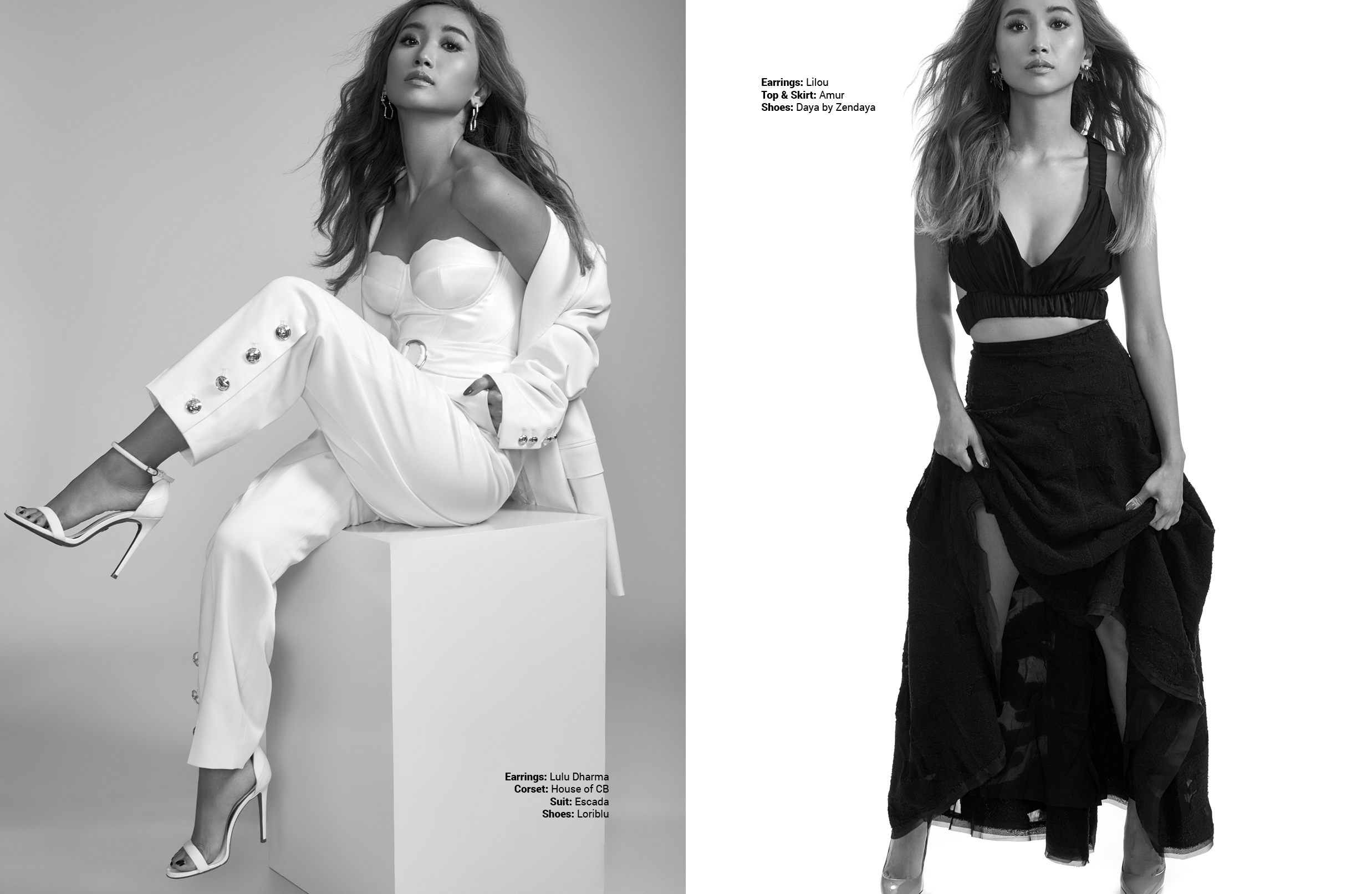 PHOTOGRAPHY BY RYAN WEST
CREATIVE DIRECTOR & STYLING BY ROBIAT BALOGUN
MAKEUP BY ARCHANGELA CHELSEA FOR CELESTINE AGENCY
HAIR BY LUCY GEDJEYAN FOR CLOUTIER REMIX
STORY BY MIN A. LEE
There's a wave of diverse changes happening in Hollywood, especially for Asian American actors and actresses. But before this progression, there is one veteran actress who has been charming us since 1994 — Brenda Song. Not only was she a role model to young Asians growing up, and still is, her humility and optimism are worthy of everyone's admiration.  
A veritable force for Asians in the business, she's put her head down and hustled through the decades with recurring roles and voice-overs on several television series and films. Many recognize her as London Tipton from The Suite Life of Zack & Cody to playing Christy Ling in The Social Network. Along with a shifting industry that opts for new ways to distribute works through Netflix, Hulu and YouTube, her latest film, Secret Obsession on Netflix showed us another side to her acting with its thrilling suspense.  
Starting November, Song will appear alongside Kat Dennings, Shay Mitchell and Esther Povitsky in Hulu Original series Dollface. Produced by Margot Robbie and Brett Hedblom of LuckyChap Entertainment and Clubhouse pictures, you'll see Song in a role that is relatable to many with the ups and downs of friendship. With each new part, she owns the character and makes us fall for them every time. We anticipate Dollface will be another success for Song as her career continues. Watching her grow over the years, and with many of us from the same generation, we're very excited to bring you this interview with our 23rd cover star!  
Netflix released your summer thriller Secret Obsession recently. There are so many terrifying moments in the movie that had our nerves worked up. We have to ask, what was it really like on set with Mike Vogel? 
It was actually quite the opposite on set. Mike was so much fun to work with. People may be surprised to hear how silly he actually is. We had a lot of giggle fits, especially after we got to know each other. A lot of those hospital scenes were shot at the end of the shoot, so by that time, we were most likely laughing right up until our director called "action." 
You've been active in the industry since 1994. Twenty-five years is not an easy feat! As an Asian American actress, how do you feel about the movement going on for stronger Asian representation in Hollywood? 
It's such an exciting time in the industry period. Growing up and when I first started acting, there were so very few Asian actors on TV and on the big screen. To have literally watched that change and progression have been incredible, and I feel extremely grateful for the opportunities that we have, especially now. It's very inspiring. 
When did you first know you truly wanted to act, and who inspired you most during that time?   
I honestly don't remember a time when I didn't love acting/playing pretend. My teddy bears and dolls were my audience. I've always loved to perform in some way, shape or form. My favorite movie growing up was Batman Returns, and I used to wear my mom's heels and pretend to be Michelle Pfeiffer. I was a weird kid. Haha. 
You first signed with Disney back in 2002. As a role model to so many during those years, what was the most unforgettable thing a fan has said to you? 
While working with Disney, we did a lot of work with Children's Hospital and St Jude's. I remember one of my first visits meeting an eight-year-old girl who was battling leukemia, and her mom thanked the cast because for twenty-two minutes out of her daughters day, she was drawn into our little world, and laughed and went on adventures with these characters. It took her out of a reality no child should ever have to go through. It really stuck with me and made me realize that even though we play pretend for a living, it does have an impact on people. 
Eventually, you started branching into more television networks and films. How was the transition for you?   
I've been really fortunate and right out of the gate had amazing opportunities to play characters that were my age and sort of in the same place as I was at the time. I did The Social Network during the last season of Suite Life and then went right into working on Scandal. I didn't feel rushed or pushed to do projects I wasn't ready for. I feel so very grateful.  
Looking back through all the films and television shows you've been in, what's an invaluable lesson you've learned? 
To not only stay true to myself but to also work on projects that I am passionate and proud of. A friend in the industry once told me that a career is not shaped by the things you do but by the things you say 'no' to.  
Also, to not take rejection personally, and that everything really does happen for a reason. Every 'no' is a blessing in disguise. We all have our own journey. 
What is one of your absolute favorite moments from any of the sets you've been on?   
I think the first day walking onto the lobby set with the cast was pretty darn special. 
You have a main role in the upcoming Hulu series Dollface set to release in November. Can you tell us more about the show and the character you portray? 
Well, the show starts with Jules (Kat Dennings) who gets dumped suddenly by her boyfriend of five years. She did the horrible thing that many people, myself included, have done. When she started dating her boyfriend, she completely lost touch with her girlfriends and made him her entire life. So now she has to integrate herself back into the feminine world. That being said, my character, Madison, was her best friend and roommate in college. She's still very hurt over what Jules did, so she's the one person not letting her back in quite so easily. 
How was it working alongside Kat Dennings, Shay Mitchell and Esther Povitsky for Dollface? 
It literally was like going to work with my girlfriends every day. I had way too much fun. We are all so different, but are all very silly and were laughing and chatting right up until the scenes started. 
Finally, a list of favorites: 
Book? Lolita by Vladimir Nabokov and The Talented Mr. Ripley by Patricia Highsmith 
Song? "Can't Help Falling in Love" by Elvis 
Restaurant? L'Atelier de Joël Robuchon in Paris 
Vacation spot? My House—Haha 
Fashion brand? This is hard, but probably R13 
Share your thoughts...