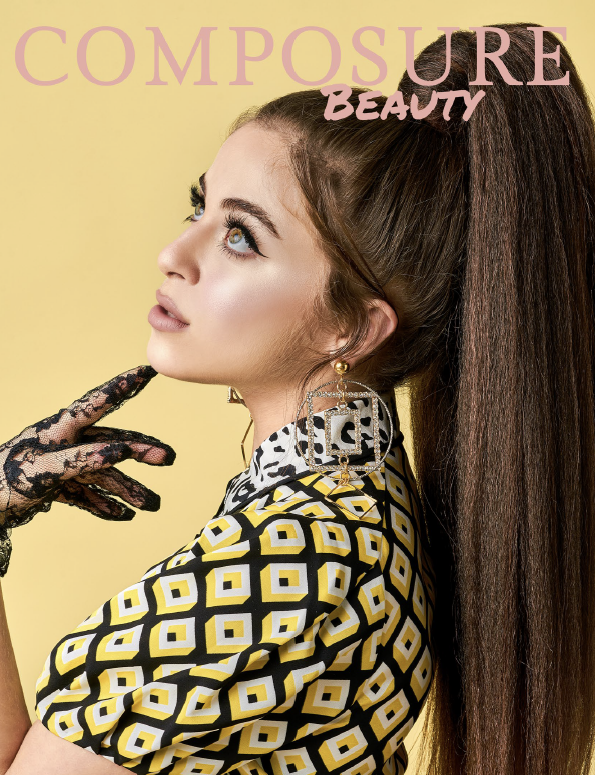 PHOTOGRAPHY BY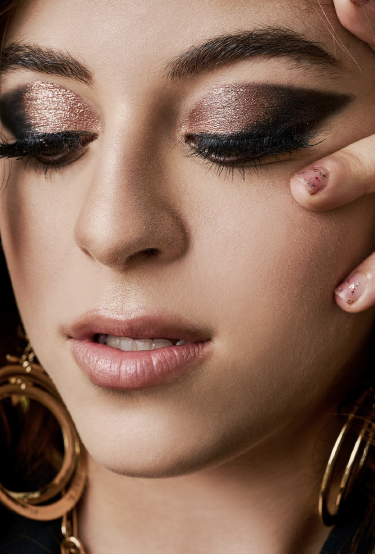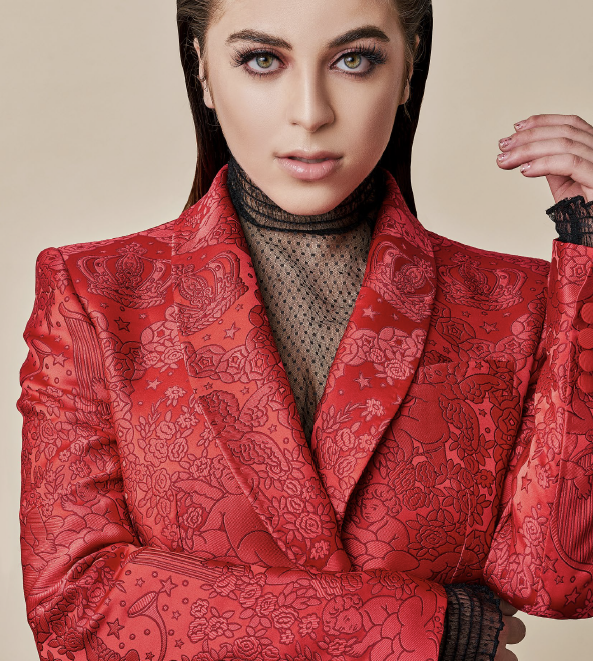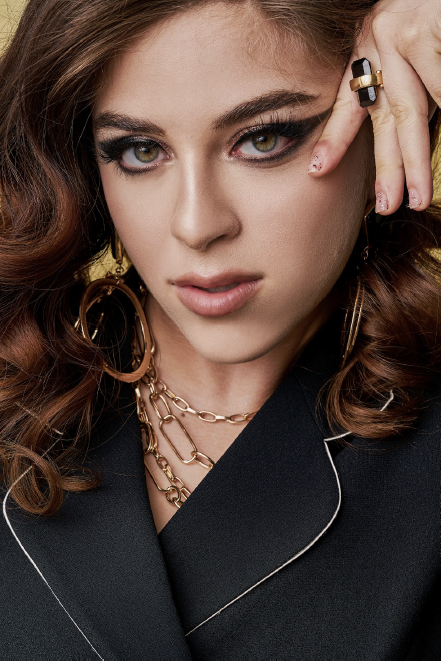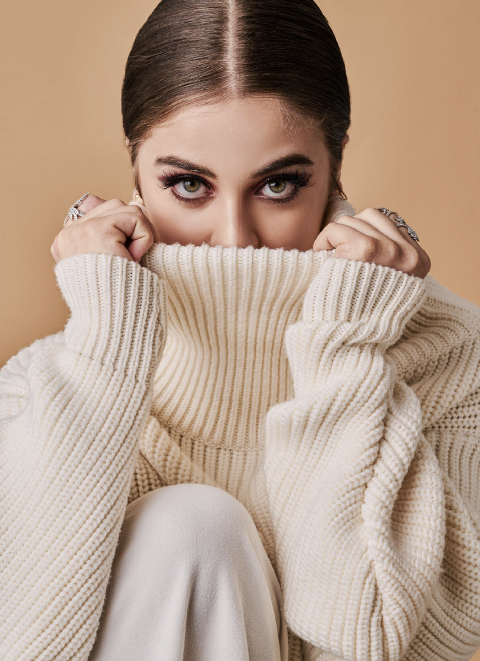 MAKEUP BY ARCHANGELA CHELSEA
HAIR BY RENÉ CORTEZ
STYLING BY ROBIAT BALOGUN
WRITTEN BY MIN A. LEE
Composure: To start, we want to congratulate you on your debut movie role in Bixler High Private Eye for Nickelodeon! How excited are you? Can you share with us how it felt to be on your very first film set?
Ariel Martin: It was unbelievable! I loved every minute of it. First of all, Jace (Norman) is hysterical. So, much of the time, we were just cracking up being silly and goofy. I'm so thankful to have his friendship and that he was there through my first feature—it made it really easy and fun. Our director, Leslie (Kolins Small) was also amazing. She made it very comfortable for us. And Nickelodeon was so incredibly supportive. I loved working with them and the crew.
C: We're in love with your newest single, "Gucci On My Body." From Musical.ly (now known as TikTok) to being a recording artist, how has this transition been for you?
AM: Thank you! It has been so cool. Music has always been such a part of my life, so for me, it is part of the reason I fell in love with Musical.ly in the first place. I started playing the piano when I was a little girl, and my dad is a songwriter, so it felt very natural to work with other writers and get into the studio and record.
C: As your popularity surged, what were some of the difficulties you faced and had to overcome?
AM: The first thing that was really hard and weird was the cyber-bullying. It was hard reading all of these horrible things people would write about me—people who didn't even know me. I've learned to mostly tune that stuff out. As a result, part of what drives me is the desire to inspire other kids to be proud of themselves and stand up for themselves and tune out hate. The other thing that's been weird is that so many people are so quick to judge and be dismissive of me as a recording artist or actor or creator. It's as if because I gained an audience on an app, I'm not allowed or shouldn't try to put music out or pursue other interests. I find that really strange. My whole life I've acted and been around music, and I don't feel that just because I happened to gain a following in social media, I shouldn't be able to pursue other things that I'm passionate about or enjoy.
C: Your book Dreaming Out Loud is out now! How does it feel to have it on shelves and your fans connecting to you through your words?
AM: It feels amazing. Something I've always loved doing is going to bookstores looking for great poetry collections or novels or psychology books. So to be able to walk into my favorite bookstore and see my own book on store shelves is almost beyond my wildest dreams, and to know that my supporters are able to get a deeper connection into my heart and thoughts means so much.
C: Let's get into some beauty questions, who first taught you about skincare and makeup?
AM: Haha! I would say my mom, but she would tell you herself that she doesn't know what she's doing when it comes to makeup! However, she has taught me a lot about skincare and making sure that I treat my skin right. For makeup, like a lot of kids, I've watched YouTube videos and have been lucky to work with some really good makeup artists who always share their tips with me.
C: Can you share with us some quick tips for easy daytime looks?
AM: You're a natural beauty, so you don't need to do anything at all! If I want just a little flair while I'm running out the door, I'll do a little mascara and lip gloss—that's it! For a pop of color, I might dab a little blush on my cheekbones.
C: What's the one skincare product you absolutely can't live without?
AM: Moisturizer! 100%. I'm not very picky about which one, but I can't be without moisturizer.
C: How about your favorite cosmetic brands?
AM: I love Neutrogena. They make great skincare products that are really affordable and easy to get anywhere. As far as cosmetics, nothing beats Tarte. They're kind of a luxury brand, and I am always impressed with their quality. I've also found that a lot of everyday brands like CoverGirl and Maybelline work just fine. I think it's best to find what works on your skin and go with that. There's no need to spend a fortune on cosmetics.
C: Can you give us a rundown of your nightly skin routine?
AM: Ugh—I'm like the last person to ask because I'm super low maintenance with my skin care! So if I have makeup on, I use a makeup remover wipe. Then I use a gentle cleanser to scrub my face. Neutrogena makes an acne proofing one that I like, and then I moisturize. Every once in a while, I might do a mask.
C: Do you have a favorite beauty influencer you follow?
AM: Miranda Sings of course!!!! I adore Colleen, so any chance I get I sing her praises. Kidding aside, I have a few I love and admire. Patrick Starrr is super sweet. We did a YouTube collab and I just absolutely loved meeting him and working with him. He was in the music video for "Aww" and was so generous with his time and energy. I also love James Charles. I know him personally—he is as direct in person as he is online, but he's honest, real, and fun. And one you have to look out for is my roommate, Matthew RC Taylor. He's still developing his skills, but he's going to be great.
C: Finally, what's coming up next for Ariel Martin?
AM: I've got a few things that I'm really excited about. First, of course, is my Nickelodeon movie, Bixler High Private Eye, which comes out early 2019. Then, I've recorded some songs that I'm super proud about. They show a different side of me—a little more reflective. I can't wait to put them out. I'm also really focused on being involved in the concept for the music videos, so it'll be fun to make those. And lastly, I'm developing a script that I'm excited to produce. So hopefully, you'll see a movie that I was involved in developing on the screen soon!
Share your thoughts...