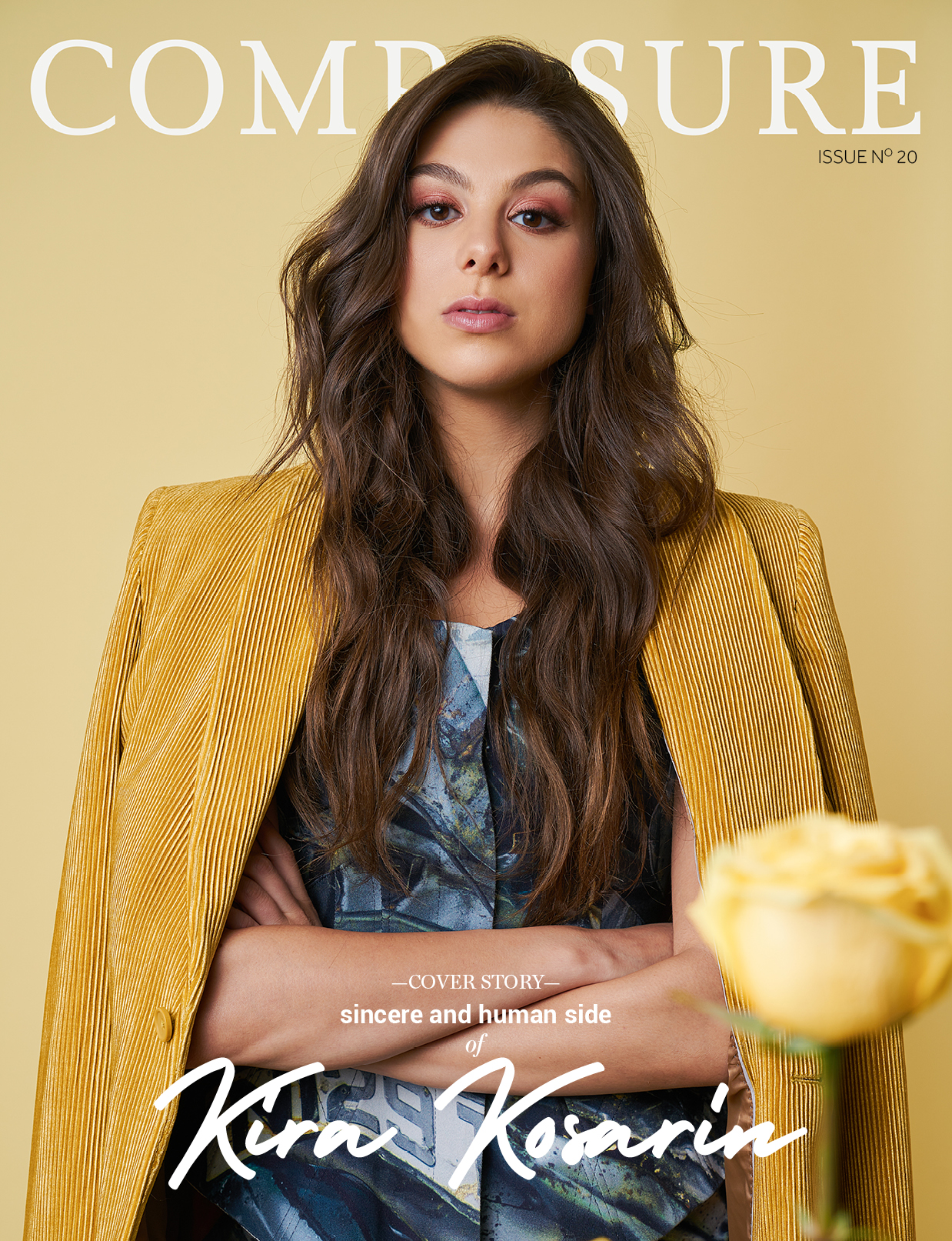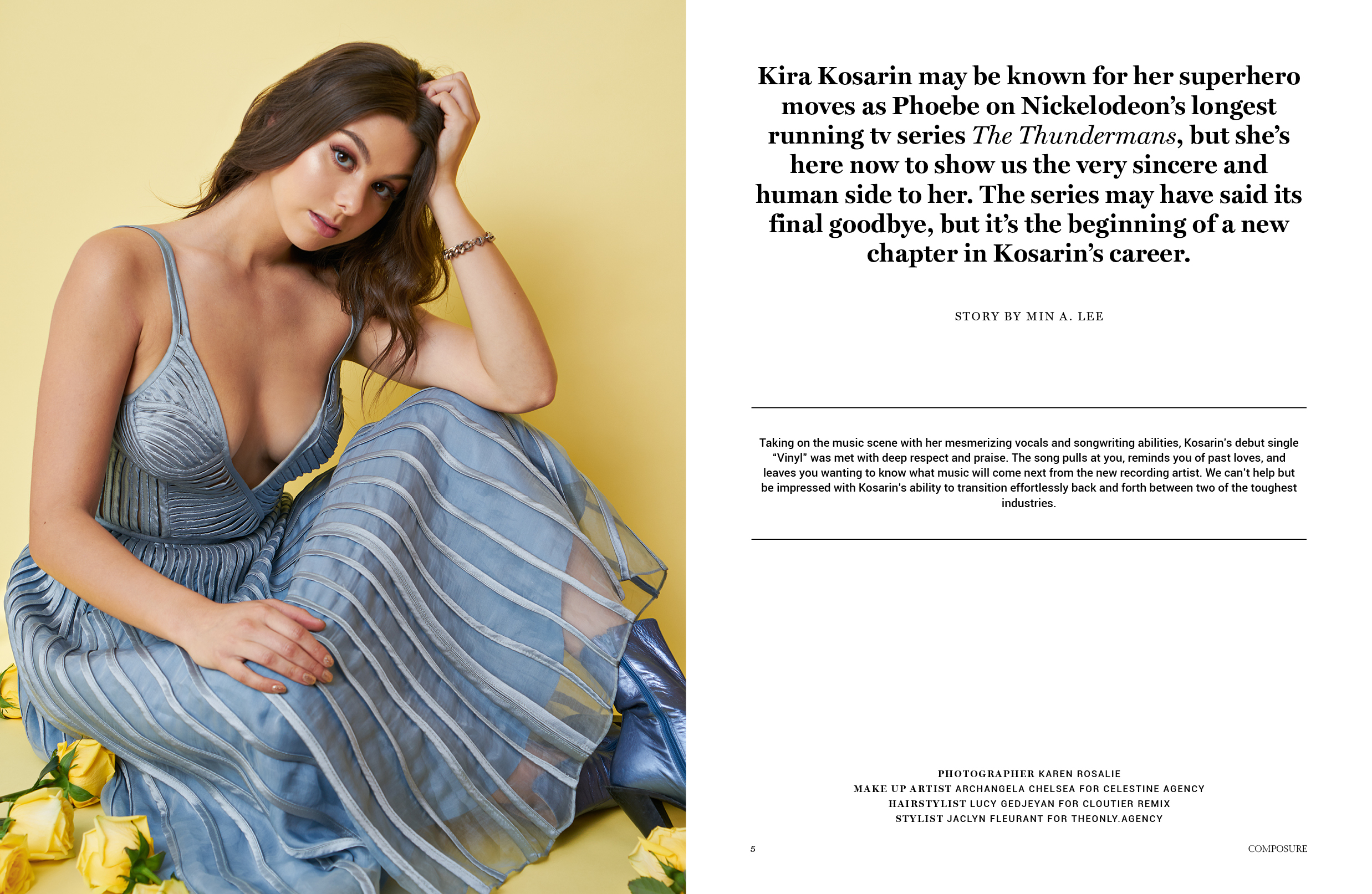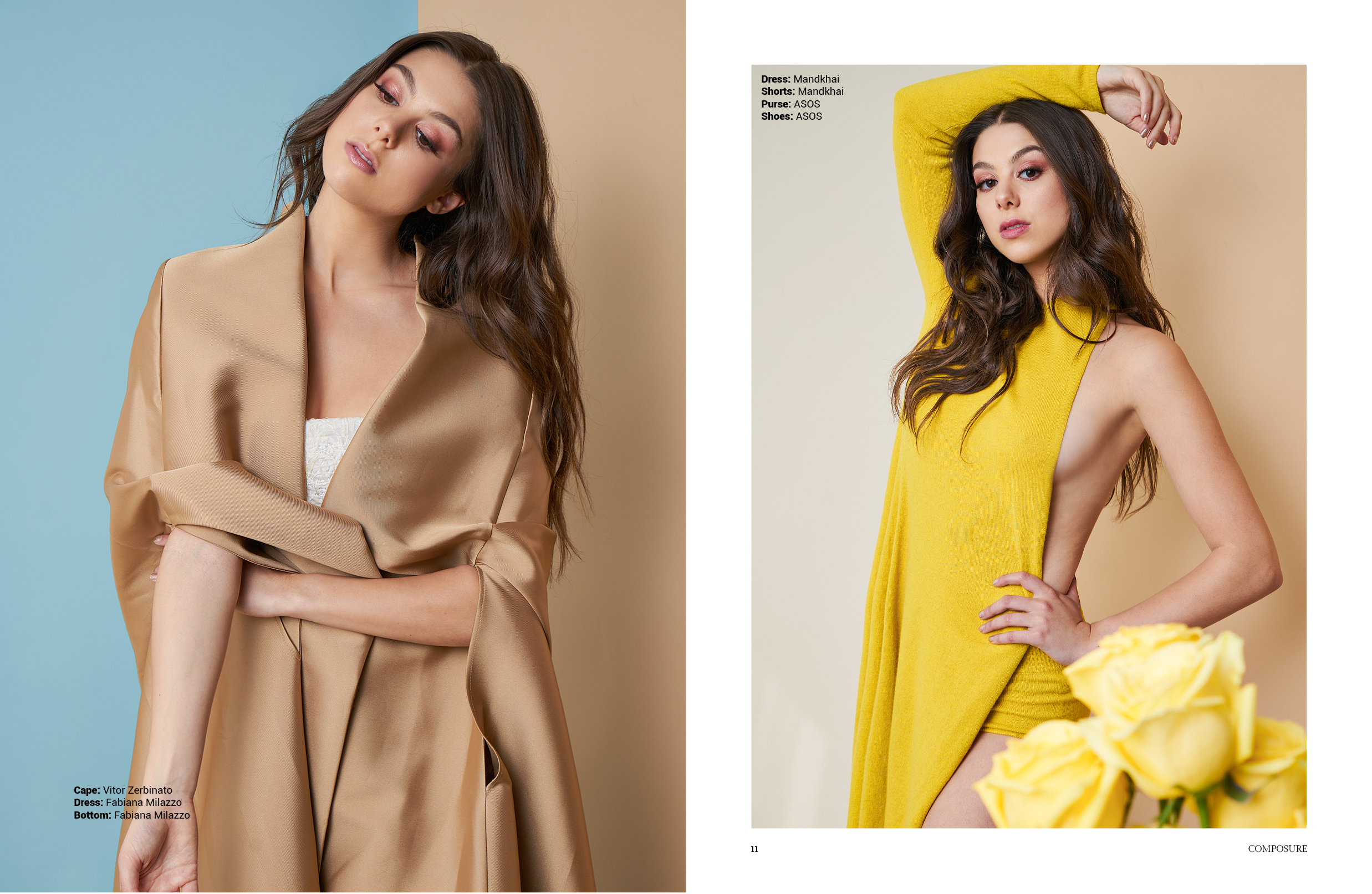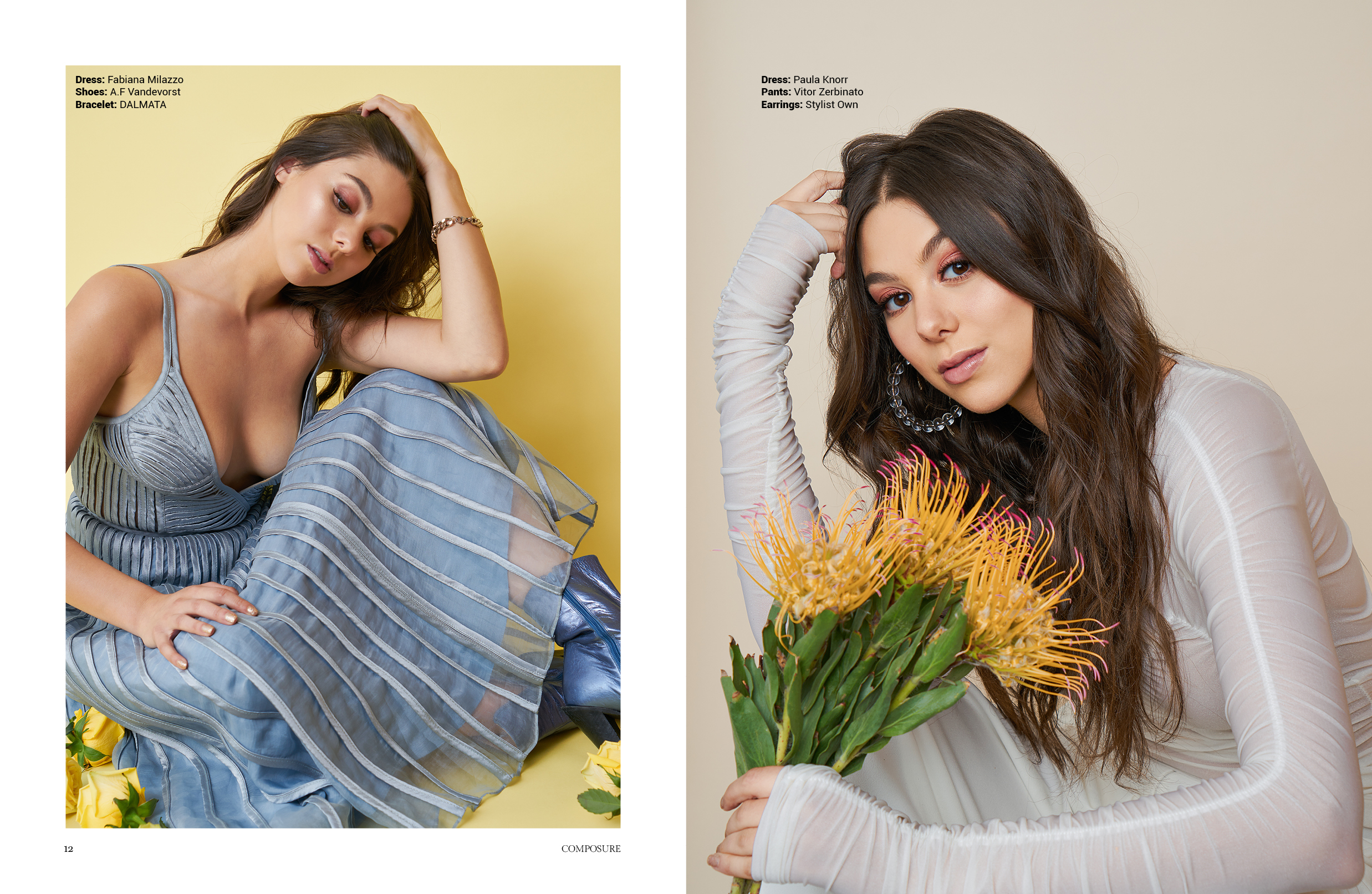 STORY BY MIN. A. LEE 
PHOTOGRAPHY BY KAREN ROSALIE
MAKEUP BY ARCHANGELA CHELSEA FOR CELESTINE AGENCY
HAIR BY LUCY GEDJEYAN FOR CLOUTIER REMIX
STYLING BY JACLYN FLEURANT FOR THE ONLY.AGENCY
Kira Kosarin may be known for her superhero moves as Phoebe on Nickelodeon's longest running tv series The Thundermans, but she's here now to show us the very sincere and human side to her. The series may have said its final goodbye, but it's the beginning of a new chapter in Kosarin's career.
Taking on the music scene with her mesmerizing vocals and songwriting abilities, Kosarin's debut single "Vinyl" was met with deep respect and praise. The song pulls at you, reminds you of past loves, and leaves you wanting to know what music will come next from the new recording artist. We can't help but be impressed with Kosarin's ability to transition effortlessly back and forth between two of the toughest industries.
For our 20th issue, Kosarin shares with us more on her journey from a young teen actress to a self-confident woman—no cape, no mask, no disguises.
Composure Magazine: Looking back, what were some of the most valuable lessons you learned while working on Nickelodeon's The Thundermans?
Kira Kosarin: I learned how big the world is, and how much smaller it feels when you travel the world. I am grateful to Nickelodeon for all the incredible experiences I had while doing international promo for the show.
CM: How does it feel to shed the image of Phoebe and share more of yourself with the world?
KK: It's a relief to be able to share myself in a more authentic way, even if it does open me up to a lot more criticism. People are very used to a preconceived notion of who I am or rather who I was as a young teen on television.
CM: Some fans have struggled with the image change, but your response to this was exceptional! How important is it for young celebrities to address these issues right away?
KK: Thank you! To be honest, I'm not sure there is a right way. Some people choose to ignore the public commentary, which I think is an equally valid response. Some people engage with anger, which I don't feel is productive, but I also understand why some people take attacks personally (especially when they hit an existing insecurity).
I feel like I owe a lot to the people who've supported me over the years. I feel a sort of responsibility to address their fears, but I do so with firm confirmation that I am determined to live my adult life as I see fit and without fear of judgment from people who don't know me personally.
Public perception aside, I'm making every move in my life and career based on what feels genuinely representative of my personality, my artistry, and the things that are important to me. That feels like the best way for me to operate right now.
On Music
CM: Your focus is shifting to music right now. Congratulations on the release of your new single "Vinyl"—how does it feel to have it out and available?
KK: Thank you! It's really nice to have it out, especially since I wrote it 3 years ago. Now that the lead single is out, it means the rest of the singles and album are coming really soon, which is the most exciting part for me. My second single "Love Me Like You Hate Me" dropped February 15th. Also, my next singles are "47 Hours" releasing on March 8th and "Take This Outside" on March 29th.
CM: What were some of your favorite moments during the music video filming?
KK: My favorite moment was filming the slow-motion lip syncing shots. I had to sing the song at double speed. It was so fun and so ridiculous. It cracked us all up.
CM: Can you share with us your current musical influences?
KK: I have so many. My current musical influences are Frank Ocean, Billie Eilish, Kehlani, HER, Bryson Tiller, Masego, SZA, Mac Miller, Nao, Rex Orange County, Ariana Grande, Jeremy Zucker, Alina Baraz, Jhené Aiko, Sabrina Claudio, 6lack, Kendrick Lamar, Blackbear…I could keep going, but you get the gist.
CM: Even though your first couple singles released recently, you've been songwriting for years. Will there be an album release soon?
KK: Yes. The full album Off Brand is coming out on April 10th. I'm releasing years' worth of music throughout this next year across multiple projects. I'm really excited to finally share what I've been working hard on for so long.
CM: How has music helped share more of who Kira Kosarin is?
KK: This first project, in particular, is very personal as it speaks to a specific time of transition in my life. Songwriting is my diary, and it really shares my deepest, darkest, most honest thoughts. It's also a very mature approach to life, one that I've kept hidden for a while. I still have a lot more sides of me to share, but it's all one step at a time.
CM: Your parents are incredibly talented in music as well! What's the best advice they've given you so far?
KK: If it doesn't scare you to share your art, it's not worth it. The most influential art is honest and real.
The Future
CM: Going back to acting a bit, can you share with us any projects in the works right now?
KK: Yes! I have a few projects coming out this year including a few TV guest spots, an animated film, and an indie. Music has definitely been my main focus since wrapping Thundermans, but I'm keeping busy on the acting side as well.
CM: As your acting progresses, what roles do you hope to land next?
KK: I'd love to lead a romantic comedy. They were my favorite movies growing up.
CM: To end with, how about a quick favorite five:
Food?
KK: Literally everything. I could eat sushi every day though.
Clothing brand?
KK: Designer Philipp Plein is my favorite. Day-to-day I like LF, I Am Gia, Urban Outfitters, Topshop—anything Adidas or Fila. I'm big on the athleisure. I pick most of my outfits based on my ability to spontaneously nap in them (especially in the studio—comfy clothes only).
Eyeshadow?
KK: No specific brand, but I love shimmery gold, champagne, and burgundy.
Coffee?
KK: If I'm home, Kona coffee made in my French press with steamed almond milk and sugar and a sprinkle of cinnamon. If I'm running around, a Starbucks Grande Almond Milk Latte with Cinnamon Dolce Syrup. 
Book?
KK: Right now? I am reading Becoming, Michelle Obama.
Share your thoughts...