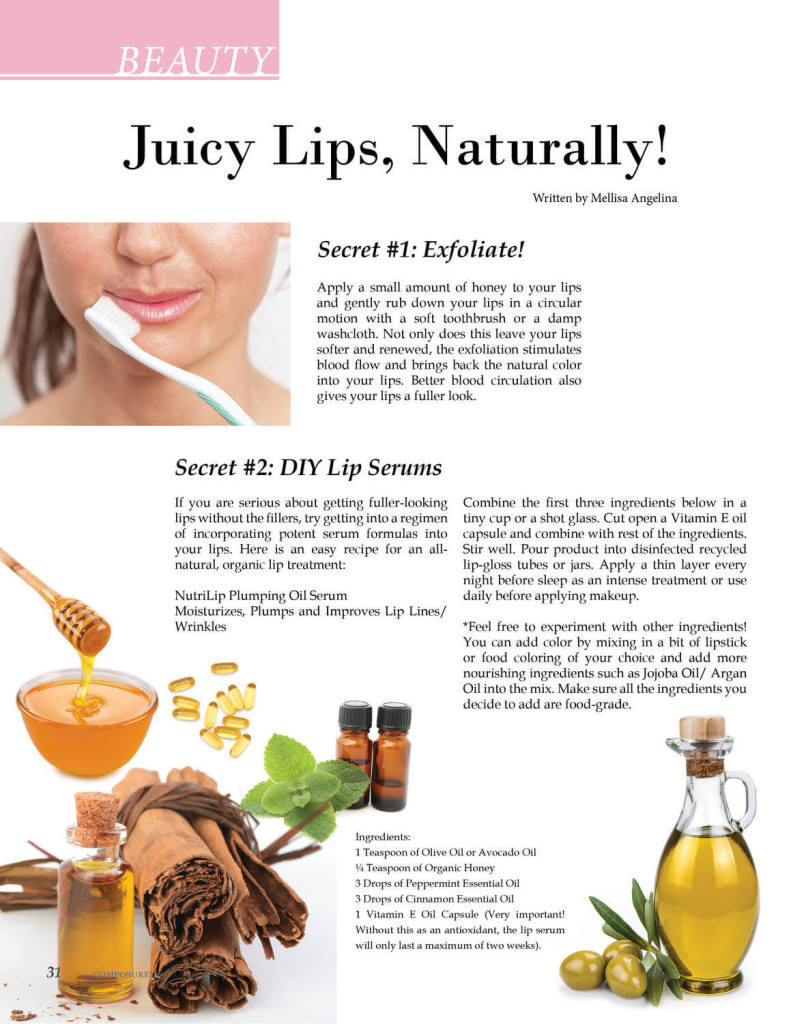 Written by Mellisa Angelina
Secret #1: Exfoliate!
Apply a small amount of honey to your lips and gently rub down your lips in a circular motion with a soft toothbrush or a damp washcloth. Not only does this leave your lips softer and renewed, the exfoliation stimulates blood flow and brings back the natural color into your lips. Better blood circulation also gives your lips a fuller look.
Secret #2: DIY Lip Serums
If you are serious about getting fuller-looking lips without the fillers, try getting into a regimen of incorporating potent serum formulas into your lips. Here is an easy recipe for an all-natural, organic lip treatment:
NutriLip Plumping Oil Serum
Moisturizes, Plumps and Improves Lip Lines/ Wrinkles
Ingredients:
1 Teaspoon of Olive Oil or Avocado Oil
¼ Teaspoon of Organic Honey
3 Drops of Peppermint Essential Oil
3 Drops of Cinnamon Essential Oil
1 Vitamin E Oil Capsule (Very important! Without this as an antioxidant, the lip serum will only last a maximum of two weeks).
Combine the first three ingredients below in a tiny cup or a shot glass.
Cut open a Vitamin E oil capsule and combine with rest of the ingredients. Stir well.
Pour product into disinfected recycled lip-gloss tubes or jars.
Apply a thin layer every night before sleep as an intense treatment or use daily before applying makeup.
*Feel free to experiment with other ingredients! You can add color by mixing in a bit of lipstick or food coloring of your choice and add more nourishing ingredients such as Jojoba Oil/ Argan Oil into the mix. Make sure all the ingredients you decide to add are food-grade.
Secret #3:  Cayenne Pepper + Lip gloss
We were skeptical at first, but a tiny bit of cayenne pepper into your lip gloss goes a long way. We put a tiny smidge into our old pinkish nude gloss (make sure you're not allergic or sensitive to cayenne pepper) and used the applicator to stir up the mixture well. The result? A frugal and effective lip plumper! Cayenne pepper also contains high amounts of Vitamin C and is great to have in our diet to speed up metabolism (a bonus for those "accidental" lip-licking between meals and kisses).
Secret #4: Lip Yoga
Whistling, pursing your lips up and down, and sucking your cheekbones to create fishy faces might seem silly, but they are indeed real exercises that women around the world used in the olden days to enhance their lips without surgery. This actually makes sense since lips are a collection of muscles that can be strengthened and trained. So what are you waiting for? Get those lips to work!
Share your thoughts...