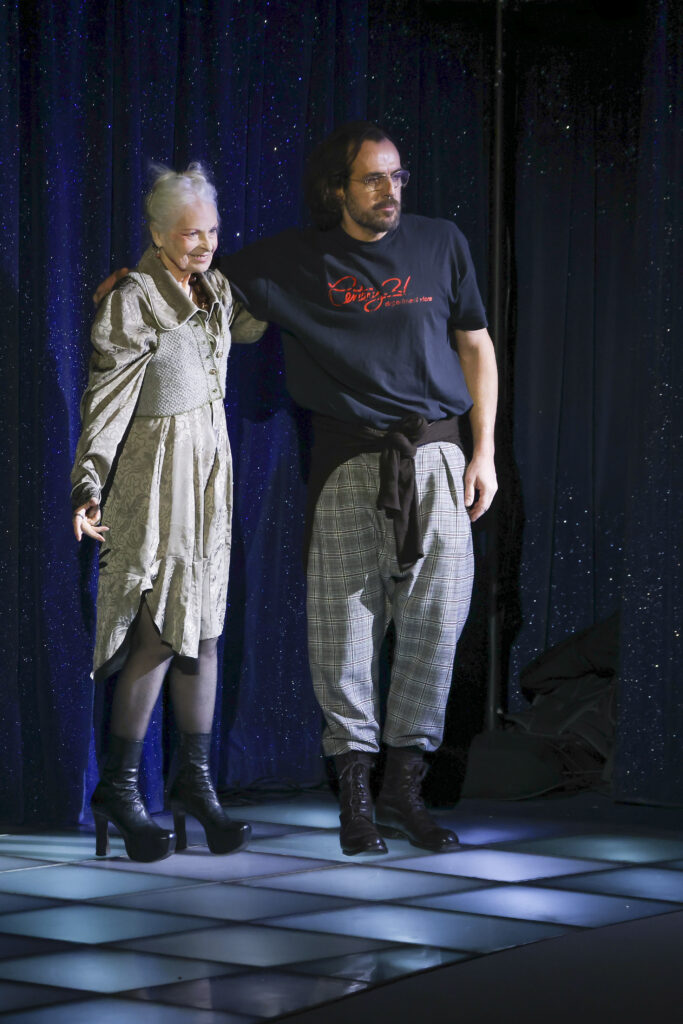 Andreas Kronthaler for Vivienne Westwood, an Ode to Love to Save the World
The Fall 2022 show by Andreas Kronthaler for Vivienne Westwood could be described in several ways, but the one that comes closest to what the show gave me was love. Love for oneself and for others. Love that illuminates and sweeps away the shadows. Love that wins over hate.
But what I need to say is that if you want to see a real fashion show, then Andreas Kronthaler for Vivienne Westwood is the only one able to serve you a real and iconic one. Kronthaler takes us inside La Nouvelle Eve, one of Paris's oldest and most elegant revue theaters, built in 1898. But for this collection, Kronthaler takes a step forward, focusing on himself and letting out his true soul, his essence, his love for himself.
Looking for an answer to the question "Who is Andreas Kronthaler?" the designer wanted to get naked, focusing on his person. He sought the center within himself, not relying on Dame Westwood or other people but simply showing Andreas to everyone.
The collection is dedicated to the theater and the world of art, focusing on the extraordinary importance of culture and how the various artistic forms are vehicles of personal expression without censorship or judgments. For Kronthaler and many others with him, the theater must be protected. In the theater, dreams and free expressions are born; it is a source of beauty that is not purely physical but more interior. It is a journey within ourselves, and the clothes themselves become an expression of this freedom and our interiority. Through our way of dressing, we can convey our emotions and feelings, whatever they are, and it is absolutely wrong to try to always associate with a single style. We don't wake up the same every day, and we have the freedom to be able to express it. One day we feel punk, one day a 50s diva, one day rebellious, and the next sophisticated—who said we must necessarily relegate ourselves to a box of a certain style?
As stated by Kronthaler, the collection had as its starting point a sacred icon of the virgin, crowned by a perfect beauty, with her hair resting on a golden cloak adorned with large brocade flowers holding the baby wrapped in swaddling clothes. The fabrics are opulent but soft with gold, red, blue, turquoise, purple, and yellow satin embroidered and covered with lace. For them, Kronthaler was inspired by Saint Sara, the patroness of gypsies.
Vivienne Westwood, in some prints, wanted to interpret this phrase, looking at the moon: "oh you are as adorable as a bud born from a cloud, with the infinite blue above and below the water clear, rippled by waves and waves" and Kronthaler asked Westwood to decorate some pieces of the collection with their old Christmas decorations.
Love is everywhere.
Behind each garment, there is immense tailoring work, and each garment is fluid and genderless; always in a sustainable perspective, the materials used are cruelty-free, low impact, and materials from previous collections are also used. Tracksuits, ruffles, caped hoodies, checked coats are in the most particular colors and prints to remind us of the beauty of life, but Kronthaler also takes us by the hand to see the other side of the coin, that is, the bleak and the dark. The bride is dressed in black and on the catwalk appear models wrapped in gray and black tones.
The finale sees Kronthaler's homage to Vivienne Westwood, and here I reflect even more that Love is a saving power.
I leave La Nuvelle Eve with a few tears that I try to fight back. The power of Love that I felt overwhelmed me. The beauty of the collection, and Andreas's ability to convey emotions with his garments, are indescribable. The feeling between Vivienne Westwood and Andreas Kronthaler makes me hope that we can get out of the darkness we have fallen into.
See the full collection in our upcoming 34th issue!
Share your thoughts...