For today's giveaway, we bring you Mad & Ovel's COGU! One lucky winner will get both 1 Cogu Brewing Kit (Holiday Gift Wrapped) and 1 Bag of Cogu, perfect for holiday giving! To know why Cogu is the new go-to beverage for the new year and learn how to enter to win, read on below!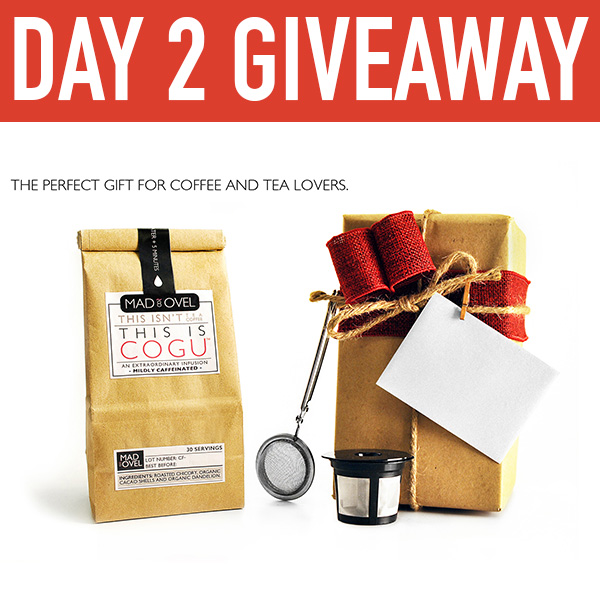 WHAT IS COGU?
An infusion, much like coffee or tea, but just so very special. It is made with 3 simple and great ingredients: Guayusa leaves (which provide a very special caffeine, no jitters, no crashing, just gentle balanced energy), Roasted Chicory and Cacao Shells. It makes absolutely delicious lattes, espressos, cappuccinos, etc,. Iced cogu is pretty damn good too!
PROPERTIES
COGU is loaded with antioxidants and the ingredients used end up being a health bomb in the form of a delicious mildly caffeinated drink ! The ingredients in COGU provide vitamins and minerals including zinc, magnesium, manganese, calcium, iron folic acid, and potassium, as well as vitamins A, B6, C, E, and K., They boost the immune system and reduces risk of cardiovascular disease. It's effective in reducing levels of bad cholesterol in the body and aids in the digestive processes. 
WHAT DOES IT TASTE LIKE ? 
When we set out to create this new caffeinated option for the world to enjoy, we aimed to create a blend that when brewed would have an exceptional balance of smokiness, natural sweetness and earthiness, perfectly rounded by hints of cacao. COGU tastes and smells like something you've had before, but actually, you never have. COGU will brew beautifully in any brewing device you have at home or at the office. 
UPDATE – This giveaway is now closed. Thank you for participating!
TO ENTER THIS GIVEAWAY:
1) Visit Mad & Ovel's site and peruse around – leave a comment here below telling us how you would drink COGU!
2) Subscribe to Composure Magazine (updates on more giveaways and releases?? Yes please!).
One winner will receive 1 Cogu Brewing Kit (Holiday Gift Wrapped) and 1 Bag of Cogu . Winner will be selected on Dec 31st at 11:59PM PST. **U.S. residents only** 
Share your thoughts...