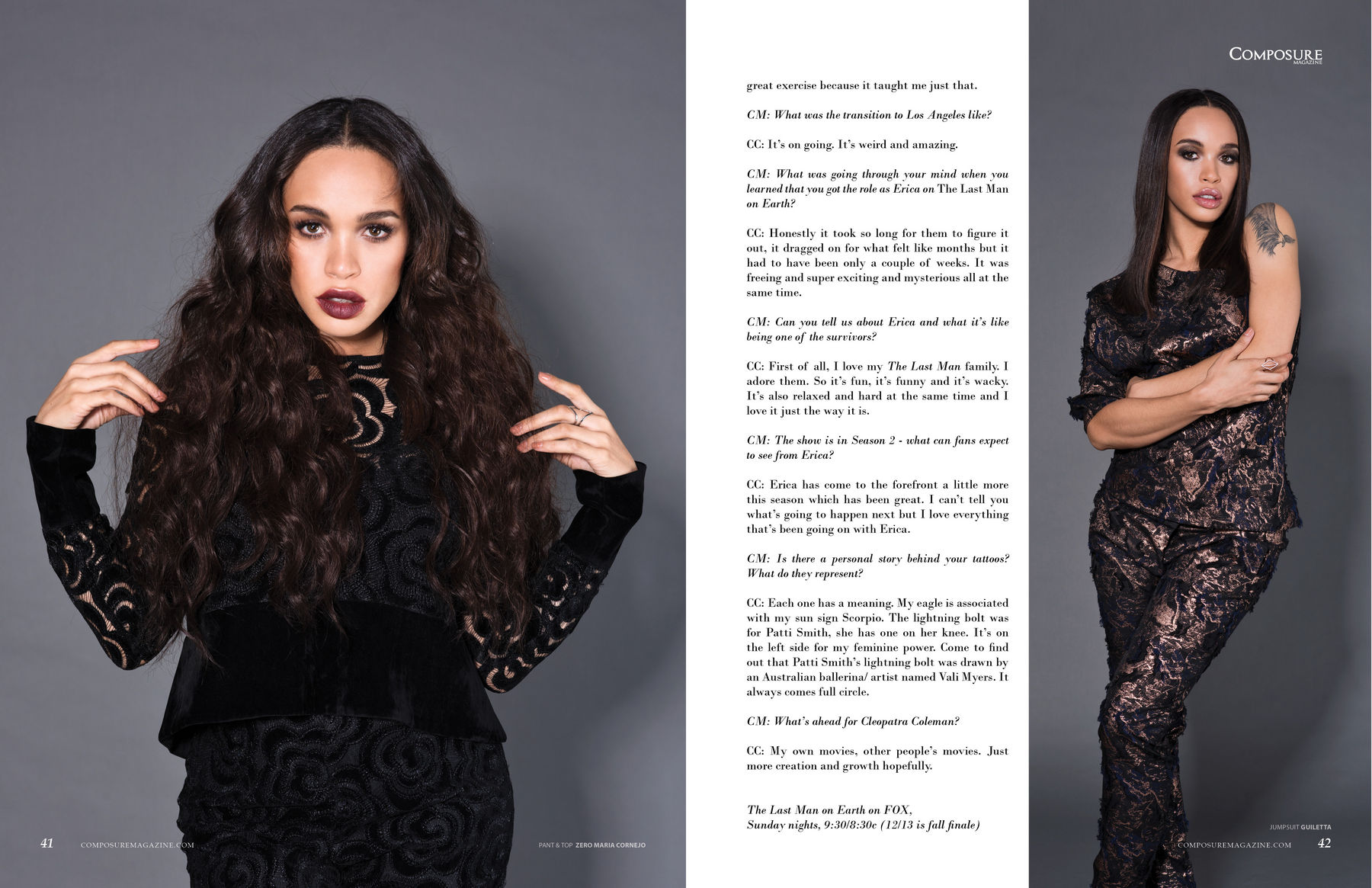 Cleopatra Coleman
Cleopatra Coleman is an actress, a dancer and an aspiring DJ. Currently playing Erica on FOX's The Last Man on Earth, Cleo is a multi-talented artist with a bright future ahead. She has worked on franchise films such as Step Up: Revolution and been featured in music videos of internationally famed Nervo and Far East Movement.
CM: Dancing has been an adventure that started at the age of 4 for you. What compelled you to want ballet lessons? Did the fact that your mother was also a dancer have any influence?
CC: I think it was a family friend. She was in ballet and I went to a class with her. It was just a kiddie class where we learned a dance to "Under the Sea" from The Little Mermaid, but I was hooked. Pardon the pun.
CM: What was it like to work on Step Up: Revolution as your first big screen film?
CC: It was the first big budget project I had been a part of. Before that it was much smaller Australian stuff, so it was great to be a part of a big spectacle where the city would close off streets for us, it was fun. It felt like showbiz! Also my first time in Miami. Also my first time being part of an existing franchise that had a lot of very enthusiastic fans. It also leads me to DJing. I love when a role teaches you a new skill, if you let it.
CM: You later earned features in music videos with artists like Nervo and Far East Movement – do you hope to do more collaborations like these?
CC: Absolutely. There are so many different mediums to express my art these days and music videos can definitely be a part of that.
CM: What inspired to go into acting?
CC: I think that as a dancer I was always looking for ways to stretch myself and acting was the next extension from dance. The all immersive performance. I was always the actress of the dancers anyway. Even before I was into dance I had a dramatic flair and would interpret things as a performance for my parents and their friends. Looking back now I think it was my best form of communication. It's always been natural to me. Almost automatic.
CM: How did working on "Trains" with your father influence your development as an actor?
CC: My dad encouraged me to take part in making our own film to show me how to get a project from the page to the editing room and finished. It was a great exercise because it taught me just that.
CM: What was the transition to Los Angeles like?
CC: It's on going. It's weird and amazing.
CM: What was going through your mind when you learned that you got the role as Erica on The Last Man on Earth?
CC: Honestly it took so long for them to figure it out, it dragged on for what felt like months but it had to have been only a couple of weeks. It was freeing and super exciting and mysterious all at the same time.
CM: Can you tell us about Erica and what it's like being one of the survivors?
CC: First of all, I love my The Last Man family. I adore them. So it's fun, it's funny and it's wacky. It's also relaxed and hard at the same time and I love it just the way it is.
CM: The show is in Season 2 – what can fans expect to see from Erica?
CC: Erica has come to the forefront a little more this season which has been great. I can't tell you what's going to happen next but I love everything that's been going on with Erica.
CM: Is there a personal story behind your tattoos? What do they represent?
CC: Each one has a meaning. My eagle is associated with my sun sign Scorpio. The lightning bolt was for Patti Smith, she has one on her knee. It's on the left side for my feminine power. Come to find out that Patti Smith's lightning bolt was drawn by an Australian ballerina/ artist named Vali Myers. It always comes full circle.
CM: What's ahead for Cleopatra Coleman?
CC: My own movies, other people's movies. Just more creation and growth hopefully.
The Last Man on Earth on FOX, Sunday nights, 9:30/8:30c (12/13 is fall finale)
PHOTOGRAPHY BY JOSEFHALEY
STYLING BY ANNABELLE HARRON, THE ONLY AGENCY
MAKE UP BY ROXY, TOMLINSON MANAGEMENT GROUP
HAIR BY TIFFANY DAUGHERTY FOR EPIPHANY ARTIST GROUP, INC.
INTERVIEW BY JANE HONG
Share your thoughts...