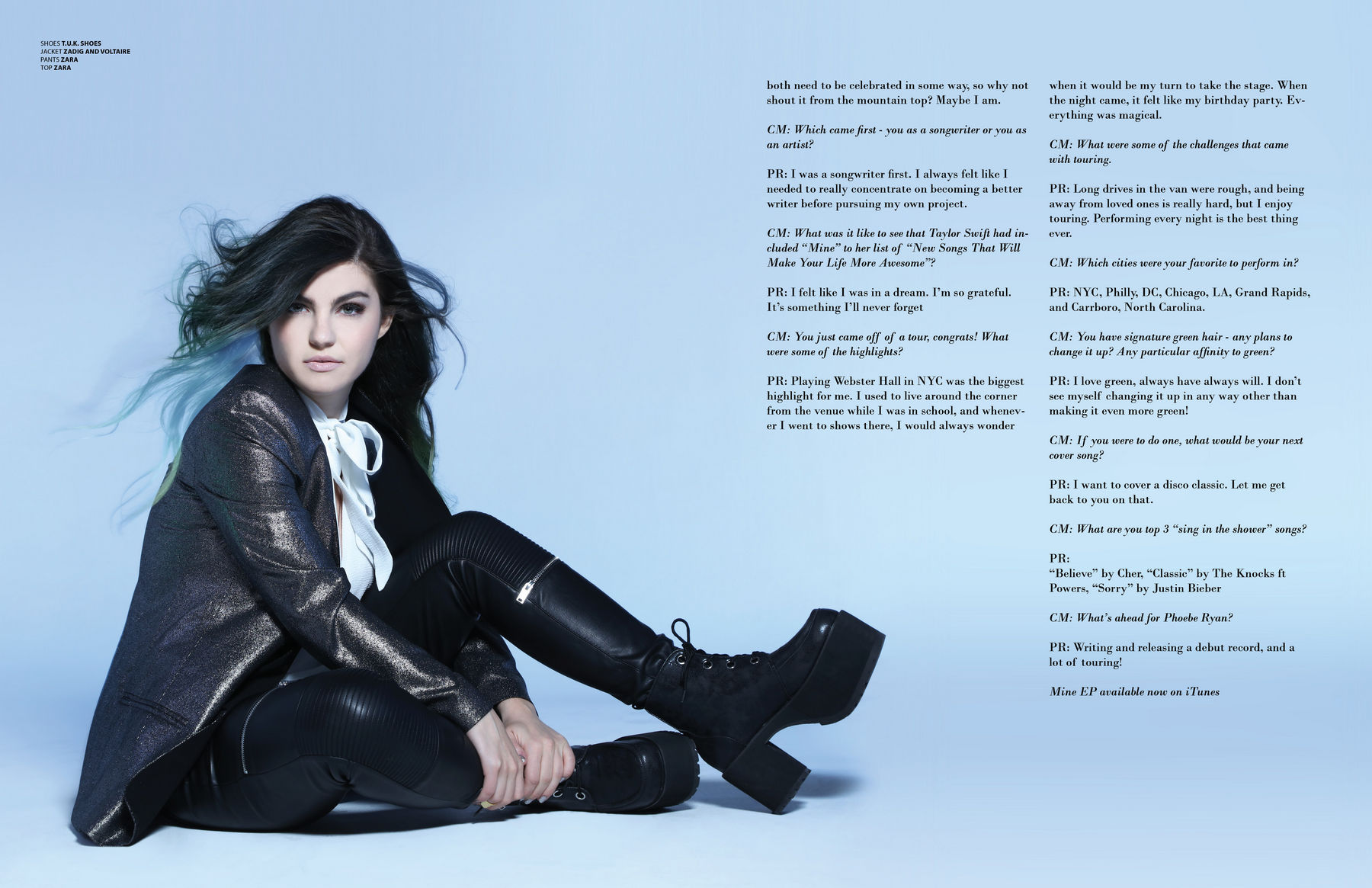 Phoebe Ryan
CM: What compelled you to do a cover mash-up of R. Kelly and Miguel's "Ignition/Do You"?
PR: We were in the studio and we thought it would be a cool idea to experiment with a cover. I love "Ignition," and when we added "Do You" I think something very special and exciting happened.
CM: What was the inspiration behind your current EP and "Mine"? Was it your way of saying "here I am world, this stage is mine"?
PR: Haha I'm not sure. "Mine" is all about learning to accept yourself. I think failures and accomplishments both need to be celebrated in some way, so why not shout it from the mountain top? Maybe I am.
CM: Which came first – you as a songwriter or you as an artist?
PR: I was a songwriter first. I always felt like I needed to really concentrate on becoming a better writer before pursuing my own project.
CM: What was it like to see that Taylor Swift had included "Mine" to her list of "New Songs That Will Make Your Life More Awesome"?
PR: I felt like I was in a dream. I'm so grateful. It's something I'll never forget
CM: You just came off of a tour, congrats! What were some of the highlights?
PR: Playing Webster Hall in NYC was the biggest highlight for me. I used to live around the corner from the venue while I was in school, and whenever I went to shows there, I would always wonder when it would be my turn to take the stage. When the night came, it felt like my birthday party. Everything was magical.
CM: What were some of the challenges that came with touring.
PR: Long drives in the van were rough, and being away from loved ones is really hard, but I enjoy touring. Performing every night is the best thing ever.
CM: Which cities were your favorite to perform in?
PR: NYC, Philly, DC, Chicago, LA, Grand Rapids, and Carrboro, North Carolina.
CM: You have signature green hair – any plans to change it up? Any particular affinity to green?
PR: I love green, always have always will. I don't see myself changing it up in any way other than making it even more green!
CM: If you were to do one, what would be your next cover song?
PR: I want to cover a disco classic. Let me get back to you on that.
CM: What are you top 3 "sing in the shower" songs?
PR: "Believe" by Cher, "Classic" by The Knocks ft Powers, "Sorry" by Justin Bieber
CM: What's ahead for Phoebe Ryan?
PR: Writing and releasing a debut record, and a lot of touring!
Mine EP available now on iTunes
PHOTOGRAPHY BY CORINA HOWELL
STYLING BY JORDAN GROSSMAN
MAKE UP BY IRIS MOREAU
HAIR BY ASHLEY HALL
INTERVIEW BY JANE HONG
Share your thoughts...