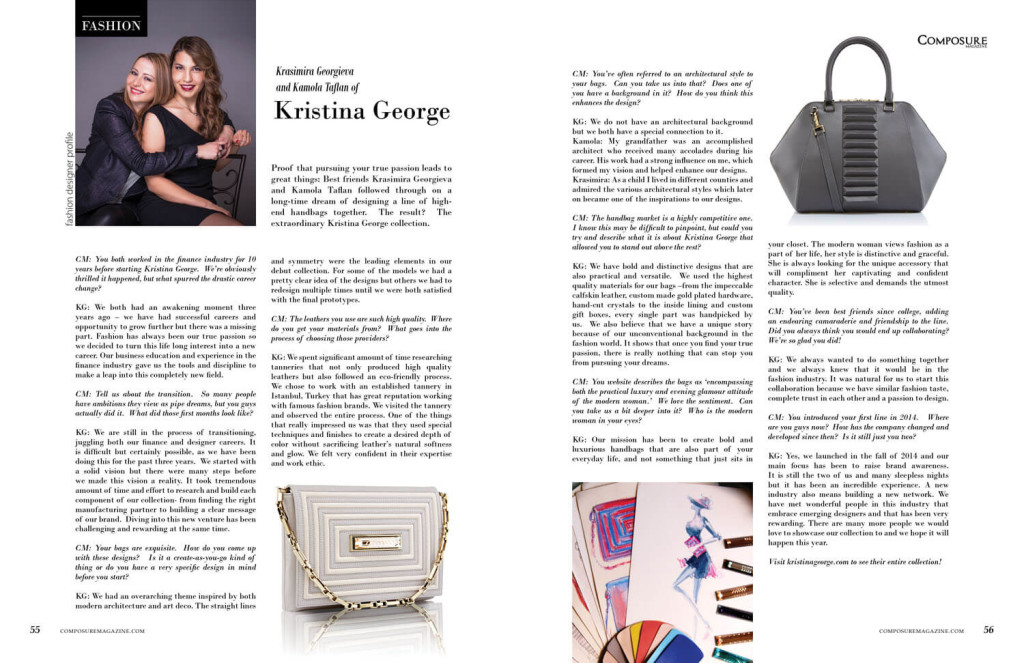 Krasimira Georgieva and Kamola Taflan of Kristina George Bags
Proof that pursuing your true passion leads to great things: Best friends Krasimira Georgieva and Kamola Taflan followed through on a long-time dream of designing a line of high-end handbags together.  The result?  The extraordinary Kristina George collection.
CM: You both worked in the finance industry for 10 years before starting Kristina George. We're obviously thrilled it happened, but what spurred the drastic career change?
KG: We both had an awakening moment three years ago – we have had successful careers and opportunity to grow further but there was a missing part. Fashion has always been our true passion so we decided to turn this life long interest into a new career. Our business education and experience in the finance industry gave us the tools and discipline to make a leap into this completely new field.
CM: Tell us about the transition. So many people have ambitions they view as pipe dreams, but you guys actually did it. What did those first months look like?
KG: We are still in the process of transitioning, juggling both our finance and designer careers. It is difficult but certainly possible, as we have been doing this for the past three years. We started with a solid vision but there were many steps before we made this vision a reality. It took tremendous amount of time and effort to research and build each component of our collection- from finding the right manufacturing partner to building a clear message of our brand. Diving into this new venture has been challenging and rewarding at the same time.
CM: Your bags are exquisite. How do you come up with these designs? Is it a create-as-you-go kind of thing or do you have a very specific design in mind before you start?
KG: We had an overarching theme inspired by both modern architecture and art deco. The straight lines and symmetry were the leading elements in our debut collection. For some of the models we had a pretty clear idea of the designs but others we had to redesign multiple times until we were both satisfied with the final prototypes.
CM: The leathers you use are such high quality. Where do you get your materials from? What goes into the process of choosing those providers?
KG: We spent significant amount of time researching tanneries that not only produced high quality leathers but also followed an eco-friendly process. We chose to work with an established tannery in Istanbul, Turkey that has great reputation working with famous fashion brands. We visited the tannery and observed the entire process. One of the things that really impressed us was that they used special techniques and finishes to create a desired depth of color without sacrificing leather's natural softness and glow. We felt very confident in their expertise and work ethic.
CM: You've often referred to an architectural style to your bags. Can you take us into that? Does one of you have a background in it? How do you think this enhances the design?
KG: We do not have an architectural background but we both have a special connection to it.
Kamola: My grandfather was an accomplished architect who received many accolades during his career. His work had a strong influence on me, which formed my vision and helped enhance our designs.
Krasimira: As a child I lived in different counties and admired the various architectural styles which later on became one of the inspirations to our designs.
CM: The handbag market is a highly competitive one. I know this may be difficult to pinpoint, but could you try and describe what it is about Kristina George that allowed you to stand out above the rest?
KG: We have bold and distinctive designs that are also practical and versatile. We used the highest quality materials for our bags –from the impeccable calfskin leather, custom made gold plated hardware, hand-cut crystals to the inside lining and custom gift boxes, every single part was handpicked by us. We also believe that we have a unique story because of our unconventional background in the fashion world. It shows that once you find your true passion, there is really nothing that can stop you from pursuing your dreams.
CM: You website describes the bags as 'encompassing both the practical luxury and evening glamour attitude of the modern woman.' We love the sentiment. Can you take us a bit deeper into it? Who is the modern woman in your eyes?
KG: Our mission has been to create bold and luxurious handbags that are also part of your everyday life, and not something that just sits in your closet. The modern woman views fashion as a part of her life, her style is distinctive and graceful. She is always looking for the unique accessory that will compliment her captivating and confident character. She is selective and demands the utmost quality.
CM: You've been best friends since college, adding an endearing camaraderie and friendship to the line. Did you always think you would end up collaborating? We're so glad you did!
KG: We always wanted to do something together and we always knew that it would be in the fashion industry. It was natural for us to start this collaboration because we have similar fashion taste, complete trust in each other and a passion to design.
CM: You introduced your first line in 2014. Where are you guys now? How has the company changed and developed since then? Is it still just you two?
KG: Yes, we launched in the fall of 2014 and our main focus has been to raise brand awareness. It is still the two of us and many sleepless nights but it has been an incredible experience. A new industry also means building a new network. We have met wonderful people in this industry that embrace emerging designers and that has been very rewarding. There are many more people we would love to showcase our collection to and we hope it will happen this year.
Visit kristinageorge.com to see their entire collection!
Share your thoughts...